Since I had such great luck with Nathan for his 3 year old pictures at JCPenney's in May, I decided to take Autumn there for her 7 month pictures today. Hmmm, yes, it did go better with Nathan, but he is also not going through 'stranger anxiety'. Of course, Autumn loves to nap, but oh no, she refused to nap before her pictures. I knew she was tired when I put her headband/bow on and she screamed her little head off at me. Yikes. So, we leave at 10:30 for her photo appointment, and what does she do? Yes, she clonks out in the car as soon as we pull out of the driveway.
So, we arrive at JCPenney's and I have to wake my poor little girl up. Sigh. To my surprise, she seems to be in pretty good spirits. We get some weird guy that sits her down and makes… ok, sorry, prepare yourself for this… he makes Donald Duck noises to get her attention. I am thinking to myself, this cannot be really happening… Of course, Nathan thought it was hilarious, but Autumn not so much. Of course, then he grabs a rattle to get her attention and that was much better. He did not change the background, just took pictures of her sitting on the floor… Autumn did good, she made little fussy noises, but she looked at us and was a cutiepie. I didn't get any big smile photos, but that is ok, I know it is hard to get a good picture when they have the stranger anxiety and mommy separation anxiety going on. Poor little thing!
Anyway, I was happy with the pictures even though I dreamt of a picture of her smiling really big with a toothy smile. Oh well, maybe next time. ;o)- At least I only spent $30 with a $3.99 a sheet coupon. heheh.
We finished up with pictures and decided to hit Lion's Choice for lunch. We get home and Autumn is a mess… this girl loves her naps and a 20 minute nap did not do it for her. So, I am holding her while she is crying, trying to whoop down my roast beef sandwich, and then I nurse her and she is out… I laid her down and she slept from 12:30 till 4pm!!!! I got so much done because Jeremi and Nathan went to the train store, haircuts and grocery shopping. Yay!
Here are the pictures we ordered…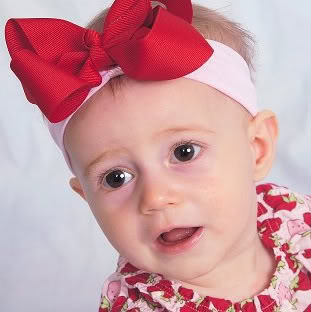 Brown eyed girl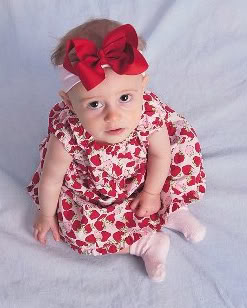 Looking up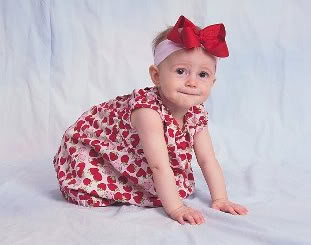 Trying to crawl forward
BTW, my friend Janna gave me this beautiful dress for Autumn before she was born for a shower gift. It is Gymbo. Thanks, again Janna! Oh, and she is sporting a Kaycee headband and big girl bow!
Earn Amazon giftcards by searching the web with Swagbucks!