I finally got a chance to drive out to St. Peter's to see my friend Terri's house. The house was her husband Steve's before they got married, and she has been living there since they've been married. I am a horrible friend as they got married over a year ago, and I finally made it out to see her house today! My friends Becky and Melissa also came over to see her house for the first time. She lives in St. Peter's which is just outside St. Louis and is not by any means close to my house. I had to drop the kids off at my mom's (of course, I forgot Auttie's bottles and had to go back and run in the house to get them), then I got to my mom's and then left for St. Peter's.
Jeremi let me borrow his GPS system (a Garmin) and WOW these GPS systems are SO handy! I work in the city and nobody will ever let me drive when we go out for lunch because (1) I always get lost and (2) I can't parallel park so maybe I will be borrowing Jeremi's GPS system more often. hee, hee! It is so neat, if you miss your turn (which, I did a few times), it recalculates the directions for you. It also tells you what 'time' you will arrive at your destination. It also has a 'Go Home' button and it'll tell you how to get home from wherever you are. The GPS system actually talks to you and tells you when to turn, etc. It is just great, I never thought that the GPS systems were all that great until using Jeremi's Garmin! Wow! Amazing!
Terri gave us a tour of her house and look what her husband has…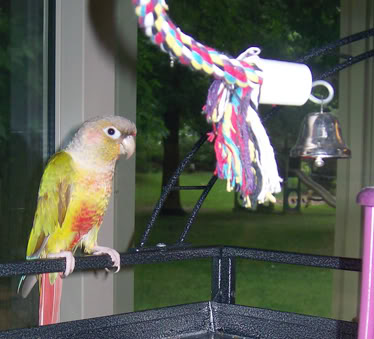 I am not even sure what type of bird this is, but her husband LOVES this bird. They even had a little activity table for the bird, and Terri says the bird sits on it while they watch tv. Too cute.
Then we ate lunch at Grappa Grill in St. Charles. I have always wanted to try this place and I will say it was pretty good but I doubt I would go back. Terri said it is more of a 'Happy Hour' and dinner place. The menu was Italian/American and they did have a good lunch special going where you'd get a pasta and salad for $8.99. I got the seafood pasta (can't remember the actual name of it) with crab (gave those pieces to Melissa), scallops (yum) and shrimp (yum) in an alfredo sauce with multicolored fettucine noodles. It was pretty good! It was so fun to have lunch with my friends without the kids- although I must say, Nathan did try to talk me into letting him go! I told him it was a girls lunch! heheh!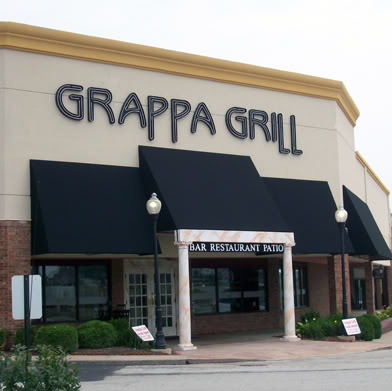 Ok, now onto my horrible night… Autumn, my great sleeper, is NOT sleeping great anymore. It is going on a month now. She used to sleep ALL night without waking and now she is waking AT LEAST once but more and more often she is waking 3-5 times a night!! Seriously! She did just start scooting/crawling and I read that when they reach an important milestone it can interrupt their sleep. Tonight has been the worst night yet, she was exhausted and ready to be in bed at 7:30pm. I laid her down at 8pm and she woke up! Then from 8-8:30 I tried to relax her to sleep again. She was wide awake so I laid her in the crib and she started rolling around, sitting up on her own (this is with her legs swaddled!!), LAUGHING, etc. So, I took her out of bed and put her in the exersaucer while I got a snack. She is in the exersaucer laughing, giggling, JUMPING in it (yes, I probably should bring the jumperoo back upstairs)…oh my. So, finally at 9:30pm she is tired again. I lay her down asleep and she is up again at 9:45pm.. Nurse her again, back asleep, then back up again at 9:55pm. I laid her back down asleep and now she's been asleep for 20 minutes so I am guessing I am good. It is SO exhausting trying to get your child to bed for over 2 hours! So, sorry, just a small vent. I know I just moved her to the crib and she IS doing well with both arms out of the swaddle now.. maybe it is just a lot of change for her right now. WHO KNOWS. But, I am one tired Mamma. If Jeremi had boobies, I'd let her suck on him. Oh, and she bit me tonight too. Yes, what a fun night. Lets hope that after all of this she'll sleep all night and not wake up until at least 6am!
Earn Amazon giftcards by searching the web with Swagbucks!