My friend Katie won a $45 off any $100 purchase coupon from Old Navy! She didn't need the coupon and asked me if I wanted to take it off her plate. Of COURSE I did! Oh, and I thought about it all day at work AND then after work I rushed to get dinner done and then… OUT OF THE HOUSE I WAS… and OFF TO OLD NAVY! Yes! Yes!
Of course, Jeremi made me take Autumn as she is a Momma's girl… but, hey, us girls know how to shop!
I spent a total of 2 hours in the store, in that time I changed my mind several times on what to get, lost one of Autumn's pink socks, gave up looking for the pink sock, put back a shirt (oops, in wrong place), then decided I wanted that shirt once again but couldn't find it (was last in the size), had someone ask me if they had the pink sock that was missing off of Autumn's foot (yep, it was her sock! half soggy too as she loves to eat her tootsies so I felt bad for the person who found it), trying to do the math in my head to be sure I don't spend much over $100, trying to decide if I want the ugly jeans on sale where I can get 2 for the price of 1 OR the cuter pair of jeans that I really want for Autumn, etc., etc. Oh what an exhausting night…
I arrived home after my BIG SHOPPING adventure and my husband opens the door to our garage and shakes his head. He said he had been trying to call me on my cell (oops was turned off) and was worried because he didn't think I'd be at Old Navy so long. Oops. Then, I rushed to get the little princess to bed after having her out an hour past her bedtime. Double oops.
Anyway, I HATE shopping in August (I did this yesterday) because it seems the stores are just a MESS because they are trying to get rid of the summer bits and pieces leftover and then they are just starting to bring the fall clothes out so there isn't much and its overpriced.
But, I think I did pretty good…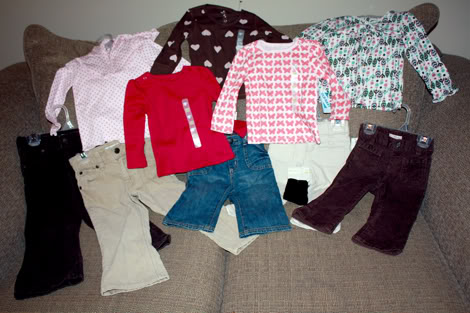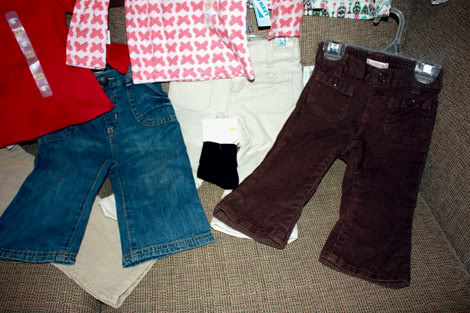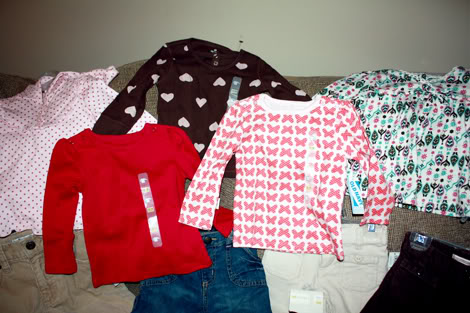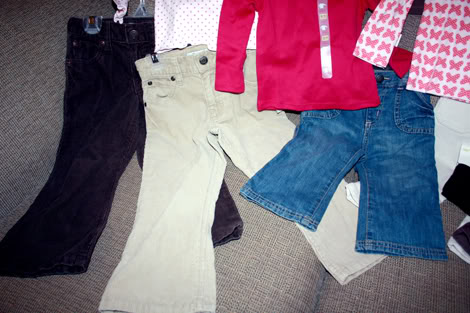 Nathan got:
1 cordury pant in khaki color
1 cordury pant in a dark chocolate color
Autumn got:
1 cordury pant in khaki color
1 cordury pant in a dark chocolate color
1 pair of jeans
5 shirts
1 pair of black socks
My total WITH tax was $53. I am not sure HOW it was $53 as the coupon was $45 off $100? I looked at my receipt but the discount is taken off for each item, so WHO knows what they did! It was an awesome deal, though! THANKS, KATIE!
Earn Amazon giftcards by searching the web with Swagbucks!