Of course, I was FAMISHED after keeping tabs on two kiddos at the Magic House, so after Nathan and I had lunch(Autumn was napping), we worked on a fun treat! A mini caramel apple treat that I had seen in an old Family Fun magazine.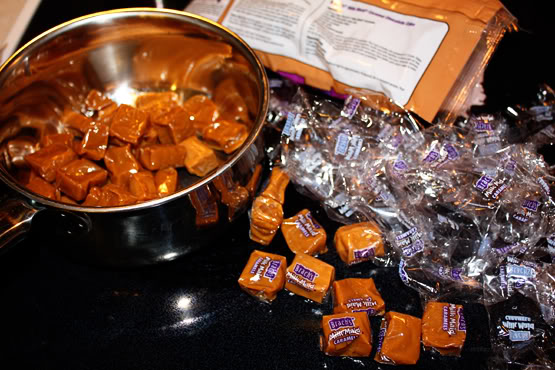 First… I had to melt the caramel, and UHH. WHY was there wrappers on EACH and EVERY single piece of caramel? I spent a half hour unwrapping these things and my poor nails! I mean, seriously, it says on the bag that the caramels are for candy apples, and it even includes sticks in the bag! Then, why, may I ask, why is there wrappers on each piece! Do they realize that Moms like me don't have time for this?!!!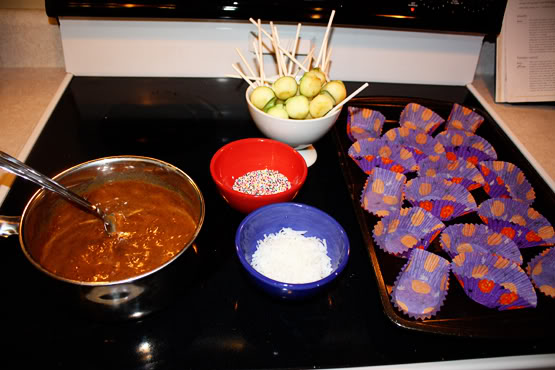 Here is the assembly line… What makes this recipe fun is that you use a melon baller (I just bought one from a Pampered Chef party) and you cut apple balls out of Granny Smith apples. You have a little apple core on each apple. Then, you stick a stick through it. SO CUTE! I like these so much better then the large apples because they are snack size! Then, there are sprinkles and coconut for toppings. I don't like nuts all that much so I left those out…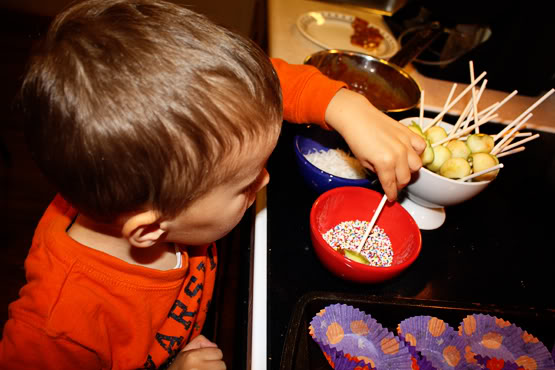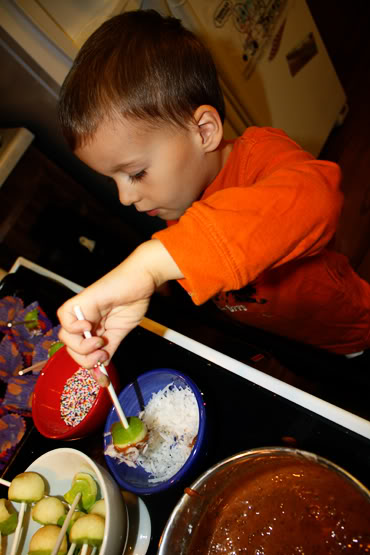 I got Nathan's step stool out and he had so much fun dipping!

I even had to dippity dip!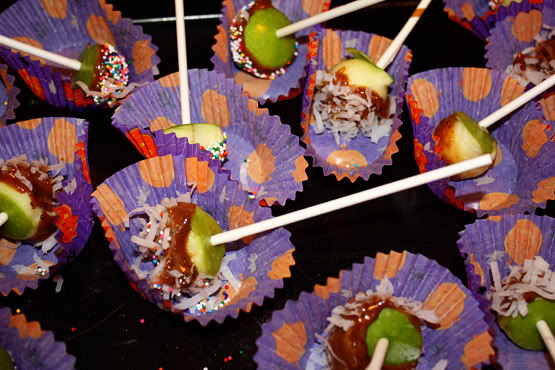 Final result!
Here is the recipe…
Mini Caramel Apples
4″ lollipop sticks
Melon baller
Granny Smith apples (one apple makes about 8 mini apples)
Butterscotch or peanut butter chips
Chopped nuts, nonpareils, sprinkles, shredded coconut
Small paper candy cups (mini cupcake cups)
Cut the lollipop sticks in half at an angle (pointy end goes into apple)
With the melon baller, scoop little balls out of the apple. Each ball should have a section of the apple peel.
Push half of a lollipop stick into the peel for each ball.
Pat the apple pieces dry.
Melt the chips according to the package directions. Dip and swirl the mni apples in the melted chips, then roll apples in toppings.
Earn Amazon giftcards by searching the web with Swagbucks!