I saw the CUTEST idea online for Halloween, it is a smores recipe in a jar, and I decided to make them for each family at my bro/SIL's party AND make it to kick off the Phantom Ghost exchange at my work. Of course, I couldn't share this idea with ya'll because some of the people I was making them for read my blog, so… you finally get to see the smores in a jar! It is SO cute, and I know it isn't Halloween anymore, but you could make these for Christmas (they have Christmas tree peeps) or even do the bunny peeps to make Easter ones!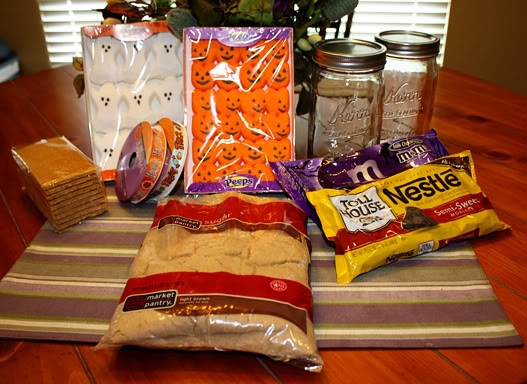 Ingredients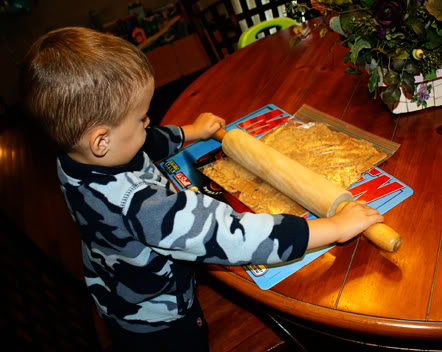 I made 8 of these jars, so of course, I only had Nathan help me make one of them, and then we dumped it out and baked it to try it out! I didn't want to make them if they didn't taste good, but, oh, they do!! So, the first step is you take a sleeve of graham crackers and put it in a big ziploc bag. Then, crush away!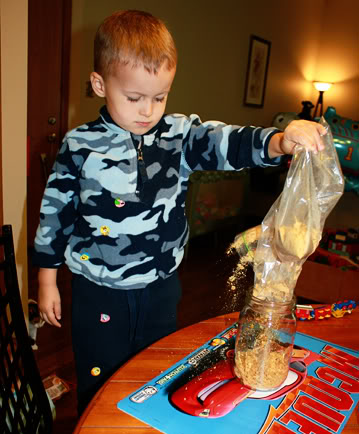 Dump the graham crackers into the jar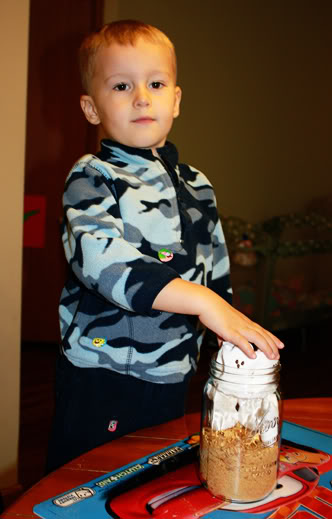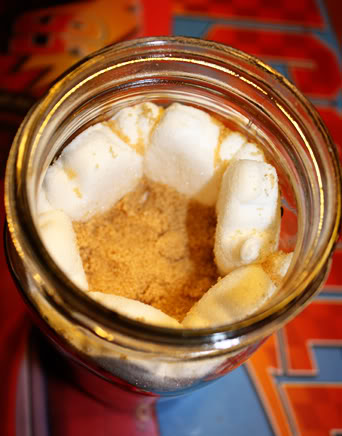 Then stick the ghost marshmallows (I also did some as pumpkins) inside the jar. I used 6 marshmallows.
Put 1/3 cup of brown sugar in the middle of the marshmallows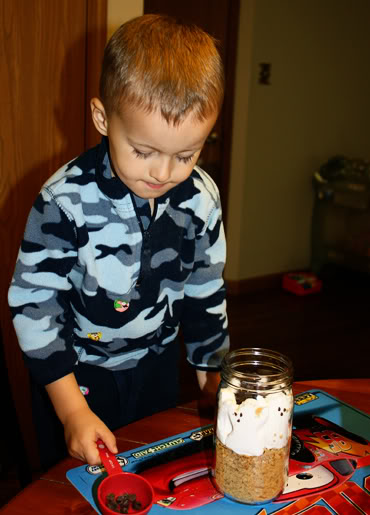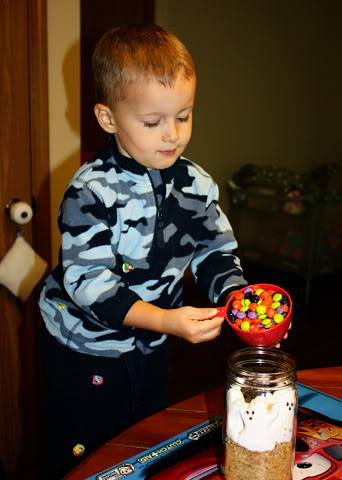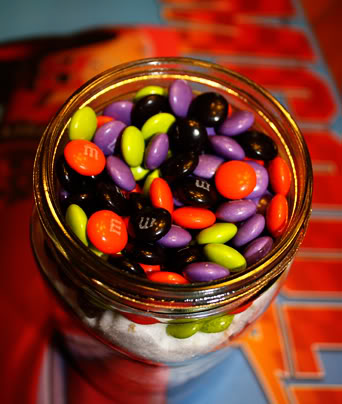 Then, we added 1 cup of Halloween M&M's and 1/4 cup of chocolate chips to top it off.
ALL done! VERY easy! And, I did 6 more jars closer to Halloween in only 30 minutes!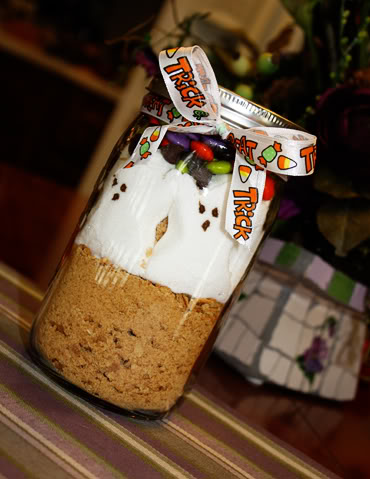 Finished product- SO cute and festive!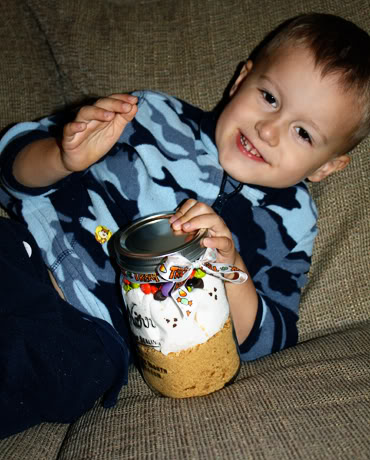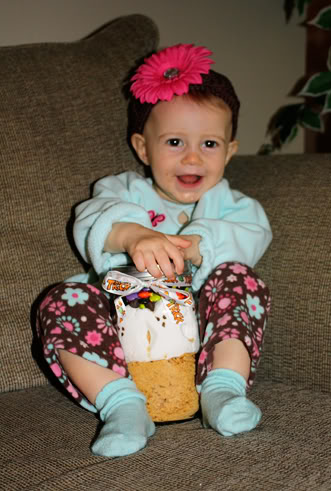 Of course I had to get a picture of the kids with the smores before we dumped and baked!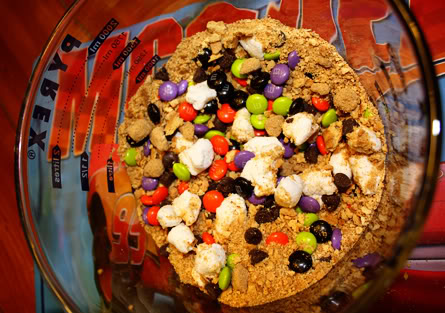 NOW, to MAKE the smores!!!!! First, dump all of the ingredients into a bowl. Cut the peeps up into smaller pieces.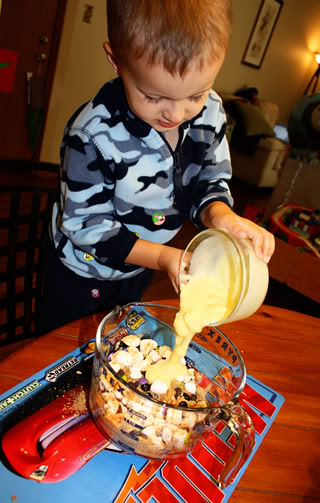 Add REAL melted butter (1/2 cup)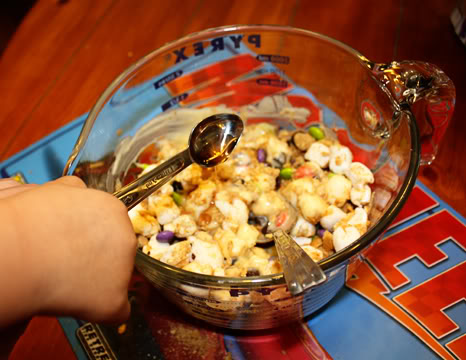 Add a teaspoon of vanilla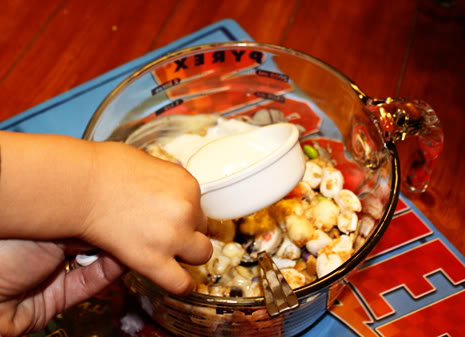 Add 1/3 cup of buttermilk (I used just milk, was all I had on hand). Stir it really good and place in 8×8 baking dish.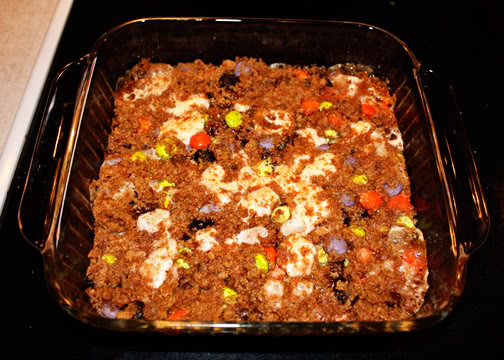 Bake at 350 degrees for 15 minutes. And, here is what it looks like right out of the oven! It is so good HOT out of the oven… if you eat leftovers from the dish, you must warm it up (20 seconds in the microwave), trust me, it tastes the best warm!! If you make these, don't forget to include instructions on how to prep and bake it.
Earn Amazon giftcards by searching the web with Swagbucks!