A friend of mine that I went to high school with invited us to the Trunk or Treat at their church. Our church is having theirs the night before Halloween, and I thought it'd be overkill to have Nathan trick or treat two nights in a row. Therefore, we decided to check out the one at her church. It was a lot of fun… here are some pictures…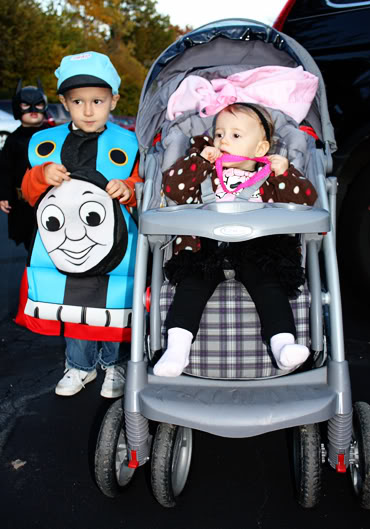 Nathan and Autumn getting ready to trunk or treat. Oops! That was all of the pictures I got! After we arrived there they gave us free treat bags and t-shirts for the kids- can you say WOW?! And, I got a paperback book, I think its entitled Emails from God? Has anyone read it? I might read it during my final days of pumping at work. After we registered we ate hotdogs and chips and then Nathan enjoyed some time in the bouncy house. The trick or trunkin' started and that was so much fun and WOW some people really went all out on decorating their trunks and trailers. I would love to decorate the trailer to my car one of these times. :o)-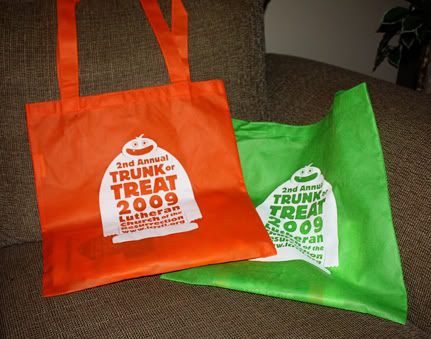 Here are the free bags we got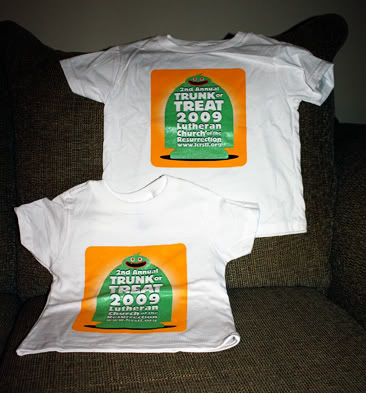 Here are the free shirts we got, I got Autumn a 2T and Nathan a 4T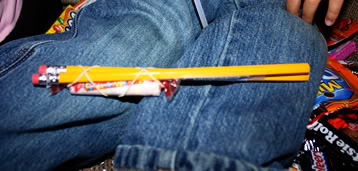 I always love to post the most unique treat… I must say it was this- pencils with smarties rubber-banded on them. There is a little sticky note on it that I need to read, I think one of the teacher's at the school was handing these out, because who else besides a teacher would gives kids pencils over candy? heh, heh!! :o)- I think its great, don't get me wrong, as its not even Halloween yet and we have WAY TOO MUCH CANDY!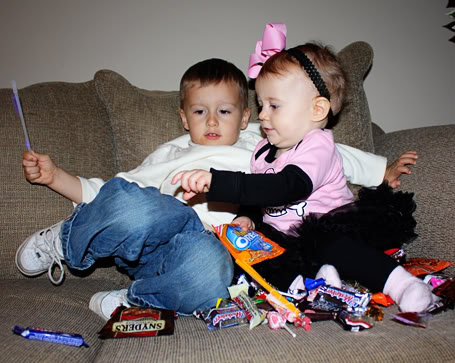 So, of course, Nathan had to dump his candy out on the couch to inspect it. Autumn had a blast checking out the candy, too!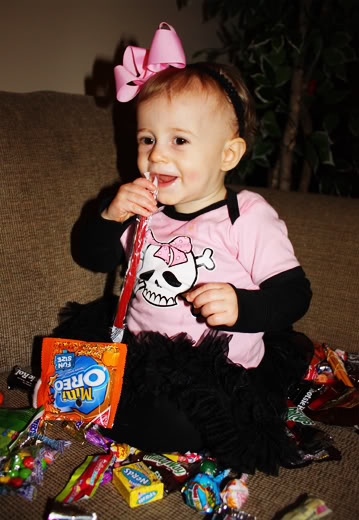 She liked the twizzler… but, it didn't taste good with the wrapper on. BTW, isn't her outfit cute? My friend Marr got it for her when she was first born, and I thought to myself, when am I ever going to use this? It is from Hot Topic and my friend shops there regularly… I don't. But, it is perfect for Halloween, and since she hates her pumpkin costume, I thought why not put the skull and bow costume on her! Of course, its even cuter when one of Kaycee's bow/headband combos! heheh!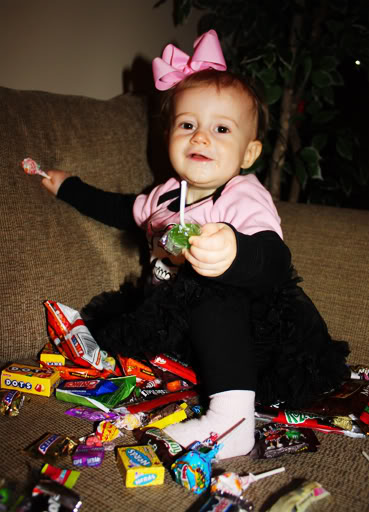 She tried to offer Mom a sucker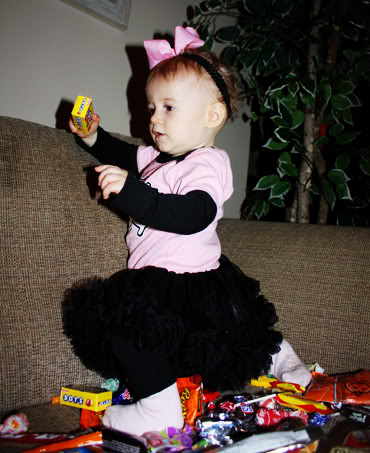 Then, she had fun shaking two boxes of dots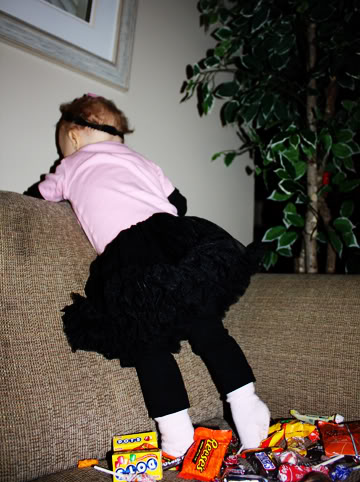 And, while we are at it, lets see what noise the candy makes if you throw it behind the couch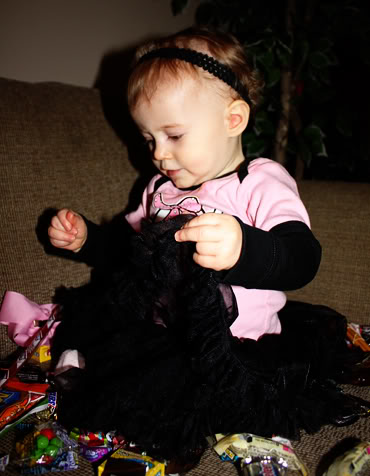 Playing with her skirt
Earn Amazon giftcards by searching the web with Swagbucks!