It has been really busy around here with all of the Christmas activities going on, but I had to get on here to share a new salad that I have made for several Christmas parties. It is SO good, easy to prepare and… tasty! Yum!
I am also planning on trying a couple of other recipes this week- monster cookies for Santa and a Christmas egg casserole that you prepare the night before, refrigerate and then pull out and bake the morning of Christmas. Sounds easy enough… Anyway, back to the salad.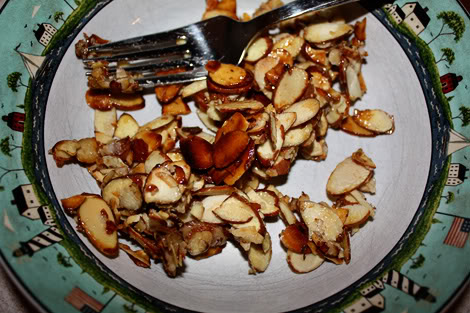 For this salad, you make candied almonds. I am not a big nut person, but these candied almonds are a must for this salad… YUM!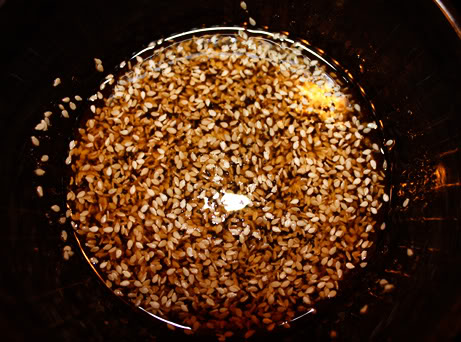 You also make your own poppy seed dressing for the salad… I must say, I may start making homemade dressings more often- they are a lot tastier then the bottled stuff!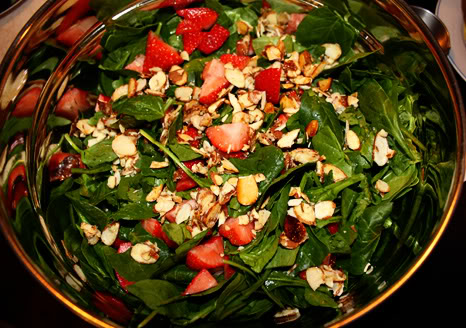 And here is a photo of the salad in all of its glory before I tossed it one last time. It is DELICIOUS and such a simple yet fancy salad for a party. (Sans dressing- I forgot to take a photo of it with the dressing…)
One last note: I did not add the cinnamon to the toasted almonds.
Lastly, the recipe…
Strawberry Spinach Salad
10 oz fresh, bite size spinach
1 qt sliced strawberries

Dressing:
2 T sesame seeds
1 T poppy seeds
1/2 C sugar (can substitue an artifical sweetner)
1/2 C olive oil
1/4 C distilled white vinegar
1/4 tsp paprika
1/4 tsp Worchestershire sauce
1 Tb minced onion

Cinnamon Candied Almonds:
1/4 C sliced almonds
1 T and 1 tsp sugar
sprinkle of cinnamon
First, prepare the cinnamon candied almonds:
Set out a piece of waxed paper for the finished almonds to cool on. Sprinkle the sugar evenly over the bottom of a small frying pan, heat on High. Watch the sugar carefully, when it starts to melt, turn down the heat to medium or medium high, add the almonds and stir constantly until the sugar completely melts (no longer granular and stuck together, the almonds will start to look shiny) and continue to stir until the almonds start to brown. Sprinkly lightly with cinnamon, stir a couple of times to coat and transfer to waxed paper to cool. Break apart with fingers once cooled. Note: you can substitue splenda for sugar, but it will not melt, stir until almonds start to brown, sprinkle with cinnamon, transfer to waxed paper.
Dressing:
In a medium bowl, whisk together the two seeds, sugar, oil, vinegar, paprika, Worchestershire & onion. Cover and chill for one hour.
Salad:
In a large bowl, combine spinach, sliced strawberries & prepared almonds. Pour dressing over salad and toss. Refrigerate 10-15 minutes before serving.