I have only made apple pie two times, the last time was in the Fall of 2004! The only reason I know that, is because I wanted to use the original recipe I tried, and it was taken from Kraft's Food and Family magazine. I was surprised when I looked at the date on the magazine at how long its been since I've made an apple pie. But, the wait was well worth it. Yum!!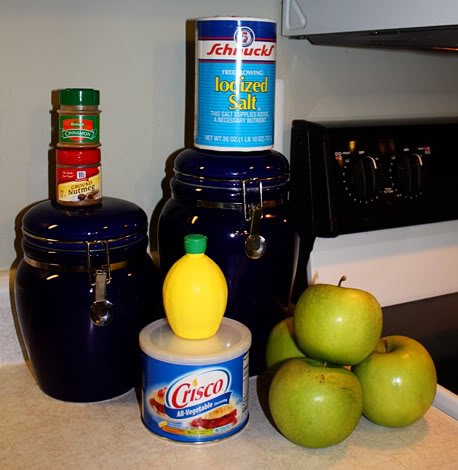 Ingredients. The canisters have flour and sugar. Also, I forgot to put the Cornstarch in the picture.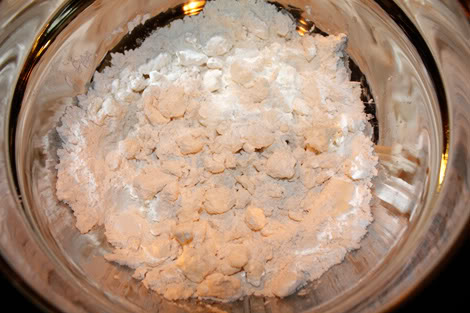 This apple pie is definitely not a quick recipe… it took me most of Autumn's nap time to make it. What takes the longest is making the homemade pie crust. In this picture I have added the flour, salt and I am slicing in the shortening with two knives. Then, you add in ice cold water by the tablespoon until it forms the right consistency.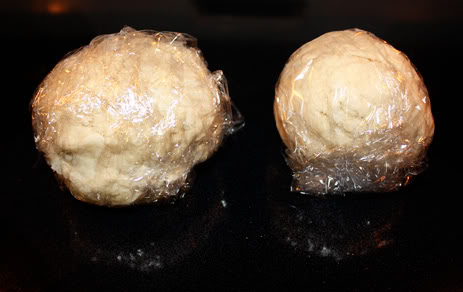 You split the dough into two balls, wrap them in saran wrap and refrigerate for 10-15 minutes.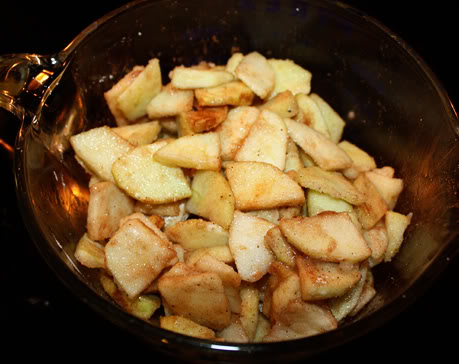 Meanwhile, I prepped the apples. Ok, so… peeling apples scares me. So, I sort of did it a silly way. I pealed the apple skin off with a potato peeler. It actually worked quite well. Then, I have a gadget that slices the apple into 6 slices and cores it, you sort of just put it on top of the apple and push down. Then, I thinly sliced up the apple… it didn't take me too long, but I wonder if there is an easier way 🙂 I am picky in that I want my apple slices to all be cut the same way so they match and look pretty when you cut into the apple pie. Ok, really, I need help. 🙂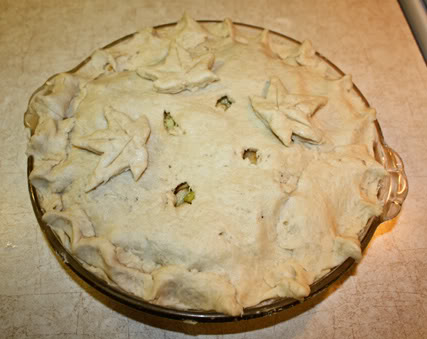 Then, I rolled out the dough and layered the bottom of the pie dish with one, dumped the pie filling in and then topped with the other ball of dough. Then, I cut little air vents, and made some leaves with the extra dough. Unfortunately I didn't have enough dough to make a fourth leaf, and Autumn woke up from her nap… so instead of rearranging the leaves I said the heck with it, and in the oven it went.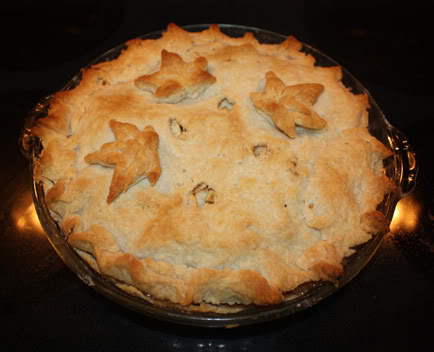 And, here is the finished pie! Ok, not to brag… but, Jeremi gave me a wonderful compliment! He told me that my apple pie is just as good as his Grandma's pies, and she does everything from scratch. How sweet! 🙂 I must admit, it was pretty good… :o)- Yum! I don't think it'll be around long. I am also going to try out a pumpkin chocolate chip muffin recipe later this week… so stay tuned!
Here is the recipe…

The Perfect Apple Pie (Taken from Kraft food&family)
2 1/4 cups flour
1 tsp. salt
1 cup shortening
5-6 Tbsp. ice cold water
6 cups thinly slices peeled tart apples such as Granny Smith (4 large apples)
3/4 cup sugar
1 Tbsp. cornstarch
1/2 tsp. ground cinnamon
1/4 tsp ground nutmeg
1 Tbsp. lemon juice
1. Preheat oven to 400 F. Mix flour and salt in large bowl. Cut in shortening using a pastry blender or 2 knives until mixture resembles coarse crumbs.
2. Add water, 1 Tbsp. at a time, mixing lightly with fork until flour mixture is evenly moistened and clings together when pressed into a ball. Divide dough in half; shape each half into a 1/2-in.-thich round. Wrap each dough round in plastic wrap; refrigerate 10 to 15 min.
3. Meanwhile, toss apples with sugar, cornstarch, cinnamon, nutmeg and lemon juice in large bowl; set aside. Place 1 dough round between 2 large sheets of plastic wrap; roll out dough with rolling pin to flatten slightely, working from center of dough to edge. Turn over; continue rolling until dough round is about 2 in. larger than diameter of inverted 9-in. pie plate.
4. Peel off top piece of plastic wrap; invert dough into pie plate. Peel off remaining piece of plastic wrap; press dough evenly onto bottom and up side of pie plate, being careful not to stretch the dough. Trim any excess dough hanging over edge of pie plate with sharpe knife. Reserve trimmings.
5. Fill with apple mixture; set aside. Roll out remaining dough as directed; place over filling. Trim top crust about 1/2 in. beyond edge of pie plate. Fold edge of top crust under edge of bottom crust; pinch edge of bottom crust to form a flute ridge. Cut several slits near center of pie to allow steam to escape. Then, with extra dough, cut out leaf shapes and add to top of pie. Bake 45 minutes or until juices form bubbles that burst slowly. Cool.