Week Seven of meal planning went much better than last week since we were all recovered from the stomach flu. Thank goodness! I can not believe I am on week seven of meal planning already and that I have stuck with it. It seems to make dinner so much easier when I have a plan and the groceries are in the fridge, ya know?
How was everyones weekend? The highlight of my weekend was running the St. Louis Go! Half Marathon on Sunday morning at 7:00 a.m.! Stay tuned for a detail post on my run later this week. I am considering doing a FULL marathon next year (next year, not this Fall people!), am I CRAZY or should I check this off my bucket list??!
What else did we do this weekend?

Well… Friday night I decided to take the kids out for CUPCAKES after school. I think I am going to make this a once a month Friday tradition. There is a cupcake place by us on Telegraph called Icing and they have DELICIOUS cupcakes. They even had a BEER NUTS cupcake, which I need to try some other time. We settled on two birthday cake cupcakes (because the kids have simple tastes) and then Brian and I split a Salted Caramel and a Lemon-Blueberry cupcake. I die. Then, we pretty much relaxed and I went to bed before 8:30 p.m.

Saturday we were up early to help clean the garden beds and to rake leaves at church. Then we went to Barrons Gymnastic for their open gym time, because Autumn will be taking gymnastics this summer! After that we headed to the mall for lunch and did a little shoe shopping at Nordstrom for the kids. Nathan is easy and we agreed on a new pair of sneakers for him, but Autumn wanted EVERY pair of shoes that I hated! Ughhh! 5 year olds are SO hard to shop with, do you agree? We finally agreed on a pair of sneakers for her that SHE liked and a pair of sandals that I liked (for her, not me). Yep, I was glad when that shopping trip was over… Also, note Autumn's Frozen headband? Yep, she HAD to have that running headband from the Expo we went to on Friday. Good thing it will fit Mommy, too!
On Sunday I rested up from the half and we went and saw the new Muppets movie with the kiddos. Whew.
Are you ready for the meal plan for this week? Here ya go!

Menu Plan for Week of April 6, 2014:
Sunday – Dinner OutI am running a half marathon this morning, so I am going to 'rest up' the remainder of the day!! We will probably take the kids to see Muppets Most Wanted and eat a nice healthy dinner at the theater. 😉

Monday – German Pancakes with LOTS of Fruit on Top, recipe HERE


The kids always love dinner for breakfast and this dish whips up quickly and is so good with all of the fruit on top! I love this photo taken of a German Pancake topped with fruit from Two Peas and Their Pod.
Tuesday – Cheesy Potatoes with Smoked Sausage, recipe HERE


These is a NEW recipe I am trying, Karen my 'Wine' friend shared this one with me and says it is definitely a keeper. I can't wait to try it!
Wednesday – Pasta con Brocolli with Homemade Rolls, recipe HERE


I've made this recipe numerous times and I LOVE it. This was one of the first recipes I made when I was living single and alone in an apartment after I got my first full-time job. Now, I love it even more, because Brian makes delicious homemade rolls to go with it! Yum!
Thursday – Crock Pot Ranch Chicken Tacos, recipe HERE


I love anything with ranch in it and these crock pot ranch chicken tacos look super easy! This is another recipe that my friend Karen suggested to me, so of course I am going to try it!
Friday – Garlicky Baked Shrimp, recipe HERE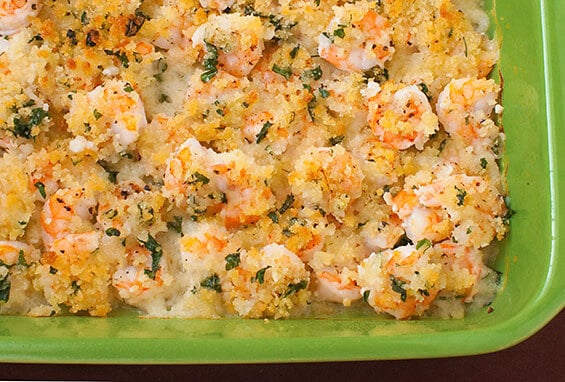 I already tried Gimme Some Oven's Cilantro Lime Shrimp and loved the simplicity of baking shrimp in the oven… so, I thought I would try her garlicky baked shrimp, too! This will be a nice light dinner before we head out for our BILLY JOEL concert that evening! I can't wait to see him in concert again!
Saturday – Dinner Out

Not sure where yet, but on Saturday we are going to eat out! Yeah!
Stay tuned for THIS month's freezer meal later this week!
Linked up with:
Mommy Monday Blog Hop