Before I went out shopping for new swimsuits, the last swimsuit I had purchased was… maternity. Before that? Oh, dear, it was probably over 6 years ago. So, needless to say… I was due for a new swimsuit, big time!!!!
So, I went to Macy's, which is where I always get my perfect swimsuit, and… the selection was small and nothing fit me right! Boo! I got very discouraged… so, I decided to try out JCPenney's next… they were busting from the seams with swimsuits, every kind you could imagine… I tried on probably 40 pairs! And, it came down to just two swimsuits, a one piece (which I NEVER buy one pieces- but this one was super cute!) and a two piece. Retail price? $130 for both plus tax. EEK! But, believe it or not, BOTH were on sale and I got 30% off… so, grand total? $58!!! That is $29 per suit… That is not bad, heck the swimsuits at Target can be more then that!! So, yay, and I did not feel bad at all for getting both!
The one piece will be a great Mommy suit for the swim classes I will be taking with Autumn, and the two piece is a nice sexy wife swimsuit! heheh! Ok, its not THAT sexy but it is super cute!
So, are you ready? Here they are!!!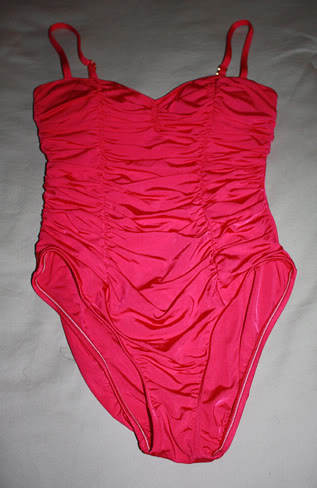 Here is the one piece… it is a bright pink/magenta and I love all the little folds in it. Its really cute on, and I love the color on me. I was so shocked I liked it because usually I hate one pieces because my torso is so long, but it looks great!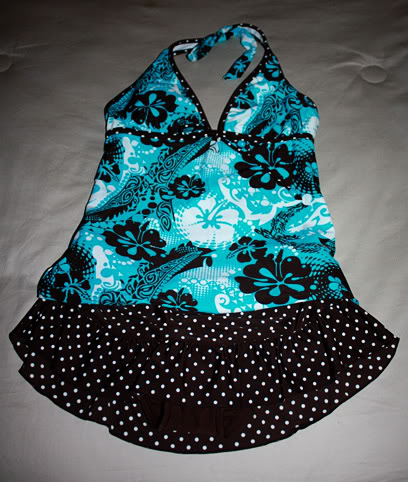 And, ISN'T this one ADORABLE? I love brown with mini white polka dots! There was actually a swimsuit I saw at Target that was all brown with white mini polka dots but they didn't have my size, so I was so excited to see this swimsuit. I just love it… and, isn't it a bonus when you have a young 18 year old cashier ringing you out and she tells you that the swimsuit you selected is something she wants to buy? Heheh!
Now I should dig up a photo of my old swimsuit… so out of style and so what was I thinking?!!