I really should renew my Family Fun magazine subscription, because I have gotten a lot of fun activities and recipes from it. I keep an electronic version of my recipes, and I have been waiting since last year to try out the 'Irish Brown Bread' recipe. Another one of my blog readers also sent me another neat Irish recipe to try out, but I am going to save it for next year.
I have a bread maker but I have never made any sort of bread from scratch before. The Irish Brown bread is a simple bread recipe that does not require any sort of time where you let the bread sit and rise. All you do is mix together a bowl of dry ingredients, a bowl of wet ingredients, pour wet ingredients into dry ingredients, mix, form dough into a circle, bake, cool, presto! Yummy bread!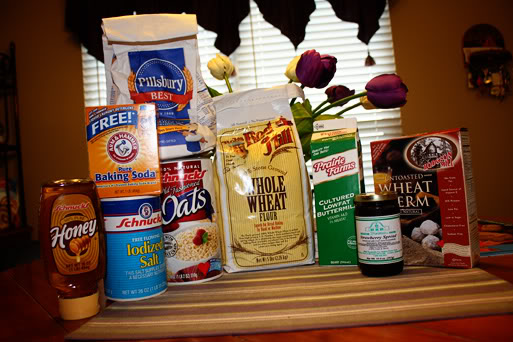 Ingredients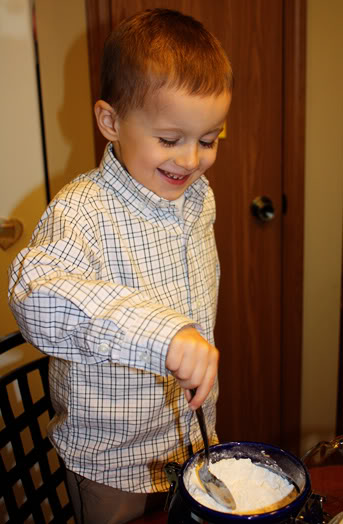 Nathan LOVES helping me in the kitchen, and even told me today that he wants to be a Chef when he grows up! I thought that was super cute and even though I don't get the time to take him out alone for Mommy/Son time all that often, at least we have our Mommy/Son bonding time in the kitchen during Autumn's naps. We really have done a lot of fun recipes together! But, the best part is that he enjoys it and that makes me feel super good inside!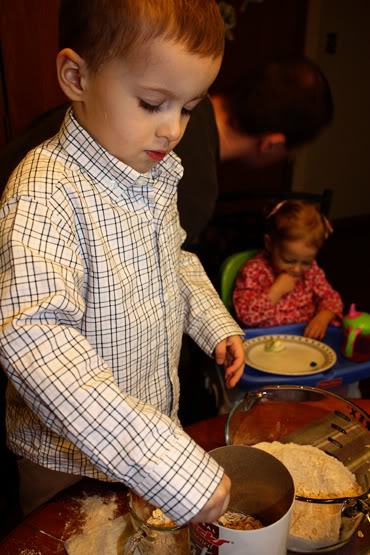 Of course, Mommy/Son bonding time was cut short today, because Autumn woke up from her nap! It wasn't that she woke up early, it was just that we went to JCPenney's for their Easter pictures this morning, and we were there forever… Not one picture was snapped either, because SOMEONE won't let Mommy set her down in-front of a stranger. SIGH. So, I have my snazzy camera and I may just be using it to take some cute Easter pictures once the weather warms up again. Sooo, as a result of that, her nap got moved down, and I had all of this cleaning to do that I can only seem to get done while she naps, so Nathan and I started a little late on our recipe. But, that is ok, Autumn got to watch and learn!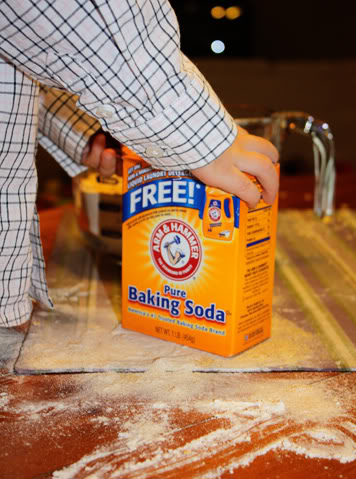 When I typed in the recipe from Family Fun, I accidentally typed 1 1/2 CUPS of baking soda, instead of 1 1/2 teaspoons! Major OOPS! Of course, I knew right when I read it, because, that would be a heck of a lot of baking soda. I am sure the thing would have EXPLODED in the oven if I had used that much! :o)-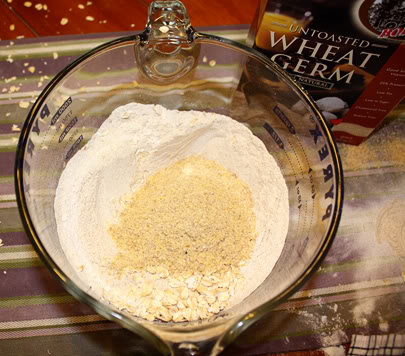 Gotta love wheat germ!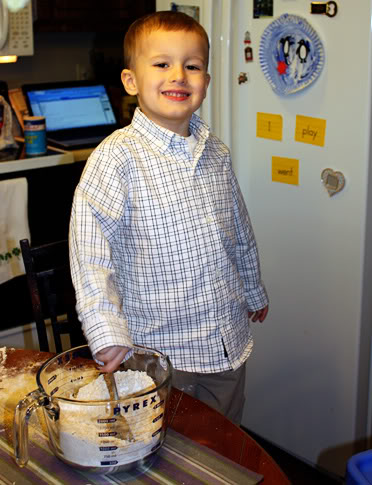 Nathan mixing up the dry ingredients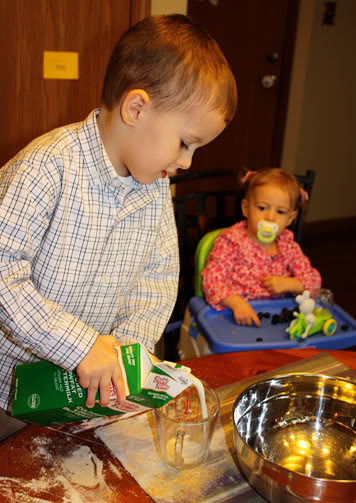 In a separate bowl we added the wet ingredients.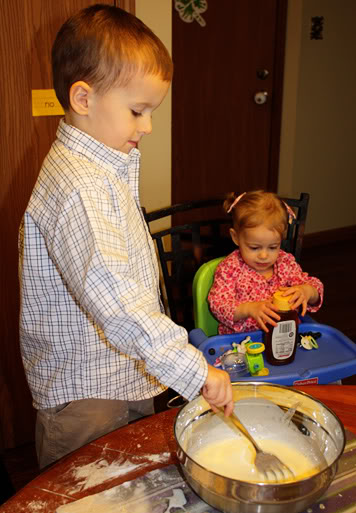 Mix, mix, mix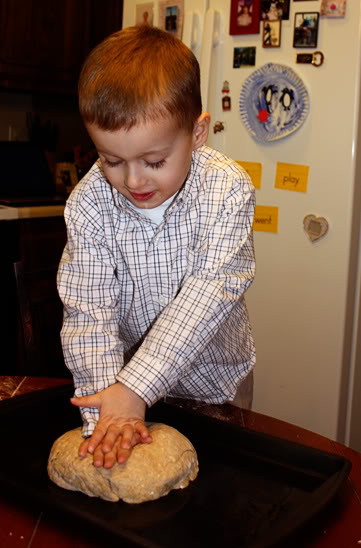 Pour the wet ingredients into the dry ingredients, mix, and kneed… you may want to take off your rings before you do this :o)-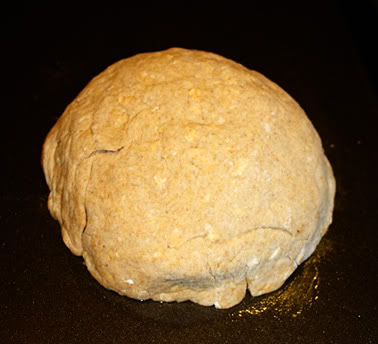 Lightly oil a baking pan, and form the dough into a round shape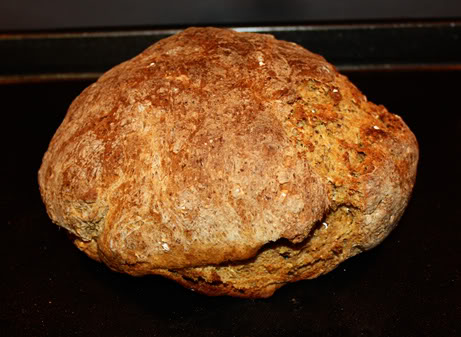 Bake at 425 for 15 minutes, then at 400 for 15 minutes. I RARELY have my oven THAT hot, and, trust me… it is HOT at 425! But that heat really makes the outer part of the bread oh so crispy. Remove from oven and knock on the bread, it should sound hollow if its done. (Trust me, it'll be done!) And, then let it cool for 20 minutes before you cut it.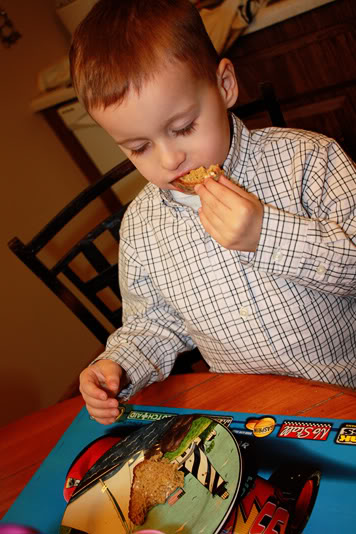 Mr. Picky ate an entire piece of this bread, so it must be good!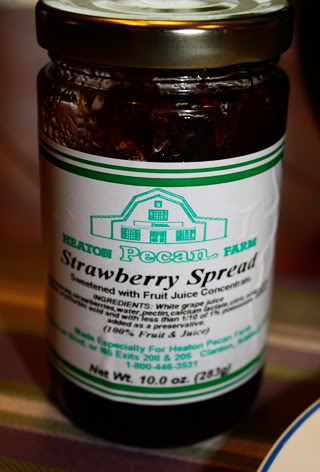 This bread is TERRIFIC with jelly. My brother and sister in law went to the Heaton farm in Alabama awhile back and brought us back some strawberry jelly. I finally popped the lid and got into it, and it was terrrrific with this bread! Yummy!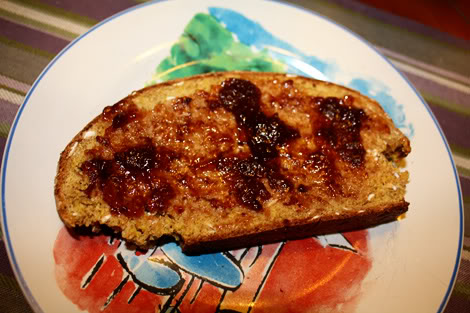 Look at how good this bread looks…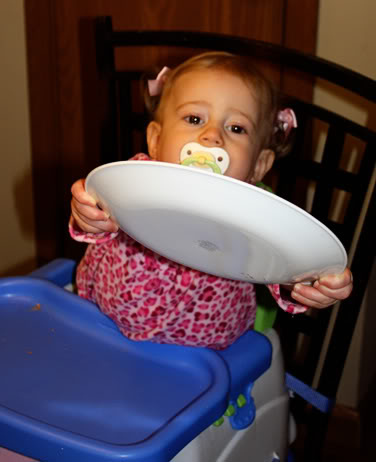 Seconds, please! :o)-

Irish Brown Bread

All Purpose Flour
Whole-Wheat flour
Quick Oats
Wheat Germ
Baking Soda
Salt
Buttermilk
Honey
Jelly
(serve warm with jam for breakfast on St. Patrick's Day)
Heat oven to 425
In bowl combine 1 1/2 cups all-purpose flour, 1 1/2 cups whole-wheat flour, 1/2 cup quick oats, 1/2 cup wheat germ, 1 1/2 teaspoons of baking soda, and 3/4 tsp. salt.
In a small bowl mix 1 3/4 cups buttermilk with 2 tablespoons honey.
Add liquid ingredients to flour mixture, stir to combine.
Turn dough out onto floured surface and make it into a circle. Place on greased baking sheet and bake 15 minutes at 425..
Reduce temp. to 400 and bake 15 minutes more or until bread sounds hollow when you tap it.
Let cool 20 minutes.