Here are the paint swatches that we are considering for the interior of our main living space and for the bathroom in the hall.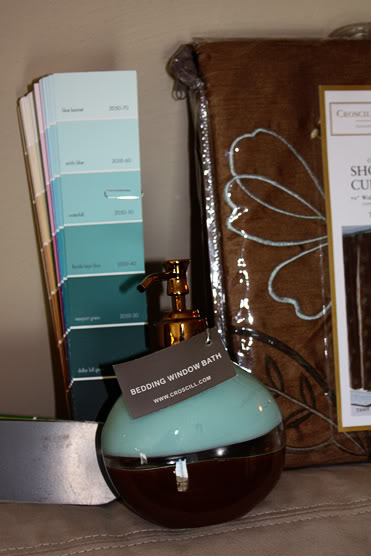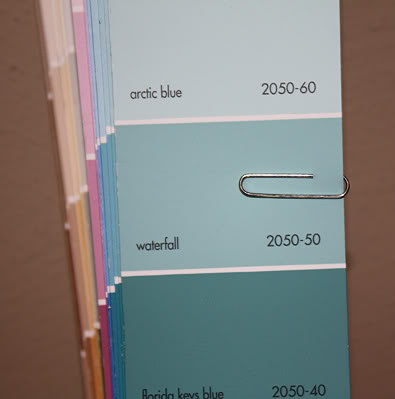 I think we are going to go with Waterfall for our hallway bathroom. Here is the shower curtain and the hand pump to give you an idea of the colors that will be in the room against the paint.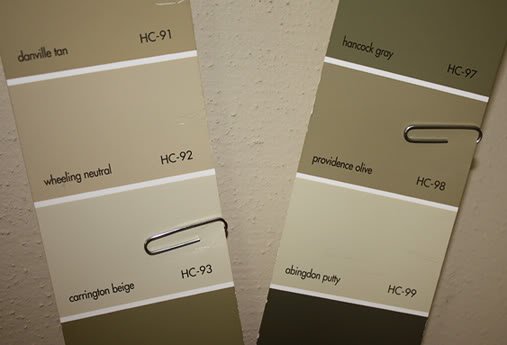 Then…
The entrance, living room and hallway will be painted the lighter color (with the paperclip on it), which is Carrington Beige.
And, the kitchen and family room (one large open space that you can see from the living room and hallway) will be painted the darker color, which is Providence Olive.
I wanted to pick a color that is somewhat neutral, just because I want to be able to change my decor without repainting. However, I wanted a little bit of green added to the neutral color (for the family room/kitchen) to show off the rug, couch pillows and curtains, so that is why we are going with the Providence Olive. I was considering Hancock Gray which is one color above it, but I am afraid it may be too dark even though it is a fairly open space. I really want the focus to be on what is IN the room, not the walls, so I think this will do.
If anyone has any suggestions, I would love to hear them… painting makes me very, very nervous! ;o)-