Today I participated with 176 other parents in the Baby Mania Sale at Mehlville highschool as a vendor. This sale is held in the Spring and Fall every year and is hosted by the Mehlville Moms Club in which I am a member. I have three neighbors on my street that are also in the club and they have raved to me about how much money they have made at Baby Mania ($400-600!!). Well, I signed us up and, let me just say that my husband was NOT at all excited about this sale but after we left with an emptier CRV and with more money in our hands he was asking me when we could do another Baby Mania sale!
Last night was EXHAUSTING, and with the tornado sirens going off we decided to take the kids downstairs instead of going to bed early. We had to be up at 4:30am and out of our house by 5:30am. We got there and started to set up from 6am-7am. At 7am the vendors get 1 hour to shop early before they open the gates to the general public (mob!) and we both took turns shopping. I got Autumn this adorable vanity with a mirror and 3 drawers (along with a stool) $3, a babydoll high chair that came with baby food and even a spoon where you push a button and cheerios come out $3, Cardinals outfit $5 and 2 Children Place outfits $2 ea. Jeremi got Nathan a bunch of action figure type things $10 and I got him some micro machine sized construction vehicles $1.
Jeremi got a tent at work and I hung up the boy clothes and the girl clothes by size on each side of the tent. I sold my $350 Medela pump which lasted me through 2 kids for $40 (hey, it was a 2006 model!), LOTS of toys and rattles, burp cloths, shoes, etc. I feel great getting all of those things out of my house!
Here is a picture of my CRV before the sale…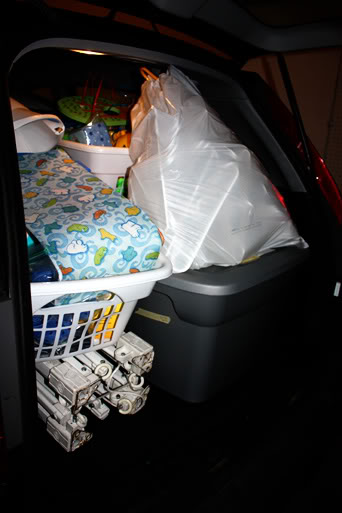 Also, an update on Autumn, I took her to the doctor on Friday and she is indeed allergic to amoxicillin. The rash/hives are gone from the places they started at (belly, around the neck, etc.) but now they are appearing on her face, arms and legs so it is taking its course. She also developed a low fever today at 101.0 and before bed it was at 101.8 so we aren't sure if we may need to take her to Urgent Care tomorrow. I feel so bad, the rash is even on her eyelids! The girl is a toughie but she is really drowsy from all of the Benadryl. Please say a prayer for my girl that this rash clears up soon! The doctor said it could be another 2-3 days before it really starts to clear up. It is so scary to see her like this!