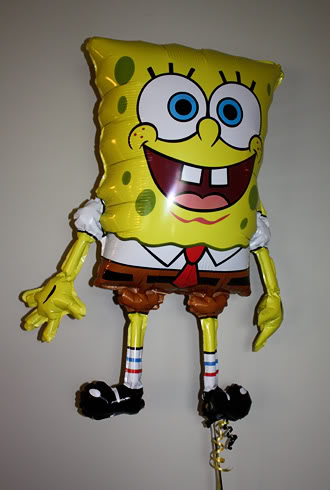 Nathan's 4th birthday is this Monday, but today we had family over for a Spongebob birthday party for Nathan. After work on Friday, I took Nathan to the party store to select a special balloon for his party.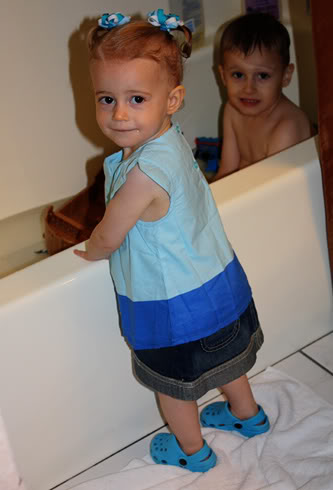 It was a little hectic this morning and I took Autumn out of the tub first and I got her all dressed up, and, well… Autumn REALLY likes baths. Well, while I was getting a towel out of the closet for Nathan, Miss Auttie decided to get BACK in the tub with her clothes on!!! Aghhhh! So, I took them off and dried them, but what a little stinker!! ;o)-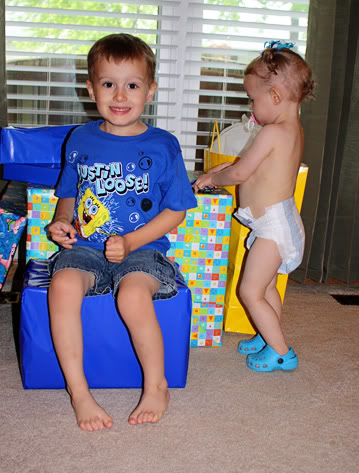 Nathan by his gifts, and Autumn by the gifts too while she waits for her clothes to dry (that girl!!!)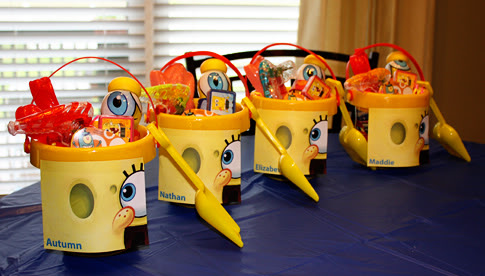 Here are the favor buckets I made for Nathan, Autumn and their cousins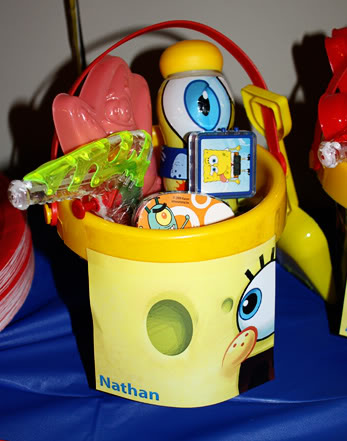 Each bucket had a Spongebob sand shaper, block that turns into a Spongebob towel in the tub, water gun, Spongebob watch from Burger King and Spongebob Squeeze and Blow bubbles. Woohoo!
I wish I had a picture of the food, but… well, we were hungry! I ordered P'Spaghetti's which is a delicious St. Louis restaurant with sandwiches on sweet bread and of course spaghetti!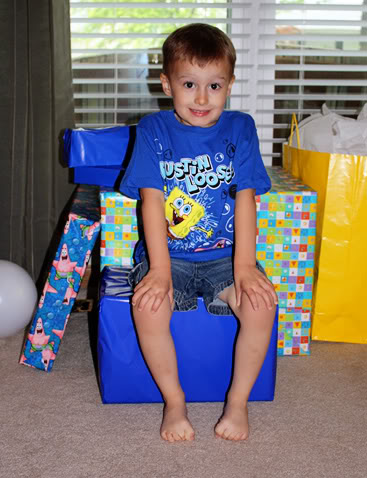 Nathan ready to open gifts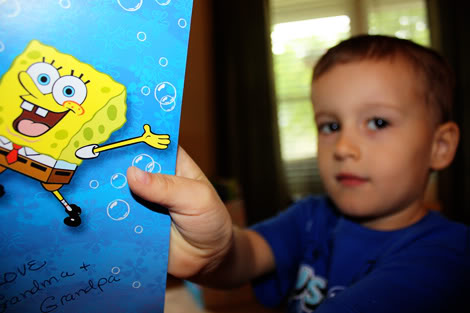 Of course, Nathan got a Spongebob card that plays music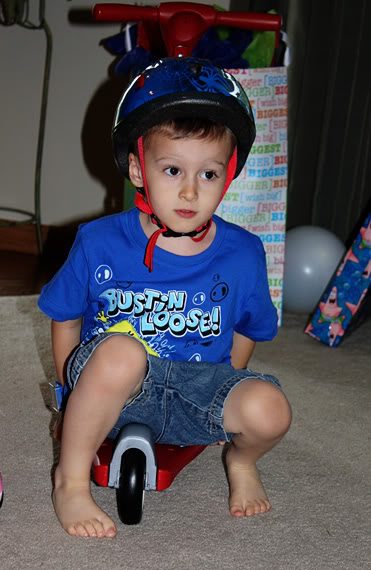 And, he got not 1 but 2 scooters! Of course, he is very protective of both of them from his sister… in fact, both of the scooters had to be in his room by his bed before he would go to sleep tonight. Poor Sissy!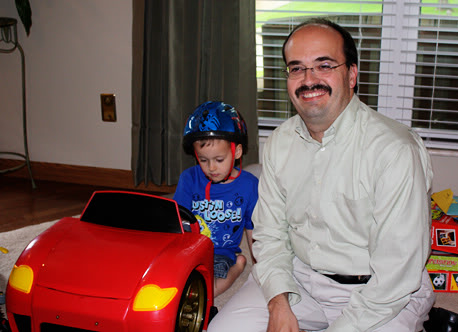 Nathan got this really neat pit stop car where you can work on the engine and unscrew the tires.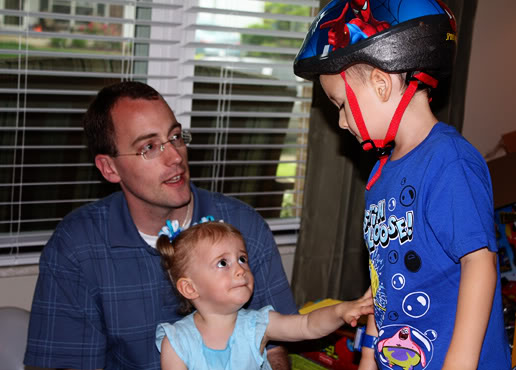 Of course, Sissy likes the pit stop car, too, and… well, she wanted a turn!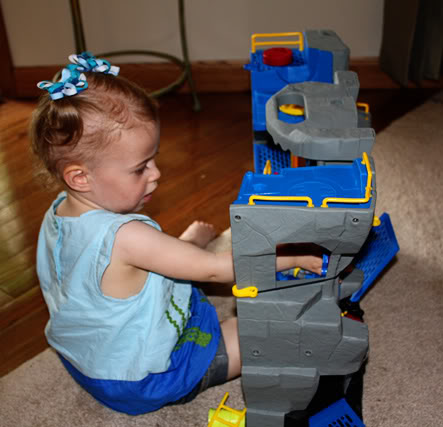 Sissy also just loves Nathan's Batman cave! She puts all of her dolls in it.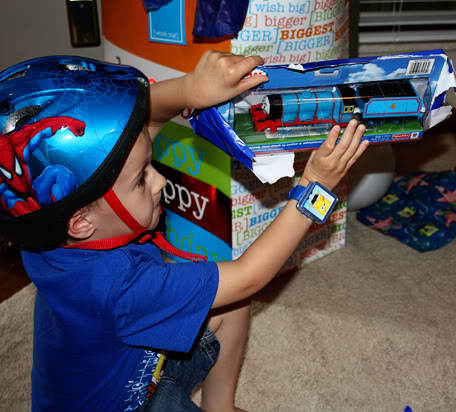 Nathan was excited to get a Gordan #4 train.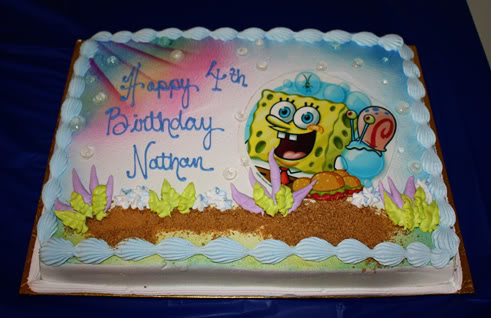 I was going to make Nathan a really neat Spongebob cake, but I decided that we had enough going on and that making a cake was just an added stress that I did not need this week! However, the McArthurs cake was delish… It was half yellow cake with chocolate pudding and the other half was chocolate with strawberry filling.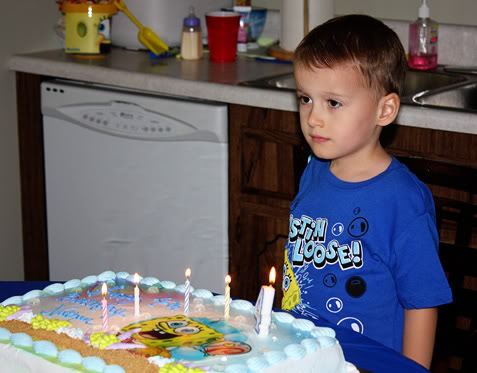 Nathan looks so serious by his cake… Almost 4!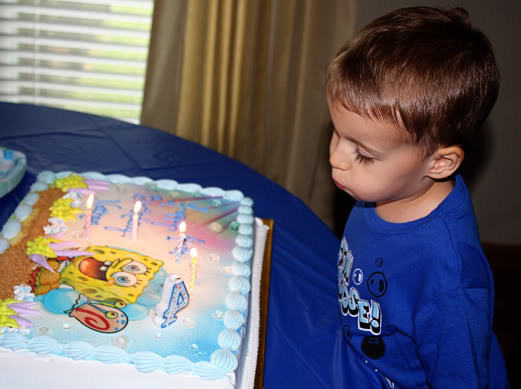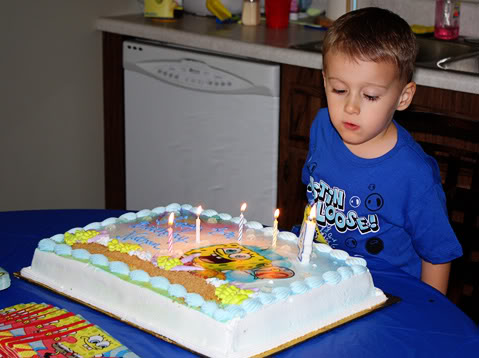 Blowing out the candles, such a BIG boy! Last year he needed our help, but not this year!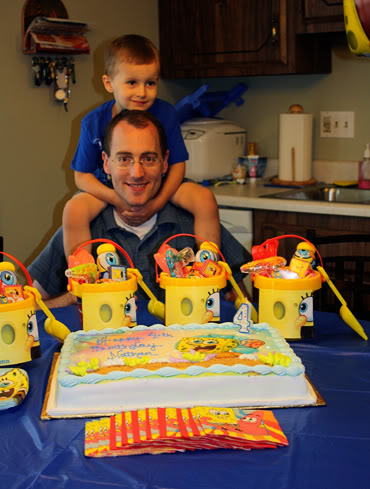 Nathan and his Daddy by the cake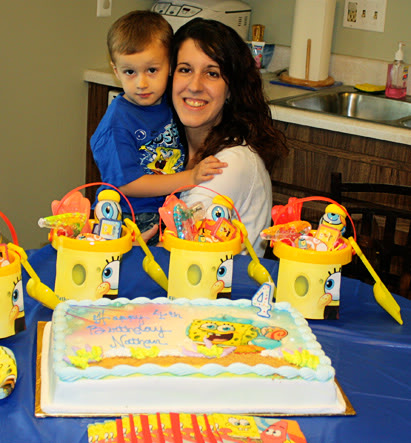 Me and Nathan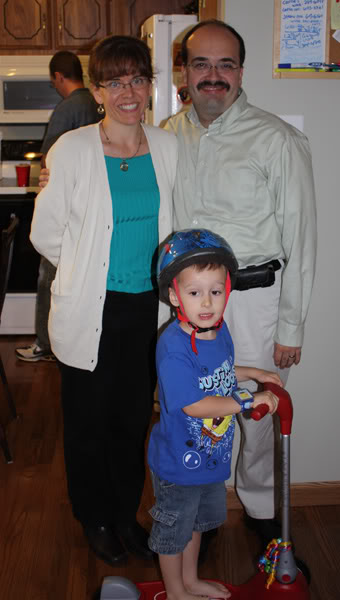 Uncle Jeff and Aunt Tracy with Nathan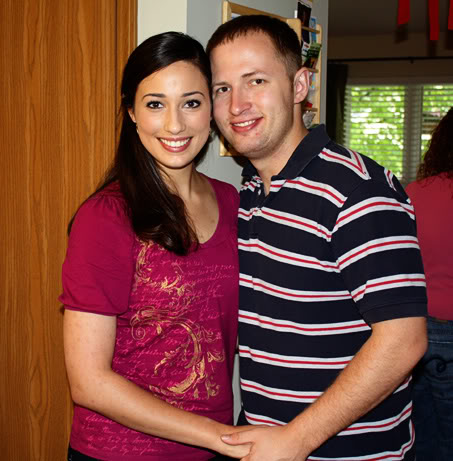 Uncle JR and Aunt Natalie
What a fun birthday party! I cannot believe my baby is 4 years old already!