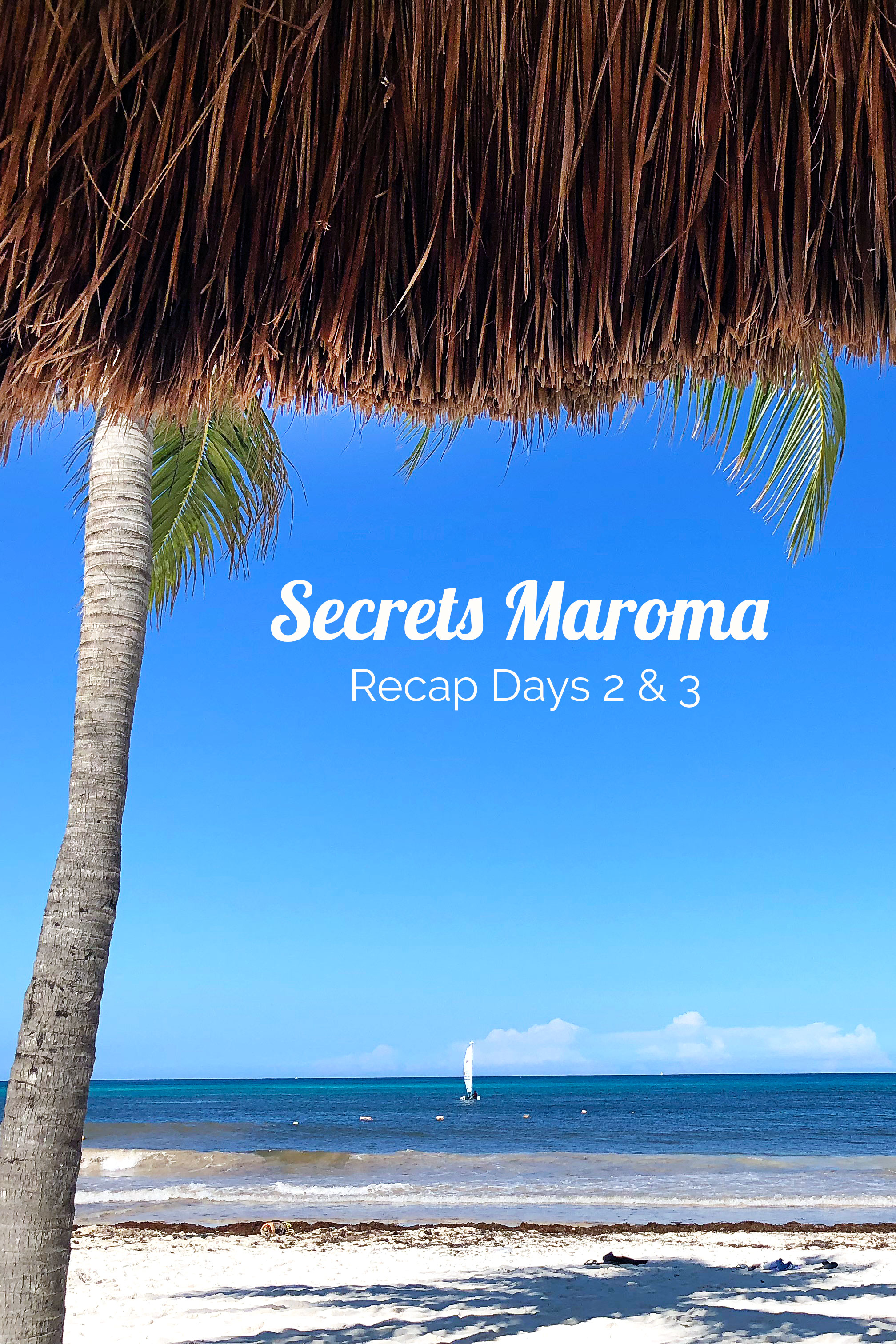 Brian and I wanted to have a little getaway this summer, but we had to book the trip last minute and at the VERY beginning of the summer on Memorial Day weekend. We had hoped to get away for 4 nights, but could only manage 3 nights. Since it was a quick getaway and we didn't have a lot of time to research, we decided to stay at Secrets Maroma again in Cancun, Mexico. We stayed there last July and it is just simply GORGEOUS and so relaxing! It's super romantic and the perfect trip for a little getaway with your love! I can't wait to go back, but we may try a different country next time and still stay with Secrets. Mexico is very easy to get to from STL, though… so, I could see us going back here in the near future!
I recapped Day 1 HERE, in case you missed it. This post will finish out the trip, with Days 2 and 3.
You can see my posts from our Secrets Maroma vacation from last year HERE and HERE.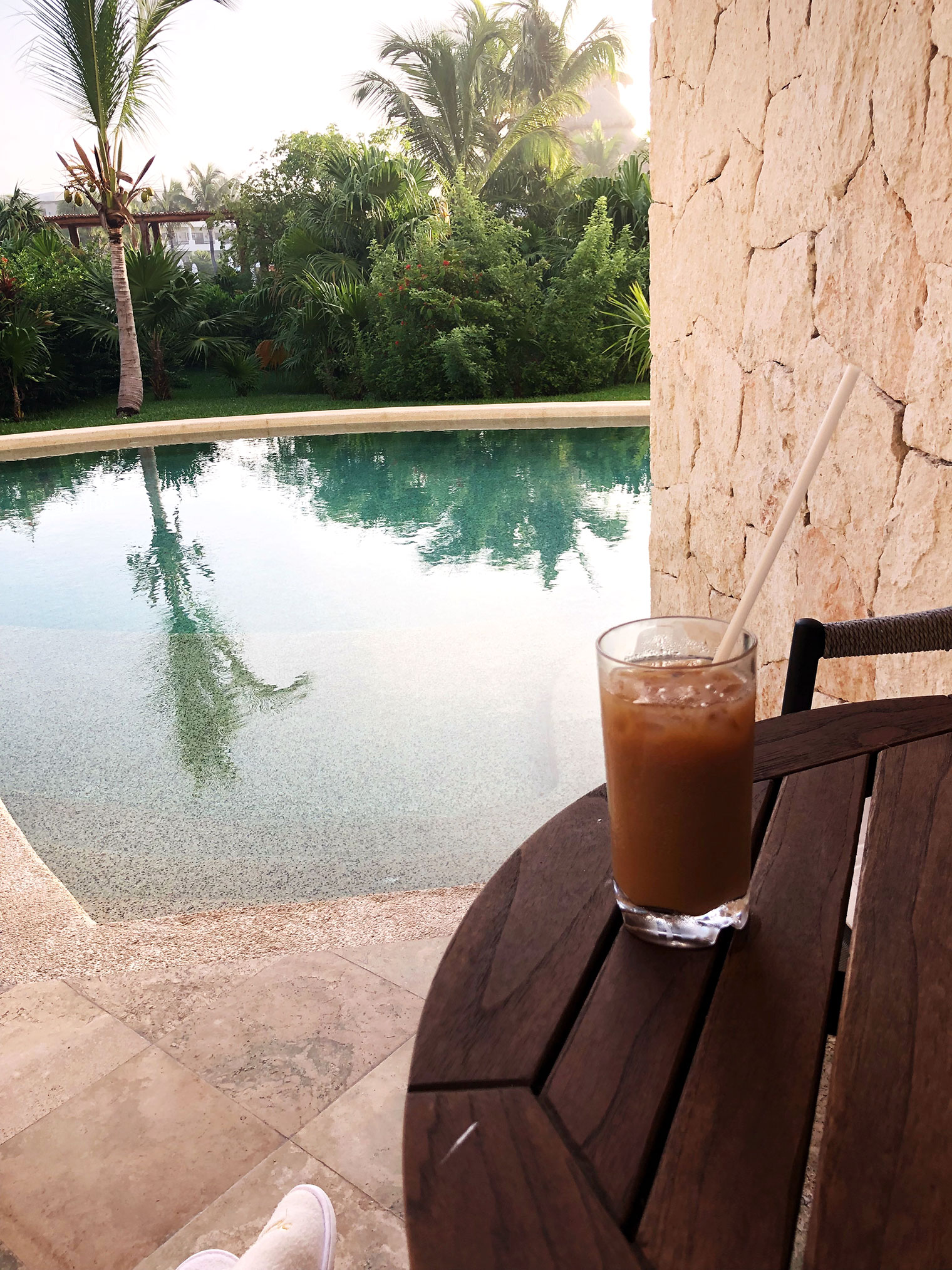 I'm one of those people that loves iced coffee with cream, pretty much anytime of the year… and, especially in the summer. Brian went down and had them make this delicious iced coffee contraction and I enjoyed it out on the patio to our swim out room.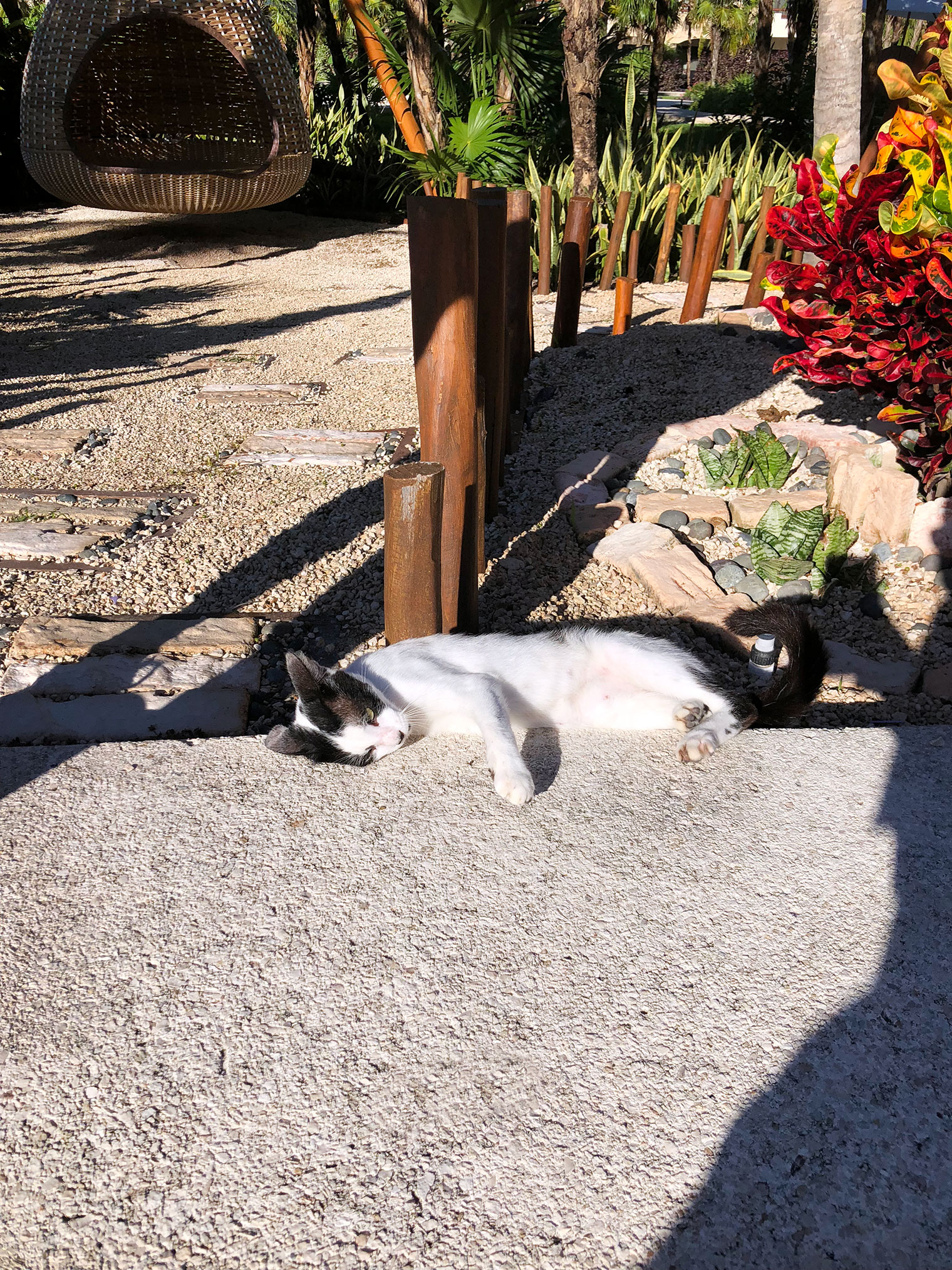 On our walk to breakfast, we saw one of the 3 wild cats that were roaming the resort. Such a sweet soul!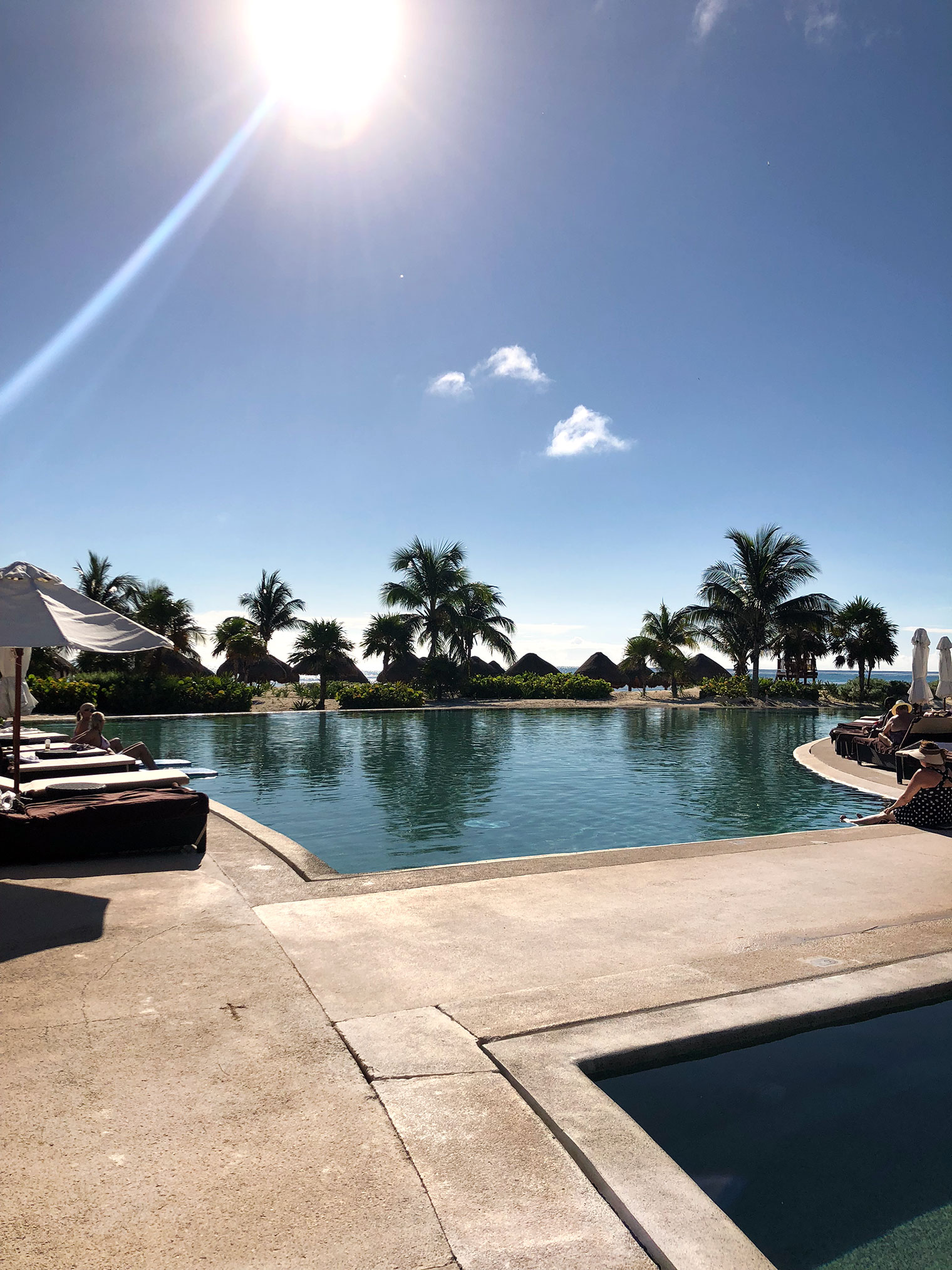 Here is a lazy view of the pool in the morning, before anyone was in it.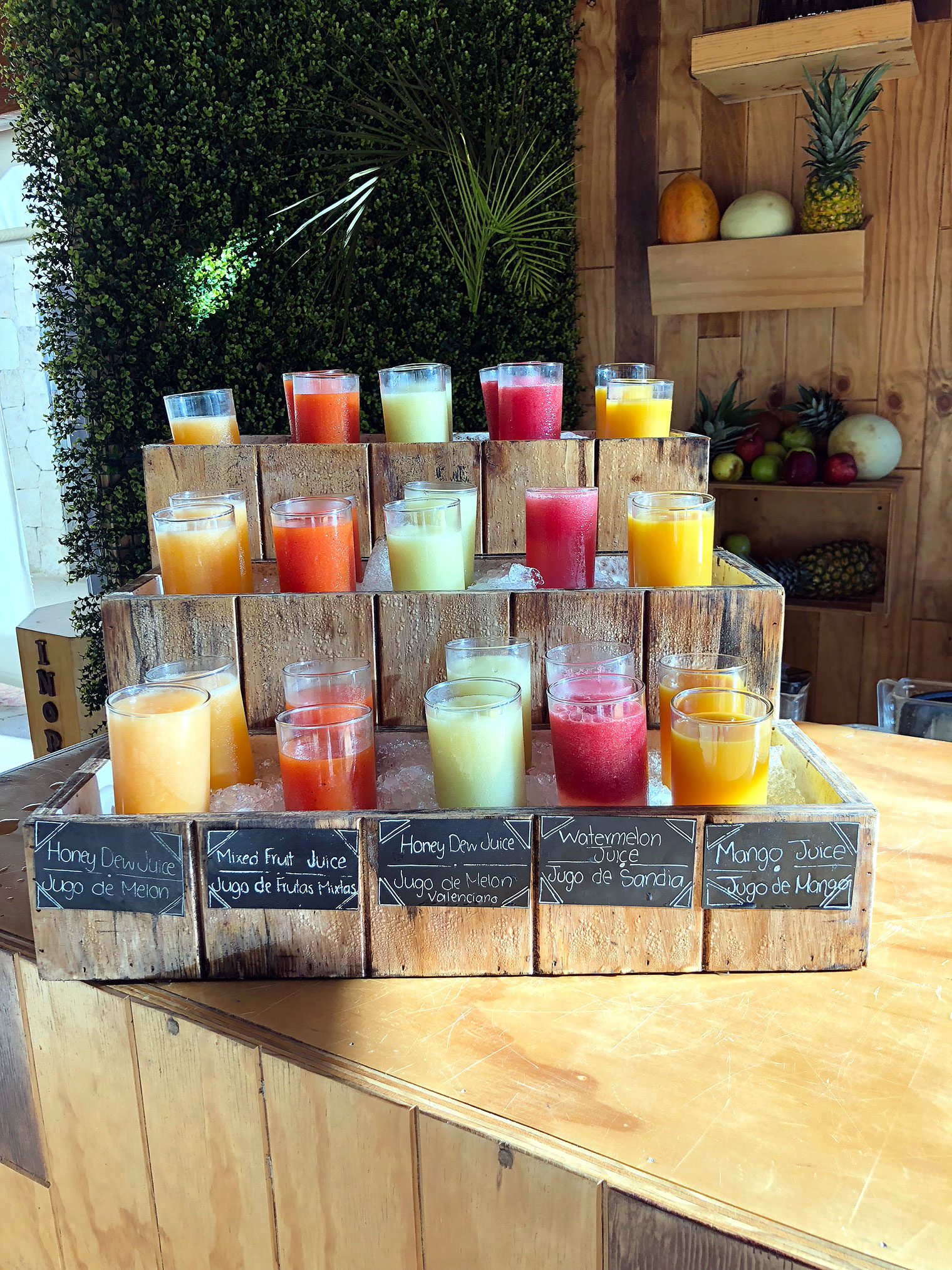 In the front of the breakfast buffet restaurant, they have fresh juice. I loved the watermelon juice and had it each day we were there.
My favorite part about breakfast at Secrets Maroma was the Nutella banana and strawberry crepes that they would make me every morning. So good with some crispy bacon and eggs!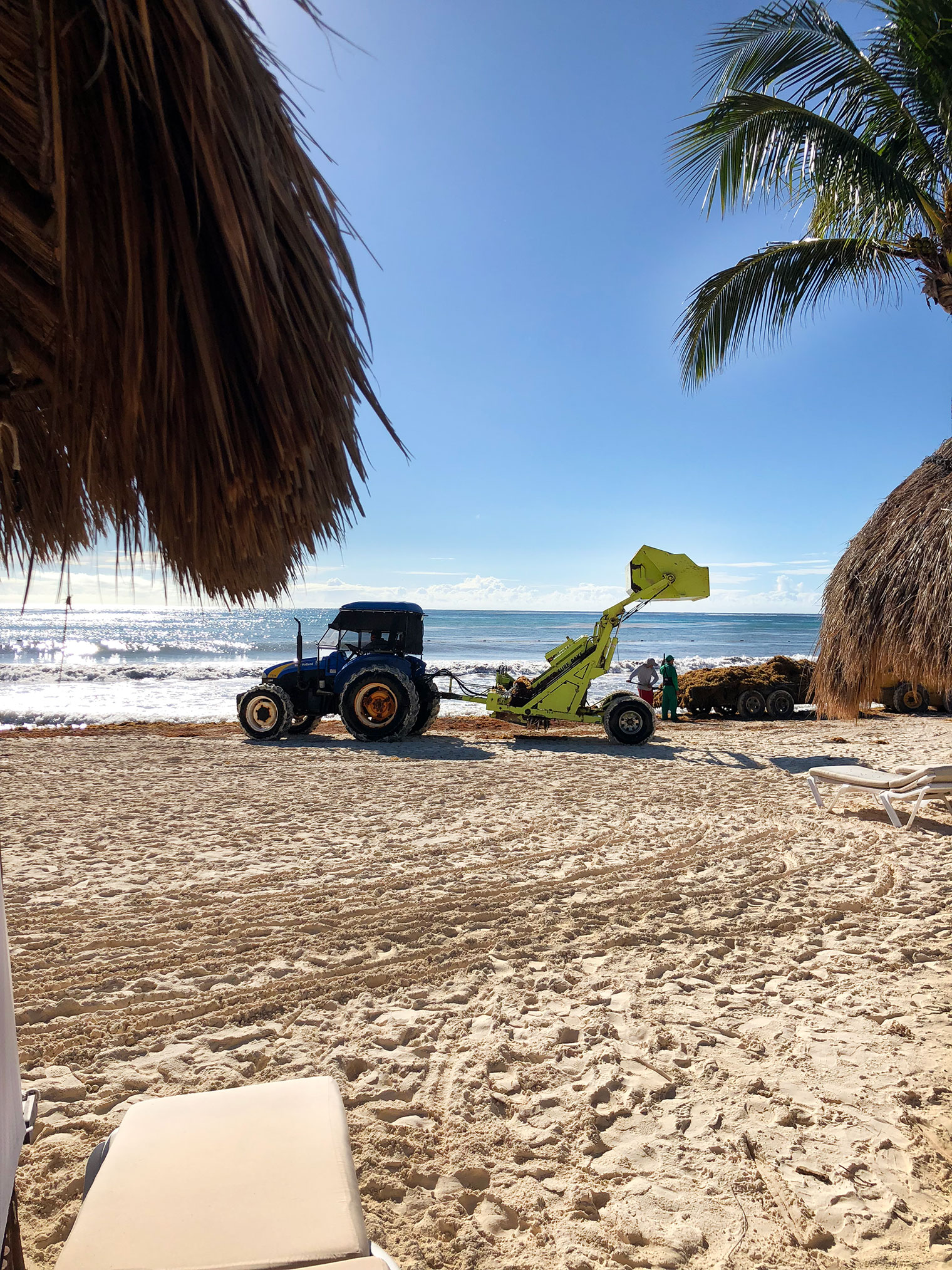 After breakfast, we walked over to the beach and saw that they were working hard on cleaning up all of the seaweed after the tropical storm had hit the past few days. They're pretty good at cleaning it all up, with a machine and physically with a rake!
On the way back to our room after breakfast I picked up a couple of souvenirs for Autumn. A cute clutch and pair of shell flip flop earrings.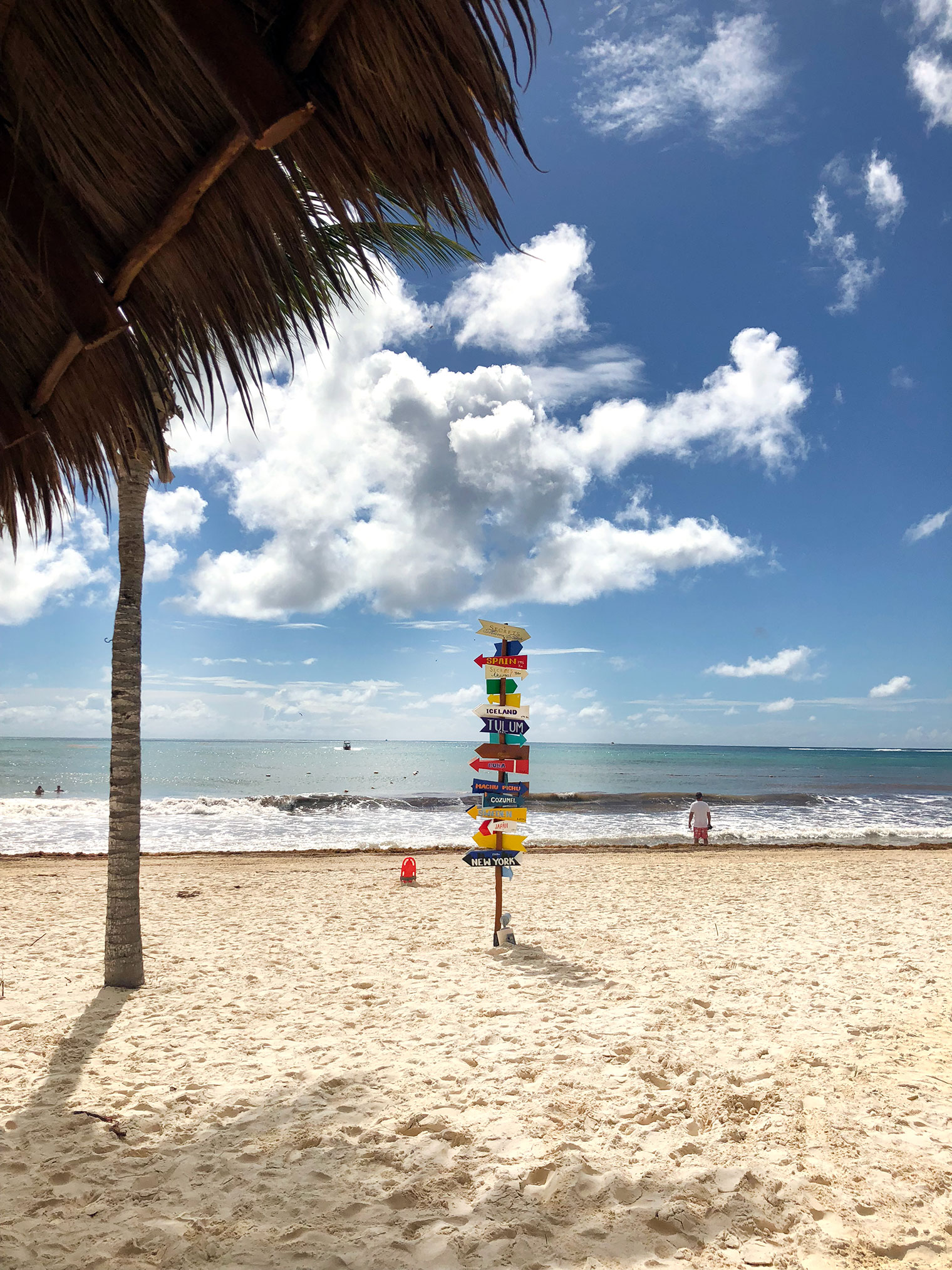 We rented a cabana for two of the days that we were in Mexico. We did this last year and LOVED how laid back it was and you're shaded from the sun and they bring you unlimited food and drinks. I'm telling ya, it's the life!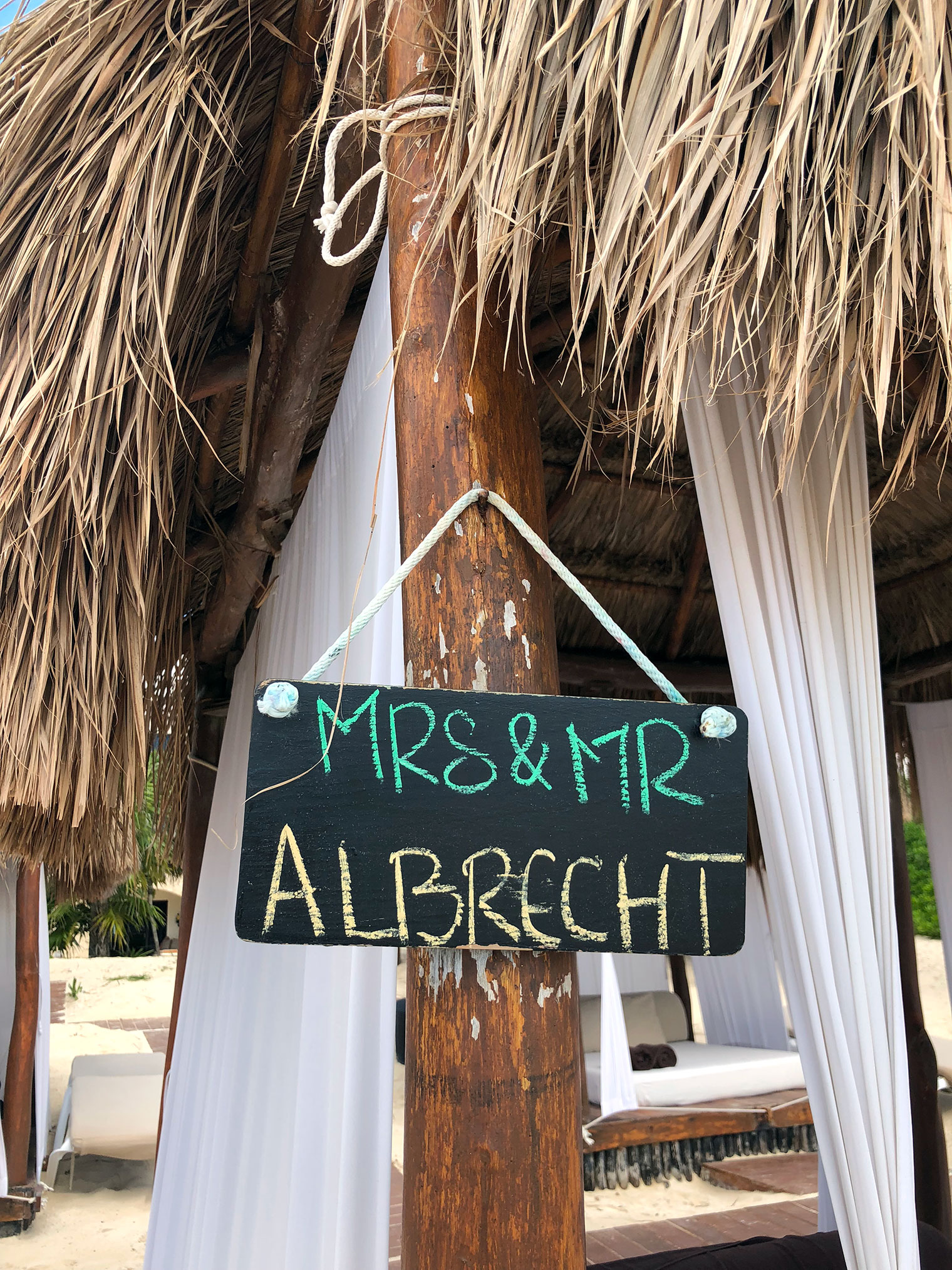 The cute sign on our cabana.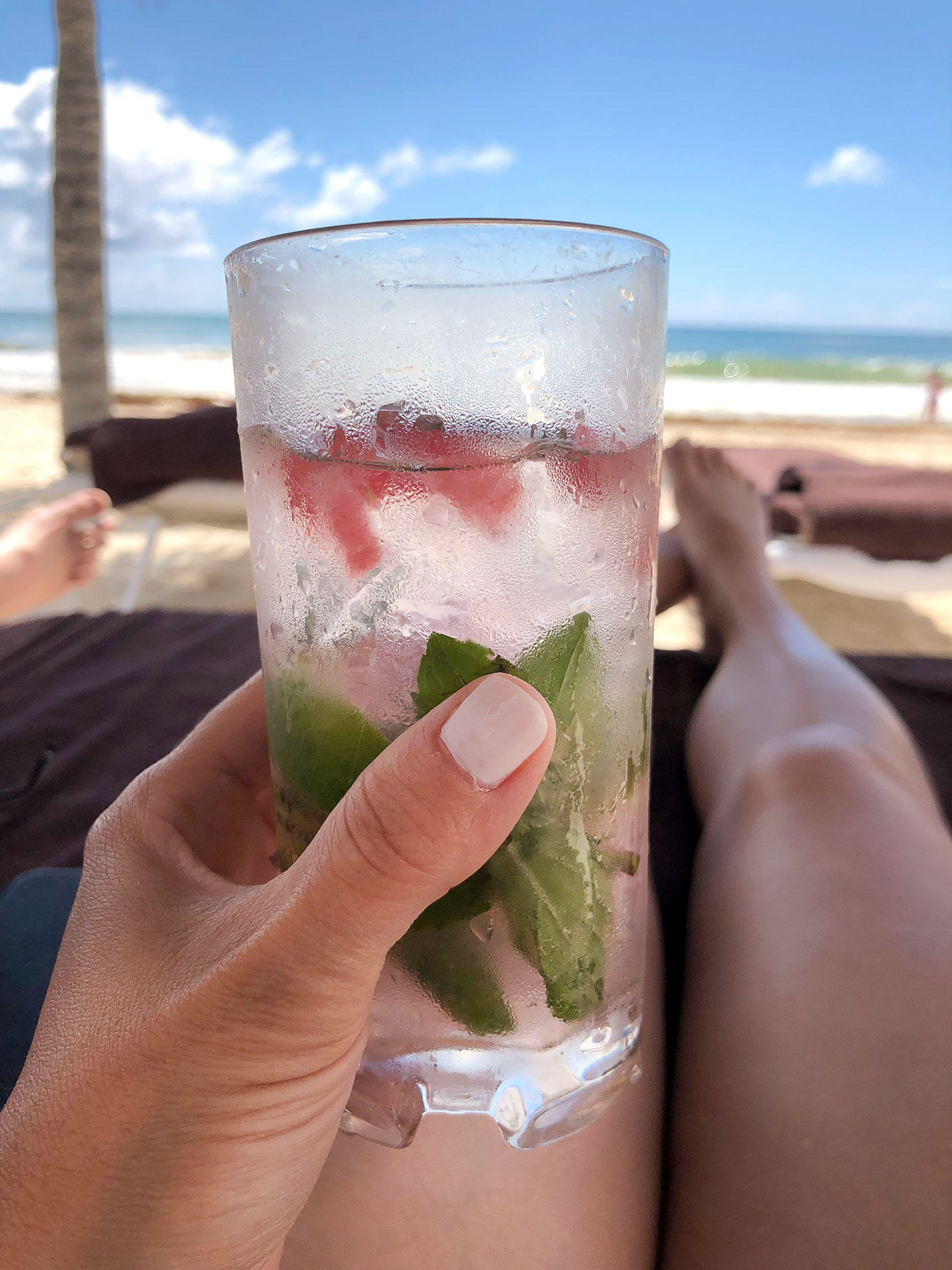 This was the drink of the day, but I can't remember its name. It was good, though!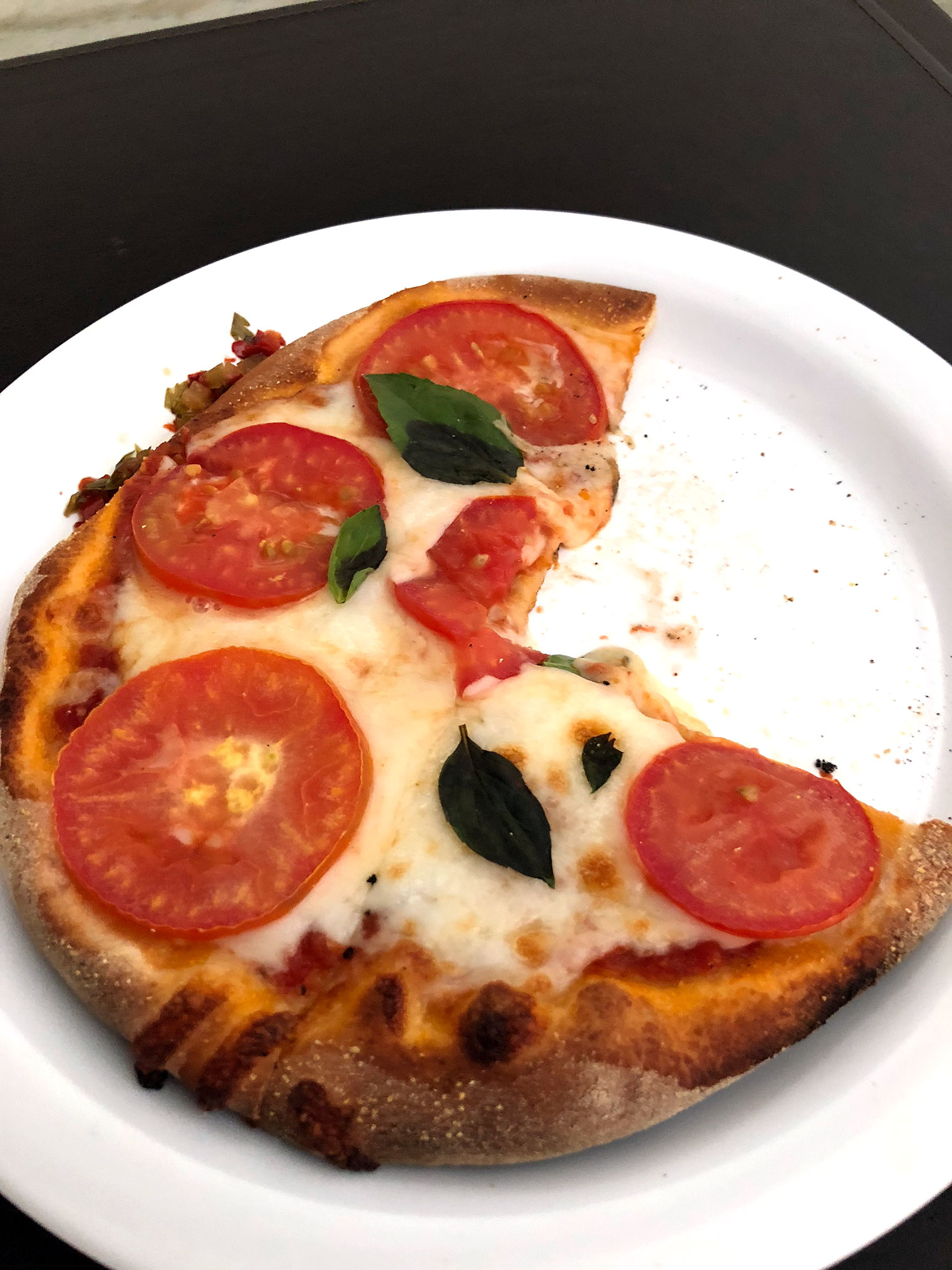 After we had been in our cabana for a few hours and had a nice swim in the ocean, we decided to get some wood stove cooked pizzas and take them back to our room. It was nice that we were in our room, because my lost luggage from the day before arrived! I WAS SO EXCITED!!!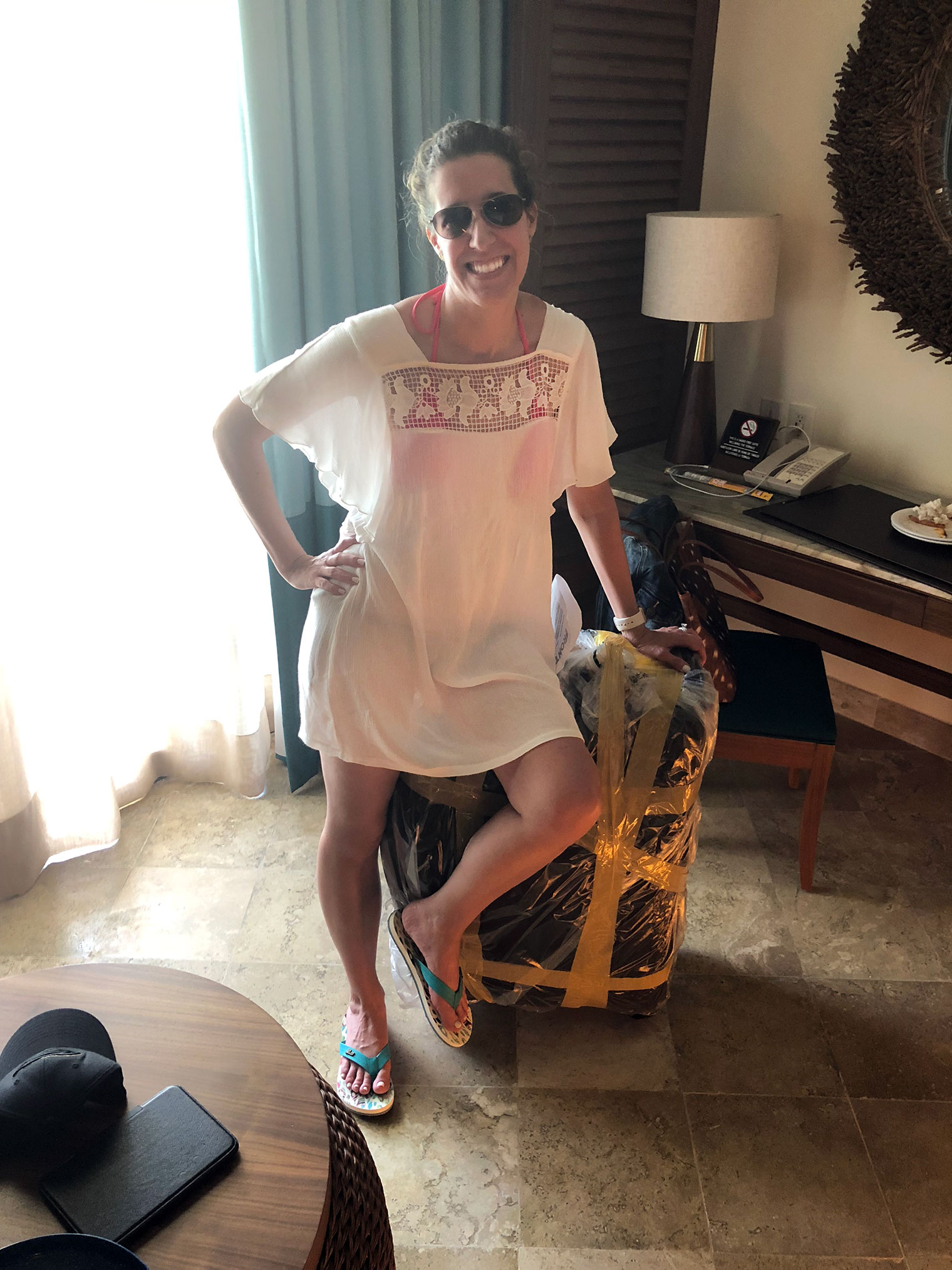 Here is a photo of me with my lost luggage from the airline! YAY! I was so glad they delivered it right to our resort and we didn't have to go to the airport to get it (can you imagine how horrible that would have been?!). It was ALL wrapped and taped up. I was SO excited to get out the swimsuit that I had actually purchased for this trip, instead of having to wear the gift shop swimsuit I had purchased.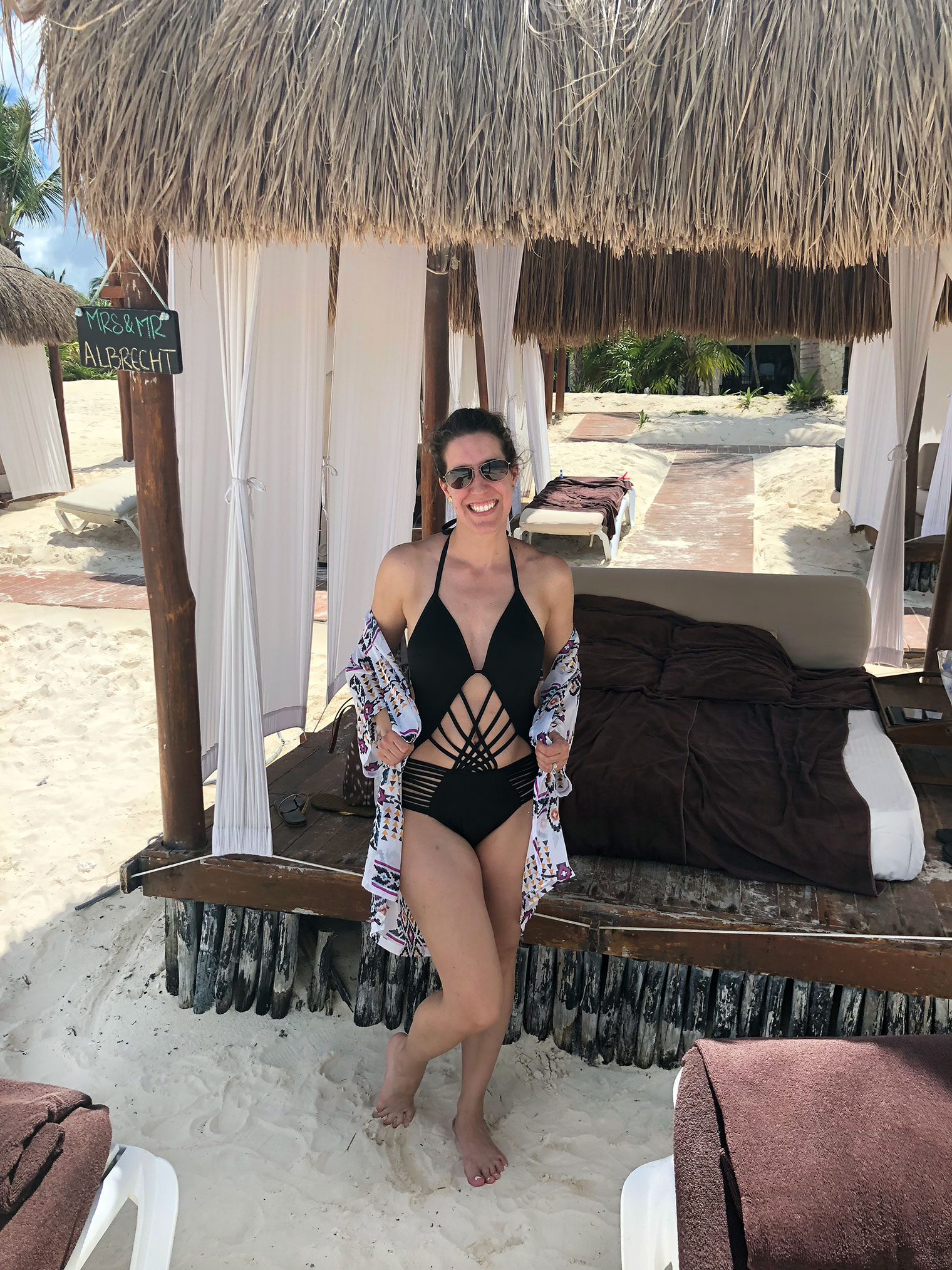 Ta-da! This is the swimsuit I had purchased for the trip. I'm wearing an old kimono that I got from my Peaches & Petals box (are they even around still?) with it.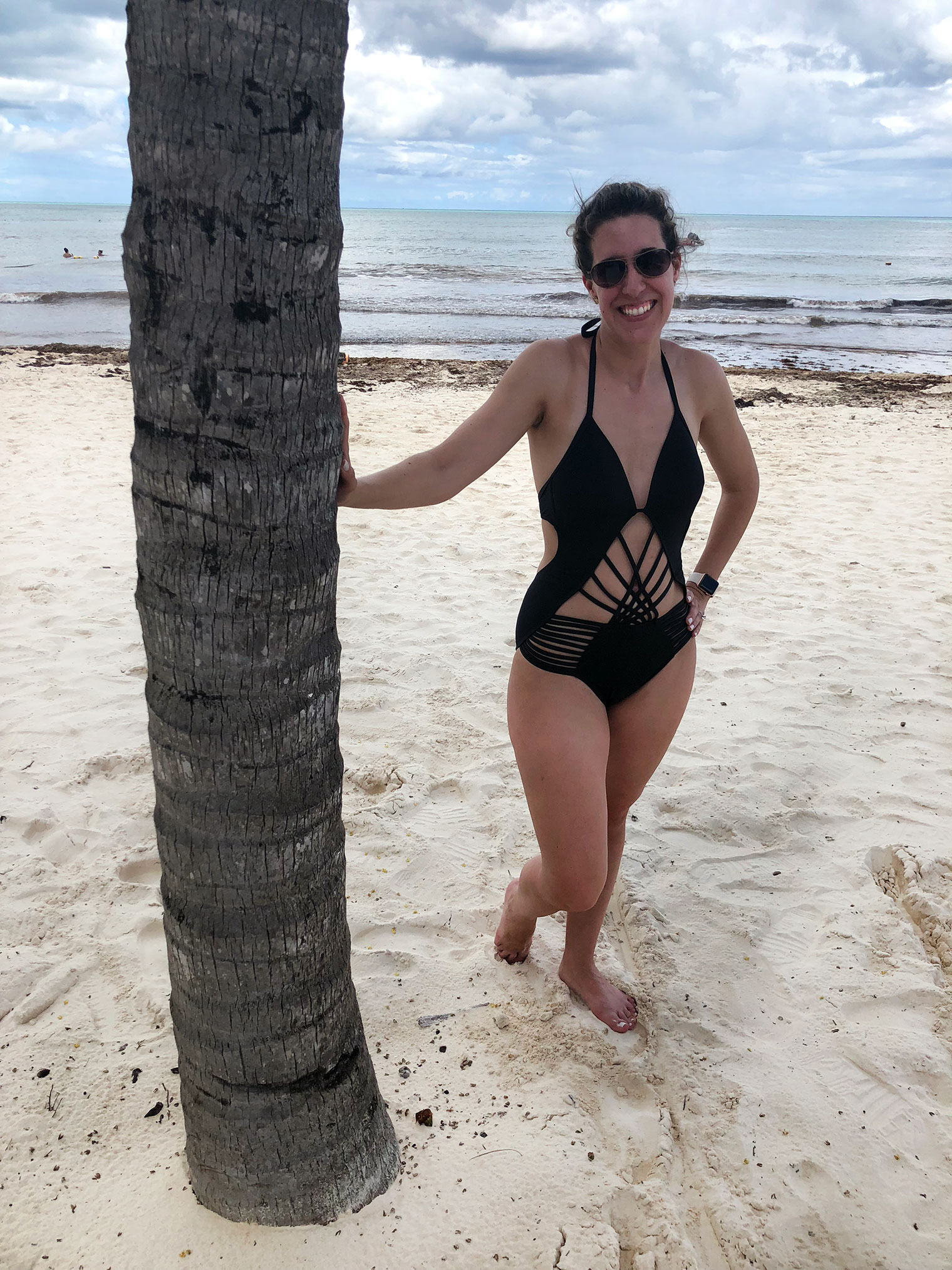 Loving the beach life! I want to go back!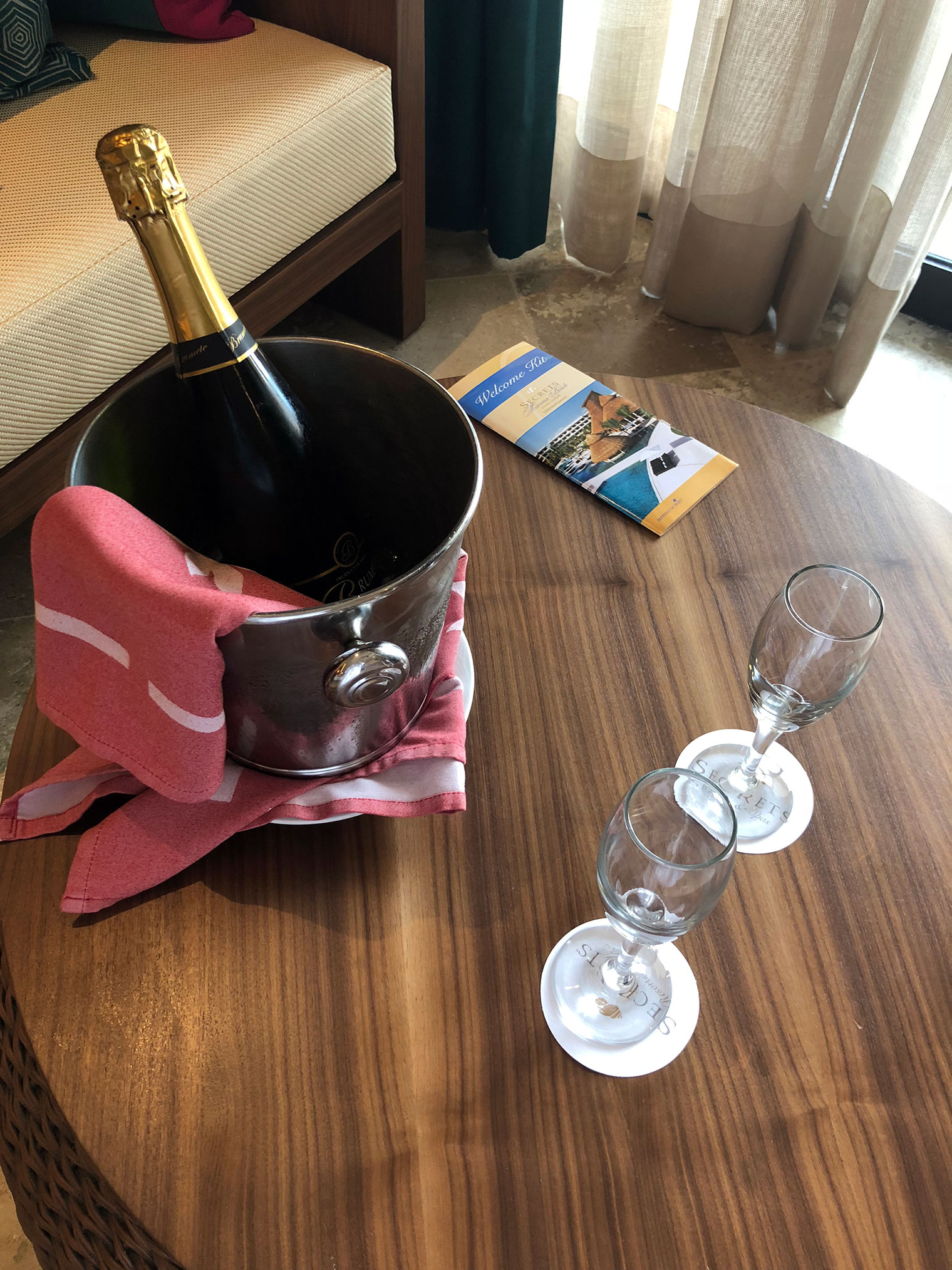 When we got back to our room (the cabana closes at 5 p.m.), we had a bottle of champagne waiting for us! Since we had stayed at the resort last year, we got a room upgrade and a delicious bottle of champagne as compliments for our second stay.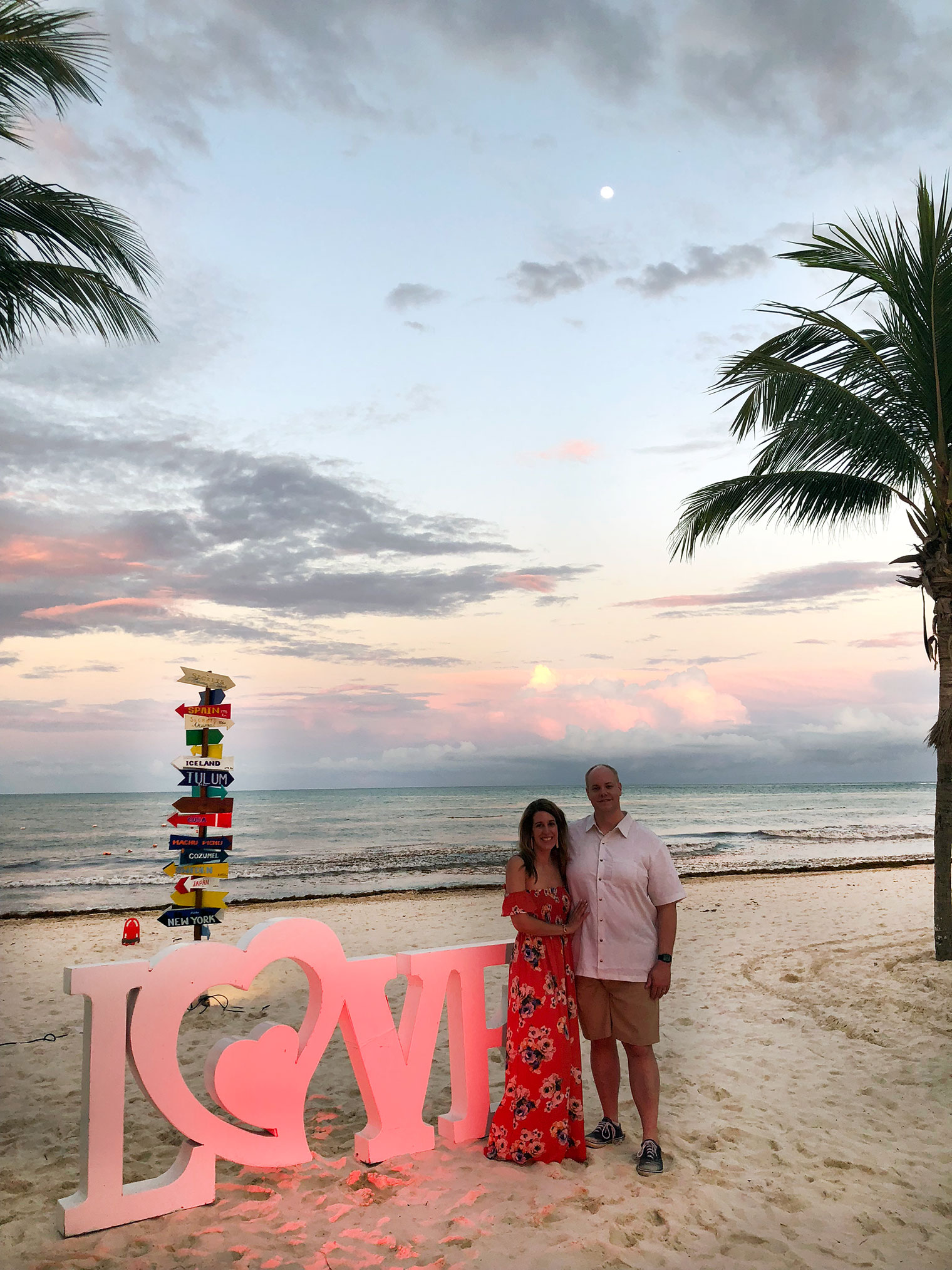 That evening, we went all out with a Sunset Beach Dinner. All dinners are included at the resort, except for this dinner. We decided to try it out this trip and I was so excited for this special and romantic evening. I purchased this orange jumpsuit from PinkBlush just for the occasion!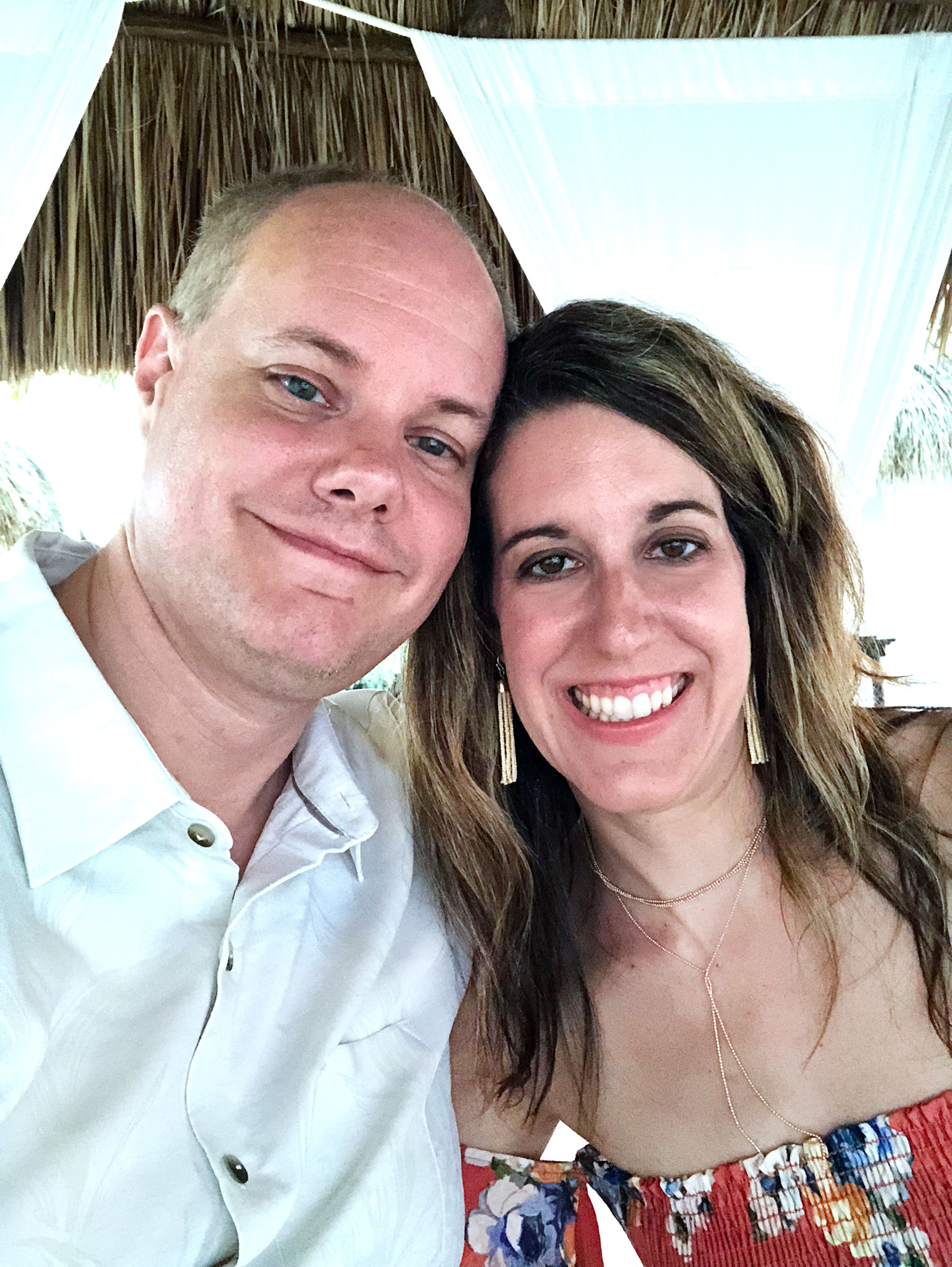 This selfie turned out pretty well that I took of us sitting at the table! 🙂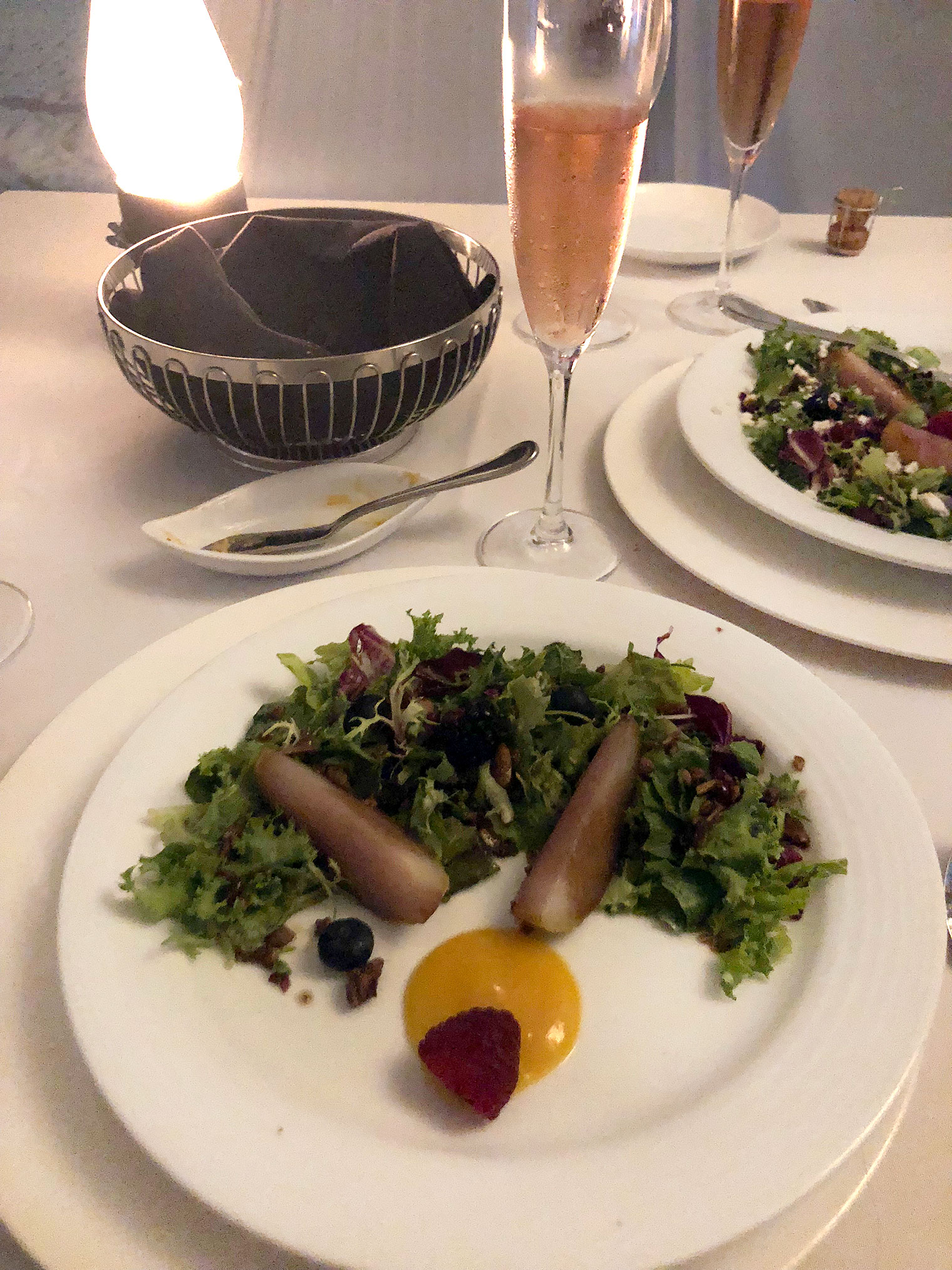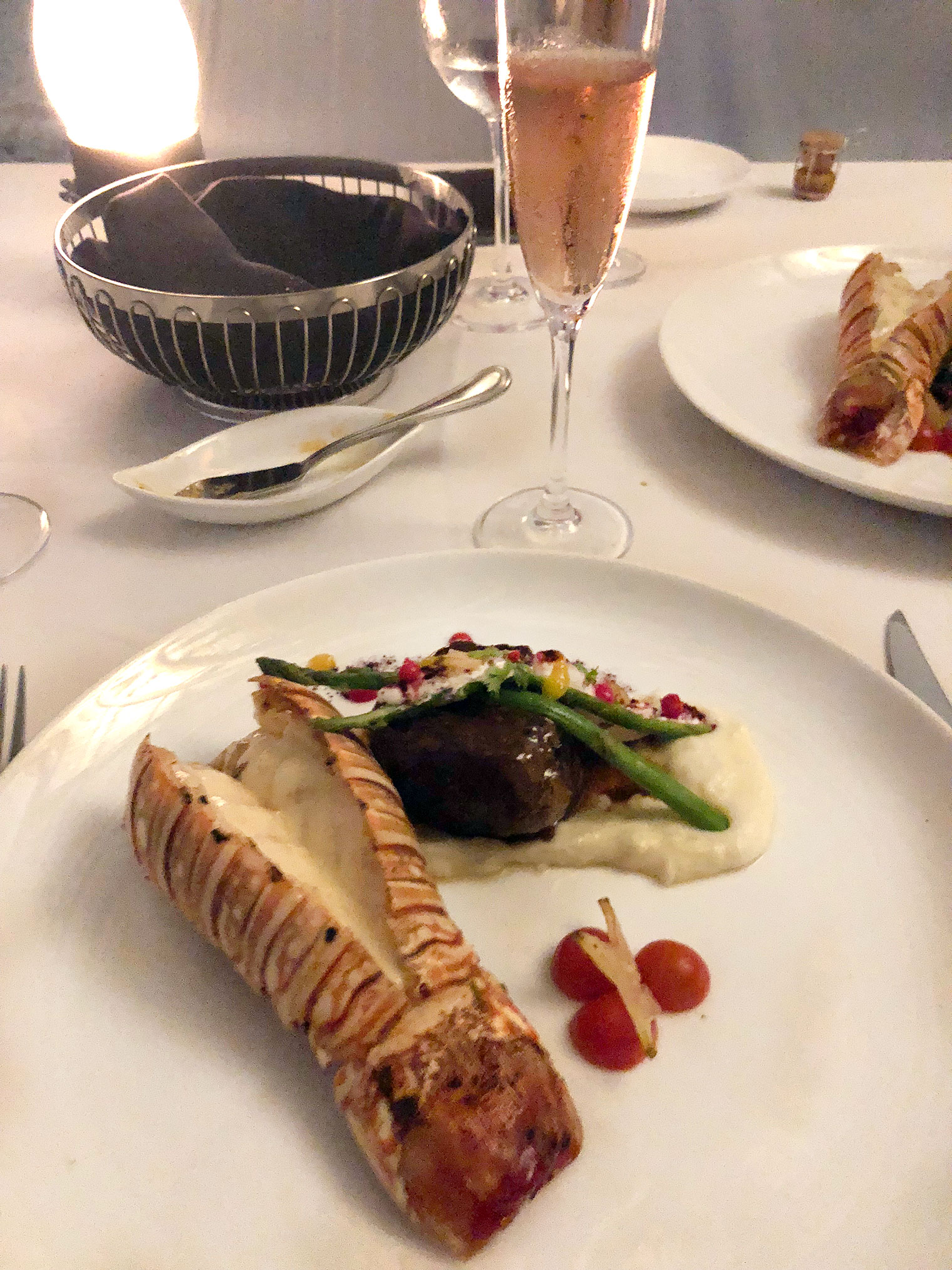 There was three tiers to the sunset beach dinner and we selected the highest one, which is a surf and turf! It was pretty good, I'm thinking kind of up there with Outback… not as high as a fine steak restaurant, but pretty tasty! I also had a pear salad and a cream (soup). The soup isn't pictured.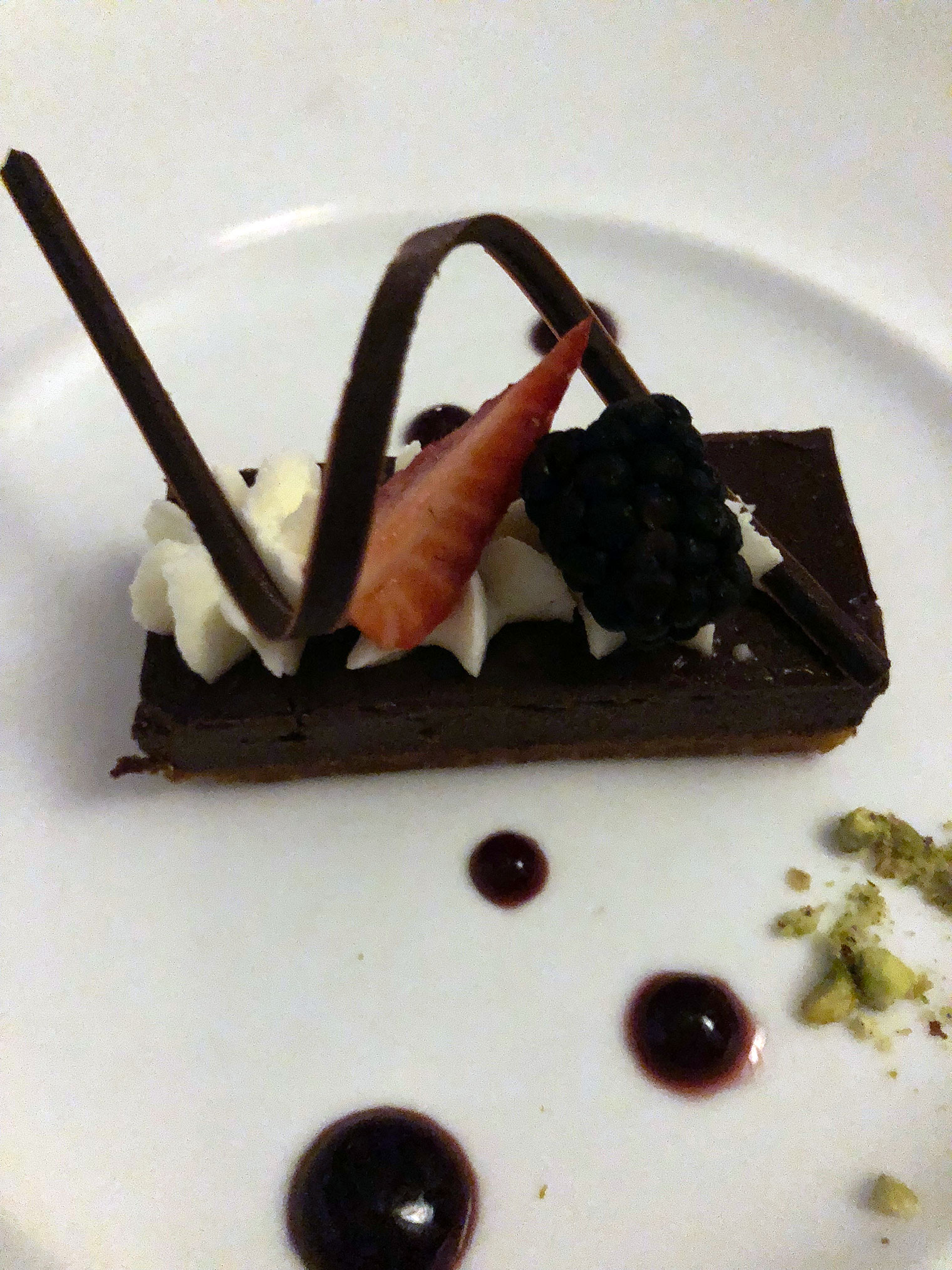 The dessert was a chocolate cake. I prefer a chocolate cake that has more fluffy cake to it, but this wasn't too bad!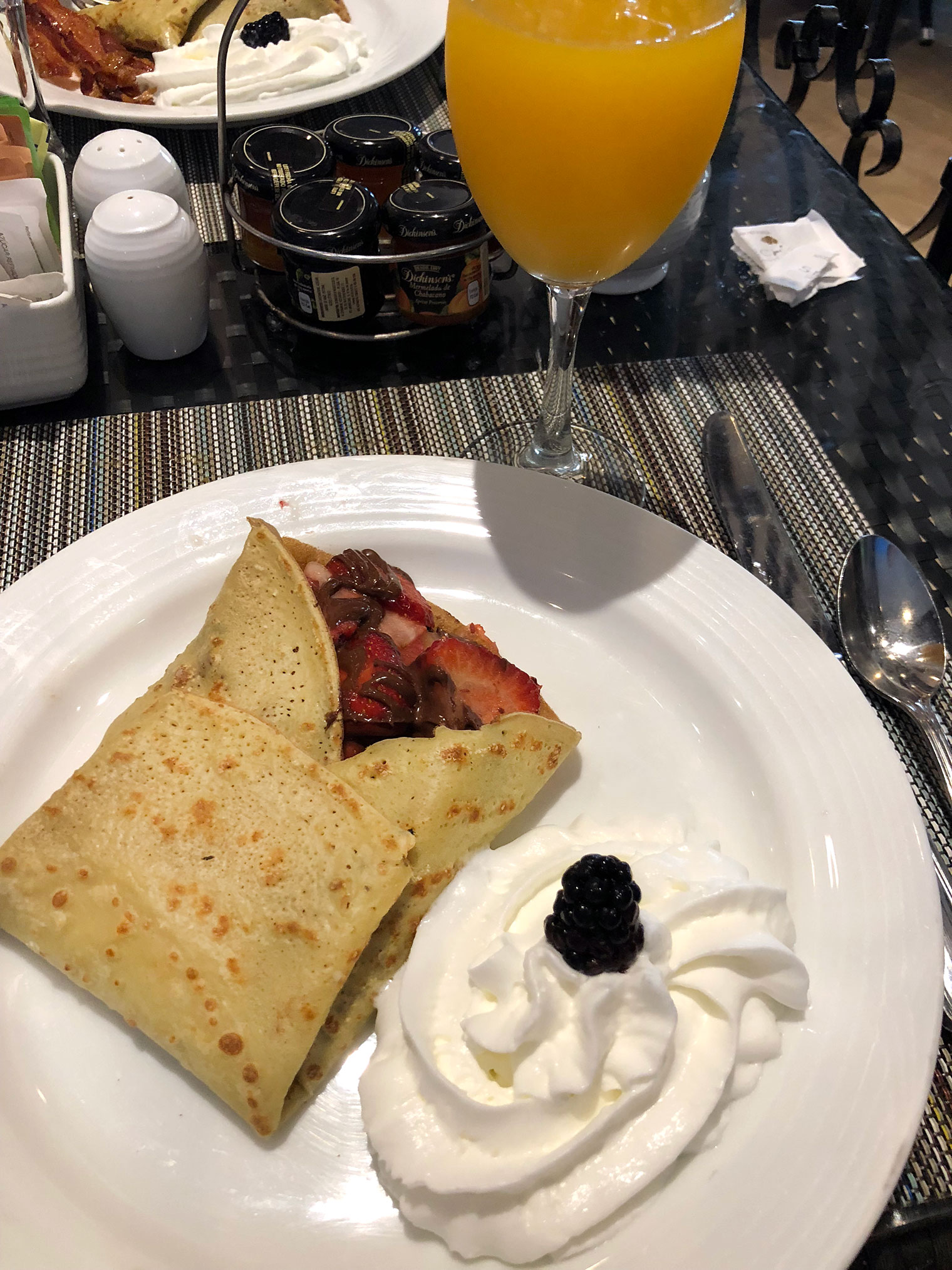 Then, for our last day, Day 3… we kind of did the same thing… relaxing cabana life. Here is my delicious Nutella, banana and strawberry filled crepe with whipped cream in the morning at breakfast.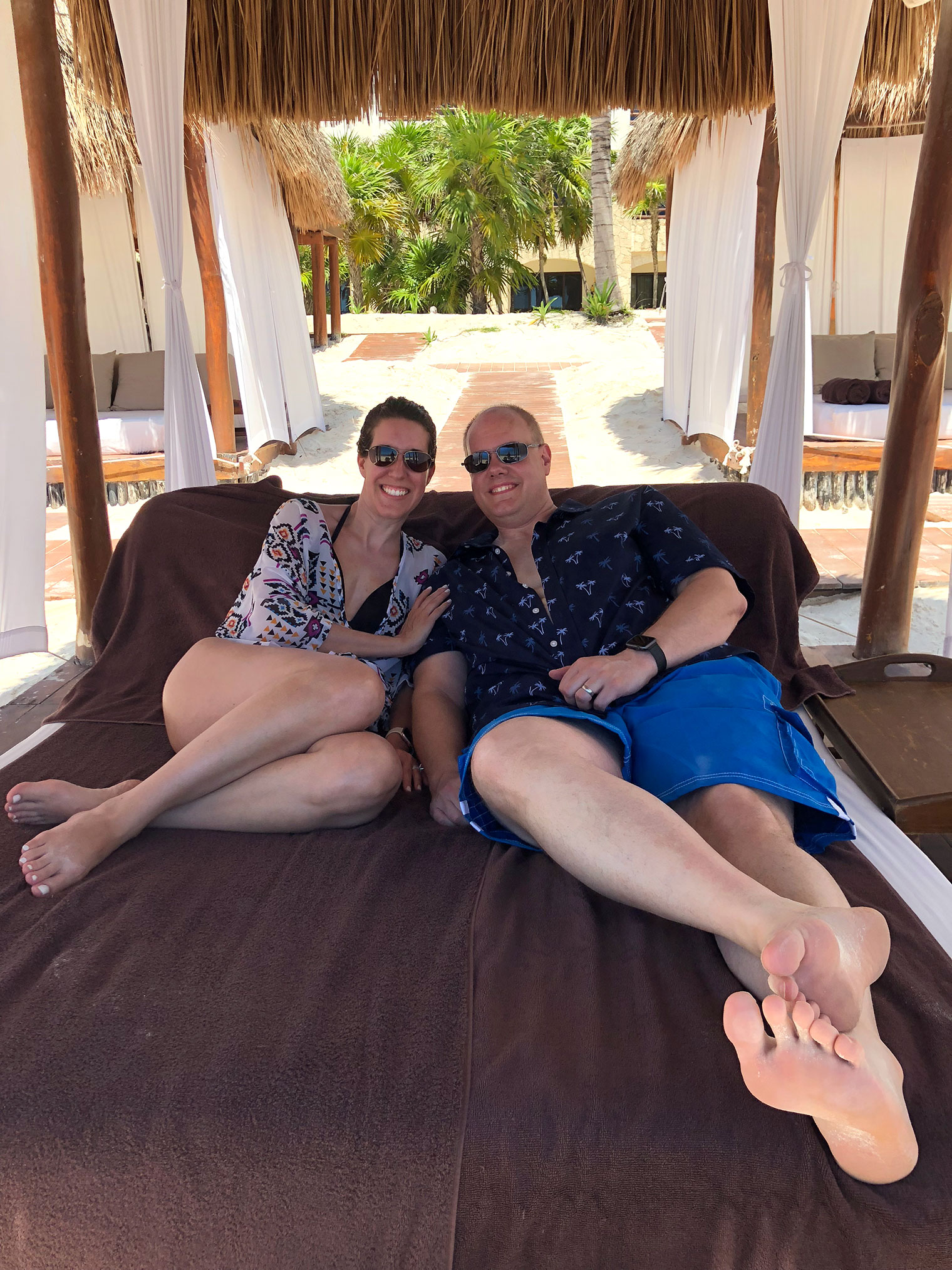 We got some photos of us inside the cabana when we first got there that morning.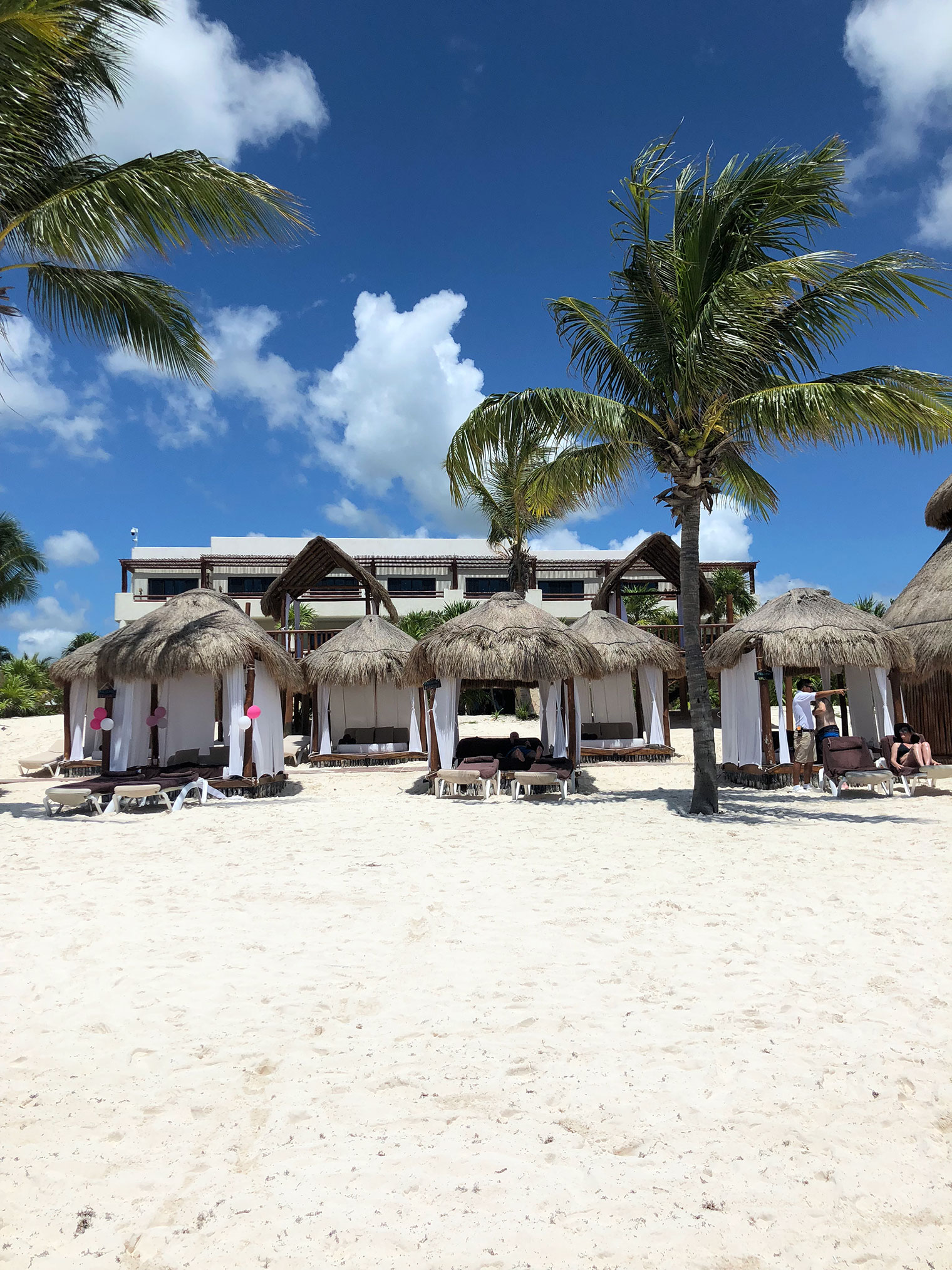 Here is a view of the cabanas from the beach. They also have another side with cabanas.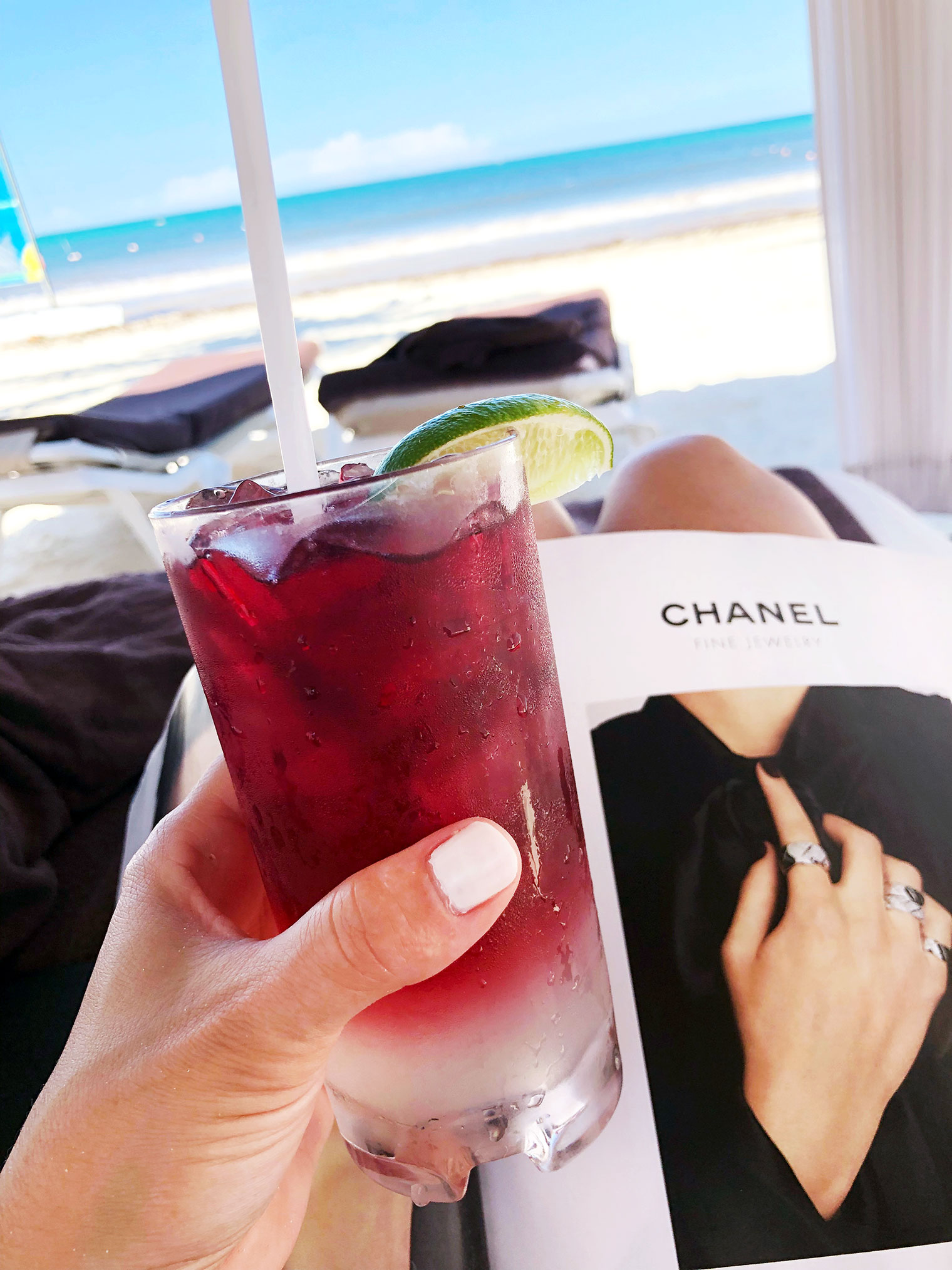 We pretty much just relaxed in the cabana ALL day. I read on my Kindle, read some magazines… gazed at the beautiful ocean. And, I swam in the ocean several times. I also enjoyed my share of some delicious Mexican bar food and alcoholic beverages!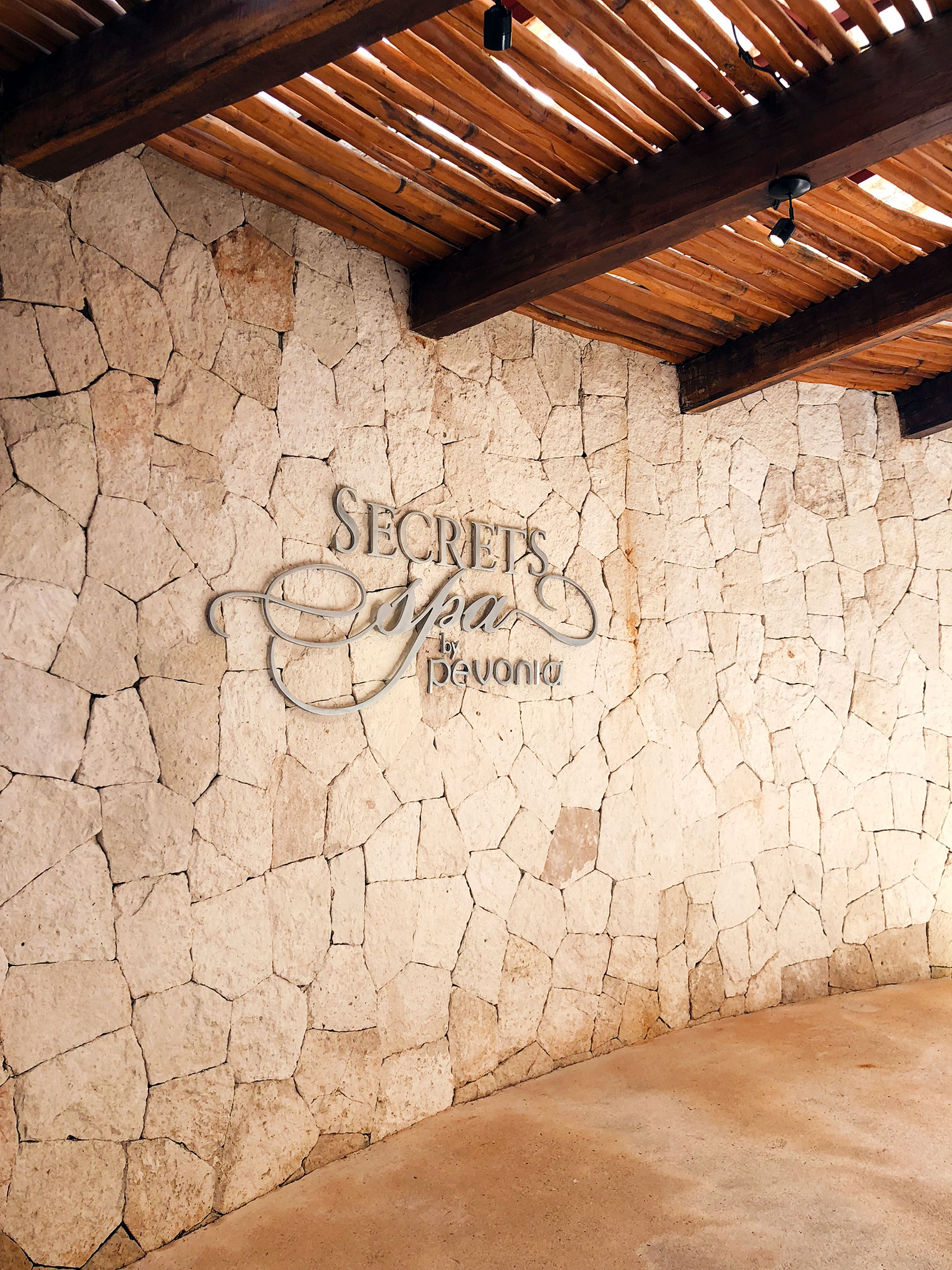 After our relaxing cabana time, we went to the Spa and I had my first ever hot stone massage! Ahh, it felt so good! Hot stones may be my favorite massage now… It was also my longest massage ever, 90 minutes! I usually get 60 minutes, but they only offered the hot stone massage for 90 minutes. I didn't complain. 😉 Brian and I got a couples hot stone massage, so he was in the room with me during it. This was his second massage ever, he got his last one when we were at Secrets last year. Thankfully he wasn't sunburned this time. 🙂 I'm getting him hooked!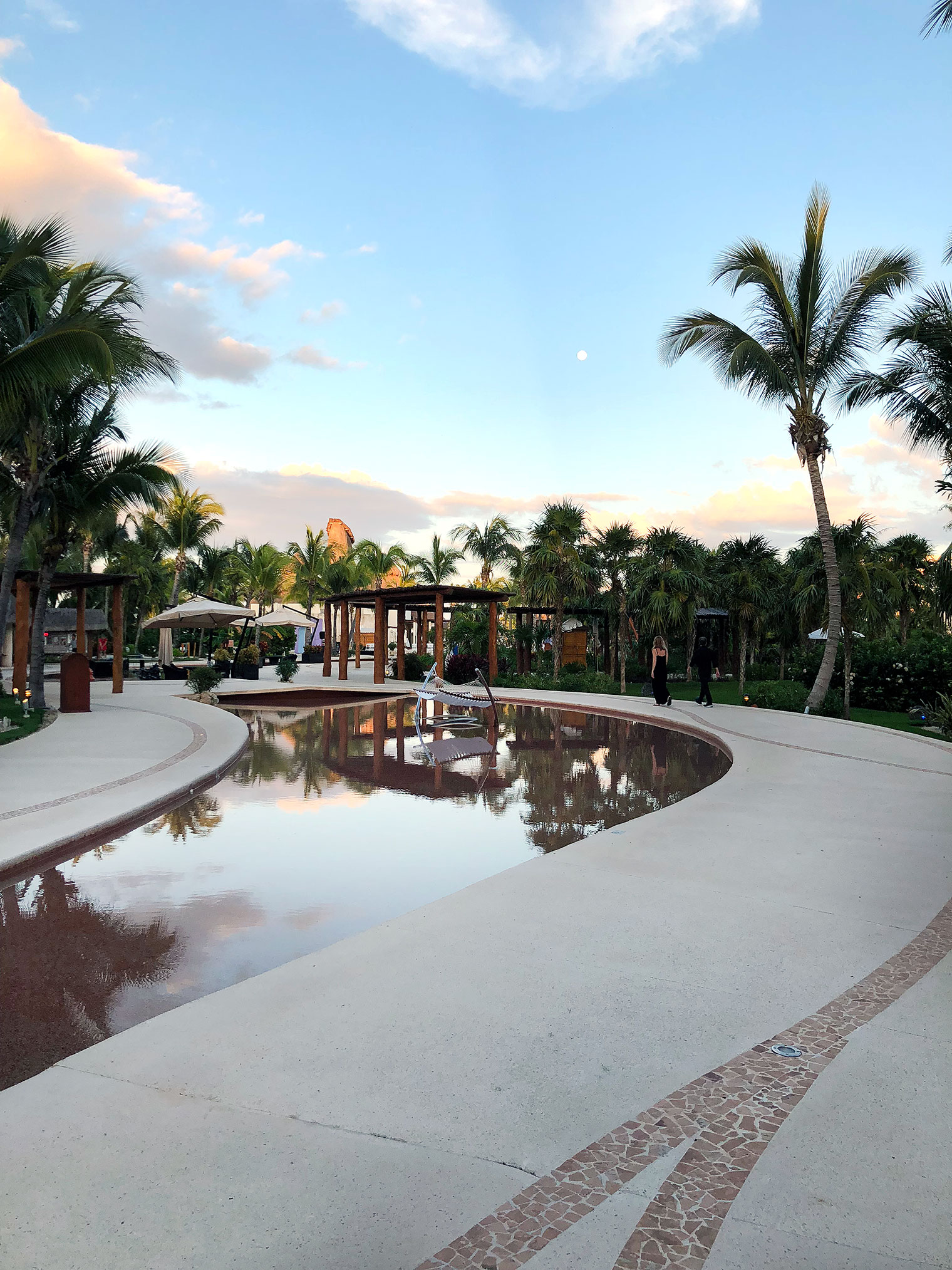 Just a view of the resort while the sun started to set.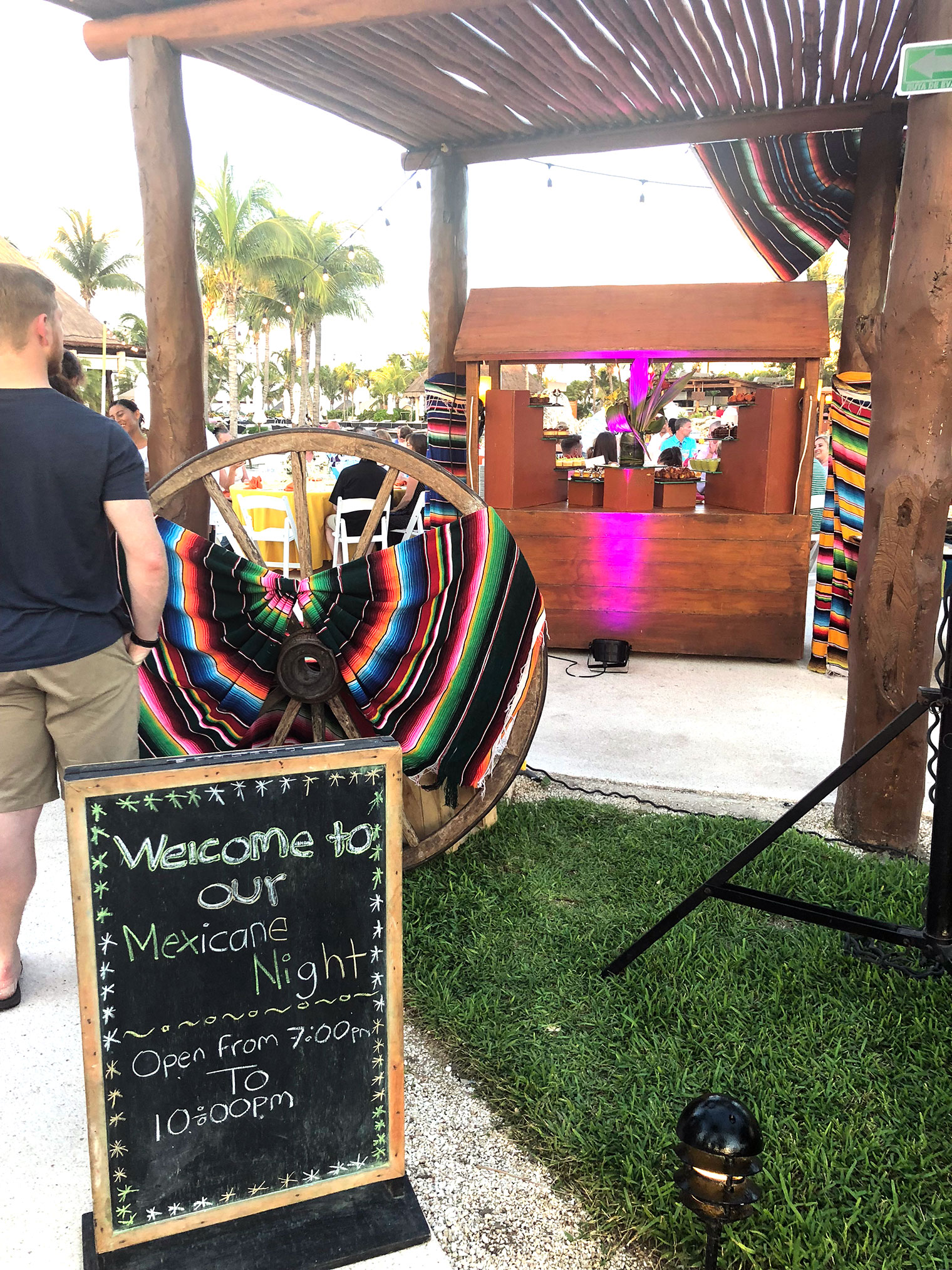 They had a fun Mexican dinner buffet outside, complete with games. We didn't go, because we had reservations at the Hibachi restaurant.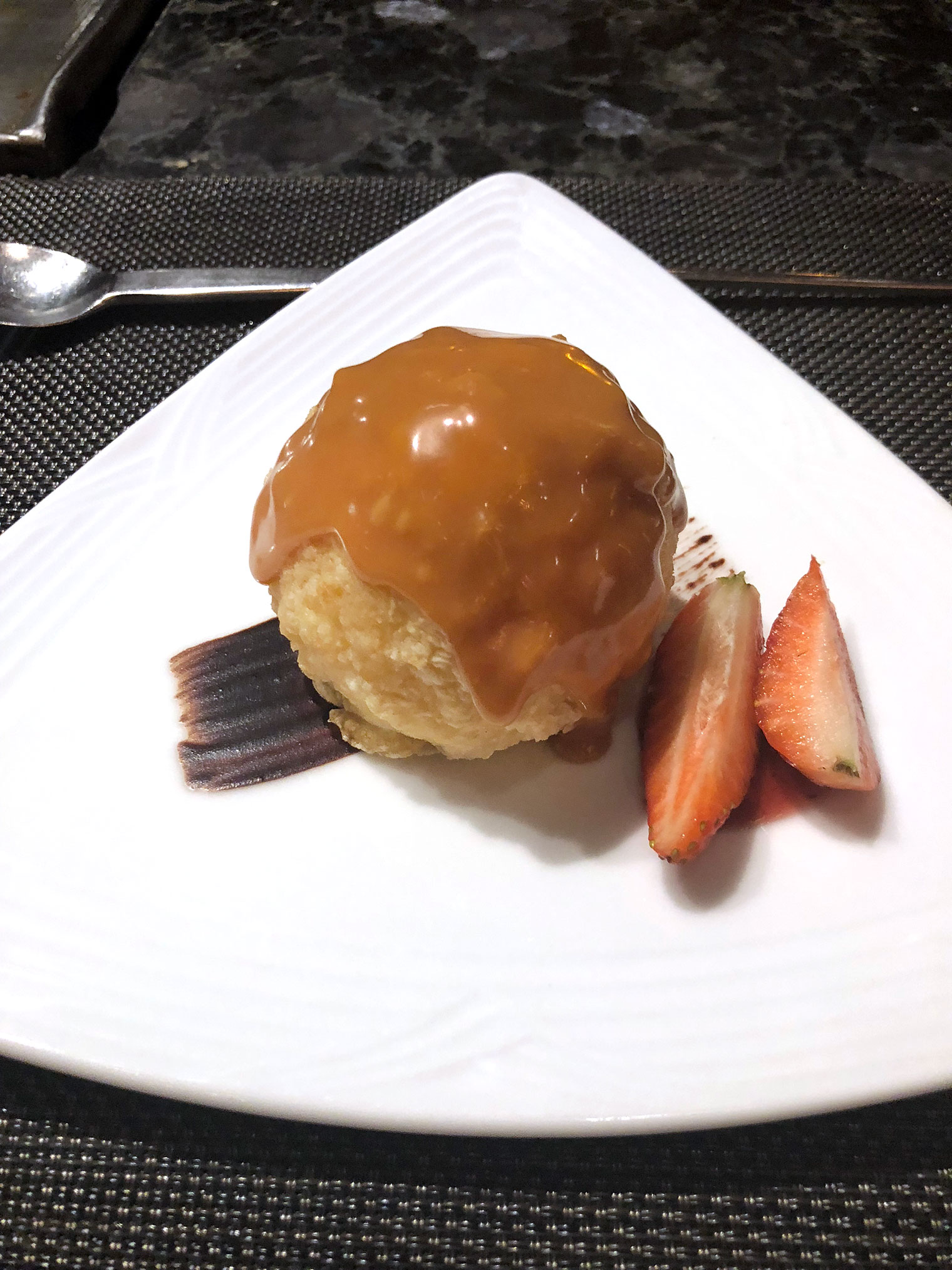 The Hibachi restaurant is the only one that you need to make reservations for and we booked it our first day, but they only had a dinner time of 9:45 p.m.! It was SO late and I was so tired. I think next time if they only have reservations for that late, we'll pass and just go to one of the other restaurants. I'm more of an early riser than a night owl. I was so tired that I didn't even get any photos of the food, but here is the fried ice cream at the end! YUM!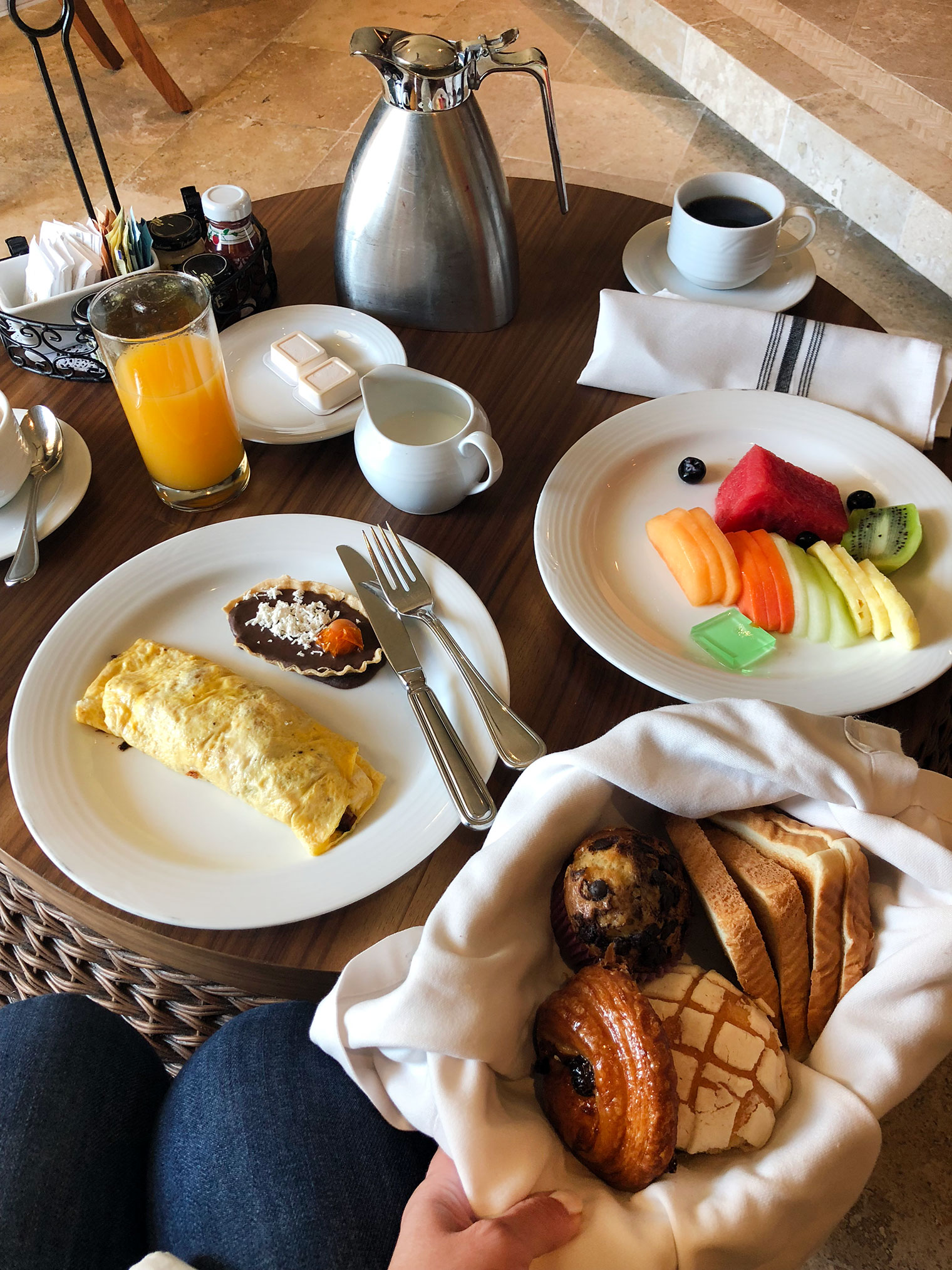 The 4th day we had to head back home already! We got breakfast delivered to our room. It was SO delicious!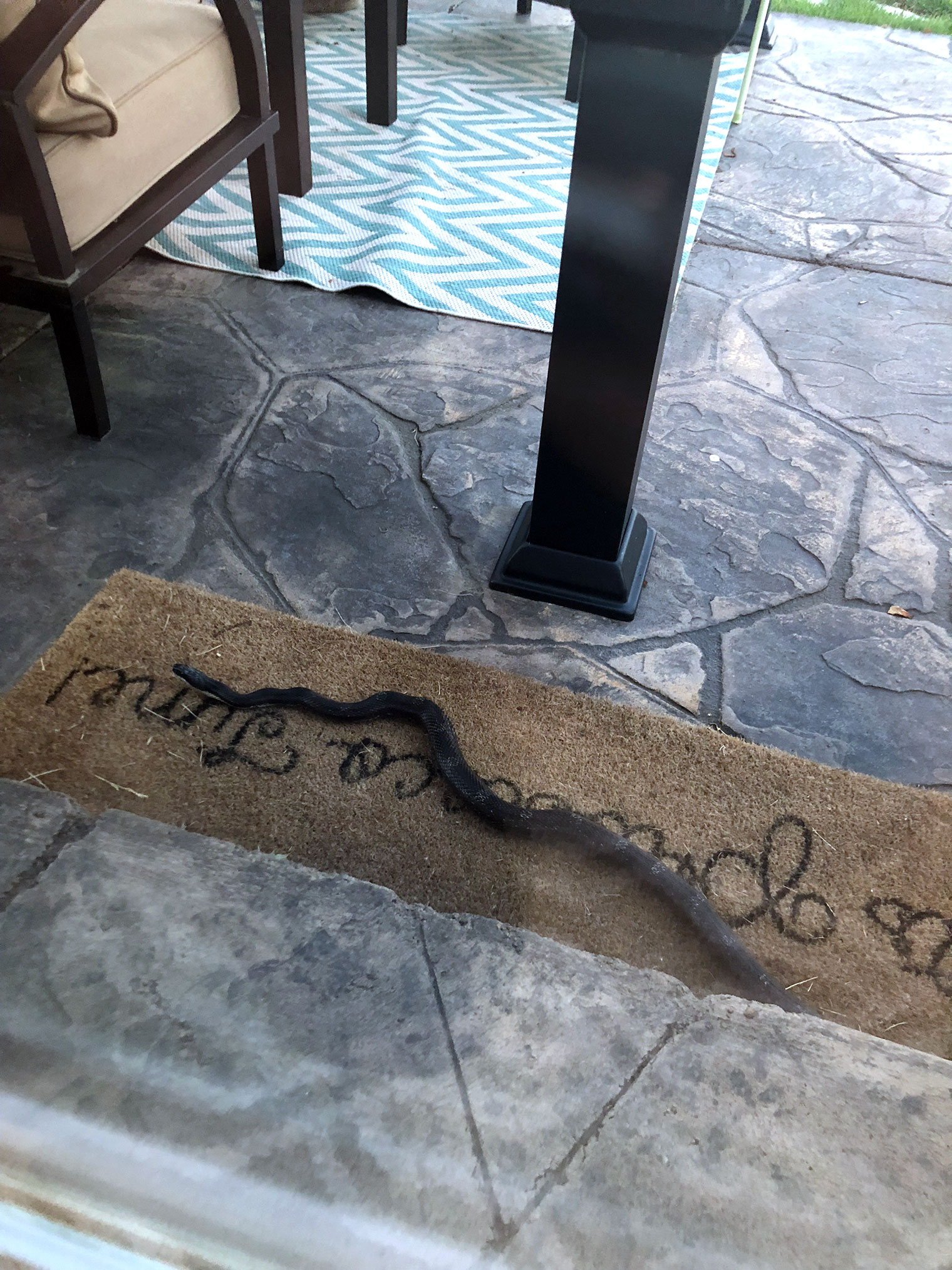 And, when we got back home… we had a lovely black snake (first I've EVER seen outside our house since I've lived in this house- 2003!!) sunbathing on our patio. EEK! We haven't seen it since… but, we had to get a mole problem taken in our yard and we are wondering if that is why he stopped by. 🙁 I can't wait to go back to stay at Secrets Maroma again in the future! I hope you enjoyed the recap post!
Have you ever stayed at any of the Secrets resorts? Which ones? I'd love to hear which ones and your thoughts in the comments!