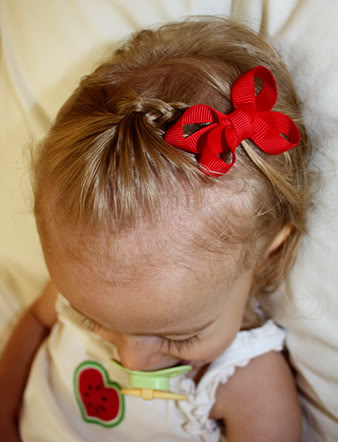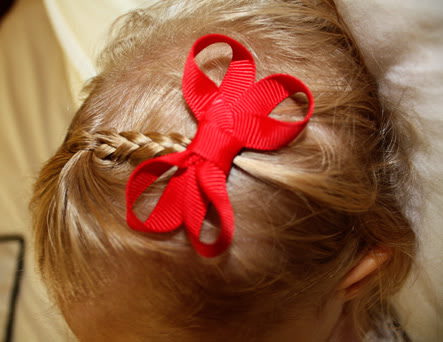 We were lazy this morning in the hotel, and since I love to play with Auttie's hair, I decided to give her a braid. Her very first braid! Soooo stinking cute! Of course, then I decided I wanted my bangs braided, too! Although, I didn't put a cute red bow in my hair! 🙂
We had planned on going to Tiny Town at 10 a.m. when they opened, but we were running late and got there around lunch time. When we pulled up, there were cop cars and news crews! Apparently, the train went off track and tipped over… 15 people went to the hospital with scrapes and broken bones! So scary! The train that tipped over was the 10:45 a.m. train, I am sooo glad we did not get there on time! We cannot believe that first there was a gas leak in the kitchen at Cheesecake Factory (yesterday) and then the Tiny Town incident… crazy! I told Jeremi that maybe we shouldn't go to Boulder, because a boulder may fall off the mountains and hit our car! ;o)- Here is the link to the Tiny Town accident.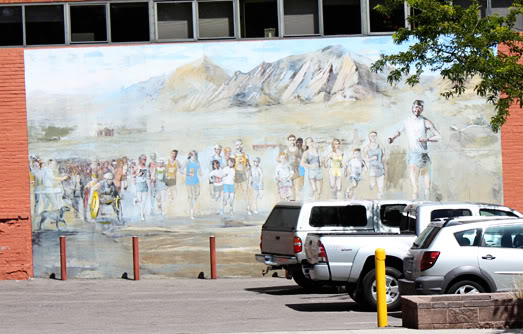 We went back to the hotel for a bit, got some hot dogs from a street vendor for lunch… and, then headed to Boulder to see Pearl Street Mall, an outdoorsy shopping district in the heart of Boulder that Mel suggested. Here is a mural of a race that I had to take a picture of after we parked. :o)- And, I must say, wow, Boulder is a pretty fit city!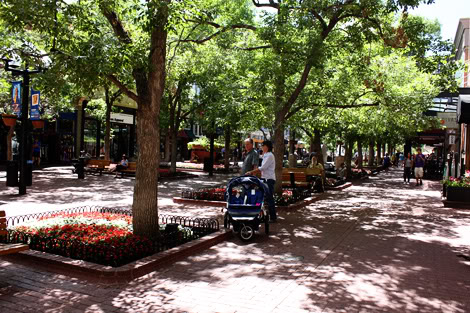 We spent most of the afternoon and evening at Pearl Street and had a really great time! I probably shouldn't say this, but I almost prefer Pearl Street over 16th Street Mall… but, its hard to compare, they are both different. There were a lot of cute shops such as Paper Doll that had a lot of cute homsey items, a spice shop, etc.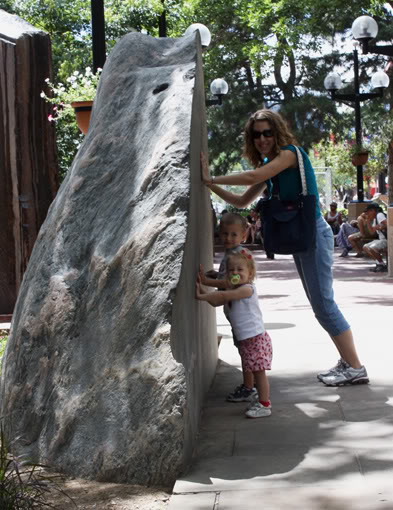 We are such dorks. Here I am with the kids, attempting to be funny… we are trying to look like we are pushing the rock. Umm, yeah. Dorks!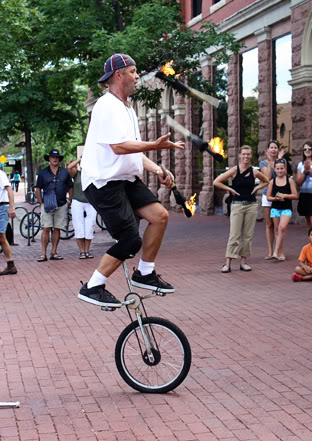 We watched this guy perform a lot of tricks, and it was really amusing! He had a great sense of humor! It was funny, before he lit the torches, he asked if anyone had a lighter. Noone responded, and one person yelled out, "Its Boulder!" I guess they have a no smoking policy? Anyway, finally after a few minutes a guy came up with a lighter. lol. And, then a firetruck and ambulance pulled up! It was so funny! He was like, "Umm, yes, this is all part of the show! Really, it is!" There were a lot of other performers on the streets, too! Such a fun atmosphere!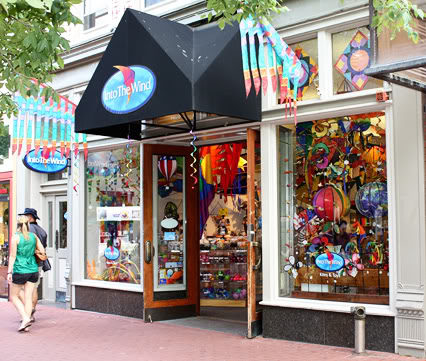 Mel told us to check out the kite store, and we had trouble finding it on the map. Luckily, we walked past it and saw a store called 'Into The Wind' and I knew it was THE kite store! heheh. WOW, this may be the best kids/toy store I have ever been in… seriously… WOW! We spent AT LEAST an hour in this store looking at everything!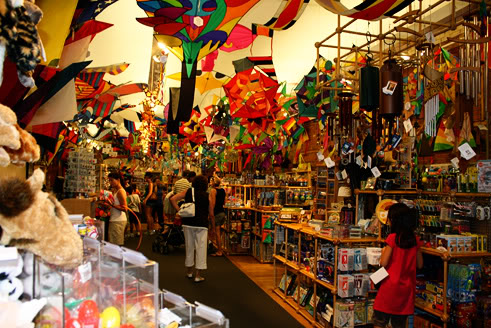 Inside of the store :o)-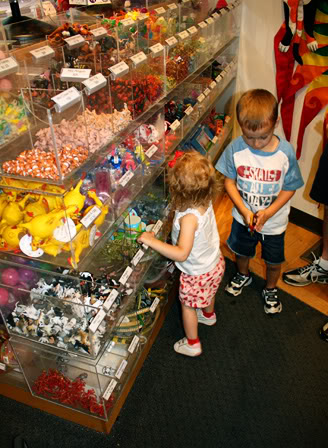 In the front of the store, they have all these little canisters full of different items… so neat, and it was all really cheap, too! Nathan and Autumn had fun looking at everything. Nathan found this disgusting rubber chicken and when you squeeze it, a white squishy egg pops out! EW!!! I made him put that one back! LOL!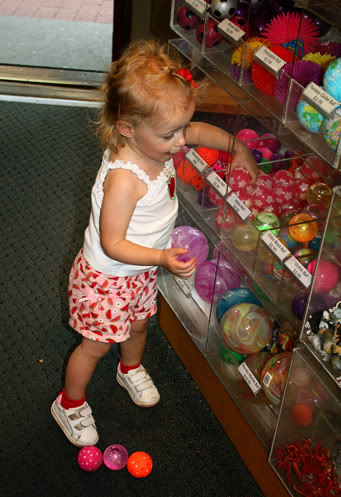 Autumn loved all the different kinds of balls they had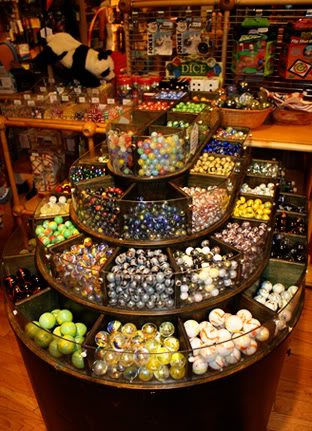 They even had marbles!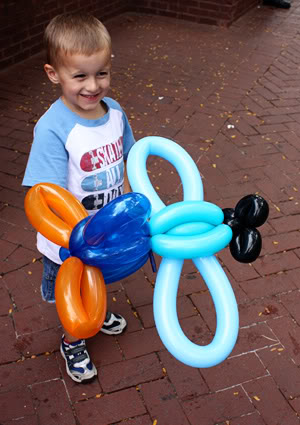 After the kite store, we saw a college kid on the street that was making balloons for the kids. He made Nathan a really nice airplane! We gave him a good tip 🙂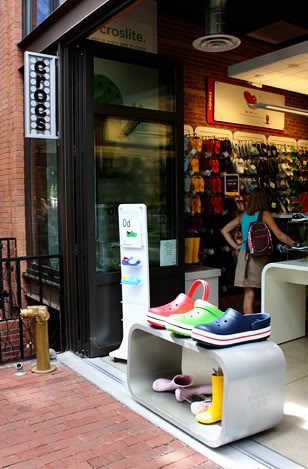 I loved window browsing! They had a Crocs store, but look at the massive giant sized Crocs outside the front!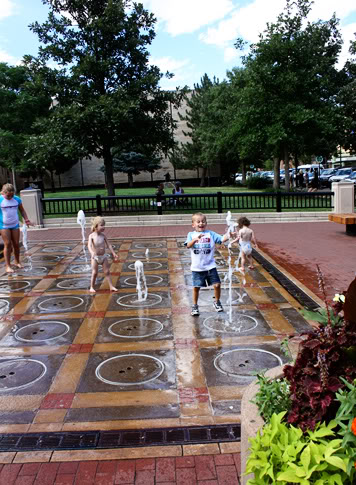 They had a lot of little play areas for the kids… even fountains!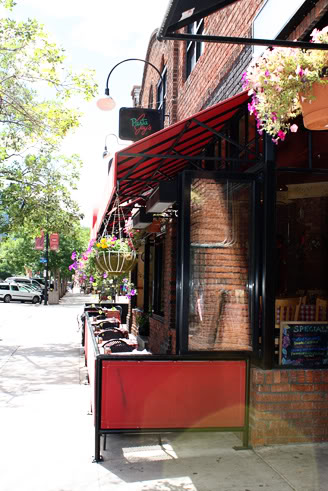 Mel also suggested eating at Pasta Jay's, its an italian restuarant on Pearl Street. We went a little early for dinner, and it wasn't crowded at all. We sat inside, but it was like we were sitting outside because they actually roll the windows out of the way. So, it was an open wall! I noticed a lot of the restaurants had that design. Very neat!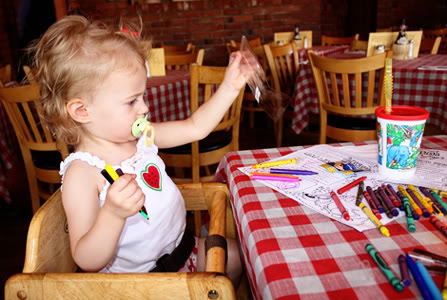 I got Autumn a package of 'mini markers' at the kite store, and she just loved pulling the little caps off, putting them back on and coloring. It was a life saver until the food arrived!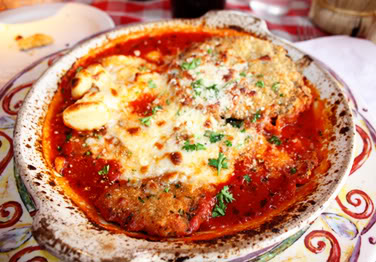 I got their trio, and I got to select three items. I got chicken parmesan, gnocchi, and eggplant parmesan. They had really good garlic bread, too!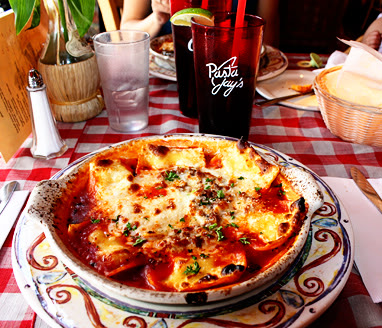 Jeremi got their rav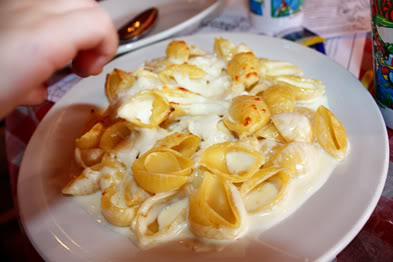 The kids split an order of cheesy noodles.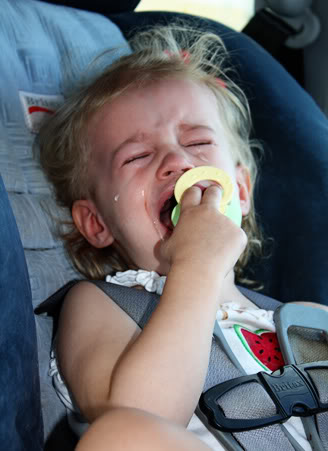 We had a really good day in Boulder. I was really wondering if it'd be worth the 30 minute drive, but it was!! Except… someone was Miss Fussy on the entire way home! Life is so rough at that age ;o)-