Welcome to the
What Wives Wear Link Up
!
Follow Sherri:
Follow Carrie:
What Wives Wear Link Up is a place for wives/moms
to express their own personal style. However, ANYONE is welcome to link up, this link up is mainly for you to mingle, get to know other bloggers that love to share their outfits and fashion tips!
Link up your favorite outfit post of the week.
Get inspired while inspiring others!

We will meet and link up every Thursday.
It is another week of What Wives Wear and this week I wanted to talk about what I wore on Mother's Day… of course!
Because, what Mom doesn't dress up for this special holiday where we get pampered? I decided to wear this lovely floral dress that I purchased from Stitch Fix, where you are assigned an on-line designer that selects 5 different pieces of clothes for you every time you request a box to be sent to your door. I have had wonderful success with Stitch Fix and I knew when I opened my last box, that this would be the perfect dress for Mother's Day!
I was really excited on Mother's Day to receive my first pair of Tory Burch sandals from Brian! I had hinted that I would love a pair for Mother's Day and I couldn't decide between sand, gold or white… well, I finally told him that if he did get them for me, that I would love them in sand and that is the color I got them in! I really think this color will go with SO much, because it is a neutral color… I loved the idea of having them in white, but then I wouldn't be able to wear them before Easter or in the Fall, etc. I was really happy that they went really well with my floral dress on Mother's Day and I posted this photo on Instagram claiming that cute sandals were a Mother's Day requirement. Autumn is wearing a new pair of sandals and they are the Nordstrom brand… I thought they'd be perfect, because (1) the sandal is gold and I LOVE gold and (2) the beads are several different colors, so therefore the sandal will look really nice with a lot of her dresses and skirts.
I also wore a piece of jewelry that is really dear to me on Mother's Day. This monogrammed initial ring was my great aunt Caroline's, the aunt that I was named after. Except, I was named after her nickname, which was Carrie. This ring is old and she used to wear it everyday… I love that my mom kept it for me all of these years and that I can wear it now. I used to wear it when I was younger (we had it sized down when I was a teen) and I was excited that it still fits!
Here is a photo that I took when I was showing off the items in my Stitch Fix box, but I paired floral dress with this jean jacket, a mint bauble necklace and gladiator sandals from Charming Charlie.
I am really digging this dress this Spring… now I just NEED a pair of floral sunglasses for our upcoming vacation to Destin.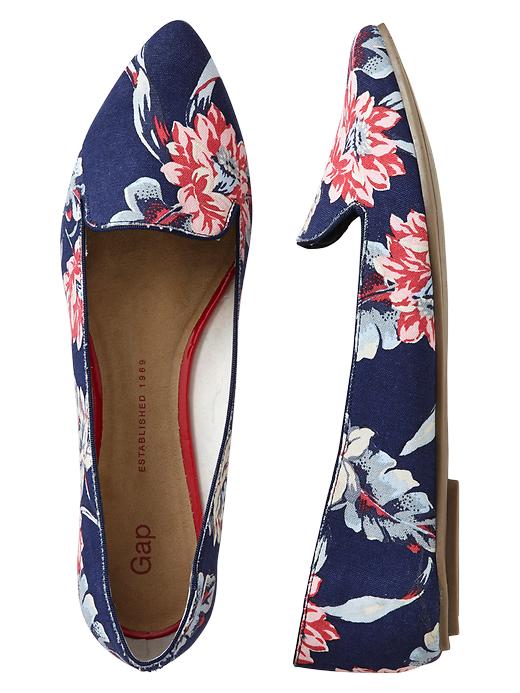 I've also been drooling over these floral pointy toe flats at the Gap. They just haven't quite made it into my shopping cart yet. SIGH.
Is there anything floral that you are wanting to purchase this Spring? or that you have purchased? I'd love to hear about it, comment below!
Each week the hosts will choose the Top Two looks
to be featured for the next weeks link up.
Join us each week and we may just pick you!
Last week was our first link up and we were honored
to have two bloggers link up.
That also means that our job picking this weeks
Take a look at these two cute looks from last weeks link up.
Link Up Guidelines:
1. Feel free to grab our button to display on your blog sidebar. Help spread the word and share about our link up community.
2. Follow your hosts. Leave a comment letting us know you area new follower and we will be sure to follow back.
3. Share the love by visiting and commenting to at least three other blogs in the link up.