I hope everyone is having a good weekend! A lot of schools just got out last week, but this will be our SECOND week of summer break! Last week we did LOTS of swimming in our pool, a zoo visit, visited Crestwood Park (we plan to visit a different park each week this summer) and got lemonade at Chick Fil A and enjoyed a shopping trip at Hobby Lobby (ok, maybe that was for my enjoyment). It was a busy yet fun week! 

We kicked this weekend off with a Cardinals game! Brian and I went last year with some of his friends when I won free tickets from my work. But, I have been wanting to take the kids to a game, especially since Autumn has never seen them play! The tickets were a little pricey, but it was all worth it… lots of memories were made! Here is a fun photo I took of us all near the end in the stands.




Ballpark Village is new this year and it is really neat… lots of restaurants, bars… open space to relax and walk around at before the game. The Fudgery is even opening up soon at Ballpark Village! When we purchased our tickets, we bought Ballpark Village parking, too and we literally were a few steps from the restaurant we ate at in Ballpark Village.




We ate at Cardinal Nation and the food was fantastic! They had a kids menu and Nathan got a ballpark hot dog (said it was the best he had ever had) and Autumn got pizza. The view from our table was of Busch Stadium, of course! It was fun sitting outside rather than inside, because we could do a lot of people watching.




This is what I ordered… a steak sandwich and salad. It was AWESOME!




Of course, I had to get a picture of the kids by the Cardinals cake.
 
They were giving out kids jerseys to all of the kids at the game today! What a deal!




The view from our seats




Autumn and her ballpark ice cream




We had two rain delays during the game, because of little pop up spring storms. Luckily, our seats were covered (just barely!) and so we didn't have to get up and move during the storms.




Me and my love




We had such a fun time that we stayed till the very end and the kids got to see the fireworks go off when we won! YEAH! I was hesitant about straightening my hair, but it held up well enough during all of the humidity and storms. It is rough being a curly haired girl… 😉 I can't wait to go to another game with the kids or maybe Brian and I will go to a night game again sometime alone! Fun, fun!!! And, is it bad I consumed 2 beers and 2 pretzels with cheese in addition to what we ate at the restaurant? Don't even ask how much we spent on concession food. The stuff.ain't.cheap.

Enough about the Cardinals… are you ready for this weeks meal plan?

Menu Plan for Week of June 1, 2014:
Sunday –
Honey BBQ Pork Chops, Baked Potatoes and  Cool & Easy Strawberry Pie, recipe HERE and HERE


We were at the ball game pretty late on Saturday due to TWO rain delays, so we didn't have time to make our bbq pork chop dinner. SO, we are going to have it tonight along with a cool and easy strawberry pie recipe that I have made twice and it is to DIE for!!! my daughter is in love with this pie and insisted I bring it to school for her birthday treat last November and I did! So, of course strawberry picking = cool and easy strawberry pie makin'!

Monday – Skillet Breakfast Nachos, recipe HERE


I am really, really hoping my kids will go for this dish… they LOVE melted cheese on tortilla chips, so why not the breakfast version with bacon and eggs, too? They sure are picky, tho… 😉

Tuesday – Bourbon Chicken with Rice, recipe HERE


We rotate this meal every other week, the kids LOVE it. It reminds me of chicken teriyaki sort of, but I think it is even better.
Wednesday – Roast Beef Sliders with mashed potatoes, recipe HERE


This is a new recipe that I am going to try, I found it on Pinterest (of course) and I plan to take this meat and put it on little Hawaiian buns. My kids loved the roast I made in the crock pot a few weeks back, so I am sure they will love some roast beef sliders!
Thursday – Easy Pumpkin Chocolate Chip Muffins, with Fruit Salad and Bacon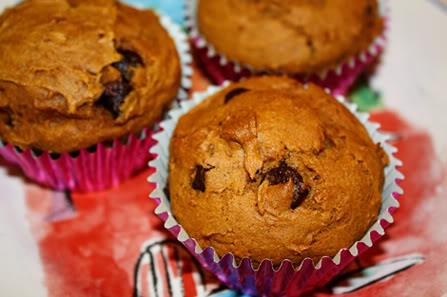 Why not have breakfast twice in one week, RIGHT?! It's summer vacation, it is time to go with the flow!
Friday – BLT's and Chips
Brian and I love some BLT's… I love that they are so easy to whip up. We have been eating these every other week, too! It is a cheap meal to throw together, too.
Saturday – Eat Out
A nice little date night for me and Brian… not sure where we will go yet. :d
Linked up with:
Mommy Monday Blog Hop