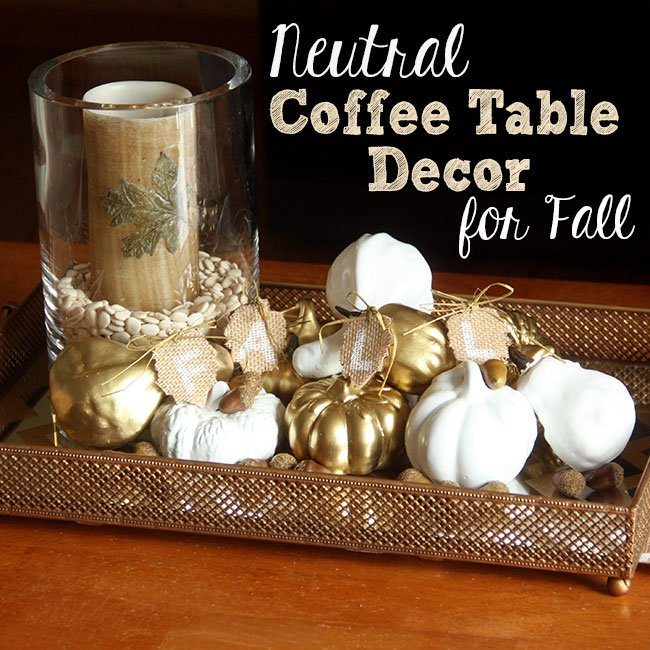 We have a pretty big coffee table in our family room and recently I cleaned out the bottom part of it. I normally don't decorate this table with any fall decor, but I really wanted to this year. I found a beautiful chevron mirror tray in gold at Hobby Lobby (for 50% off!) and decided to place a large pillar candle holder inside it with ceramic pumpkins in white and gold surrounding it. Of course, I added a few other details while decorating it and I am pleased with how it turned out! I had made a burlap strip runner (see instructions HERE) for the coffee table a year ago and decided to place the gold tray over it.


I posted a photo on Instagram of what the chevron mirror gold tray looked like when I purchased it at Hobby Lobby. (Follow me on Instagram by clicking HERE, so you don't miss out on other photos I don't share on the blog!) 


I went into Dollar Tree to look for some ceramic pumpkins. I found these ugly ones for $1 each… I knew I wanted neutral pumpkins, these colors weren't going to work for me. Nothing that a little spray paint can't fix, right? White ceramic pumpkins at craft stores are at least $3.99 each, so these were a steal!! Little details like decorative objects really set the style. We sometimes display these on a side table also.




Spray painting the pumpkins… I also found a box of gourds at Hobby Lobby for 40% off that I decided to spray paint. This was after the first layer of spray paint… I used 3 coats.




When I was strolling the fall aisles in Hobby Lobby I saw these burlap covered wooden leaves for only $2 (with an additional 40% off). The package came with four leaves, just enough to spell out F-A-L-L! I have little rubber stampers and I stamped each letter in white paint on each leaf. 




I then stuck a little strand of green raffia through the hole on the top of each leaf and made it into a bow.




I placed the letters on top of the pumpkins and gourds in the centerpiece. I really love how it turned out! 




I was cleaning out my kitchen cabinets earlier this week and found this beautiful glass pillar candle holder from Pottery Barn. The price tag said $35 on the bottom of it and I can't believe it was collecting dust under the sink and I had forgotten about it! I am so glad I found a place for it! I was going to use a white pillar candle, but decided to buy this flame-less candle from Hobby Lobby that has burlap texture on it and a green leaf. The neutral colors go seamlessly with the rest of the centerpiece. I poured white beans around the candle, which gives it a more natural look.




And, here you go… the completed gold tray filled with several neutral fall goodies! I also sprinkled some faux acorns around the bottom and placed a few on top of some of the pumpkins and gourds.




In this photo you can see how well the tray goes with the burlap runner that is underneath.




Here is a close up of one of the burlap letters and it also gives you a glimpse of the acorns.




This will probably be my last fall project (besides my fall home tour, which will be coming in October)… once September wraps up, I like to start working on some Halloween crafts and decorations during the month of October!! What are you looking forward to working on this October? And, what happened to September? I always think that October is one of the busier/crazy/hectic months out there, right up there with December and Christmas!!

Linked up with: 
Hit Me With Your Best Shot
Moonlight & Mason Jars Linkup Party
Fluster's Creative Muster
What You Wish Wednesday
Create It Thursday
Sweet Haute
Worthwhile Wednesdays
Inspiration Gallery
Inspire Me Please
Pinworthy Projects
Say G'Day Linky Party
Snickerdoodle Sunday
Submarine Sunday
Share Your Creativity
Get Your DIY On
Frugal Crafty Home Blog Hop
Merry Monday Link Party
Mommy Monday Blog Hop
Monday Funday Link Party
Motivational Monday