Happy Halloween!! A couple of weeks ago we went to the Boo at the Zoo. We are zoo members this year and we really enjoyed it… this was our third time attending it. It was a beautiful almost summer-like evening and before we left I decided to take some photos of the kids in their costumes outside. Nathan is a creeper and Autumn is Elsa.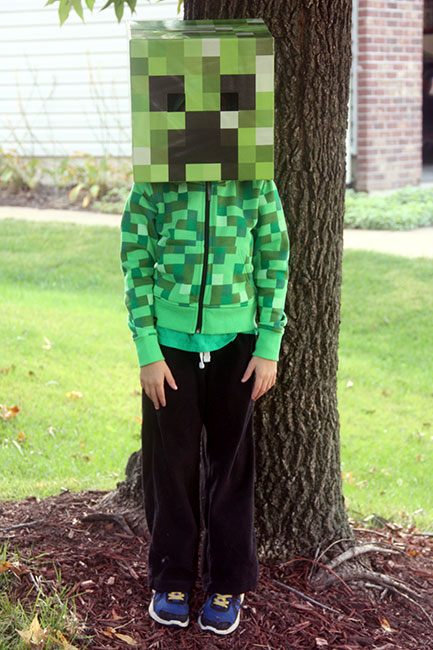 I was going to make a handmade costume for Nathan, but I just didn't think I would have the patience for it… so, I hit up Amazon Prime for a cardboard Minecraft square head and a Minecraft hoodie. I also looked around everywhere for green sweatpants (Target, Wal-Mart AND Kohls) and couldn't find them. Finally I saw a pair of green sweatpants on Old Navy online and ordered them for only $7. He isn't wearing them in this photo, but they did come in time for Trunk or Treat and Trick or Treating.




The creeper hoodie I ordered him is really neat, it has mesh holes for the eyes and mouth. I know he will get a lot of wear out of this after Halloween, too.




Here is Elsa. We got her dress at Target, but I swear… there must be a MILLION different Elsa dresses, because every single girl at her party had a different Elsa dress. One girl even had an Elsa dress that lit up and played 'Let It Go'.




I got this Elsa princess tiara for Autumn at Wal-Mart for $6. It lights up, but we are going to save that for Halloween night. She can wear it without the glow sticks in it, though, like she did here.




Here we are finally at the Boo at the Zoo!




And, of course… a photo of me with the kids.




And, Brian with the kiddos.




There was a huge maze made out of hay, I think the kids could have ran around in it all night.




There was a lot of neat decorations. Here is Nathan standing by a pumpkin and a spider.




A really neat graveyard!




SSM Cardinal Glennon gave each kid a snack bin and let them fill it with healthy snacks!




My iPhone is terrible at taking night photos… this photo is kind of grainy, but here is Brian and the kids by the train at the zoo.




Just having fun 🙂




We also did the Night Hike this year, which is a little extra money. You get to explore a part of the zoo that is closed off the everyone else. This year we got to explore the herpetarium with flashlights as the lights were off and we even got to see that tigers sleeping under a flash light!




You can't really see much in this photo, but here is one of the 'cats' sleeping.




And, here is a photo of all of us near the end of the night. We capped the night off with a pumpkin flavored funnel cake and apple cider. Not a bad night at all! The kids also get a treat bag filled with some candy on their way out.

Are you ready for the meal plan for this week?
Menu Plan for Week of November 2, 2014:


Sunday –
Spaghetti with Garlic Bread
Spaghetti just sounds like a perfect (and easy) supper for Sunday evening.
Monday – Frozen Pizza
On Monday the kids both have their dental appointments (please, no cavities!), so I thought a frozen pizza would be perfect…

Tuesday – Tortellini Crock Pot Meal with Garlic Bread, recipe HERE
This recipe was so, SO good and so, SO easy! I made this a few weeks ago and LOVED it. So, of course I am making it again.

Wednesday
–
Bourbon Chicken with Rice, recipe HERE
We used to rotate this every other week and it has been at least two months since we've had it. I thought it'd be nice to make it again since it has been awhile… Autumn LOVES it.
Thursday
– Cheesy Velvetta Breakfast Casserole, recipe HERE
I thought it'd be fun to do breakfast for dinner… and, I don't want to wait until Christmas morning for a breakfast casserole. This is a new recipe to us and I selected it, because it has a layer of velvetta cheese. Carrie loves velvetta. YUM.

Friday – Taco Chili, recipe HERE
I tried a taco soup recipe a couple of weeks ago and it was just HO hum. I was a little disappointed in it actually… so, we are going to try Mix and Match Mama's Taco Chili! Her recipes NEVER disappoint me… and, I love that Rotel and a ranch packet are two of the ingredients. UM, yum!
Saturday – Eat Out

Dessert: Apple Cider Donut Holes, recipe HERE
I don't know of any donut places around here that make apple cider donuts, so I am going to make my own darn it!

Linked up with:
Mommy Monday Blog Hop



a Rafflecopter giveaway