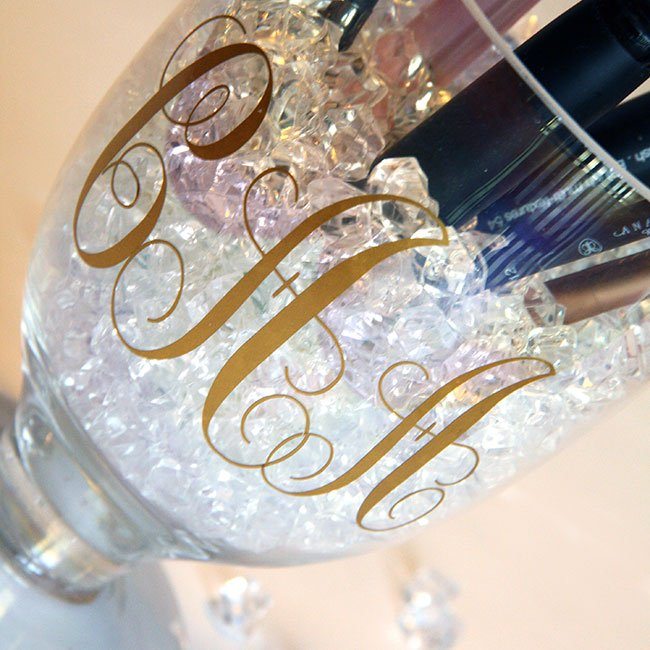 I am still tinkering around with our Master Bathroom and I should have had the final reveal up on the blog ages ago. Anyhow, I have been working on organizing some things in that room and decided to finally make a monogrammed makeup brush holder. This stylish acrylic makeup organizer is just what you need to round out your personal care accessories. It works great as a brush organizer to make it easy to use of all your brushes and cosmetics.




Here is a before photo… I had all of my brushes laying on top of a cotton ball storage container. 




This was actually a really easy project and I think it only took me an hour from start to finish. I bought the footed glass at HomeGoods,  the Crystal Dazzlers at Hobby Lobby and the vinyl and gold vinyl and adhesive paper from Silhouette.




This was my second time using vinyl in my Silhouette and I followed the same steps as I did in THIS post where I created a monogram for a mirror tray. However, I found two tricks (since I AM a newbie) that saved me a lot of time and headache that I will share below.

Create your monogram in your Silhouette software. Always measure your object so you know what size to create it in your software.




Select CUT EDGE from the Cut Settings menu before you send it to your machine. Last time, I selected No Cut and anytime a piece of the frilly monogram font overlapped (such as all the little curly que things), it cut them out as individual pieces and not AROUND the outline. There weren't many areas where the curly que's overlapped, but it was enough to give me a little bit of a headache. 😉 Check this box! It will save you a lot of time!




Send to Silhoutte 🙂 I love watching this beautiful machine cut my vinyl.




This is what your vinyl will look like after the machine cuts it. Peel the gold layer off away from the monogram. This is the most difficult step when you are doing vinyl and this is why you'll love that you selected CUT EDGE instead of No Cut!




Stick transfer paper onto vinyl, then peal it away and the vinyl will be stuck to the transfer paper… this really works like magic.




Then, place your transfer paper onto your glass and smooth it out really good. HOWEVER, you've noticed a hiccup… since the glass is 'rounded' the letters are bunching up a little in a few areas. No problem, here is my second trick… Most of the Silhouettes come with a hook tool and it is really super handy. You use the pointy edge and unstick the vinyl from the glass, then use the smooth part of the hook to glide under the sticky part of the vinyl to unstick part of your letter. Then, you can resmooth it on and it'll fit the curvy part of the glass MUCH better. I did this in three spots and monogram fit perfectly on the glass! Hoorah!!!





Fill her up with some of those pretty crystals, like they use at Sephora… and, you have yourself a beautiful makeup brush holder!




Here it is in my bathroom… of course I changed its place after I took this photo, but oh well. And, yes… I do clean my brushes, but I only clean my eye shadow and eyebrow brushes everyday… my blush and loose powder brushes don't get the special treatment everyday. Not that you care 😉 How often do you wash your brushes?

Now that I've done two monogram projects with vinyl, using this script font… I also think I am making the middle letter quite big when I'm in the Silhouette, but it doesn't appear much bigger then the right and left letters once I print… so, I need to work on that, too! I would like to try some different monograms and some vinyl projects that are perhaps not monograms. There is a FB I joined for Silhouette users and they have a monthly Silhouette challenge which I may join next year once I have had a little more practice with my machine. I am really enjoying my Silhouette and I told my husband today that I just want to monogram everything in our house! LOL! (I was kidding, sort of…)


Check out my other vinyl monogram project: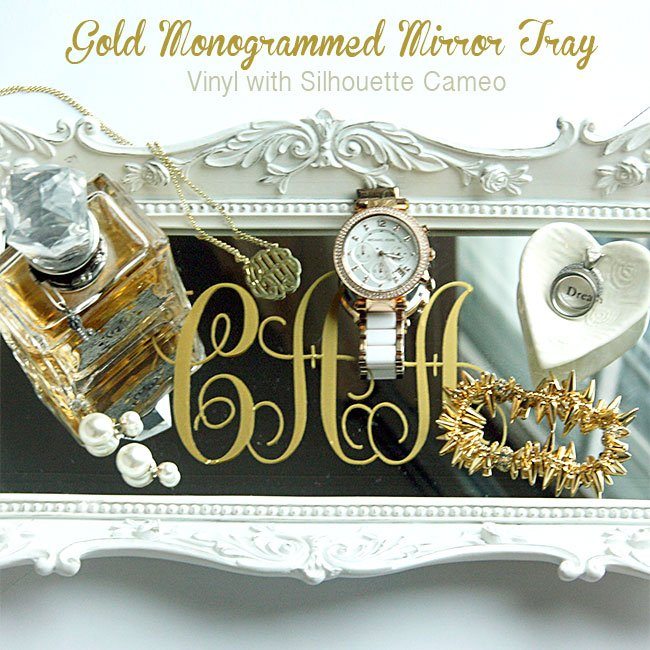 Gold Mirror Tray
Linked up with:
Totally Terrific Tuesday
Tuesday Talk
Lou Lou Girls
Hit Me With Your Best Shot
Worthwhile Wednesday
Moonlight & Mason Jars
A Little Bit of Everything
Fluster's Creative Muster
Creative Spark
Share Your Style
Pin crazy Thursday
Your Turn to Shine
Create It Thursday
Craft Frenzy Friday
Inspiration Gallery
Mix it up Friday
Best of the Weekend Party
Share Your Creativity
Monday Funday Party
Merry Monday Link Party
Frugal Crafty Home Blog Hop