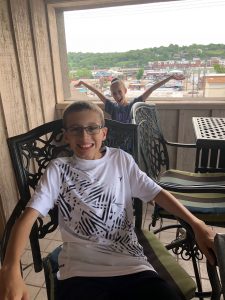 Hey everyone! Today I wanted to share a recap post from our trip to Branson, MO (it's about 4 hours from St. Louis) for Autumn's dance nationals. This post is LONG with lots of photos, but I didn't want to space it out into more than one post. We had a great time for her first dance nationals and had some extra time to vacation as a family during/after it.
Day One
Branson is almost all inns and motels… there is a big Hilton hotel, where Autumn's dance national was at and we almost decided to stay there. However, we decided to keep the trip on a budget and stayed at the Best Western in a suite. It wasn't too bad for 3 nights… our room was the penthouse and we had a nice patio with a view of downtown Branson! The kids were SO excited as you can see in the photo above.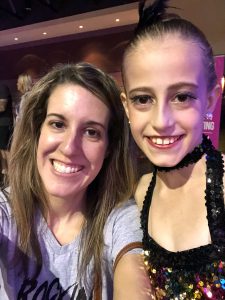 Nathan had a karate tournament that he couldn't miss the NIGHT before Autumn's dance nationals. So, we drove down to Branson AND she performed a couple of hours later. Whew. We left the house with her hair and makeup done and body suit on under regular clothes. Then, we changed her at the convention center.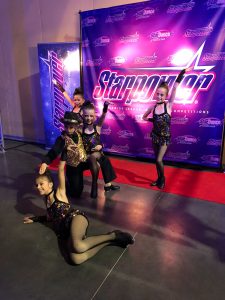 Autumn was in two competition lines this year and both were tap! This is her first number, Mambo #5… and yes, there's 5 of them! 🙂 This was her more advanced tap class.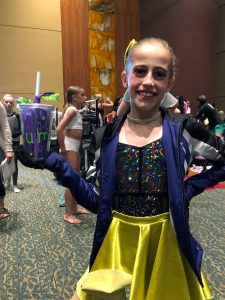 After Mambo 5 and awards, we had some time to hang out. At dance competitions, you spend a lot of time waiting… waiting for your next dance, waiting for awards, etc. One of Autumn's teammates mom made all of the girls a cup with their name on it! So sweet and thoughtful!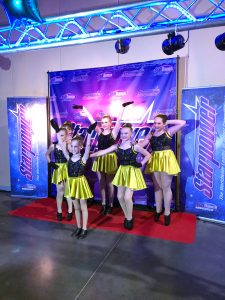 This was Autumn's second competition line, a recreational tap line. They danced to Jitterbug and Autumn is mostly in the dead center for this one. She's such a cutie on stage!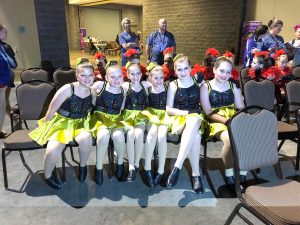 The Jitterbug girls before they went on. Autumn is doing a tap trio next dance season with the two girls on the left of her in this photo. She's beyond excited to be in a trio!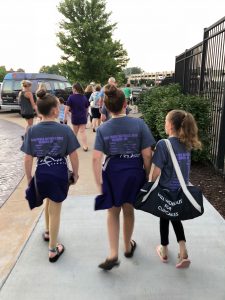 So, like I said above… there is a lot of waiting around at dance competitions. The girls didn't have their awards for Jitterbug until 11:00 p.m. Yes, it was a long day! So, we all went out to dinner across the street from the convention center.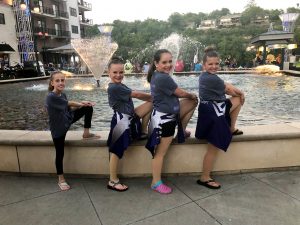 The girls were so excited to break away for a bit and hang out.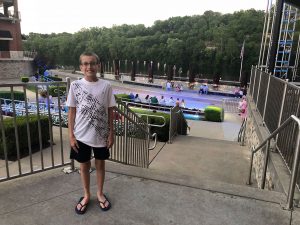 Big brother got to come along for all of the dance excitement.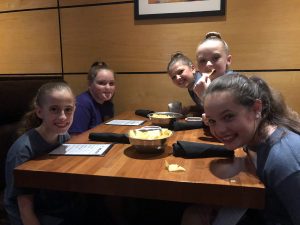 The girls had their own table, we ate at a Mexican restaurant downtown. Gosh, I can't remember the name… but, their Margaritas were kinda spicy!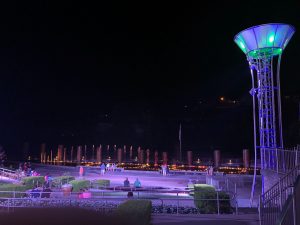 This is by the riverfront outside the restaurant and is a popular spot in Branson. There are fountains and even fire comes out of the stacks.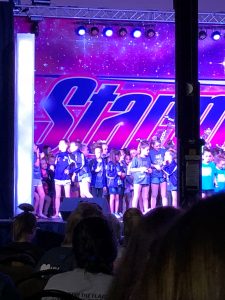 Awards are always so exciting! Unfortunately, these awards were at 11:00 p.m.! We didn't get to bed until almost 1 a.m. that night. Crazy, I know! These dance competitions, especially nationals are intense.
Day Two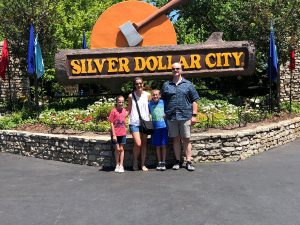 On Day Two, we lucked out and didn't need to be at the convention center since Autumn didn't have any dances! We spent the day at Silver Dollar City… however, we were so tired from the night before that we didn't get there until 11:00 a.m. Ahwell! It was SO hot during the time were were in Branson. Temps were in the upper 90's, so if anything… we got to sleep in and avoided some of the heat.
The boys are all about the rollercoasters and Autumn and I are all about the food at theme parks! (Well, especially Disney! Ha!) This wasn't Disney, but they did have a bakery right inside the park and Autumn and I split this HUGE chocolate chip cookie. It was SO big and fluffy! Yum!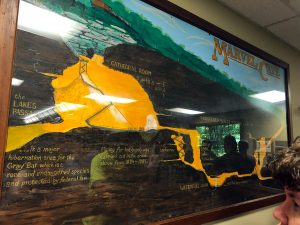 Right inside the gift shop at Silver Dollar City, they have the cave entrance. I had never done the cave tour at Silver Dollar City and I kind of freak out in confined places, but it was SO hot and it sounded like something fun to do to avoid the heat. So, Miss Autumn and I explored the cave together. It was so much fun and interesting! And, we SAW bats! Eek!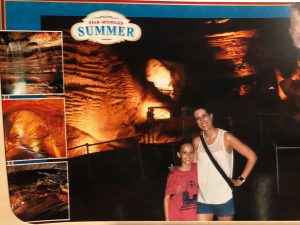 We had so much fun together on the cave tour that I landed up buying the $20 souvenir photo. Sigh. I didn't notice until we got home that they placed a bat on Autumn's shoulder in the photo! Lol!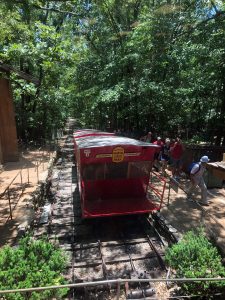 On our way out of the cave, we took a cable car! It was a lot of fun to ride out of the cave in it.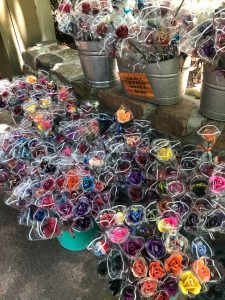 After the cave, we had lunch and walked around a bit. I love all of the crafts and unique items at Silver Dollar City. These were wax covered roses that were so colorful and pretty.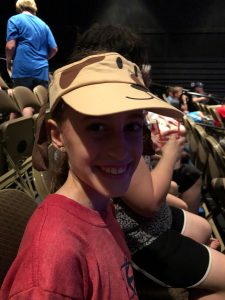 Before we left for the trip, I checked out the schedule for Silver Dollar City. When we went here a couple of years ago, they had a Magic Show that the kids just loved. This time they had a really nice dog show with stunts! I bought Autumn this puppy headband she wanted.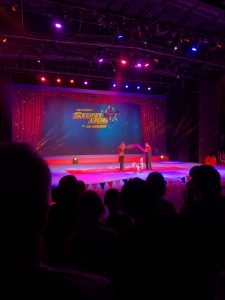 The dog show was really entertaining and the kids loved it. It also kept us out of the hot weather!!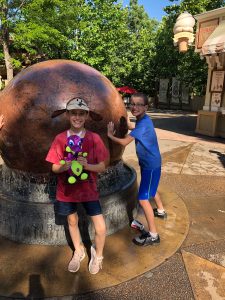 The kids played an everyone wins game and loved rolling this marble around.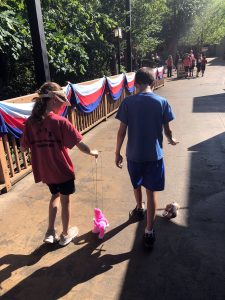 We had to leave Silver Dollar City before they closed, because Autumn's dance team was doing a group photo back at the convention center and I didn't want her to miss it. The kids talked us into these yarn puppet animals on the way out.
Here is the group photo from the convention center of most of the girls from her dance team. Such a sweet photo. Autumn is in the second row from the bottom, third girl from the left.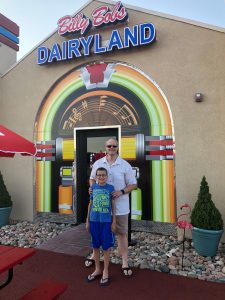 For dinner, I saw that Billy Bob's Dairyland was highly rated for family dining.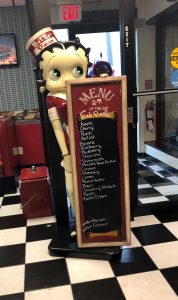 I wish I would have had room for a fried pie after eating!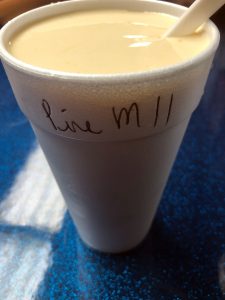 They had the best milkshakes there in unique flavors. I got a pineapple milkshake. It was SO good! Yes, I took a break from the FASTer Way while we were on vacation. I was back on it though after we got back!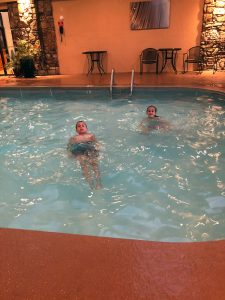 We wrapped up the evening with the indoor pool at the hotel. We just let the kids swim. Us adults were tired!
Day Three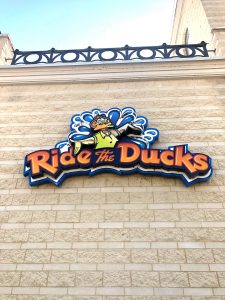 Our schedule was on Friday and we left a day early, since Autumn's dance teams didn't make it into the next round. 🙁 On Friday we did the Ride the Ducks, which is something I had never done before! You get on a truck and it can go on land and water.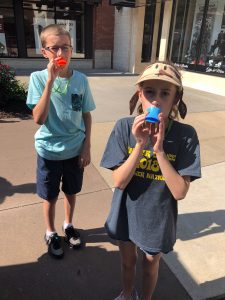 The kids got these cute duck whistles!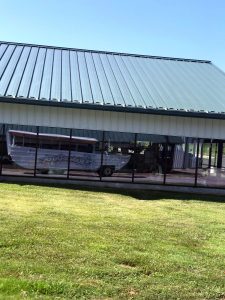 The reflection of our duck vehicle!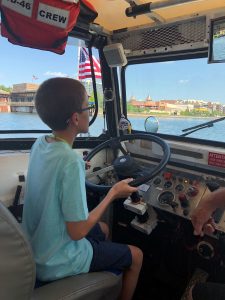 Our tour guide was so nice, once we were on the water he let all of the kids on the truck drive the boat!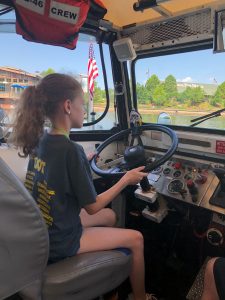 Autumn driving the boat. 🙂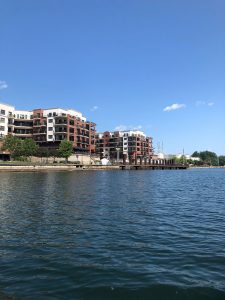 Here is a view of the fountains on the water.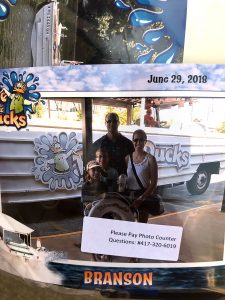 I didn't want to spend money on another photo, so I quickly shot a photo that they took of us on the duck ride.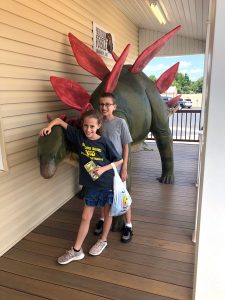 After the duck ride, we went to a Fossil Souvenir store close to our hotel.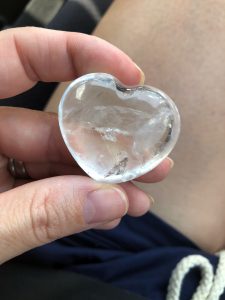 Brian surprised me with this quartz heart, he is such a keeper!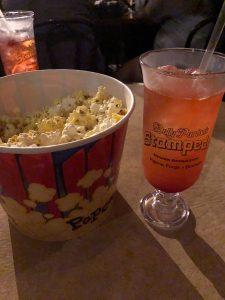 The last item on our agenda on Friday was Dolly Parton's Dixie Stampede show. They have a pre-show so we got  drinks and popcorn!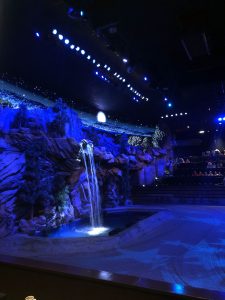 The stadium for the show was REALLY nice!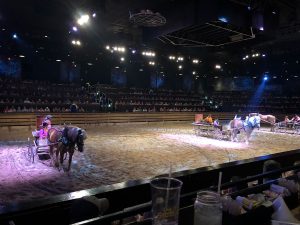 Just some photos from the show. You get a full dinner and they don't give you any utensils to eat it with! I'm not big on eating food with my fingers, especially not when it is chicken and corn on the cob! lol! I like to cut my corn off my cob! 😉 I managed! The food was DELICIOUS!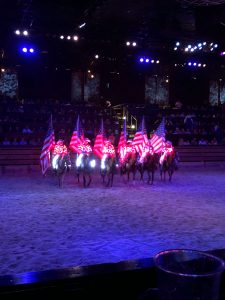 We really enjoyed the show! That is a recap on the Branson trip. I'll be going on another trip (my last one for the summer) later this week for the Haven conference in Charleston. I can't wait to meet my blogging bestie, Lauren! Oh, and our kitchen is still not functional… so fingers crossed that it will be getting wrapped up and finished the week after we get back from Charleston. I think I might actually miss cooking. LOL.
SaveSave
SaveSave
SaveSave
SaveSave
SaveSave
SaveSave
SaveSave
SaveSave
SaveSave
SaveSave
SaveSave
SaveSave
SaveSave