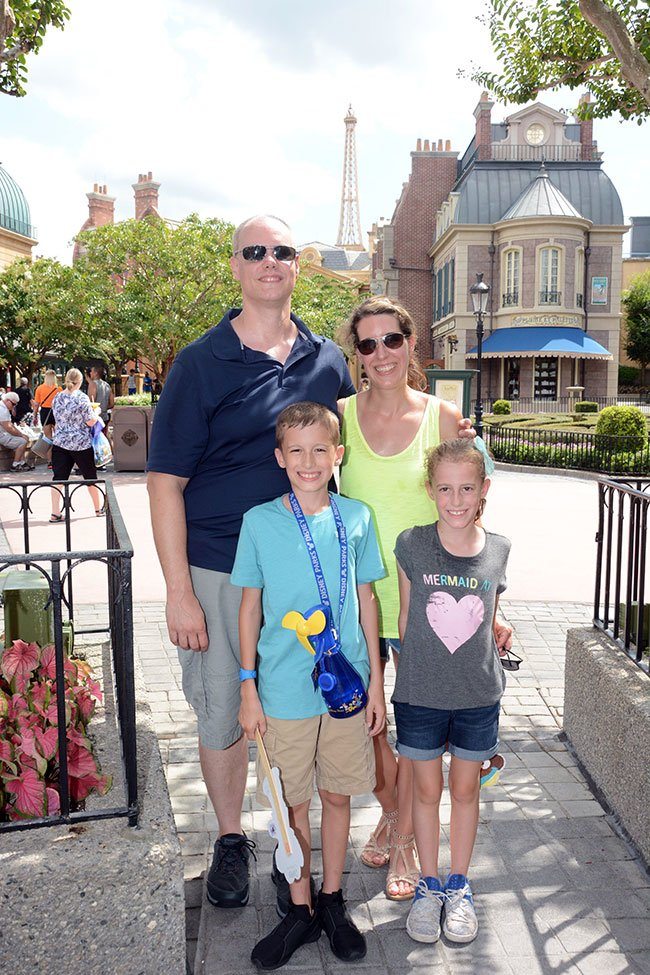 Today I'm sharing another Disney recap, this time it is our visit to Epcot. We spent a lot of time in the World Showcase with the kids, dined at Akershus for the first time and Nathan was tall enough for Test Track. It was a great day! 

Check out all of my Disney posts and my Disney Pin Board HERE.




On past trips, we had flown in the same day we visited Epcot and we usually didn't get there until the afternoon. The kids had been younger and we didn't spend as much time in the World Showcase. This year, we decided to make the day we flew in a rest day and it was so much nicer! The kids are a little older now, so they have more 'patience' to explore the World Showcase. It was SO hot the day we visited Epcot, but we still had a lot of fun!

Usually we split up and Brian and Nathan go on all of the 'scary' rides and Autumn and I do the tamer stuff. We love the Character Spot at Epcot and had a Fast Pass for it. We got to see Minnie Mouse, Mickey Mouse and Goofy. We had the Magic Maker, so I let the Disney camera folks do their 'magic' and the photos just appeared on my Disney app!



This was such a cute pose of Autumn with Goofy!




While we were doing the Character Spot, the boys were on Test Track! Mission Space was closed while we were at Epcot, so I was glad Nathan was tall enough for Test Track this year.

Autumn and I always stop by Club Cool to try all of the different flavors of soda from around the world. They are all so good, except one of them tasted like cough syrup! Bleh!


World Showcase


Around lunch time, we decided to walk over to the World Showcase and we spent a lot of time over there! Autumn was also being sweet and letting me take photos of her.



I loved seeing St. Mark's Square at Disney, after seeing it in real life for the first time in Venice last summer.



We always try to eat somewhere different at each park each Disney visit. This time we ate at Via Napoli, an Italian pizzeria with wood-fired authentic pizza. I decided to try something different and ordered the Prosciutto e Melone Pizza, which was a white pizza with fontina, mozzarella, prosciutto, cantaloupe and arugula on it. It was delicious!

After lunch, Autumn and I did a little exploring. We found out that each country has a station where the kids get a fan and they get a different stamp on it.




We started in Canada where she colored her fan and got her first stamp. Later, Nathan joined in and started getting some stamps on his fan, too.

Some more random photos from the World Showcase 🙂 


France




Morocco




England




First time we saw Mary Poppins! Unfortunately they didn't have a Memory Maker photographer, but one of the workers took a photo on my phone of us with her.

Akershus


Every time we go to Epcot, we have always wished we made a reservation at Akershus, which is in Norway. This year, we finally did and it was a really nice meal! This is a princess dinner, so we decided not to do lunch or dinner at Cinderella's castle this trip. 




Upon entering, you can have your photo taken with Belle.




Once you are seated, they let you enjoy the appetizer buffet. You don't want to eat too much, because you get a lot of other food!





Some of the appetizers I selected…. cheese, pickles, asparagus, tomatoes, olives and bread.




Before dinner, all of the princesses come out and the kids can walk around the restaurant with them.




I ordered the Brassert Biff for my meal. It has pickled mushrooms over braised beef, roasted garlic mashed potatoes, baby vegetables and a strawberry grastrique. It was absolutely delicious! Disney really does have good food!

I won't share all of the photos I took of each princess that was there, but here is Nathan and Autumn with Cinderella.




For dessert you get an assortment of Norwegian-inspired desserts.

Here is one more princess photo. We also saw Snow White and Jasmine.

This wraps up my Epcot post. I will still be sharing a review of our day at Hollywood Studios and the Magic Kingdom!

Check out all of my Disney posts and my Disney Pin Board HERE.

SaveSaveSaveSaveSaveSave