This shop has been compensated by Collective Bias, Inc. and its advertiser. All opinions are mine alone. #SendingYourLove #CollectiveBias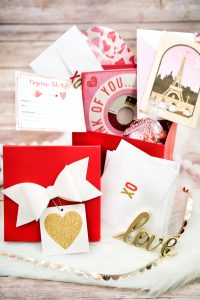 I love to surprise my husband with new to us date ideas that are romantic and meaningful, such as my Progressive Date Night Gift Package that I'll be sharing in today's post. A progressive date night is where you go somewhere different for a drink, appetizer, meal and dessert! I'm including a printable that you can use to create your own progressive date night and I'm also sharing other goodies I included in the box, such as a Hallmark Signature Card and a Hallmark Vinyl Card. My husband and I always exchange Valentine's Day cards and I love looking back on all of the sweet cards he has given me and the little notes he writes inside them.
Save with this Ibotta Offer at Walmart:
You can Earn $1 back on any Hallmark Valentine's Day Cards priced $2.97 and above.
(Offer availability: 1/29 through 2/14 or while supplies last.)
How to Make a Progressive Date Night Gift Package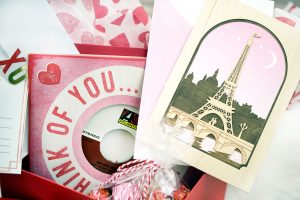 Now I'll share how to make a simple Progressive Date Night Gift Package for your loved one. I first heard about a progressive date night from my blog friend Leslie and since then I've noticed it is a popular trend right now! This would be a meaningful date night, because you can pick some restaurants that have some meaning to you and your loved one and you could also try some new restaurants. As a result, this will be a date night you'll always remember and I am sure it'll bring along lots of conversations and laughter.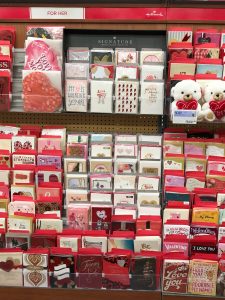 First, you'll want to stop by your local Walmart store and browse the newest collection of Hallmark Signature Cards, so you don't forget your loved ones this Valentine's Day. Hallmark offers a wide range of cards from every day and birthday to special occasion and seasonal. Keep your eye out for a coupon in the card aisle for $2 off when you purchase 3 Hallmark Valentine's Day cards.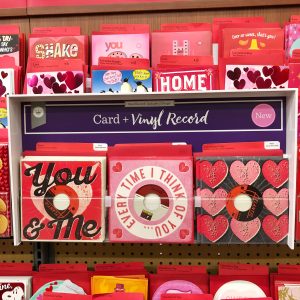 I also picked up one of the new Hallmark Vinyl Cards for my husband, since he enjoys music. You can choose from three different versions, each including an actual vinyl record with each with two songs for significant other.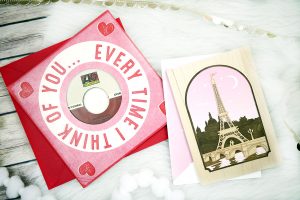 The photo above shows the two Hallmark cards that I selected.  For the Hallmark Signature Card, I selected the one with the Eiffel Tower and the couple standing underneath it. This card stood out to me, because my husband proposed to me underneath the Eiffel Tower. He surprised me with a limo ride tour around Paris and we landed up by the Eiffel Tower! When I got out of the Eiffel Tower a violinist came over and played our song and my husband danced with me for a bit before he got down on one knee and proposed to me. I remember seeing all kinds of people stop and stare and a lot of people were taking photos of us! I said, "Yes, of course!" I know my husband will enjoy this special card! I love that Hallmark offers so many choices in their card selection and they make it easy to find that perfect card that reflects a special time or memory that you shared with your loved one.
I selected the Hallmark Vinyl Bruno Mars card that includes "Just The Way You Are" on side 1, and "Marry You" on side 2 for my husband, to add something else to the gift package.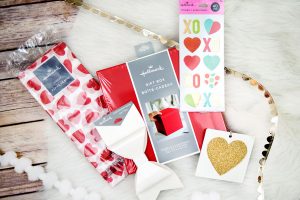 Hallmark has a lot of other items in their aisle at Walmart to help aid in putting together a gift package. I was excited to find a gift box, tissue paper with hearts on it, Valentine's Day stickers, a gift tag and bow.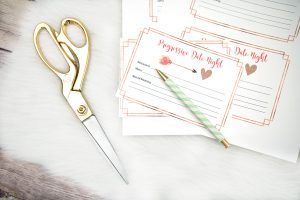 Before you put together the gift package, you'll need to print out these Progressive Date Night cards (download printable
HERE
). I created the printable cards at A6 size, so you can find white envelopes at Walmart that fit the A6 size of your cards. I would also print these cards out on cardstock, to make them a little sturdier.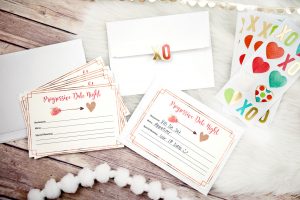 You'll fill out each card with the Restaurant you selected, the Menu (a drink, appetizer, meal, and/or dessert)  and the Special Meaning behind why you selected this restaurant. I used the Valentine's Day stickers on the back of each card as a seal.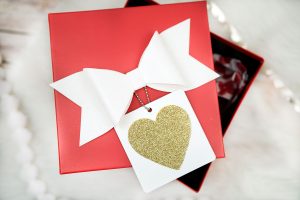 After you finish the cards, you'll want to work on making your gift box. I attached the bow and tag to the top of the box. Then I stuffed the bottom of the box with tissue paper.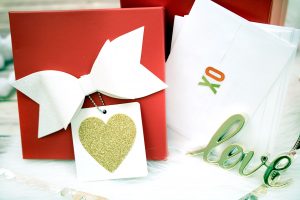 Next, assemble the box with all of the special items.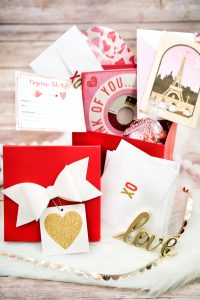 I know my husband will truly enjoy this gift on Valentine's Day and it'll be a fun and original date night for us! I am definitely counting down to Valentine's Day!
Are you planning to surprise your loved one this Valentine's Day? Hallmark Signature and Hallmark Vinyl Cards are an extra special way to personalize your Valentine's Day holiday! Check out the
Hallmark Valentine's Day hub
for more inspiration and to find a store near you!
SaveSave
SaveSave
SaveSave
SaveSave
SaveSave
SaveSave
SaveSave
SaveSave
SaveSave
SaveSave
SaveSave
SaveSave
SaveSave