This post is sponsored by Jimmy Dean® Brand, but the content and opinions are my own
This shop has been compensated by Linqia and its advertiser. All opinions are mine alone. #SimpleScramblesAtWM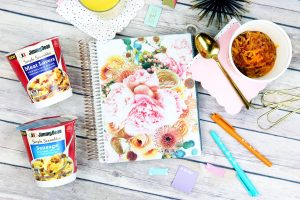 Everyone is calling February the New January… I think after the holidays, we are all just trying to get caught up and back on a schedule in January. In February, we can actually start to focus on our new goals and what we want to accomplish in the New Year.
I have been trying to get better about being more efficient everyday at tackling what REALLY needs to get done, before my entire day flies by and I'm wondering why I didn't accomplish anything at all. Lately, I've found that having a Get Stuff Done (GSD) Day once a week, really helps me to tackle some pressing items on my to do list. Read on to find out what a GSD Day is and how Jimmy Dean Simple Scrambles® have given me a quick and filling breakfast solution for a day where I'll be actively working towards Getting Stuff Done!
How to Have a Getting Stuff Done (GSD) Day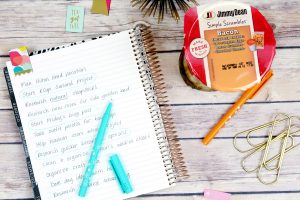 Once a week, I like to push myself more than any other day at Getting Stuff Done! Monday is usually the absolute best day to do this, because you can start your week off on the right foot. Although, Sunday would be my second choice, especially if you work out of the home.
First, I like to write down anything that comes into my mind on a sheet of paper. This can be small tasks, tasks you've been thinking about starting on for a long time, or even tasks that may seem huge and overwhelming. Getting them down on a piece of paper is the key. Then, take a few minutes to circle the tasks that you NEED to start right now. You can also circle one task that you know you won't complete today, but that you can devote just 15 minutes to… just to get it started. Sometimes the key is stop avoiding this item and to START right now! I feel like once I stop avoiding it and I force myself to start it, then I'll clear more space in my schedule to finish it when I can.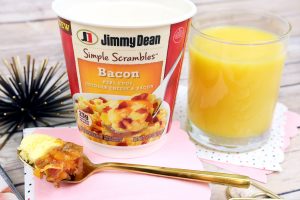 While I'm working on my Get Stuff Done list, I like to enjoy a quick and flavorful breakfast. I really like that Jimmy Dean Simple Scrambles® can be easily taken to my desk and I can eat out of the container while I work on my list.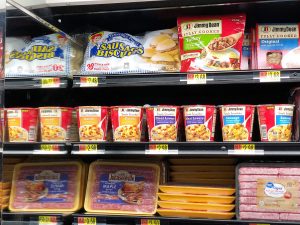 Jimmy Dean Simple Scrambles® can be found at your local Walmart in the refrigerated breakfast section. There are three flavors to choose from: Jimmy Dean Simple Scrambles® Sausage, Jimmy Dean Simple Scrambles® Meat Lovers and Jimmy Dean Simple Scrambles® Bacon. I LOVE bacon, so the Bacon one is my absolute fave! My husband and kids just love these simple breakfast solutions, too! It is nice to be able to offer my family a flavorful hot breakfast with protein in the morning.
How to Prepare Jimmy Dean Bacon Simple Scrambles®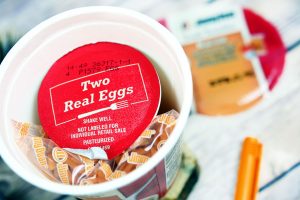 Let me share with you how easy it is to prepare the Jimmy Dean Simple Scrambles® Bacon. First, remove the  film on the top and you'll find the carton of eggs and a package with your cheese and meat.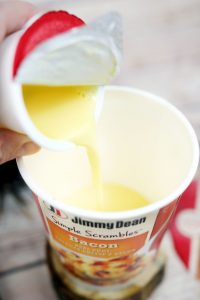 Pour the egg mixture into your cup and microwave for 45 seconds.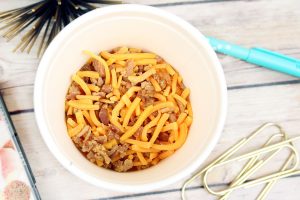 Add the meat/cheese mixture on top of the cooked eggs and microwave 30-45 more seconds. Let it cool for a minute and then you can enjoy a delicious and easy warm breakfast straight out of the cup!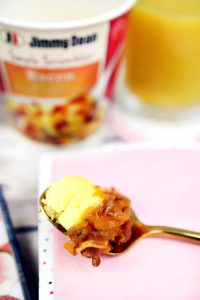 Some other ways to Get Stuff Done? After finishing your Get Stuff Done list and eating your delicious Simple Scrambles®, you could start dinner in the crockpot. Or, why don't you turn off social media for the day and only allow yourself to work on what needs to get done? There are also apps out there that will set a work timer and allow you to work without interruptions for an hour and then once the alarm goes off, you can give yourself 15-20 minutes to do something for yourself (enjoy a cup of coffee quietly with a book, take a 20 minute walk outside, enjoy a mini spa facial and mani, etc.). Or, you can text a friend and have a Get Stuff Done day together and share status updates throughout the day to keep each other accountable.
Do you ever have a Get Stuff Done Day and how do you encourage yourself to stay on task and motivated? Be sure to check out Jimmy Dean Simple Scrambles® at Walmart for a quick breakfast on those busy mornings!
SaveSave
SaveSave
SaveSave
SaveSave
SaveSave
SaveSave
SaveSave
SaveSave
SaveSave
SaveSave
SaveSave
SaveSave
SaveSave
SaveSave
SaveSave
SaveSave