Happy Friday everyone!
One – Spring Break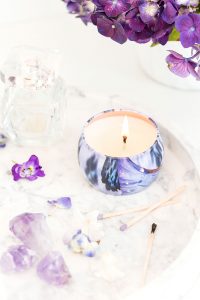 My kids start their Spring break today! It is also Grandparents Day at their school and school is over before lunch! I really could use a week off from the early morning rush, the dreaded homework hour, etc. Unfortunately their karate and dance schools are not on the same Spring break schedule, BUT… that gives us a week later to have our evenings free after a busy school day. Can't complain about that, right?
I was looking back at my blog (see post HERE) about 4 years ago when I first stopped working in good ole corporate-ville and decided to stay home with the kids. I used to plan our Spring breaks ALL out. Each.And.Every.Day. Heck, I even planned a hot stone massage, a boxing AND dance class for myself that week! What happened to that? I really used to love to plan stuff like that, weeks ahead of time! I don't know if I burned myself out on it or if it is impossible to plan a week when my kids want to plan it FOR me now… plus, I feel life is just a tad chaotic these days. The entire Spring break week is open. Wait, except one day they are going to Grandpa and ma's house. Mom needs at least one day to catch up on everything else, right? 😉 I was thinking about maybe taking them to the circus next week!
Two – Apple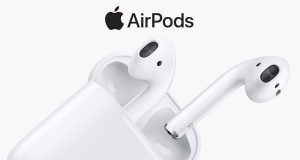 Brian got me some Apple AirPods, he's been using a pair for work and home. They are so, so awesome. Seriously. They don't slip out of your ears, they pause whatever is on your screen when you take one out… I use them for my Cathe workouts when I'm downstairs. I have the digital membership for her workouts, so I can play it on my MacBook downstairs, listen to it on the AirPods and not wakeup anyone in the house (I usually work out at 5:00 a.m.!). They're also great for calls on your iPhone, because you can be hands free! I also can't wait to try them out when I run outside… but, it's been too cold for that.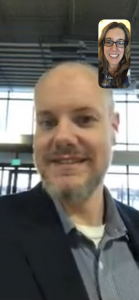 In fact… Brian called me from Denver last night and he had his air pods in… so, I snapped a screen capture on my phone to show ya'll how cool they are.
Three – Wash Day Wonder with DevaCurl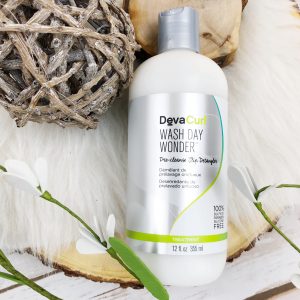 DevaCurl is always so kind to send me their latest products. They recently sent me their Wash Day Wonder and honestly… I'm in love. It is a detangler that you use in the shower on your already wet hair. You then wash it out before using your shampoo and conditioner. I just love how silky and manageable my hair is afterwards! It is gentle enough to use every day and it really makes brushing my hair out so much easier in the morning. Such a time saver!
Four – The Absolute BEST Bars!!! A MUST Make…
Last weekend we really didn't have much going on, so I was excited to have time to bake Andrea's (from Living on Cloud Nine)  Sea Salt Caramel Oatmeal Bars. These were really, really good. The caramel just oozes out, even the next day. They have the perfect texture, I just love the oats in them. They were also really easy to make! I will be making these again, but it may be after I get my body summer ready! LOL! I seriously ate way, way too many. If I ever need to bring a dessert anywhere anytime soon, I am making these!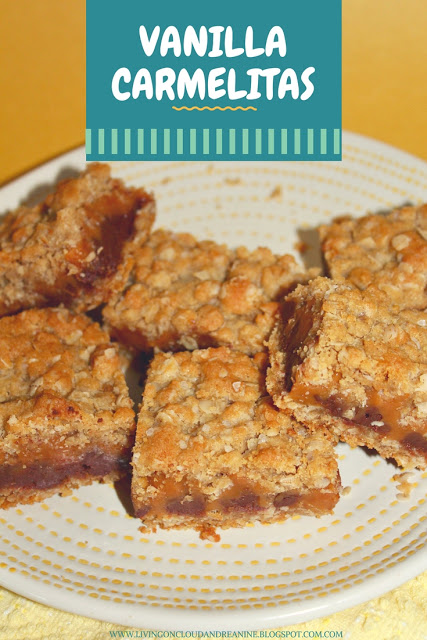 When I emailed Andrea to let her know I was making her Sea Salt Caramel Oatmeal Bars, she told me she would be sharing a NEW bar recipe on the blog this week… for… Vanilla Carmelitas. I have not tried these yet, but she uses vanilla creamer in them instead of milk. DELISH. I just love how Andrea shares personal recipes each and every week on her blog. Great stuff! She also shares beautiful photos of the inside of her home and a lot of great fashion. Be sure to check her out!
Five – Wax Museum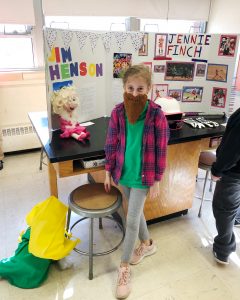 I'm stumped on what to share for my Five… so, I'll share this cute photo of Autumn from her Wax Museum this week at school. She picked Jim Henson, because she loves ventriloquist Darci Lynne and wanted to dress her puppet up as Kermit. 🙂 It was so cute! When Nathan did the Wax Museum, he did Henry Ford. I was trying to find an old photo of it, but couldn't! I know it'll show up on my Timehop App eventually!
Well, that's it! I hope everyone has a great weekend. I'm excited to kick off the kids Spring break!
SaveSave
SaveSave
SaveSave
SaveSave
SaveSave
SaveSave
SaveSave
SaveSave
SaveSave
SaveSave
SaveSave
SaveSave
SaveSave