Welcome to Thursday Fashion Files!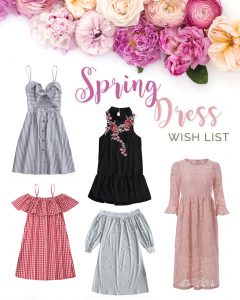 These are some of my favorite Spring Dresses that Zaful has right now:
Striped Front Knot Cutout Cami Dress – I love dresses that have a LITTLE cut out… note, I put little in all caps. I would definitely wear this dress at my age! The bow above the cut out is just adorable and I love the trendy seersucker fabric.
Cami Plaid Ruffle Dress – I have been wanting to get a plaid dress in a fun vibrant color, such as red! The ruffle on the top is so cute and it's nice that there are spaghetti straps to help hold it up, even though it is off the shoulder.
Patches Frill Hem Mini Dress – This LBD is so flattering with the embroidered floral print. It also has a cut out on the back, which makes it perfect for date or gals night.
High Waisted Lace Dress – I have been seeing so many lace dresses lately. This one is just adorable in the blush shade and it would make the perfect Easter dress with the mid length fluted sleeves (it is always chilly here for Easter!).
Off Shoulder Beading Mini Dress – This dress is made of a comfortable stretchy fabric and you could wear it as off the shoulder or a little higher up on your shoulders. The pearl beading adds a little glam to this dress. I could see myself styling this dress with my Adidas and a velvet cap!
Aren't these dresses just perfect for the Spring? Zaful has many other dresses that they carry and you can also find other trendy Spring clothing on their site.
I received items from Zaful in exchange for writing a review on the blog. (*This post contains affiliate links.)
SaveSave
SaveSave
SaveSave
SaveSave
SaveSave
SaveSave
SaveSave
SaveSave
SaveSave
SaveSave
SaveSave
SaveSave
SaveSave
SaveSave
SaveSave
SaveSave