This shop has been compensated by Collective Bias, Inc. and its advertiser. All opinions are mine alone. #allfreeclearclean #CollectiveBias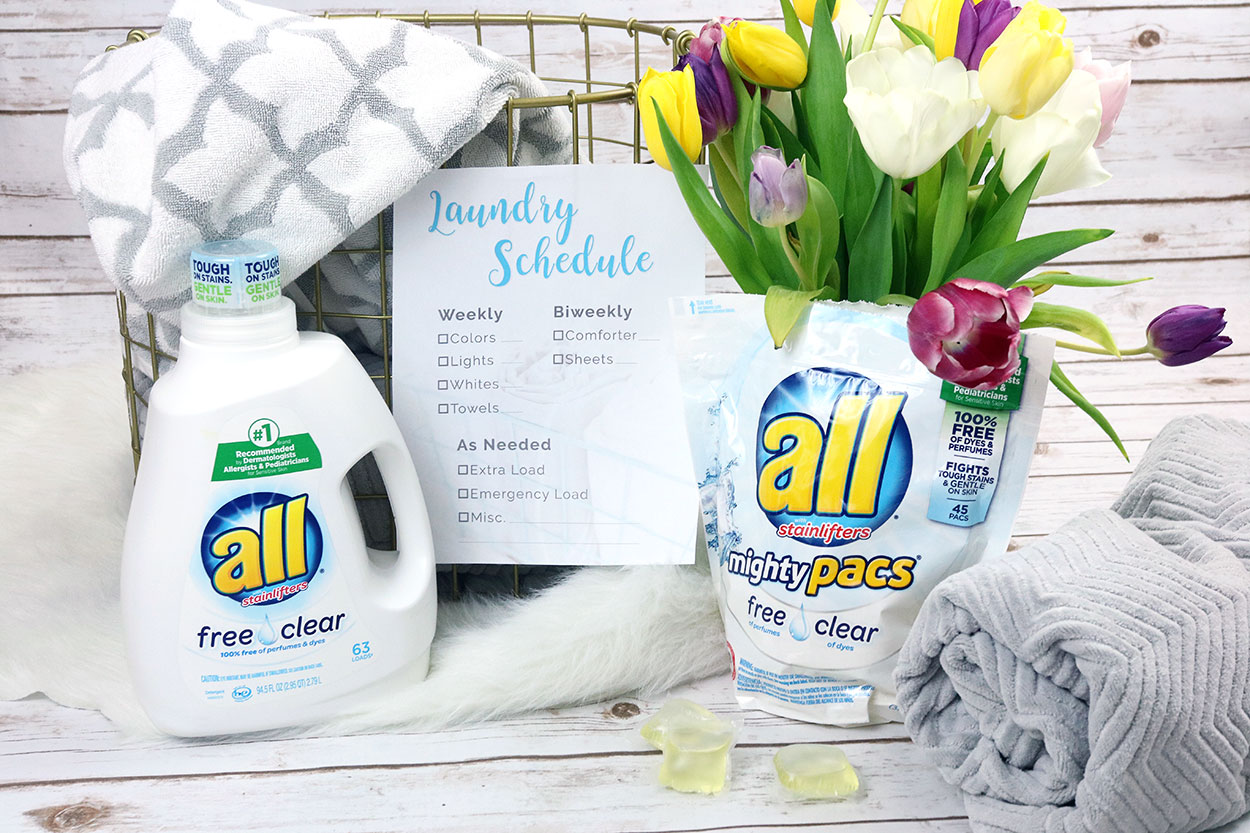 Spring is here and as much as I love the warmer temperatures and getting outside… it wreaks havoc on my families allergies and skin sensitivities! That's why I decided to change our laundry detergent to
all® free clear detergent
 and 
all® free clear Mighty Pacs® 
at Target. It saves me time and really does work with our schedule and busy lives, because it prevents a skin allergy flair up! Today I'm sharing why we love all® free clear at our house and also a printable on How to Keep a Laundry Schedule that Works.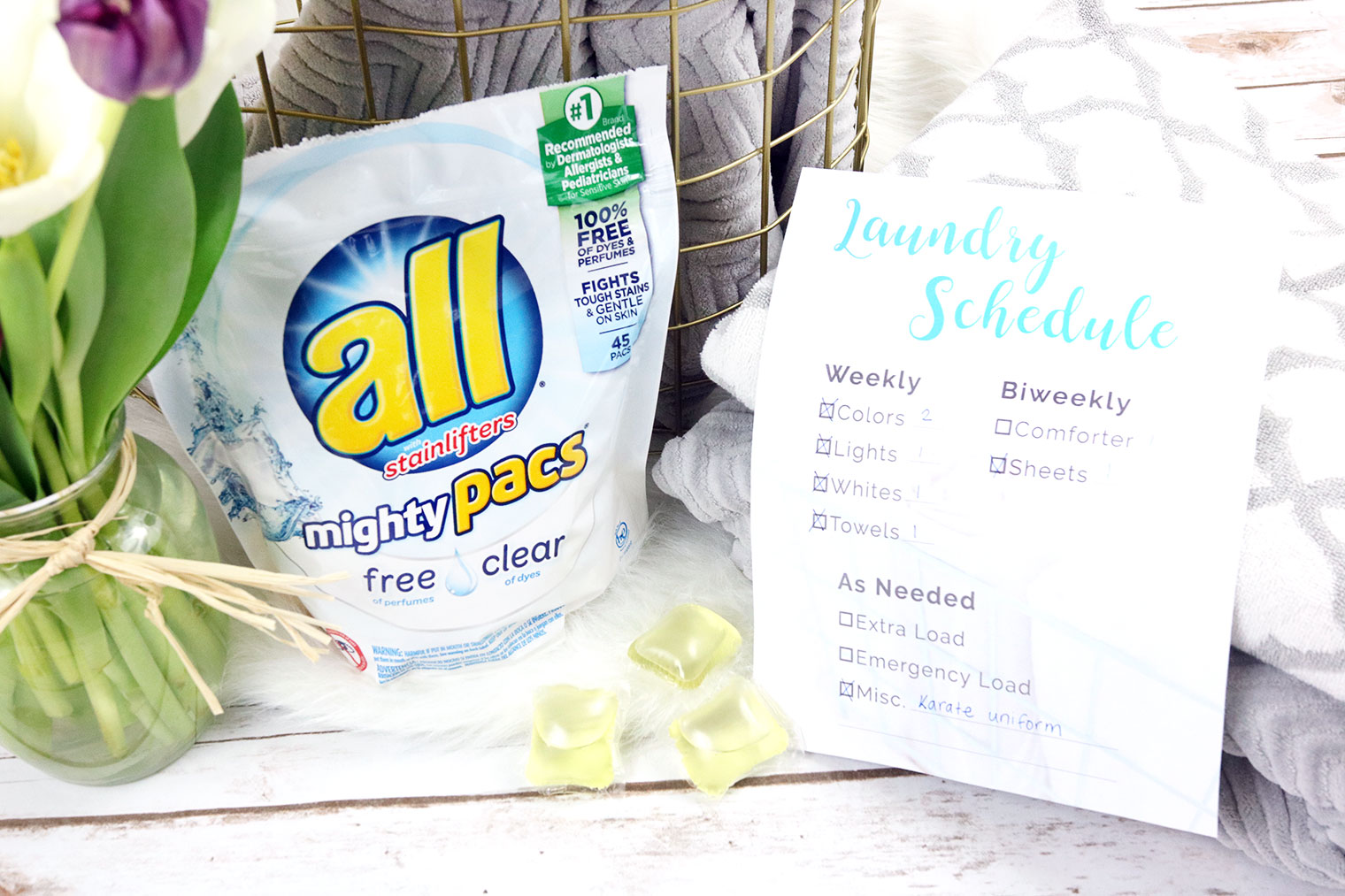 It is important for me to care for my family the best that I can and that means that I'll use products that will help my family feels their best. 
all® free clear
is 100% free of perfume and dyes with its hypoallergenic formula, making it a perfect fit for families with allergies and/or sensitive skin. Both of my kids have asthma, seasonal allergies and sensitive skin. It can be challenging at times to figure out the cause of a flair up, but at least I know that I am providing them with a clean laundry detergent that is #1 Recommended Detergent by Dermatologists, Allergists, and Pediatricians for sensitive skin. all® free clear has helped me worry less about allergy and sensitive skin problems.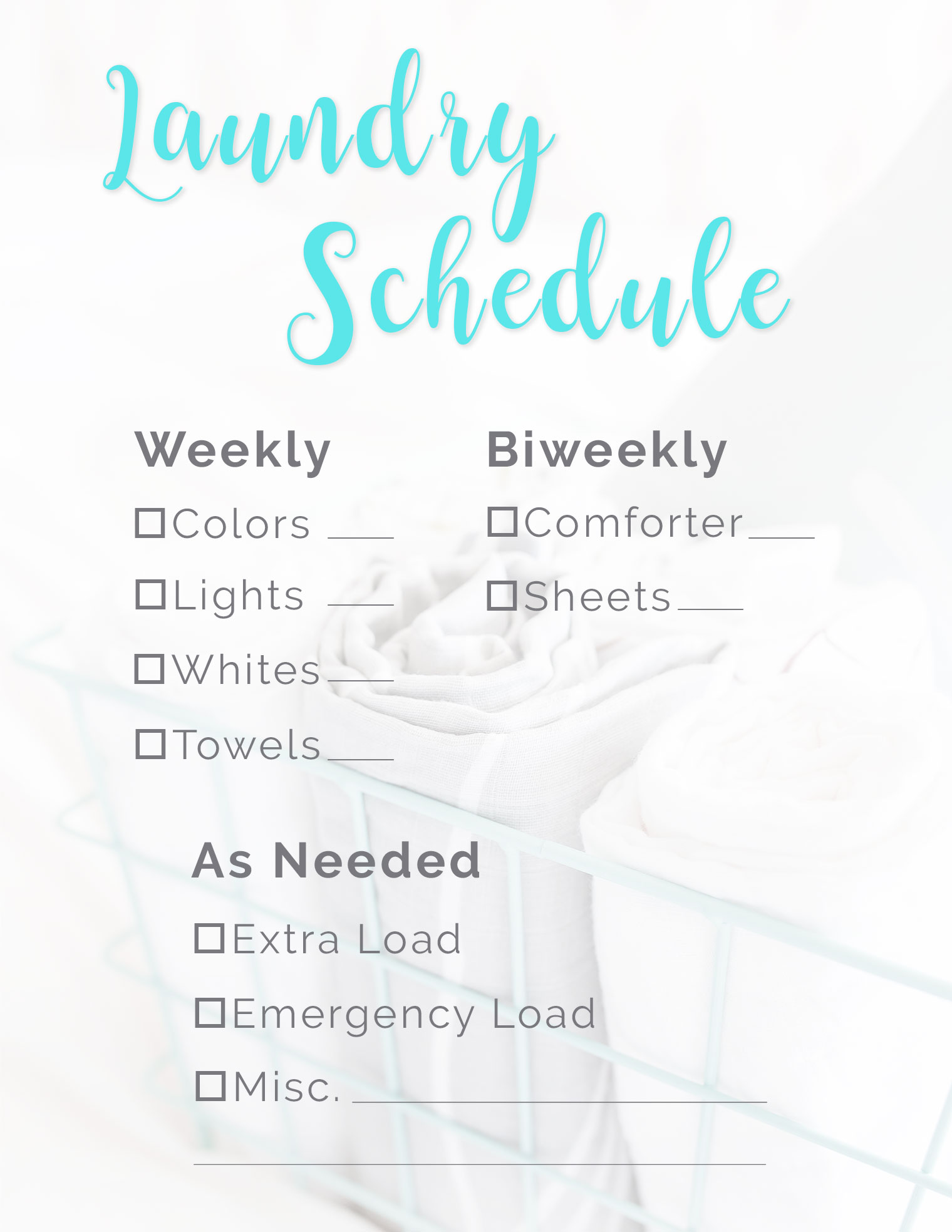 Laundry can be overwhelming at times and sometimes I feel like it just constantly multiples! Today I'm sharing How to Create a Laundry Schedule that Works. What I've found with laundry is that you truly need to keep on top of it, or it will get out of control REAL quick! Every week on Monday, I use the above Printable (download it
HERE
) and mark down what laundry will need to be done that week. I really, really try not to do laundry on the weekends, but you can do whatever works best for you!
Print the printable and you can laminate it and use dry erase markers, to make it eco friendly and reusable every week. You can also apply a magnet to the back of it and hang it on the fridge or in your laundry room. Then, check off the boxes that need to be done and how many loads of each that you need to do. For the weekly and biweekly laundry, I try to tackle no more than 3-4 loads a day and I usually devote the last two days of the week for laundry. That way we have fresh clothes for the weekend and week ahead.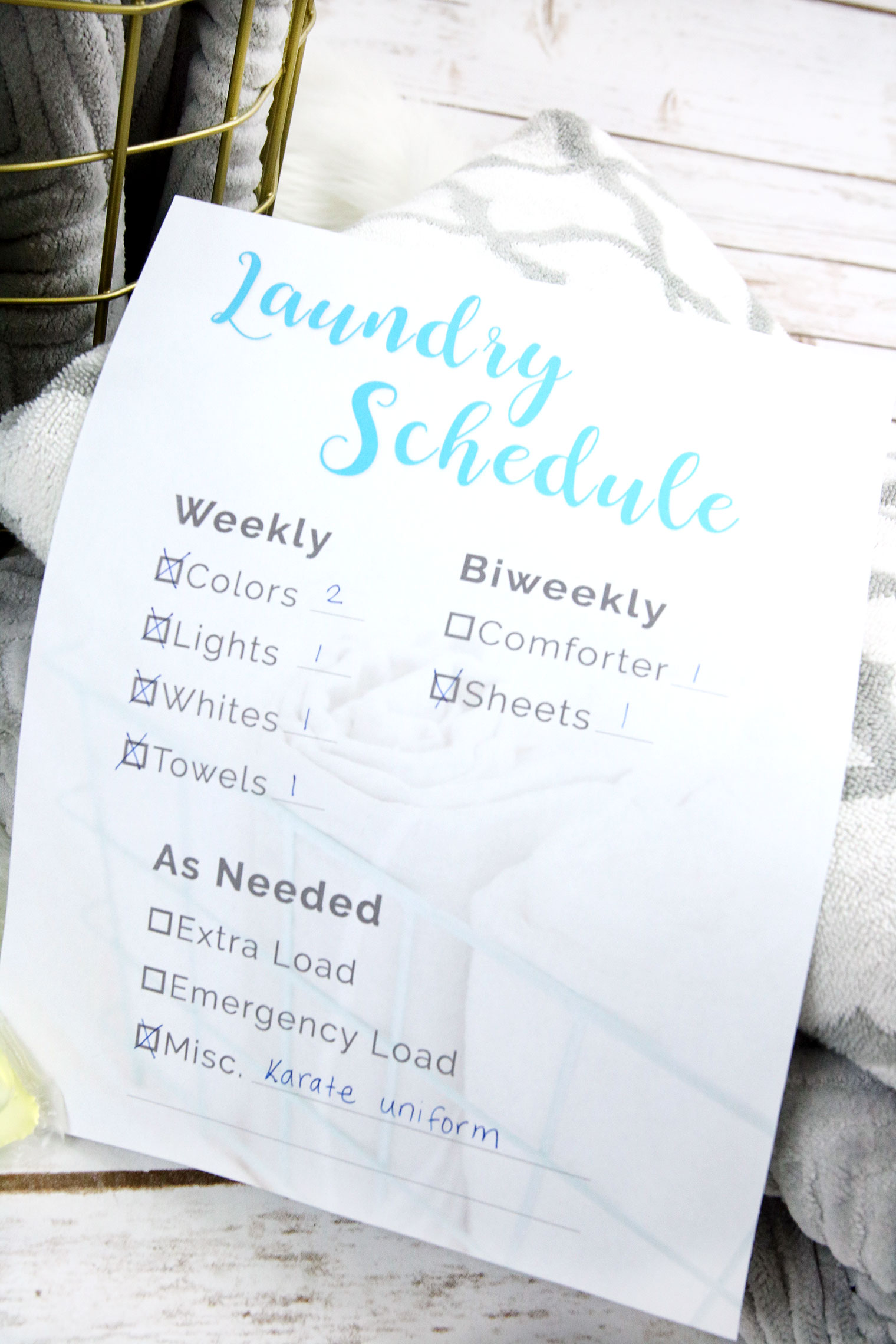 For comforters and sheets, I put Biweekly, because it is a lot of work to do it weekly and I feel that by using 
all® free clear
, there are less harsh, irritating ingredients in the laundry detergent and it helps to remove three of the top everyday allergens (dust mite matter, cat and dog dander) as well as certain fragrances. But, again, do what works best for your family.
The As Needed category is for those items that need to be done occasionally, such as an extra load of gym clothes or an item that needs to be washed immediately. I also left a Misc. space that can be filled in for items that may need occasional cleaning, such as pillows, items for your pet, etc.
I truly believe that figuring out what needs to be done at the start of the week is the key to staying organized. Laundry can be simple, don't make it anymore complicated than it needs to be. Estimate how many loads of laundry you may need to do for the week, which days you want to devote to laundry and how many loads you want to do on those days. Also, don't forget to fold and put everything away as soon as it is done drying. The kids can help with this task!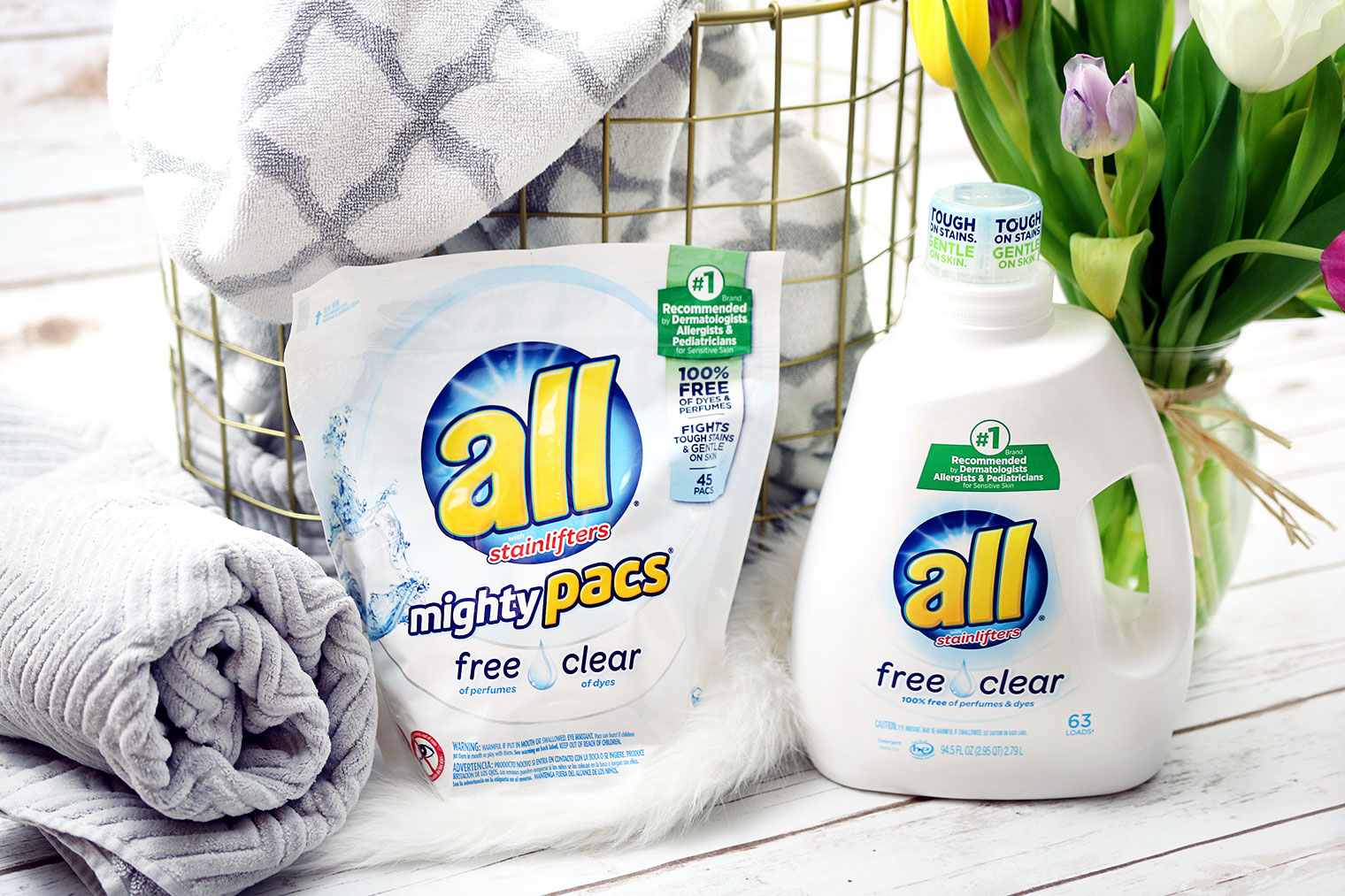 Be sure to stop by Target and pick up all® free clear, so you can live more, worry less.
SaveSave