Thank you JaM Cellars for sponsoring this post. Looking for Butter Chardonnay near you? Check out their easy-to-use Store Locator! Just pop in your zip code and the Butter will be waiting!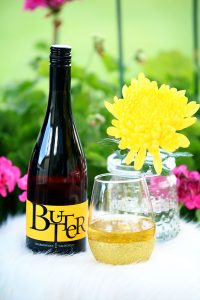 Everyone dreams of that perfect Mother's Days and today I thought it would be fun to share the 5 Wishes I Have for the Perfect Mother's Day. Of course, when I think of Mother's Day, I know I want to enjoy the day by having a glass of creamy-licious Butter Chardonnay by JaM Cellars to celebrate the day. It's always nice to reflect on the past year and all of the blessings I have by being a mother to two with a such a great and supportive husband. I also enjoy spending time with my mom every Mother's Day!
Butter Chardonnay has such a rich, bold and luscious flavor. It is made in the tradition of quality Californian winemaking, the grapes are juicy, ripe and bursting with flavor. They cold ferment this easy-to-love Chardonnay to a lush creaminess and age it in their unique blend of oak. Butter brims it with a stone fruit and baked-lemon notes that have a lovely, long, vanilla finish. Simply put, this wine will just melt in your mouth!
5 Wishes I Have for the Perfect Mother's Day
Breakfast in Bed with My Husband's Signature Cinnamon Rolls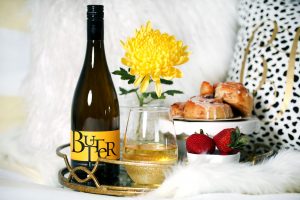 My husband makes his cinnamon rolls from scratch and it is a long process for him, but they are the BEST cinnamon rolls I've ever had. I always know I can talk him into spending the extra time to make them for me each Mother's Day. Sometimes he surprises me in bed with them and it's always nice to have a glass of Butter with them.
Family Time
I also really enjoy spending time with my husband and kids on Mother's Day. This year we are planning to go to a fondue place and we'll also be celebrating my son's birthday since it is so close to Mother's Day. Sometimes my family surprises me with gifts. My favorite gifts on Mother's Day are hand written notes/letters, handmade cards, a meal or treat made from scratch or fresh flowers (bonus if they're freshly picked!). As I've gotten older, I really tend to enjoy sentimental and meaningful gifts the most. Ones that aren't bought at a store, but that come from the heart. Those are the kids of gifts that you remember forever or that you can stow away and look at on a rainy day!
Quiet Time to Relax/Reflect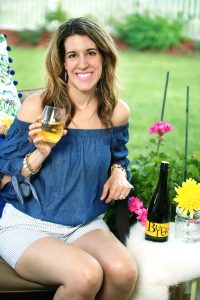 Sometimes it is nice to have an hour or two to just relax or to reflect on all of the blessings I am lucky to have. I enjoy doing this outside, so I can enjoy nature. I'll enjoy a glass of Butter while I relax. This wine just melts in your mouth and is perfect even by itself! I love quiet walks or a little shopping trip to the outlets makes me happy and recharges me! A bath full of bubbles with a glass of Butter is another way to end Mother's Day on a relaxing note.
Time with My Mom
I always enjoy spending a little time with my mom on Mother's Day. We usually go to a late brunch, but sometimes I'll just stop by to see her. Luckily, my mom doesn't live that far away from us. This year I plan to give her a bottle of Butter Chardonnay (such a great gift option!), some fresh flowers and a special card.
New Annuals for the Garden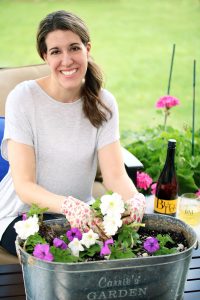 I always enjoy receiving new flowers to plant in my garden this time of year. Time spent out in the yard is very relaxing and usually the weather is terrific this time of year! It's nice to cook off with a glass of Butter while I'm working outside in the yard. One year my husband took our kid's shopping for annuals for me and I got a little time to relax while they were gone and then I enjoyed planting them when they got back! Another year, my husband took them to a really neat nursery that had a great selection of succulents and I planted them in my bird bath fairy garden and enjoyed them the entire growing season.
If you're looking for a gift idea this year for Mother's Day, be sure to share Butter and love with all of the moms out there! Everything's Better with Butter!
You can check out reviews for Butter Chardonnay on JaMCellars.com for more inspiration.
I was selected for this opportunity as a member of CLEVER and the content and opinions expressed here are all my own.
SaveSave
SaveSave
SaveSave