Welcome to Thursday Fashion Files!
Welcome to Thursday Fashion Files with Carrie at 

Curly Crafty Mom

! I'm excited to have you here and would love to have you link up one of your latest outfits at the bottom of this post.
I will be taking occasional Co-Hosts for Thursday Fashion Files, if you are interested you can email me at carrie (at) curlycraftymom (dot) com to set up a date.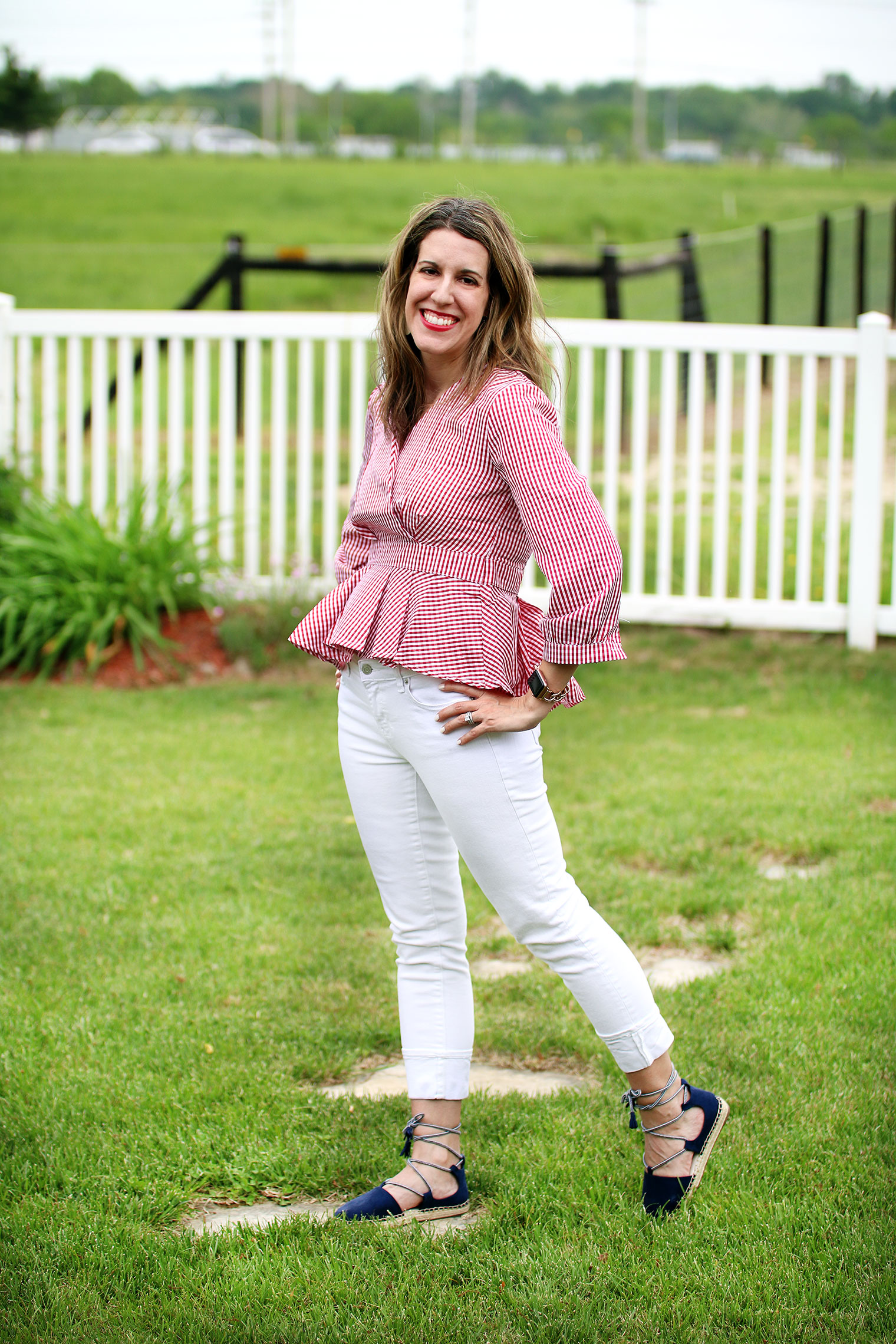 Shop This Post:

Happy Thursday! Today is a very happy Thursday at our house, because my son turns 12 today! How is it possible that he's 1 year away from becoming a teen? It's funny, because I actually first started talking to my husband when I was 12! It's hard to believe my first born son is now that age. Time really flies!
Today I'm sharing 2 Summer Looks with you from Berrylook. I'm also sharing a Wish List of a few of my favorite Swimsuit Coverups down below, so be sure to check that out. Brian and I will be leaving for Mexico very soon, so I've had swimsuits and coverups on the brain. I'll also have a little update on how The FASTer Way to Weight Loss is going tomorrow on my Friday Five with some photos! I had intended on doing a Friday Five last week, but… it didn't happen. I'm looking forward to a lazier pace once the kids get out of school and we get back from our kid free trip. It's been SO busy lately, I need some chill time with my man! 🙂 Although, our kitchen reno starts in the middle of June… so, hopefully I'll get a couple of chill weeks with the kids off school before that madness starts. #willbeworthitwhenitsdone #cantwait
Be sure to check out BerryLook for summer dresses and stylish sandals for your summer wear!
Summer Outfit 1: Red Gingham with White and Navy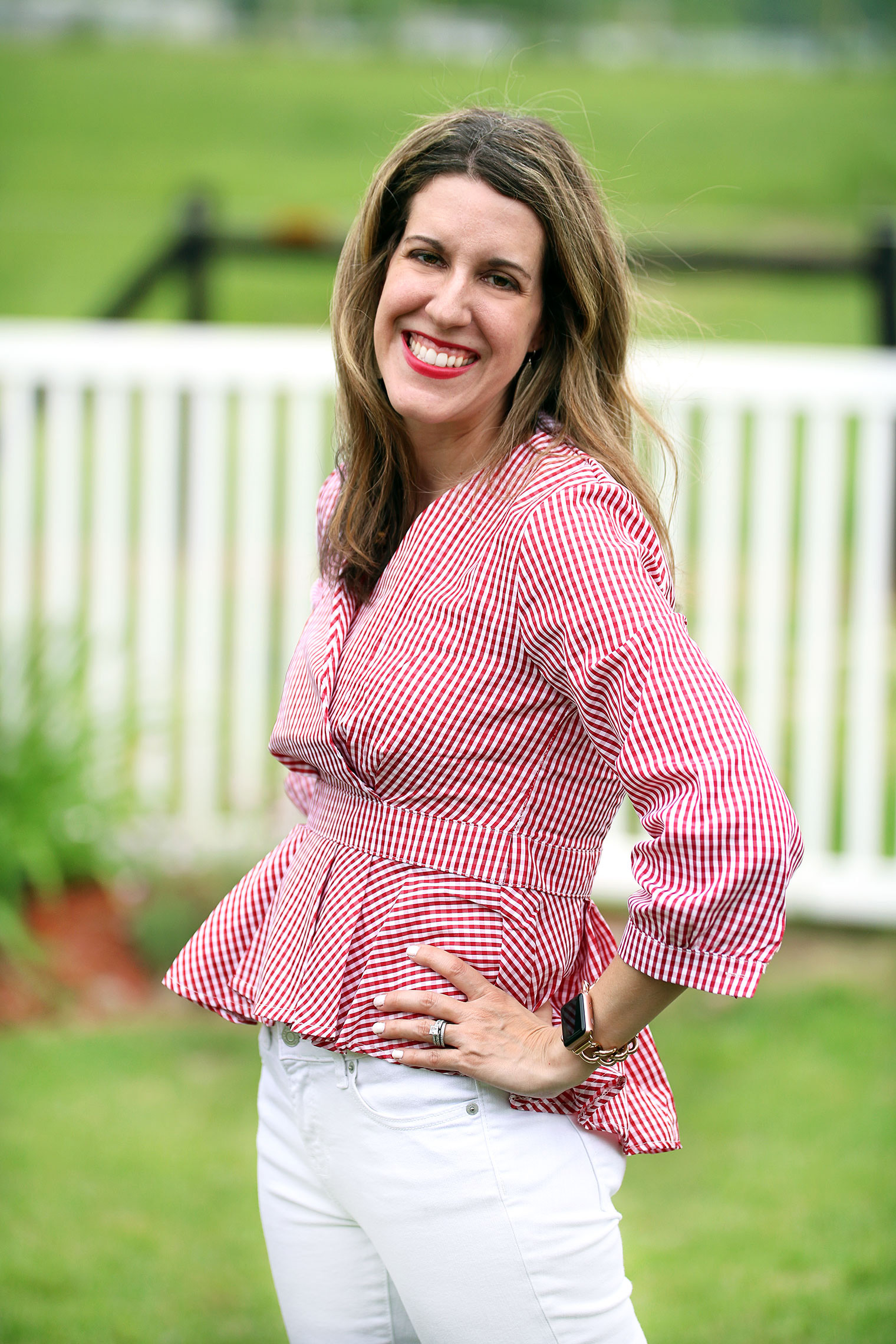 Shop This Post:

When I think of summer, I think of BBQ's and gingham… especially a red/white gingham print, like you'll see in with this adorable V-Neck Flounce Plaid Long Sleeve Blouse from BerryLook. This top is also available in black/white or a blue/white gingham  print. But, MAKE sure you order TWO sizes up! I ordered a medium here and it's a little short (the button to my denim is showing and I wish its length covered that at least) and the side zipper was pretty tight. Once I got it zipped, the top was comfortable, but it's a little form fitting around the middle. I usually wear a small in tops. I just love this top paired with my white denim and navy lace up espadrilles. Which, why do I need to Google 'espadrilles' every time I need to type it? I seriously can't remember how to spell it and don't even ask me how to pronounce it, because I have no clue. Anyone else, or is it just me? lol.
Summer Outfit 2: Blush Athleisure Look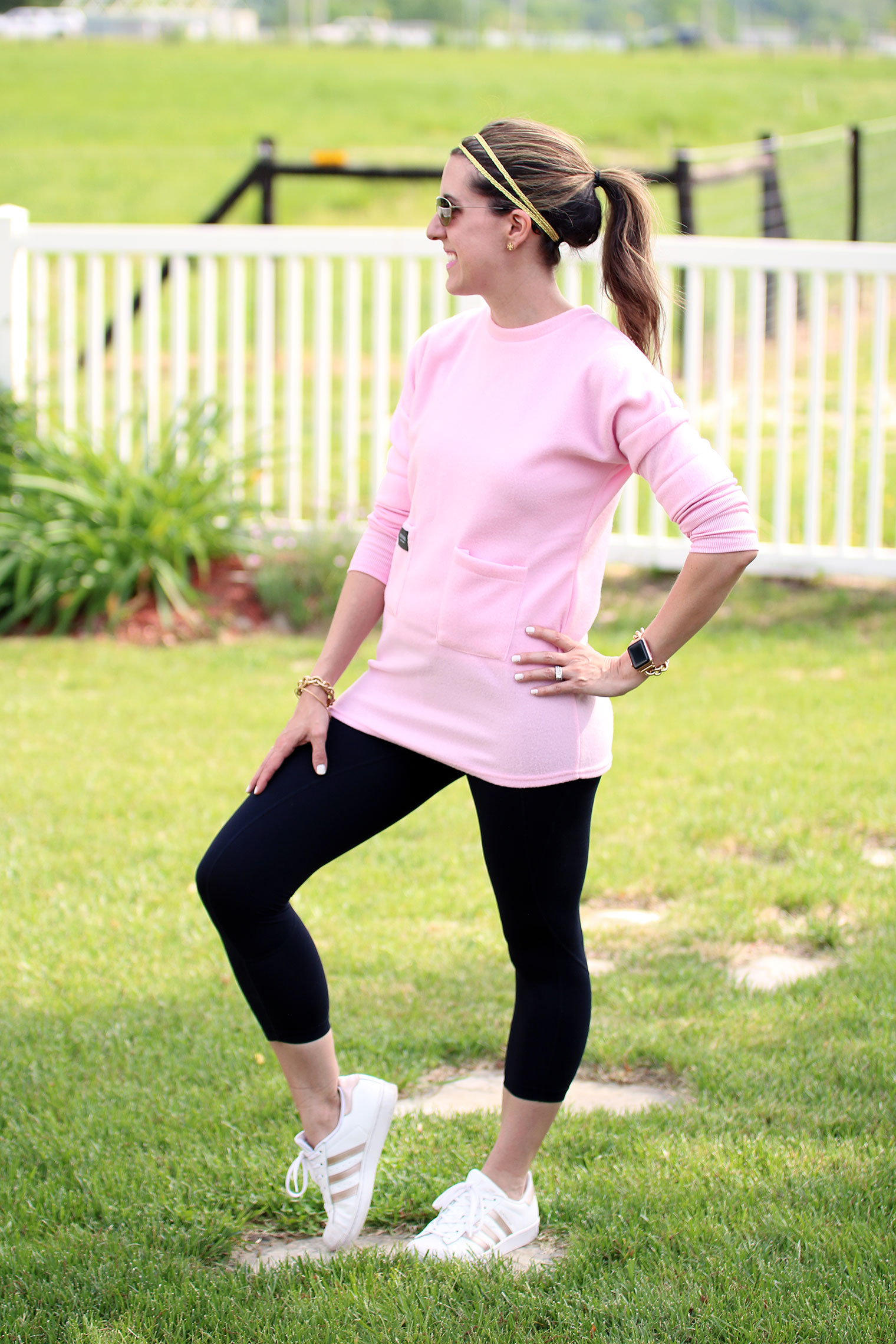 Shop This Post:

I've really been into athleisure looks lately! I enjoy working out every morning at 5:00 a.m. and sometimes I just want to be comfortable the rest of the day after I've worked out. Maybe this is weird, but I usually have separate athletic clothes that I like to 'wear' for errands, running around with the kids, etc. versus my regular workout clothes. Maybe because I used to be really into long distance running and I have a lot of running shorts, tanks, etc. that would just look weird if I wore them anywhere besides running, but that is just how it rolls for me. Hence, this Round Neck Patch Pocket Plain Fake Two-Piece Shift Dress from BerryLook is just perfect with my cropped leggings. It also comes in gray. Yes, it's labeled as a dress… but, I think it looks sporty, feminine and it works nicely with leggings and sneaks. So, that's how I'm wearing it. I'm sure it'd be cute with some white denim, too! I'm sure I'll be mixing and matching how I wear this piece.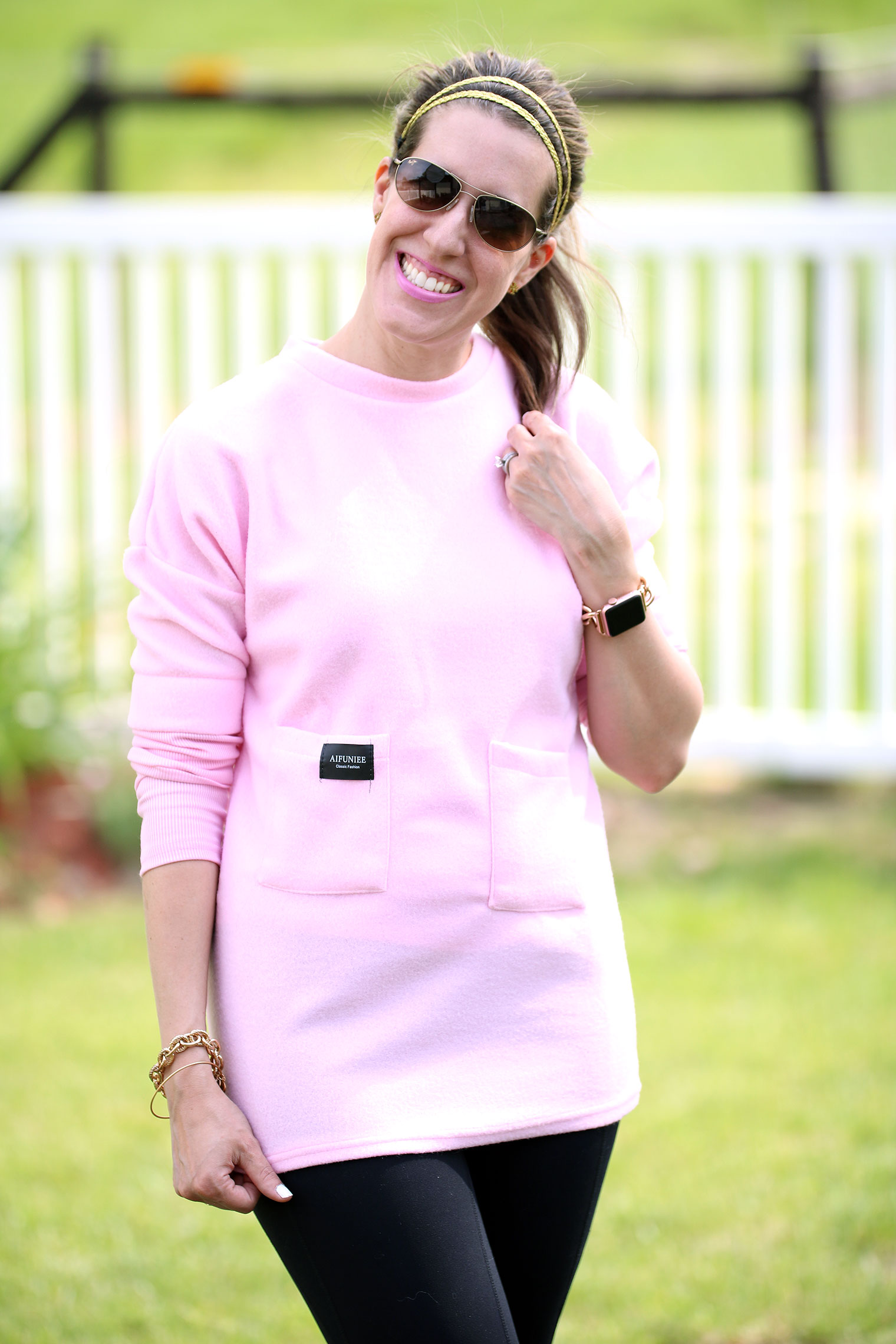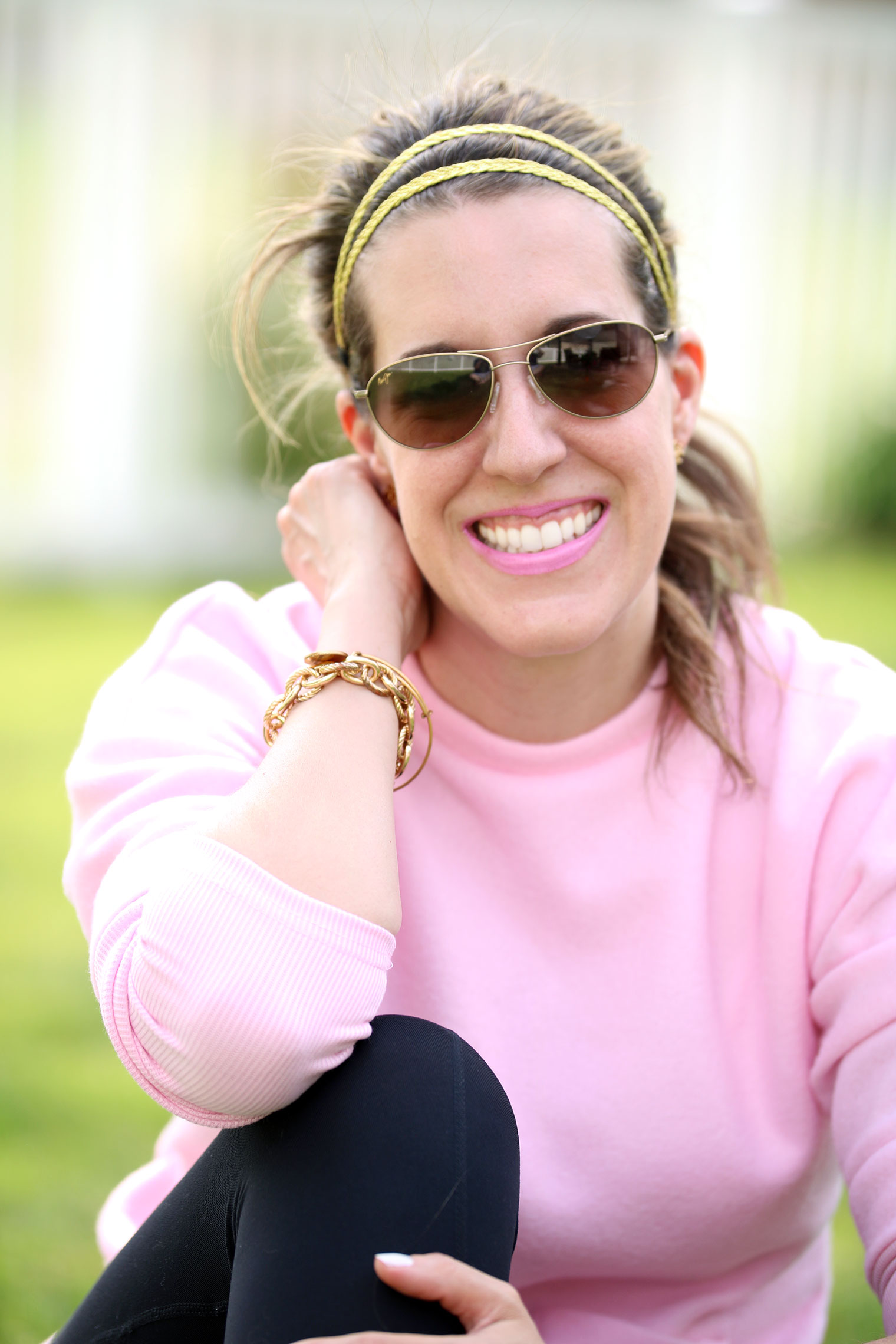 Shop This Post:

Summer SwimSuit Coverup Wish List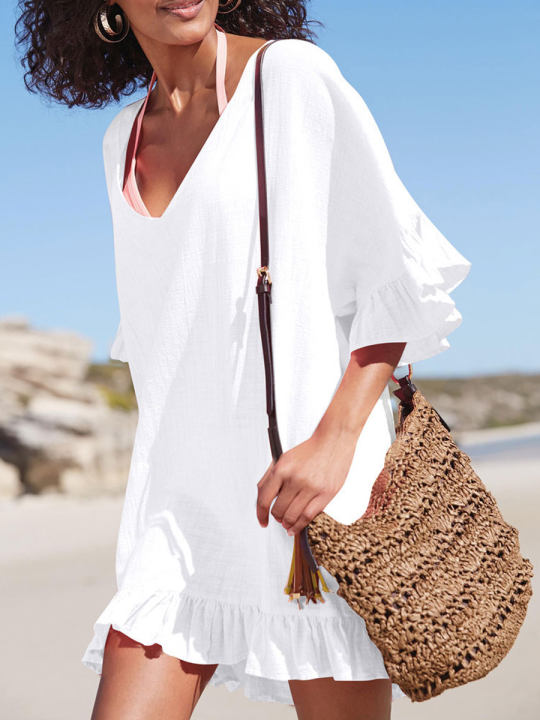 White Peplum Cover Up (also available in black) – This coverup is simple and to the point. I love the peplum hem and the deep v-neck in the front to show a hint of your suit.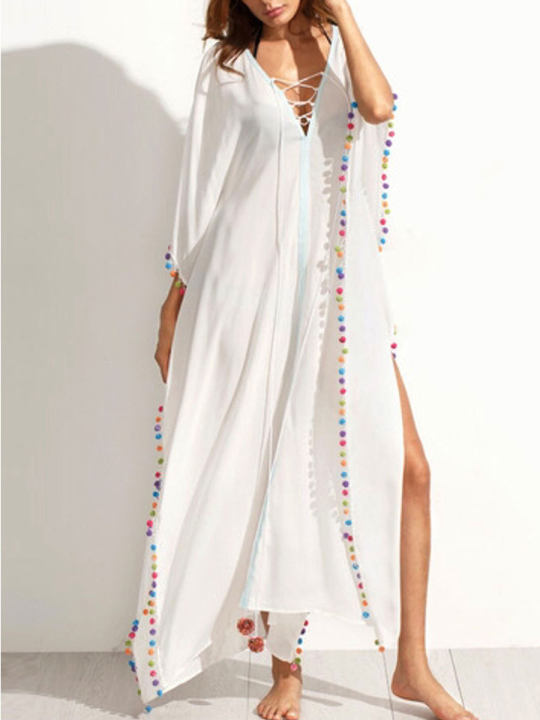 Criss Cross Neckline Pom Pom Cape/Tunic (also available in black or blue) – I just love the colorful pom poms and this would be so pretty on the beach with a little breeze. I also love the criss cross detail in the front.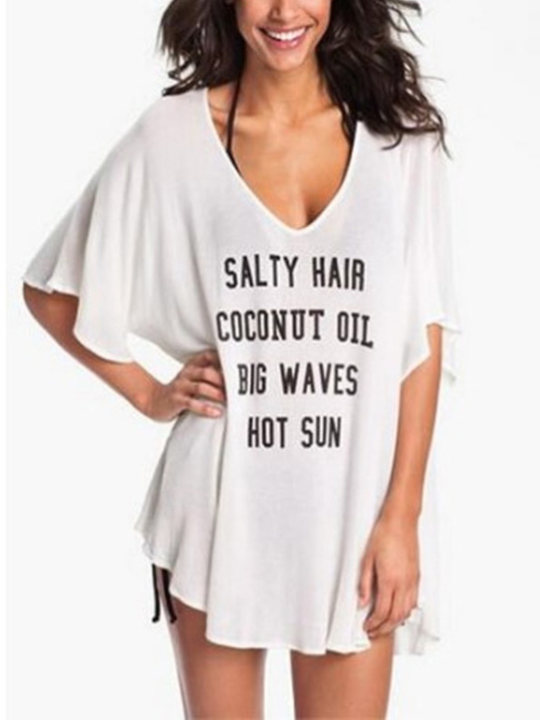 Beachy Asymmetric Oversized Tee – Just a fun tee to wear over your suit on the beach or as a PJ's for lounging and having breakfast in the morning on the balcony or patio at a resort.
Be sure to check out BerryLook for their great collection of swimsuits to pair with the perfect coverup!
Berrylook sent me items for this post in exchange for an honest review.
* This Post Contains Affiliate Link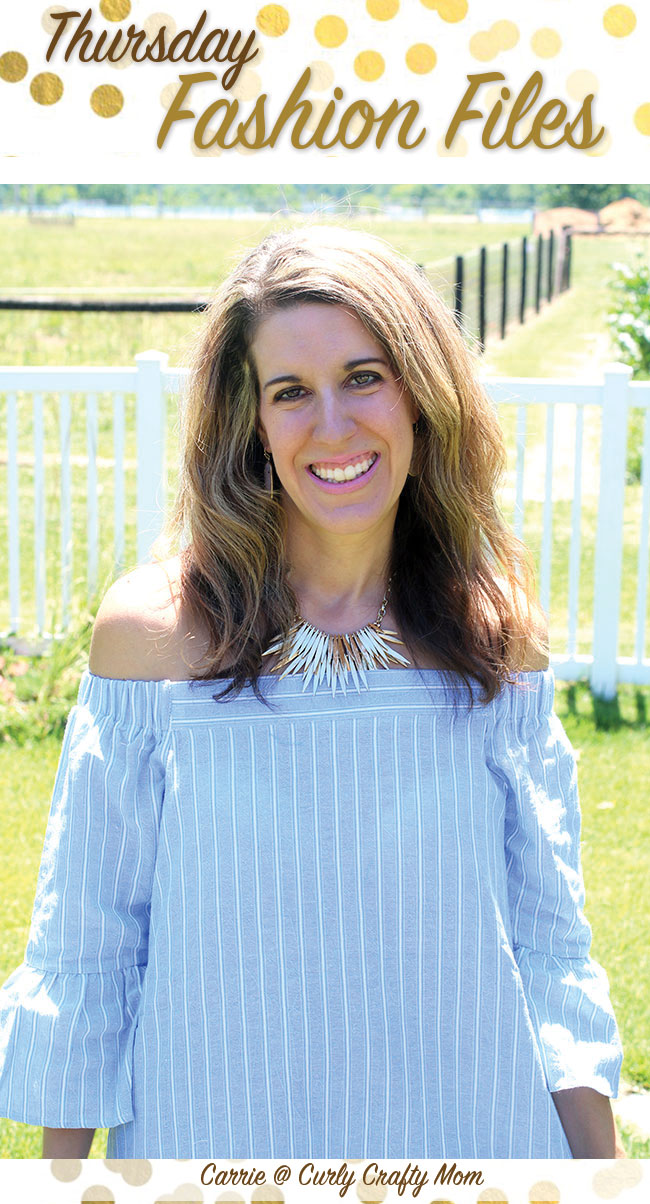 Link Up Guidelines:
1. Feel free to grab our button to display on your blog sidebar. Help spread the word and share about our link up community.
2. **By adding your links, you are stating that you have the proper licensing/rights to the images in your blog posts.** 
3.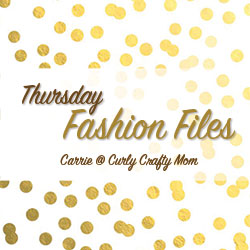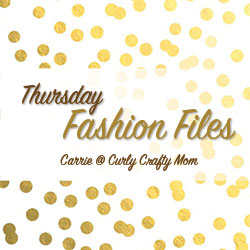 Our Co-Host for this Week: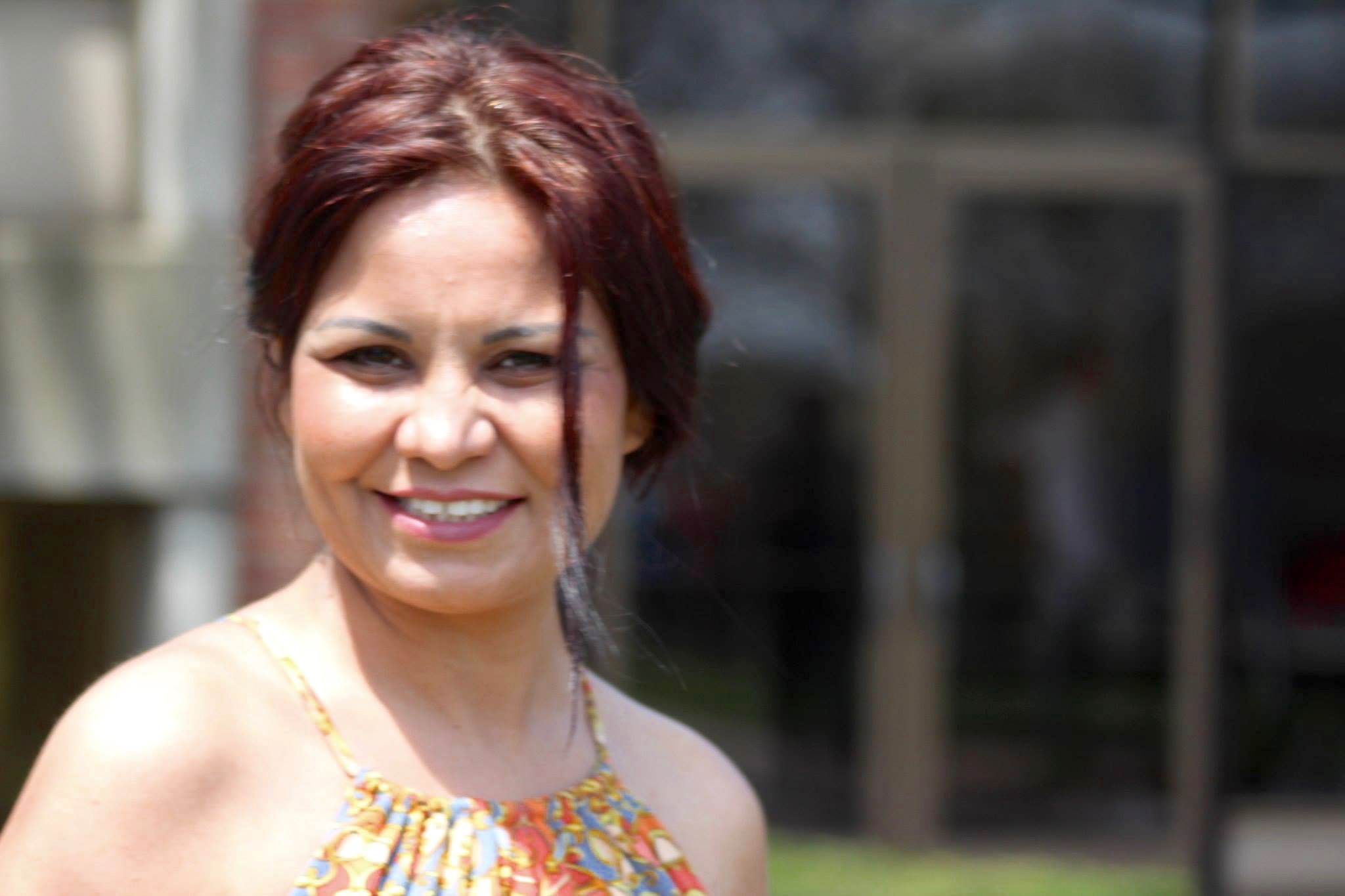 I'm excited to have Manisha from Mod Lotus as my Co-Host this week! Be sure to stop by and say, "Hello!" to her!
SaveSave
SaveSave
SaveSave
SaveSave
SaveSave
SaveSave
SaveSave
SaveSave
SaveSave
SaveSave
SaveSave
SaveSave
SaveSave
SaveSave
SaveSave
SaveSave