Happy Friday Everyone!
One – FASTer Way to Weight Loss 3 Week Check In!
The FASTer Way to Weight Loss is a program I heard about from a few other bloggers I follow. I used to do long distance running for YEARS. Heck, since I had given birth to Autumn. But, I got a little burned out on it and wanted something to work out my core and just my entire body. I started Cathe's STS program and went through the entire program, but something was missing. That's when I decided to try out the FASTer Way to Weight Loss, because I wanted to not just work out, but I wanted to eat clean! Today I'm just sharing an update on how the program is going for me so far. I've been really pleased, but man… it is a lot of work and the workouts are TOUGH (she does have beginner workouts, if you haven't been very active before the program).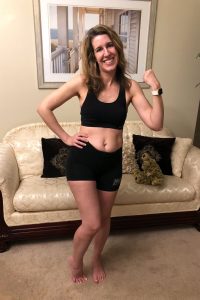 Before Prep Week – Ok… way awkward pose and not my favorite workout clothes, BUT I'm just not happy with myself here. I over indulged all winter and my clothes were getting super tight around the waist. I wanted to work on eating cleaning and toning my body. I have always loved long distance running, but I love that this program works out ALL of my body.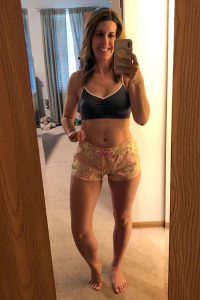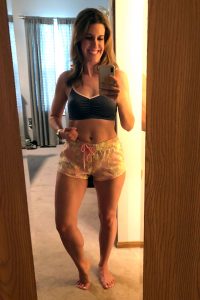 Week 2 (Photo on Left) – Wow! I can really tell a difference. I dropped the most weight during Week 2! My clothes started to fit a lot better and I can really tell a difference in how my stomach looks in this photo versus the Prep Week photo. I got really excited and felt even more motivated after seeing the results from Prep Week and the Second Week. Yeah! This program is a lot of work, I definitely was giving it my all!
Week 3 (Photo on Right) – Hmmm… In this week, I maybe lost a pound? Amanda tells you not to weigh yourself, that you'll be gaining muscle and that muscle weighs more than fat. I definitely want to gain some muscle. I'm not sure if I can tell much different between Week 2 and 3. Can you?! That is why I made the photos smaller and put them side by side. I think I can tell a little difference in my stomach/ab area in Week 3.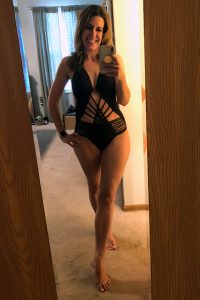 Which brings me to my BIG motivator in this entire program. My trip to Mexico with Brian at the end of this month. I knew I had to get myself into shape and quickly. I always love to buy a new swimsuit when I go somewhere tropical and I found this cute and kinda sexy swimsuit at Macy's. Of course, I wanted to look a little better in it than I did when I purchased it. Wow! When I put this swimsuit on, I KNEW I had redeemed myself with the FASTer Way to Weight Loss! Now, I know I'm not a swimsuit model by any means… and, I never will be… but, I can wear this with confidence and that is all that matters to me! It's going to be SO fun to wear a swimsuit that isn't a 'mom' swimsuit on a vacation with my hubby! Yay! What I love about this suit is that it looks like a strappy one piece from the front, but from the back it looks like a 2 piece! Man, swimsuits have really stepped up in the last year or two!
I have 3 more weeks of the FASTer Way and I'm excited to keep going! On Sunday I'll be doing my first 24 hour fast with the program. Currently, we are doing intermittent fasting, which is where we fast after dinner for 16 hours. So, I never eat breakfast and break my fast with lunch at noon everyday. I plan out my meals and a snack the day before, so that I don't get off track. We do low carb days (which seem to be the easiest, surprisingly!), regular macro days and low macro days. Once I hit my target weight, I can drop the low macro days for regular macro days. What is nice about keeping within your macros, versus just calories is that you are eating what you SHOULD be eating… your daily intake of carbs, protein and fat. Amanda said if you just look at staying within a certain calorie range instead of looking at staying within your macros everyday, you could live off of Twinkies and other sweets! This program has definitely encouraged me to eat a lot cleaner. I'll admit… I usually take a break from the program on Saturday, just because I do enjoy a dinner out, etc. But, I'm very strict with the workouts and eating program the rest of the week!
I'm looking at doing the program again after my 6 weeks are up. I am not sure if I'll do it on my own or sign up again for her program. I really want to try to stay on track this summer and make this a lifetime change for a better me!
Two – Blogger Surprise Mail from Leslie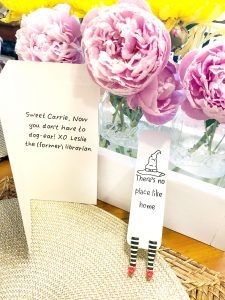 The sweet Leslie from Once Upon a Time & Happily Ever After was so thoughtful and sweet to send me a bookmark in the mail! She had a blog post awhile back where she mentioned how she always uses a bookmark and hates when people dog ear pages in books. Being the librarian she is, I can see her perspective on this, yet I told her in the comments that I am a total dog ear'er! Ha! So, a couple weeks later… a package arrived with a bookmark! I am sure she was giggling away when she ordered this for me! I just love the bookmark, its metal and there really is no place like home! How thoughtful of her. Thanks so much, Leslie! 
Three – Influenster Chic Vox Box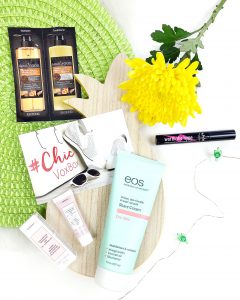 Shop This Post:

I recently received the Influenster Chic Vox Box and I've been having fun trying out all of the goodies in it:
Hair Food Apricot Shampoo & Conditioner – I only got a sample of each of these, so I can't really say a lot about it. My hair did look nice the day that I used it!
eos Dry Skin Shave Cream – I really love using this shave cream for when I shave under my arms. It's just a little more moisturizing! It works great on my legs, too… but, I prefer a regular old fashioned shave cream over the eos on my legs, because with the eos I feel the film rinses off easy while I'm shaving and then I'm not sure where I need to shave still. Don't you hate that?
KORRES Pomegranate AHAs & Enzymes Resurfacing Mask – I have been addicted to face masks right now and I just love this one! It smells really good and my face felt renewed/refreshed afterwards! 
NYX Worth the Hype Volumizing & Lengthening Mascara – This mascara isn't bad, but it isn't the best that I've ever used. It's a nice everyday mascara, though and I'll be sure to use it up!
And, aren't my pineapple cutting board and little cactus string lights cute? Gotta love the Target Dollar Spot!
Four – Cactus Themed Front Porch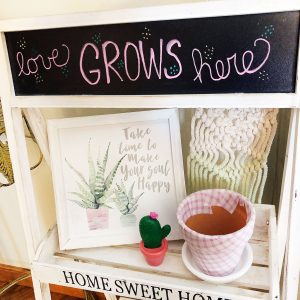 I've been loving all of the cactus merchandise lately and it seems to be trending! I decided to do a mini cactus theme on my front porch this year and oh my goodness I can't wait to do the reveal post on Monday to share with ya'll what I came up with. I just think it is my favorite front porch yet that I've done during the summer! I usually don't go big on themes, but it was a lot of fun. Here is a sneak peak from a few weeks ago when I was brainstorming on it inside the house. I even went so far as to make some fabric mod podge terra cotta pots to tie in with the colors! So, so fun! So, be sure to stop by on Monday to see my Cactus Themed Front Porch! Yay!
Five – Sephora Sale, T3 Twirl Trio Curling Iron Set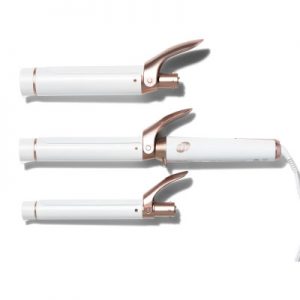 Shop This Post:

During the Sephora Sale, I made a big purchase and got the T3 Twirl Trio Curling Iron Set and I am so glad I did! For one, I got a discount on this high end product during the sale and secondly… I love it! I have naturally curly hair that likes to frizz and I have a hard time keeping it smooth and manageable during the humid months here in St. Louis during the summer. Oh my goodness, this curling iron is AMAZING. My hair has never been smoother! I love to use a curling iron to straighten and slightly curl my hair (I only use my Chi Straightener when I want super straight hair) and this does the trick. With my old curling iron, I had to go over the same section 2-3 times and it would still not be perfectly smooth. Since I've been using this set, I can do my hair in HALF the time AND it stays put all day and it really seems to keep my hair smooth even with the humid 90 degree days we've already had this month. I'm excited to see how my hair does during the summer. The barrels change out and I got 3 different sizes! So fun! You can also get this T3 set without the handle, but I prefer the handle… I guess I am old school! I highly recommend it!! But, DO use a heat protector… because, it does heat up!! But, you'll love the results! I've been using it for about a month.
I hope everyone has a good weekend! I'll be packing for Mexico, going to Nathan's karate tournament and Autumn has her dance rehearsal. Busy, but fun!
SaveSave
SaveSave