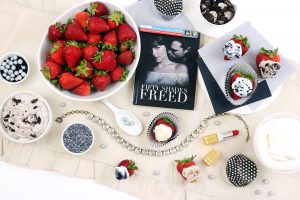 I am so excited that the 
Fifty Shades Freed (Blu-ray combo pack + exclusive packaging + photo gallery inside)
is available at Walmart. I just LOVE this film! I actually went to see it by myself at the theater during the day, so that I could see it as soon as it came out! My husband definitely teased me about that one! I was excited to watch the Fifty Shades Freed Exclusive DVD again at home and I went all out on a celebration for it. I made a strawberry topping bar with a bowl of ripe strawberries with so many toppings that it was almost hard to try them all! Talk about the perfect girls night, right?!!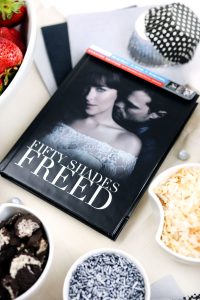 As a busy mom, I rarely get time to unwind and relax. I enjoy spending time with my girlfriends with a chick flick. It's fun to lounge around on the couch with lots of blankets and pillows enjoying a relaxing evening. Of course, we'll spend it watching the story of Christian and Anna unfold in the Fifty Shades Freed Exclusive DVD, the final movie in the trilogy. Munchies during a movie are a must and I always like to do a food theme that ties in with the movie. I decided to surprise my friends with a Strawberry Topping Bar, which is a spin off of Christian holding the bowl of strawberries out to Anna and telling her to eat in one of the previous films.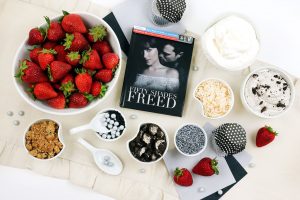 Setting up the Strawberry Topping Bar was not difficult and I found all of the ingredients at Walmart while I was picking up the Fifty Shades Freed Exclusive DVD.
Here is what you'll need for your party (feel free to pick up anything else that you think would go good with the strawberries!):
Strawberries (enough to fill a big bowl)
BIG tub of Whipped Cream
Chocolate Cream Cookie Whipped Cream (this is available already made up in the freezer section!)
Toasted Coconut
Crumbled Chocolate Chip Cookies
Crumbled Chocolate Cream Cookies
Silver Sprinkles
Black Sprinkles
Silver Malted Balls
Cupcake Liners (in silver and black/white)
Black/Silver Napkins
Little Spoons
Simple Table Runner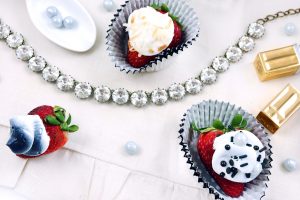 Set up the table before your guests arrive (be sure to keep the whipped cream in the fridge until it's time to eat!) and then let them dive in! You can give each guest a plate and let them add whipped cream to their strawberries. If they just want to stand around and eat one strawberry at a time, they can put them in the cupcake liners. The strawberry topping bar makes for great conversations and everyone can enjoy these sweet treats while watching the Fifty Shades Freed Exclusive DVD.
I hope I've given you some ideas on how you can enjoy a relaxing evening with your favorite girlfriends while enjoying the final DVD in the Fifty Shades trilogy! Don't forget to include a bottle of wine or two, strawberries are wonderful with a glass of wine! Plus, just think of all of the money you'll save not having to buy expensive tickets and snacks at the theatre. Be sure to get your 
Fifty Shades Freed Exclusive DVD
at Walmart!
SaveSave
SaveSave
SaveSave
SaveSave
SaveSave
SaveSave
SaveSave
SaveSave
SaveSave