Welcome to Thursday Fashion Files!
Welcome to Thursday Fashion Files with Carrie at 

Curly Crafty Mom

! I'm excited to have you here and would love to have you link up one of your latest outfits at the bottom of this post.
I will be taking occasional Co-Hosts for Thursday Fashion Files, if you are interested you can email me at carrie (at) curlycraftymom (dot) com to set up a date.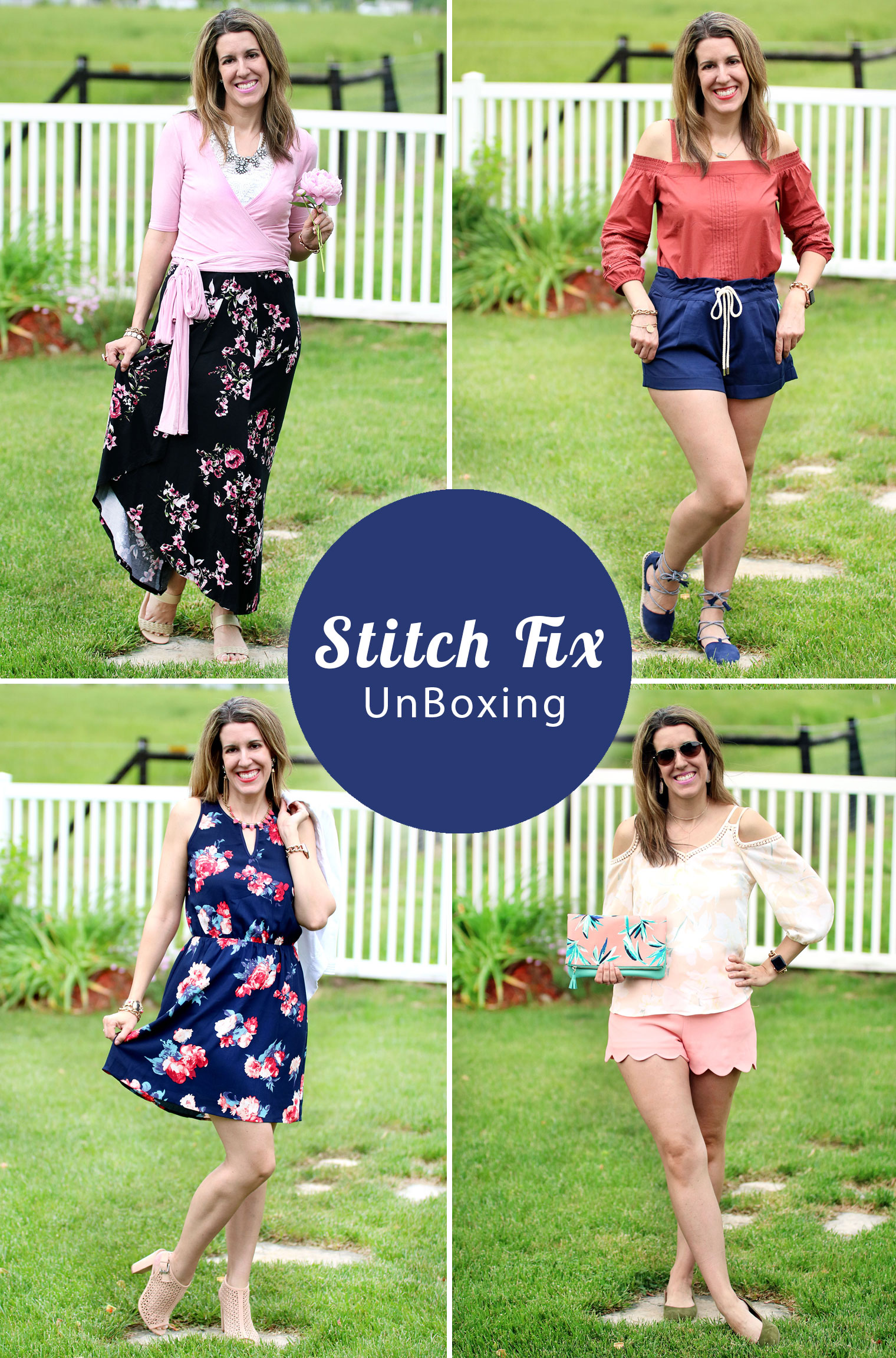 I just ordered a Stitch Fix box last month and decided I wanted to order another one this month since I had a trip coming up. This was Stitch Fix Box #11 for me! This box had some cute items, but it wasn't really what I was wanting… I had asked for items for a tropical vacation and two of the tops had mid-length sleeves and I was also sent two pieces with a dark floral print. I usually try to stay away from dark colors when I'm in the tropics. I did find a cute cinched in pair of shorts that I kept, which you'll see below. This is the second Stitch Fix box in a row that was disappointing for me, so I'm not sure when I'll order another one. I went to the outlet mall a week after I received my Stitch Fix box and found so many more pieces that will work for my tropical vacation/this summer at a fraction of the price (Gap, Banana Republic and J. Crew outlet!). But, it is still fun to be surprised with a Stitch Fix box! Let's get started…
Madyson Faux Wrap Knit Midi Skirt (Colette) $48.00 – Didn't Keep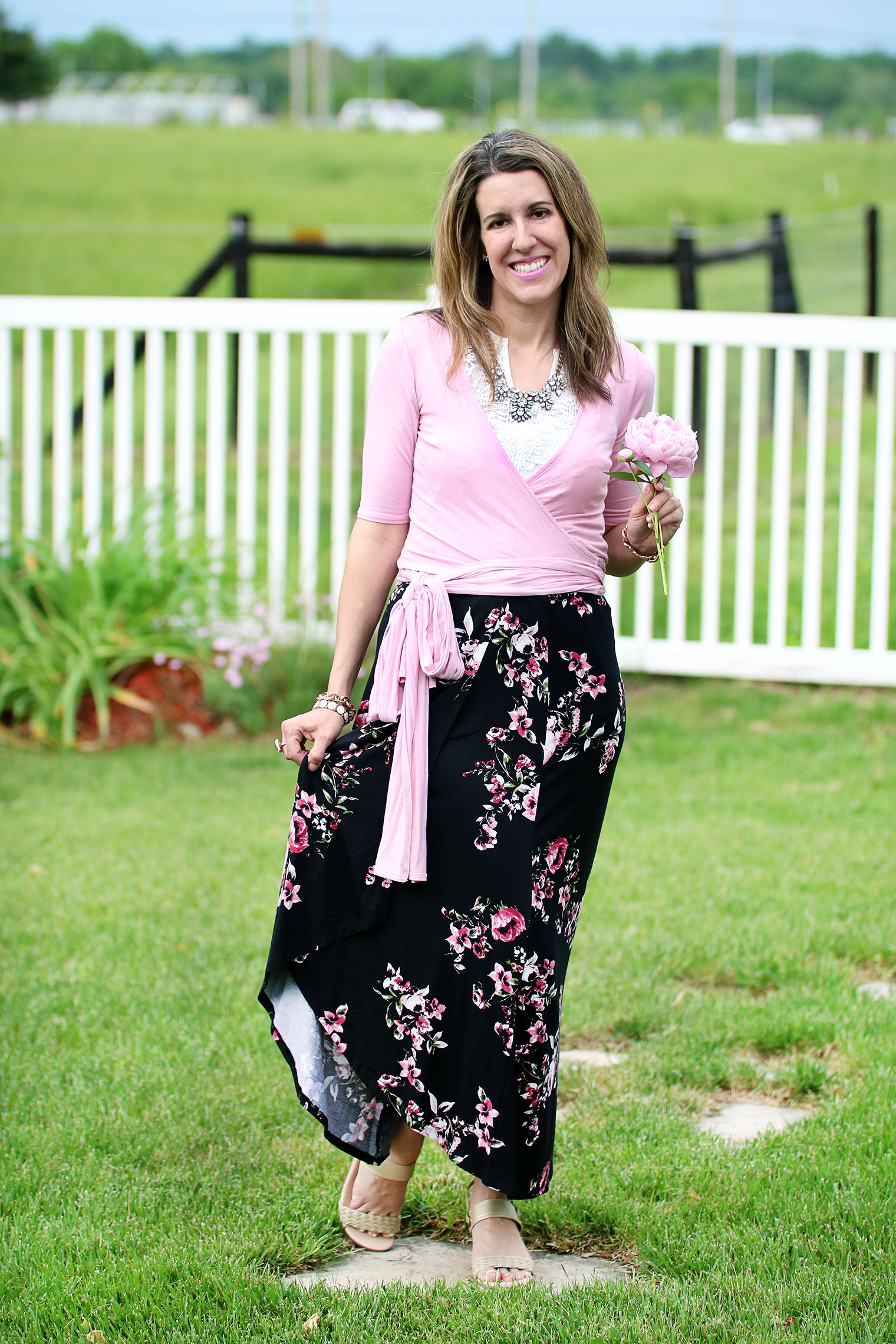 I really wanted to keep this skirt, but I talked myself out of it. I have been wanting a dark floral piece, but I thought this time of year was the wrong time to acquire it. I do love how I added some Spring/Summery colors to the outfit to make the skirt not seem so dark. I have a really nice tie up cardi that matched the pinks in the skirt and I wore a lace cami underneath.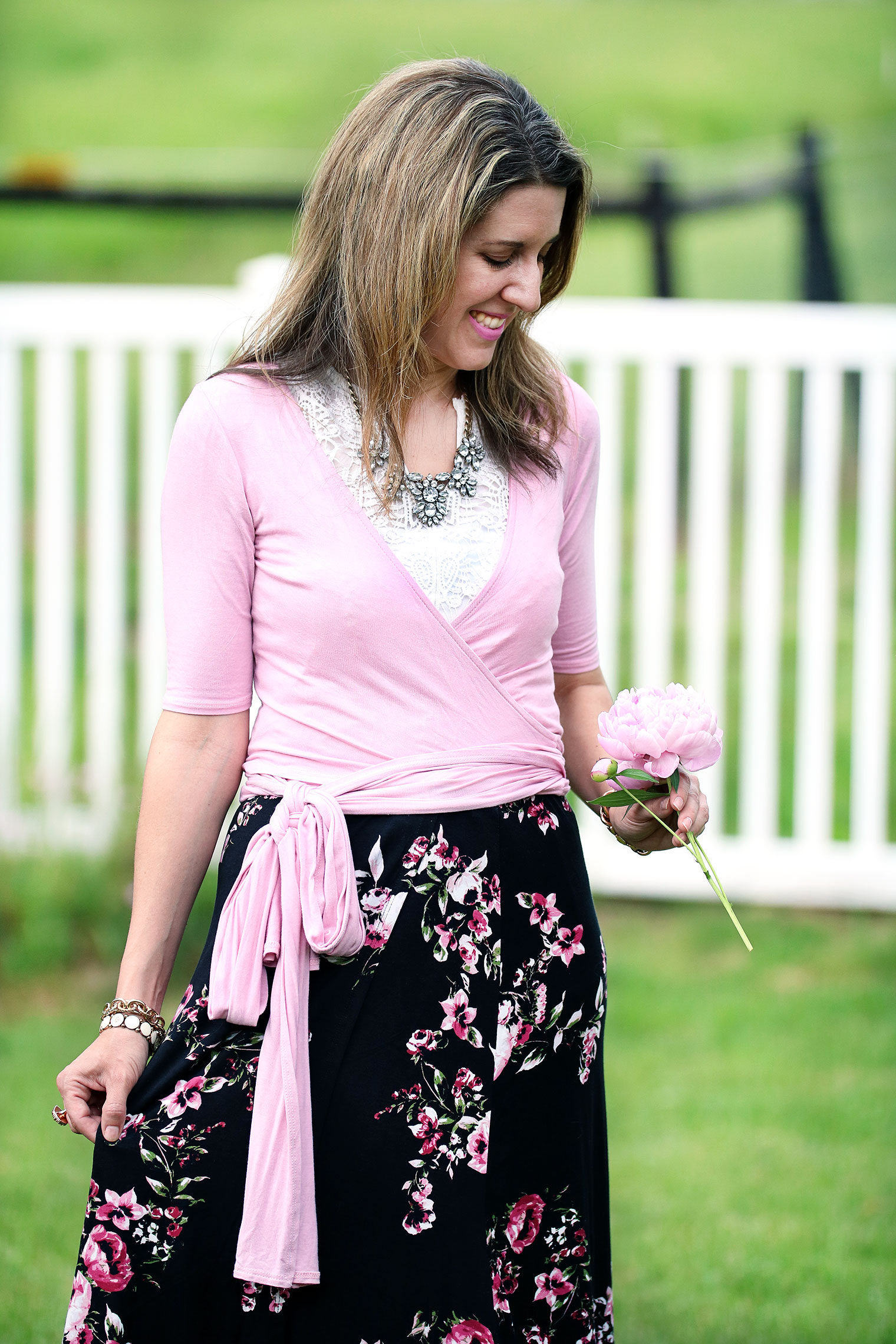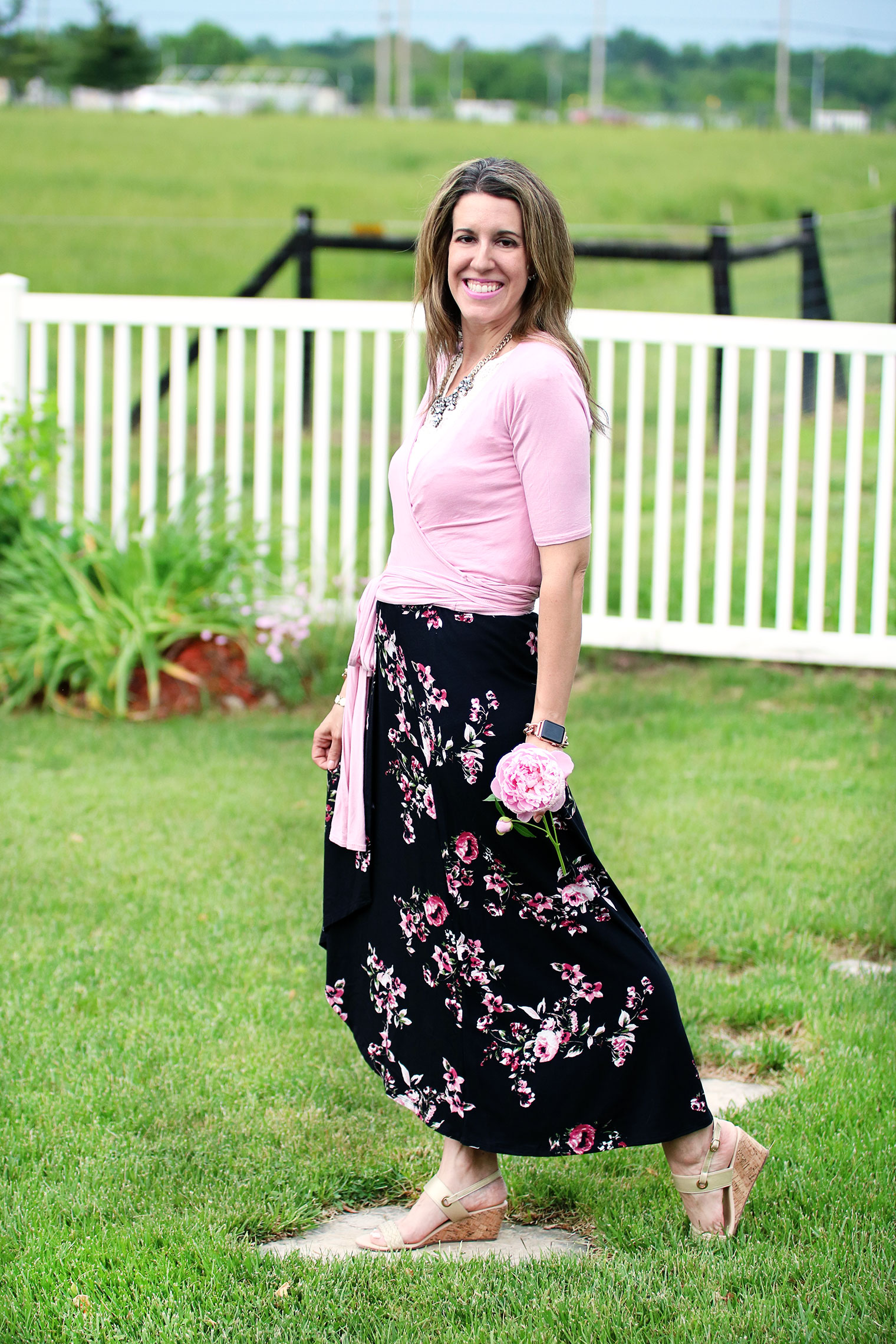 Orania Cold Shouldered Blouse (Market & Spruce) $58.00 –
Didn't Keep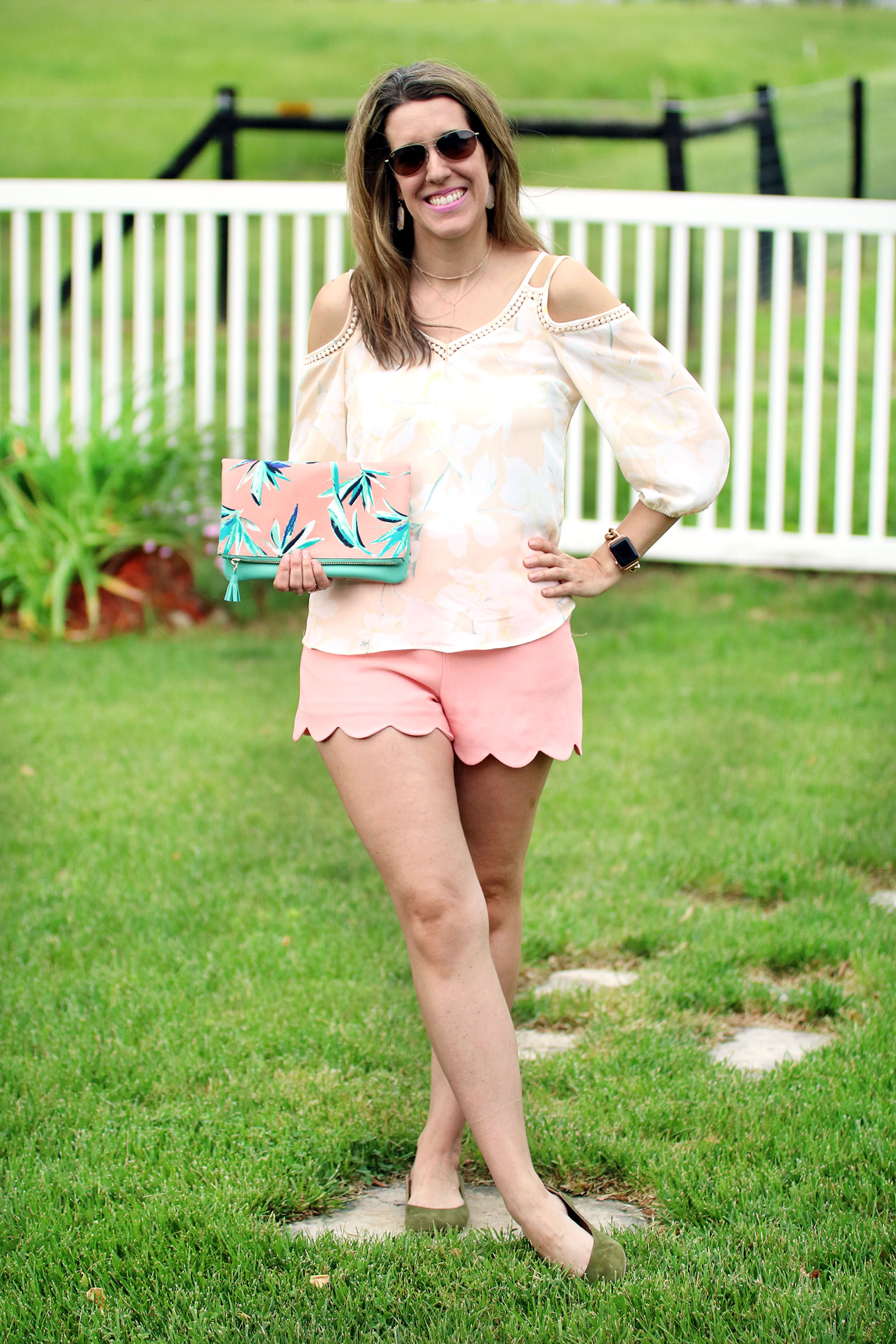 This top was a PITA. To be honest. It's really light, so light that it's hard to see the pattern. But, on top of that… it's REALLY sheer AND cold shouldered. You'd have to wear a strapless bra with this, but you'd also have to find a strapless cami (which I don't have), because it's so sheer that you can see through it. I wish it had a lining or something, it'd be a lot more practical. For these photos, I wore a cami and tucked the straps into my strapless bra. LOL. I know. Craziness. I also didn't like the mid length sleeves. It'd be a nice top for early Spring, but not for a tropical climate or the hot humidity we get here in STL in the summer.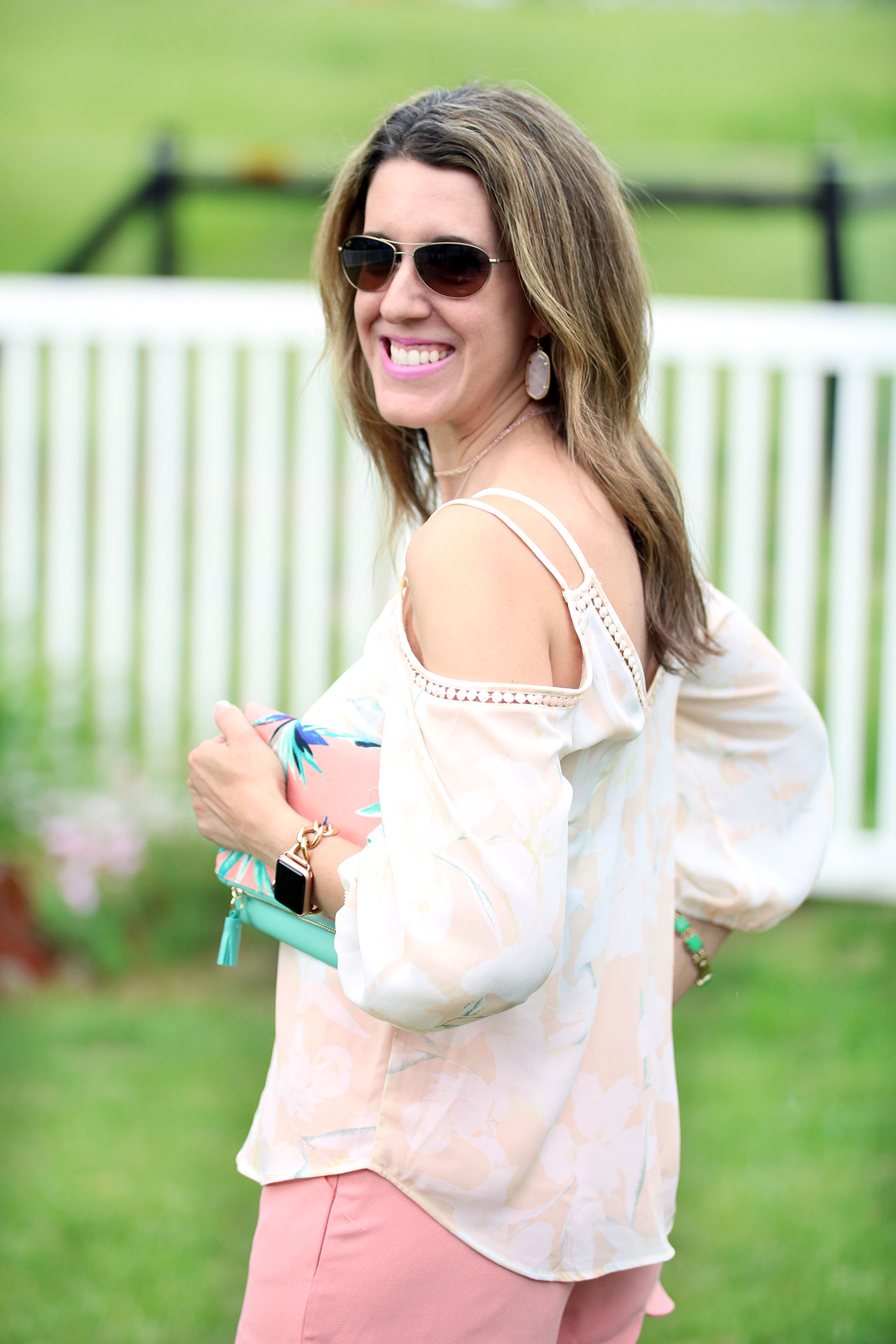 Elzie Crochet Detail Cold Shouldered Top (Daniel Rainn) $68.00 –
Didn't Keep
Erinne Drawstring Short (Kut from the Kloth) $58.00 –
Kept!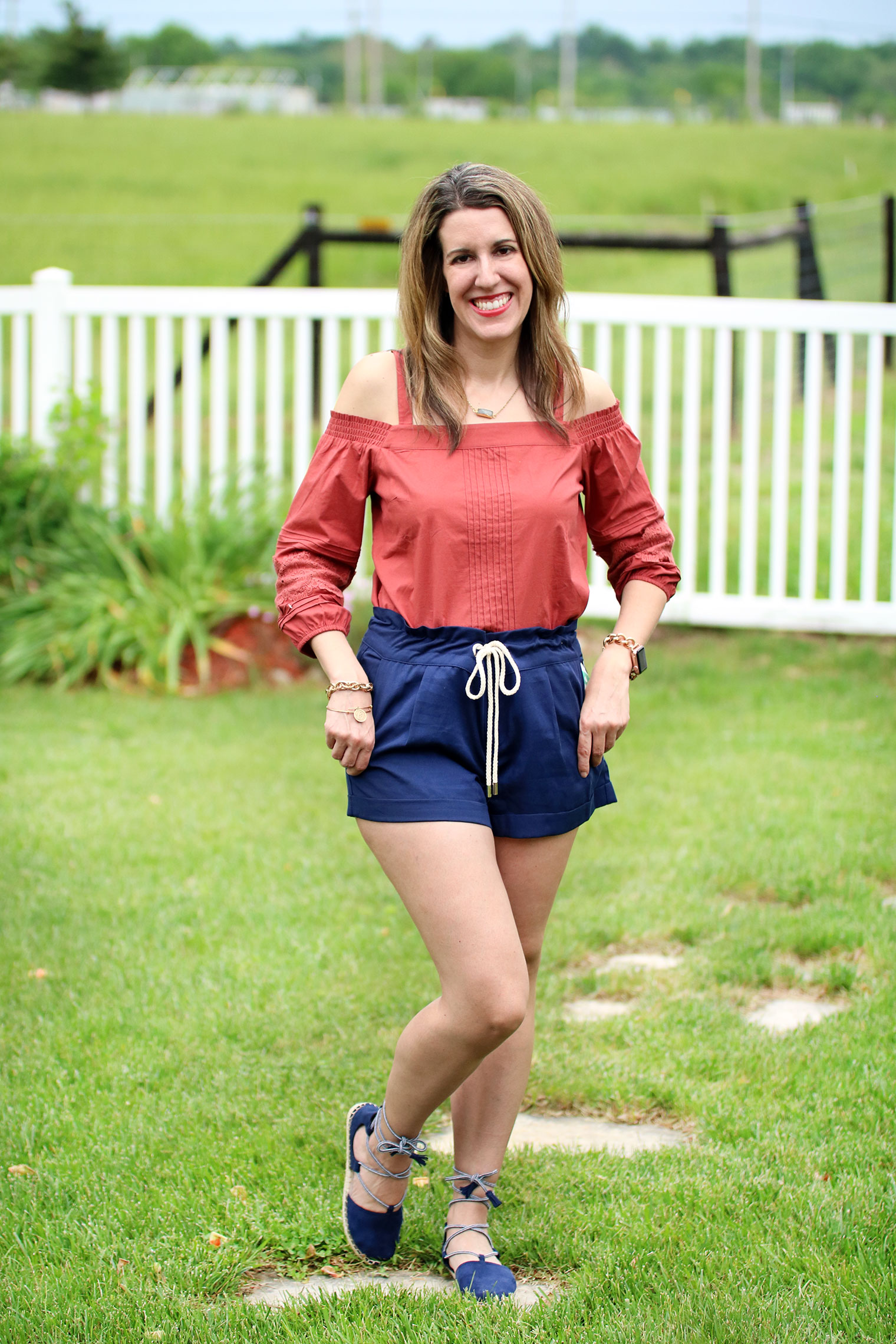 This top is kind of heavy and another mid length sleeved top, which just wouldn't work for my trip or summer here in STL. I also didn't like the straps, they kept pulling up. The shirt didn't want to stay down! lol! This shirt's color does look really nice with the cinched shorts they sent, though.
I did land up keeping the cinched/drawstring shorts. I had asked for a pair of shorts with a bow type string on them, but this was the closest they had to that. It does seem these style of shorts are in. I'll have to wear a tucked in shirt to really show the cinched part off.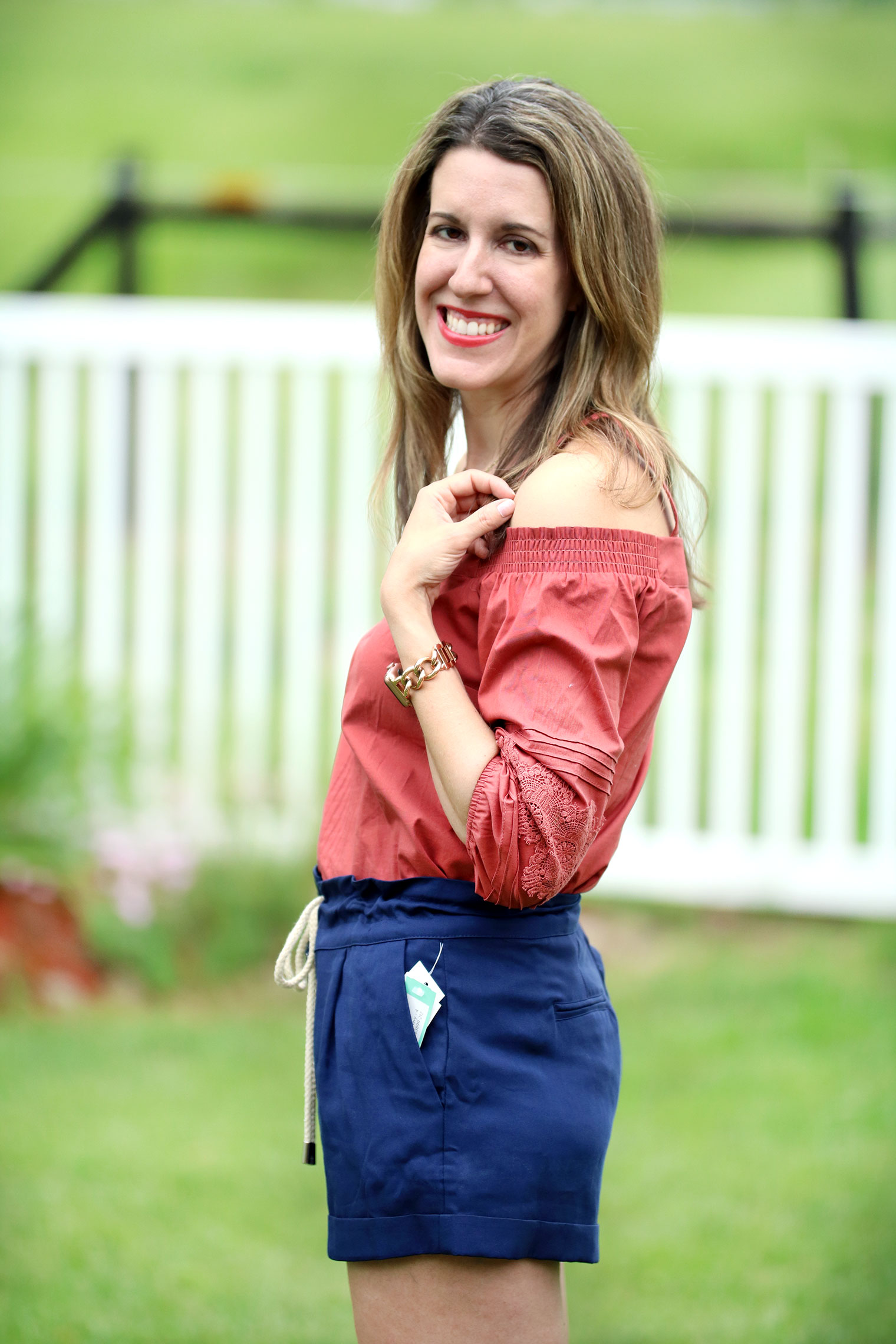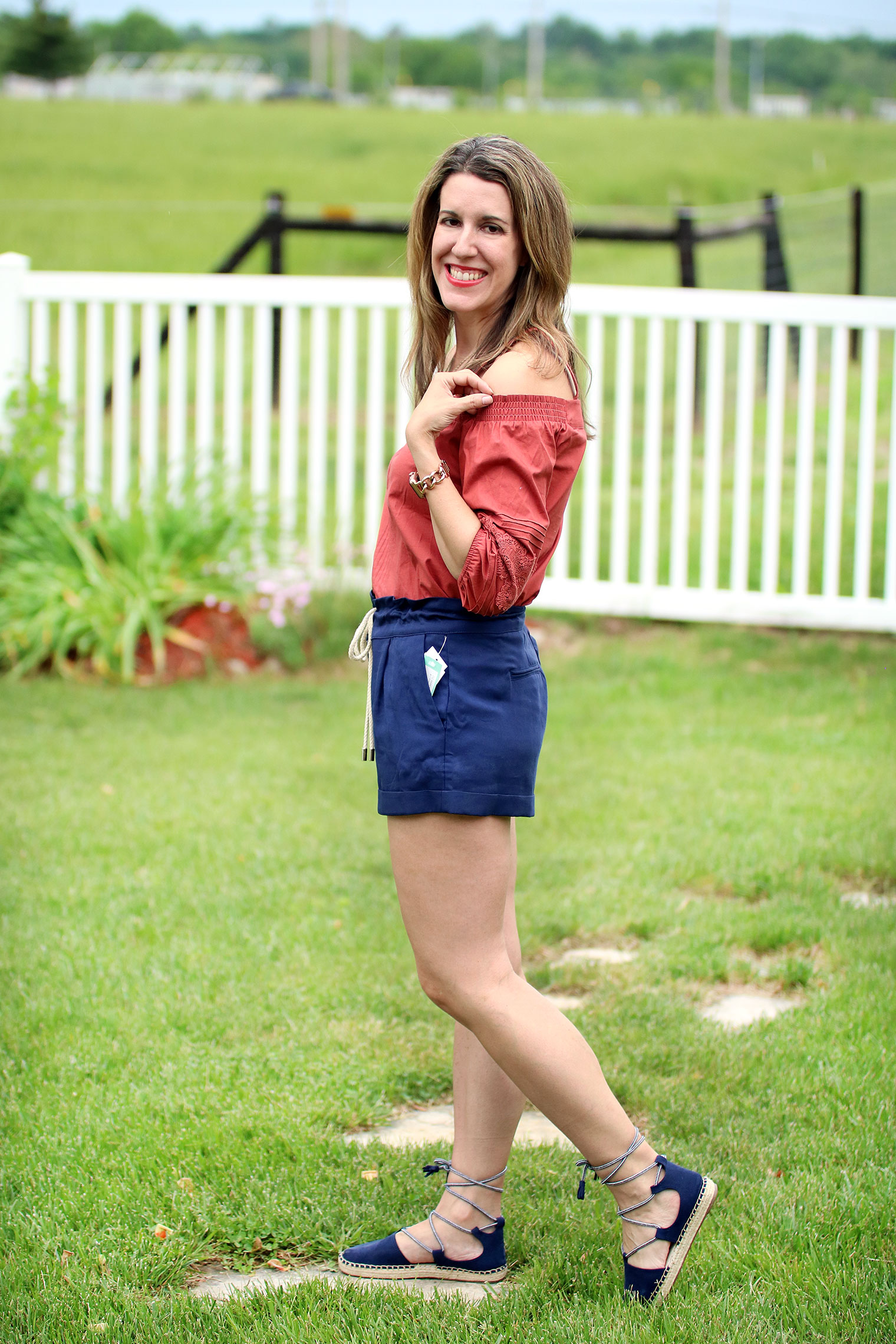 Evander Dress (41 Hawthorn) $68.00 –
Didn't Keep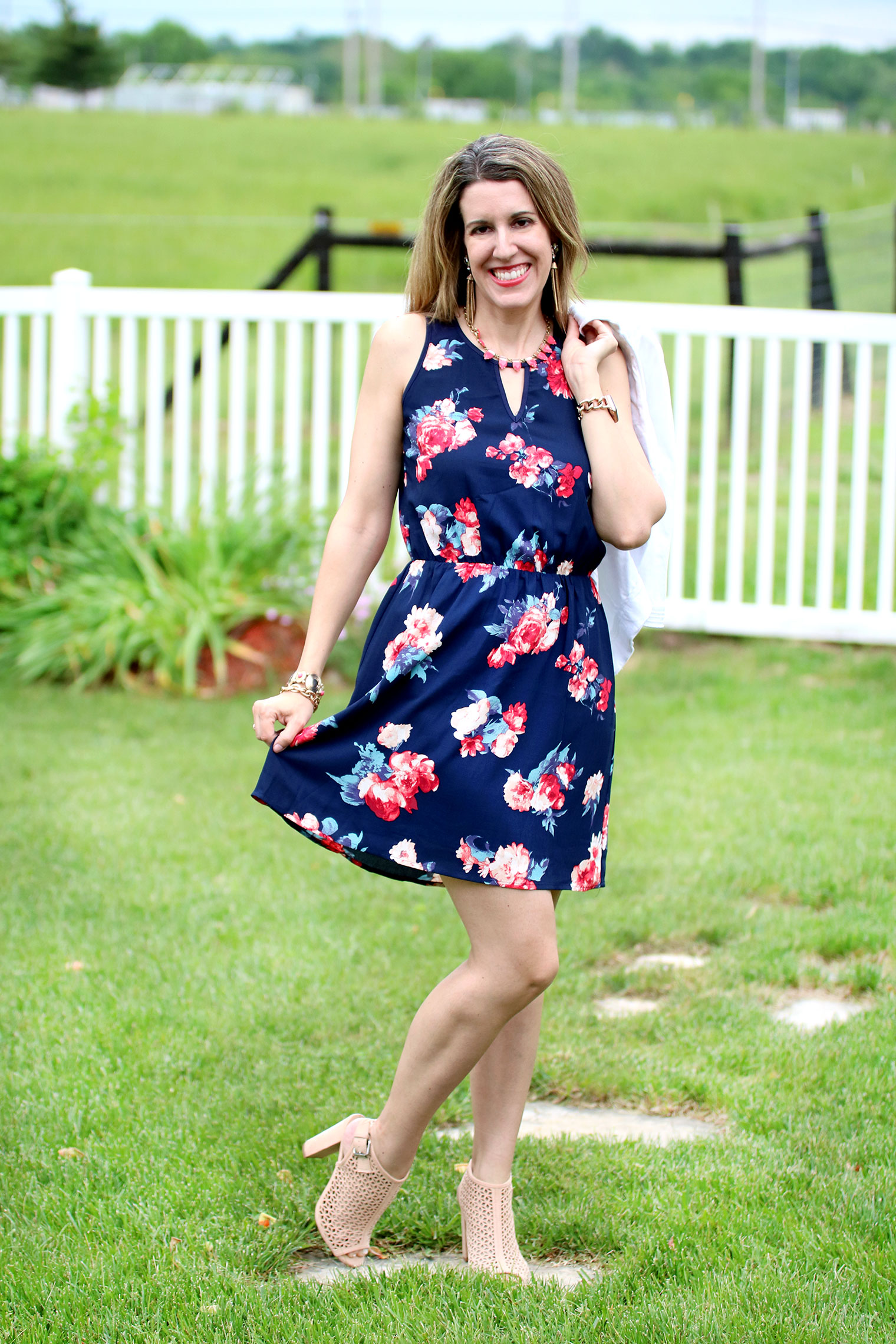 This dress looks a lot better in the photos than it did in person, I think. It fit great on the bottom, but it was really baggy on the top! It was also another dark floral print, which I would like something lighter for the tropics. I also wanted something a little more fun and flirty for the trip. Something you'd wear for a date night. This just looks like an everyday dress. I styled it with a white blazer below, which looks cute with it.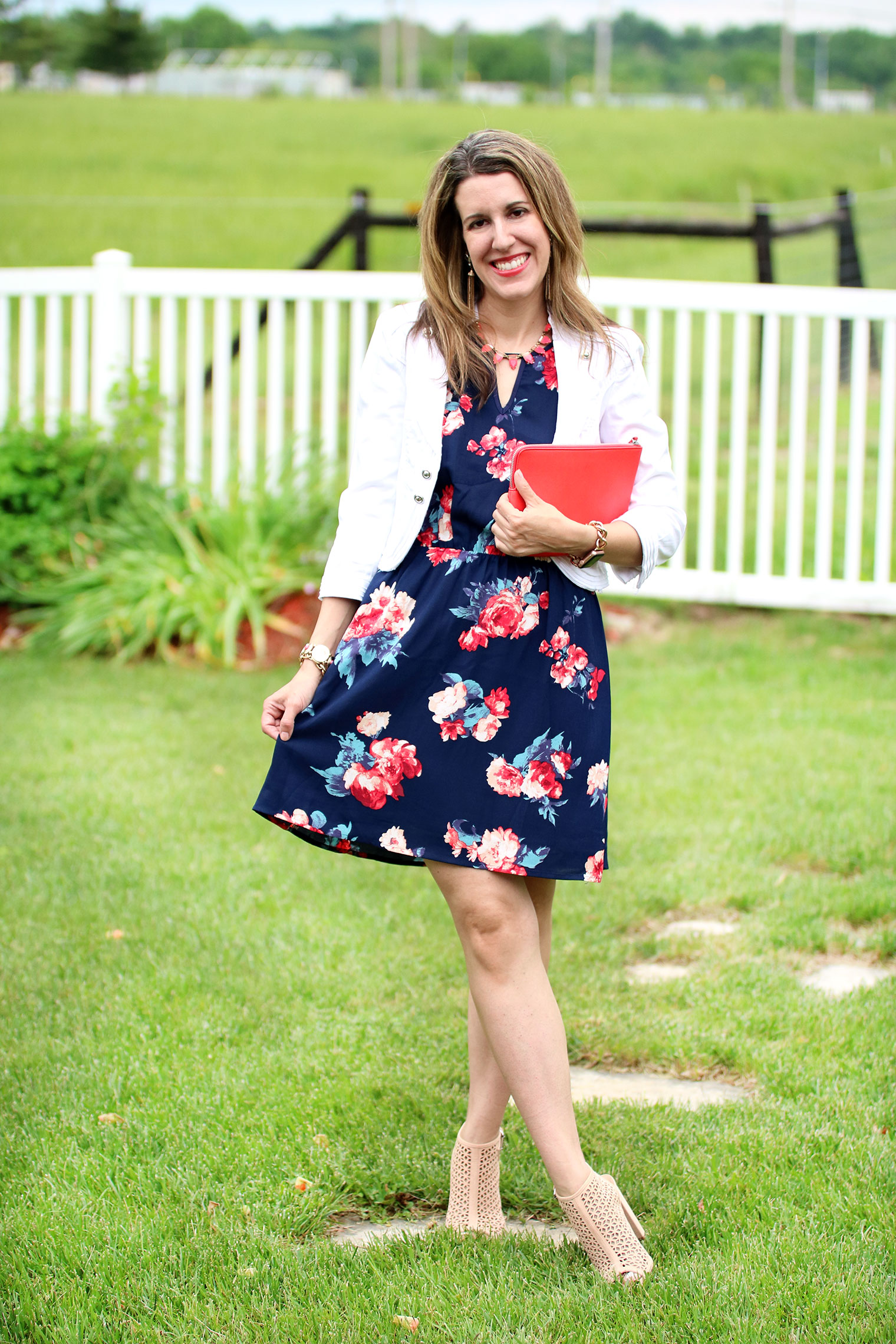 Sorry to be so skeptical of what they sent, but just being honest with my disappointment! I used to get some really amazing Stitch Fix boxes, so I thought for sure I wouldn't get two dud boxes in a row… but, I did!! I may try again in the fall, we'll see!
Stitch Fix
 is sort of like having your own personal shopper! You fill out a survey online (it includes photos of different outfits) and it helps them decide which outfits and which price range you fit into. They send you 5 pieces (tops, bottoms, accessories, jewelry, etc., etc.) and you decide which items you want to keep. After you've decided what you want to keep, you ship the rest back within 3 business days. If you buy all of the items you get a discount. There is a monthly fee of $20 that you will lose if you do not buy any of the 5 items. But, if you buy just one item they will subtract that $20 from your order.
And, if you sign up using my code, you'll help me earn $25.00 off my next 
Stitch Fix
 box! To sign up under me, click 
HERE
.
* This Post Contains Affiliate Links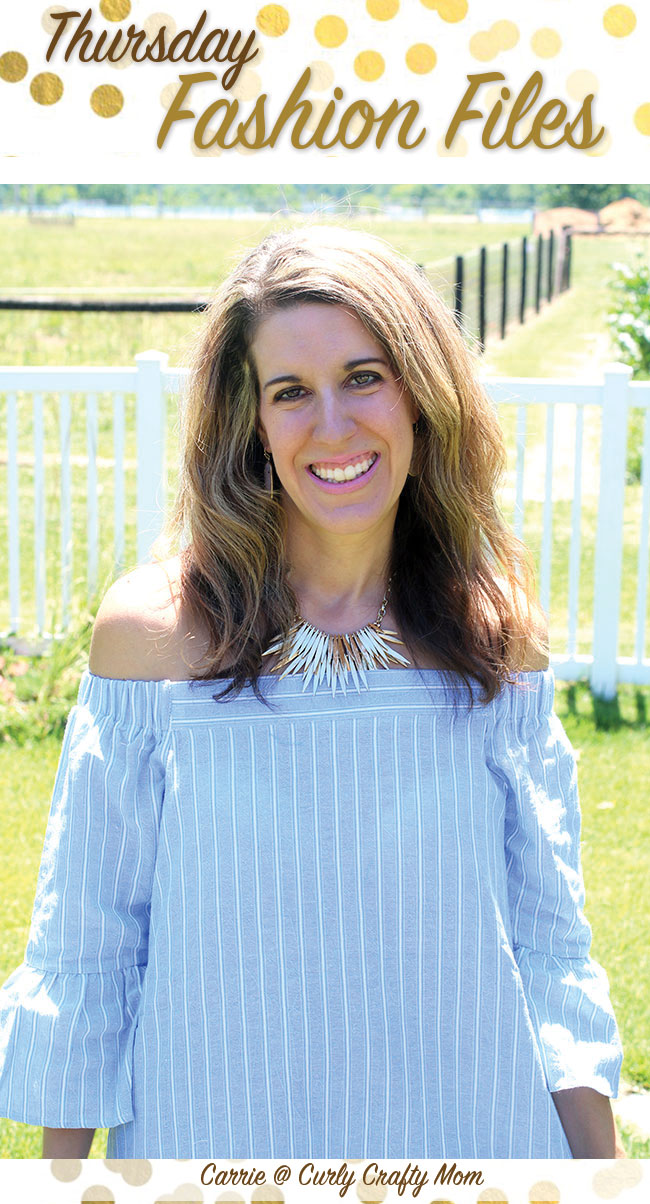 Link Up Guidelines:
1. Feel free to grab our button to display on your blog sidebar. Help spread the word and share about our link up community.
2. **By adding your links, you are stating that you have the proper licensing/rights to the images in your blog posts.** 
3.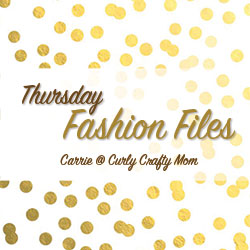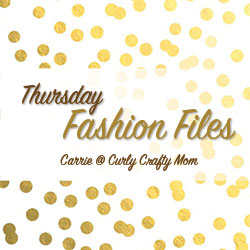 SaveSave