This post is part of a social shopper marketing insight campaign with Pollinate Media Group® and The J.M. Smucker Company, but all my opinions are my own. #pmedia #1850Coffee #1850CoffeeatTarget http://my-disclosur.es/OBsstV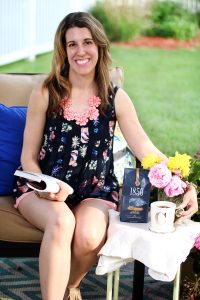 I believe that starting a morning off on the right foot is how you can set a calming yet energetic and productive mood for the rest of the day! Fresh air really helps me to do this and I love to sit outside with a colorful pillow and one of my favorite coffee mugs. A warm cup of coffee feels great in my hands, I love the smell it gives off along with the sounds of nature waking up in the morning. Sometimes I'll cut some fresh flowers or bring some flowers outside, a nice book and a little indulgent treat.
1850 Brand Coffee
, available at Target will give me the little boost I need to go out and be bold the rest of the day. Sometimes little moments are all you need to pep yourself up and to be the best you for the rest of the day!
1850 Brand Coffee beans are fire-roasted and ground to help bring out rich taste and aroma. It comes in 16ct. K-cup or 12oz. Ground in the following signature blends: Lantern Glow, Pioneer Blend, Trailblazer and Black Gold. It will also be available in 3 Ready to Drink flavors. You can find 1850 Brand Coffee at Target.
Visit Target from 5/20 – 6/30 and take 20% off any 1850 Brand Coffee Product with the Target Cartwheel Coupon (while supplies last)!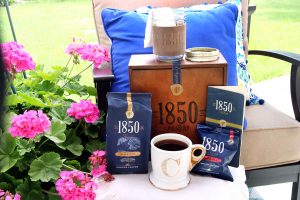 I received a great kit in the mail from 1850 Brand Coffee and it has definitely helped me to start my mornings off with the right perspective, so I can start them off bold! I received a full size bag of Black Gold blend 1850 Brand Coffee and 4 sample frac packs (in Lantern Glow, Pioneer Blend, Trailblazer and Black Gold). I was really excited to receive a mason jar with a leather wrapped holder and cheesecloths. You'll see how I brewed my own delicious and steamy coffee conveniently outside. I also received a journal, with additional brewing methods inside it.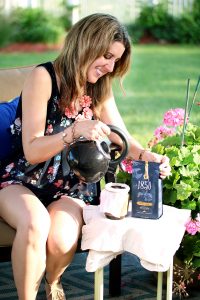 Here you'll see how I'm brewing my own 1850 Brand Coffee outside on my back patio. I love the smell of freshly brewed coffee and it just gives me that little boost I need in the morning! It's hard not to start your day off boldly with the smell of this richly brewed coffee. All you need is hot water in a tea kettle, a mason jar and some cheesecloth!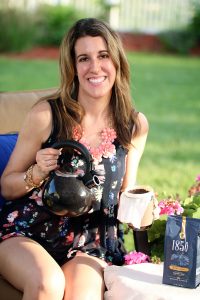 Here you'll see me with my freshly brewed 1850 Brand Coffee. Every bold day has a morning, so why not start it off right with the bold, smooth flavor of fire-roasted 1850 Brand Coffee, so you can easily make bold decisions throughout your day. I enjoy a sliver of quiet time every morning and sitting outside with a cup of this coffee helps to to clear my mind and tackle anything that the day may bring by giving me that little boost I need!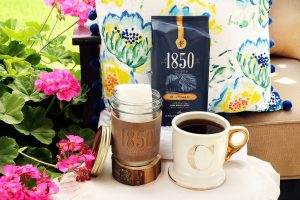 1850 Brand Coffee is a bold, yet smooth coffee for those who want to go after everything life has to offer them! This is a new premium coffee from the makers of Folgers and it celebrates the heritage of the Folgers Coffee Company that was founded in 1850.
Every bold life starts with a first bold choice. Every morning you have a clean slate and can start fresh. Back in 1850, J.A. Folger started something new and innovative to help the prospectors as they sought their fortunes. Today, there's still no better way to get after it than with a bold-yet-smooth cup of coffee to start your morning. 1850 Brand Coffee is the official coffee of bold people fueling original ideas, new commitments, and brave endeavors – ultimately becoming more than a coffee, but an ally to the hustle that we face everyday.
A freshly brewed cup of coffee can help you start your morning off boldly! Where do you enjoy your morning coffee and which blend of 1850 Brand Coffee would you try first?