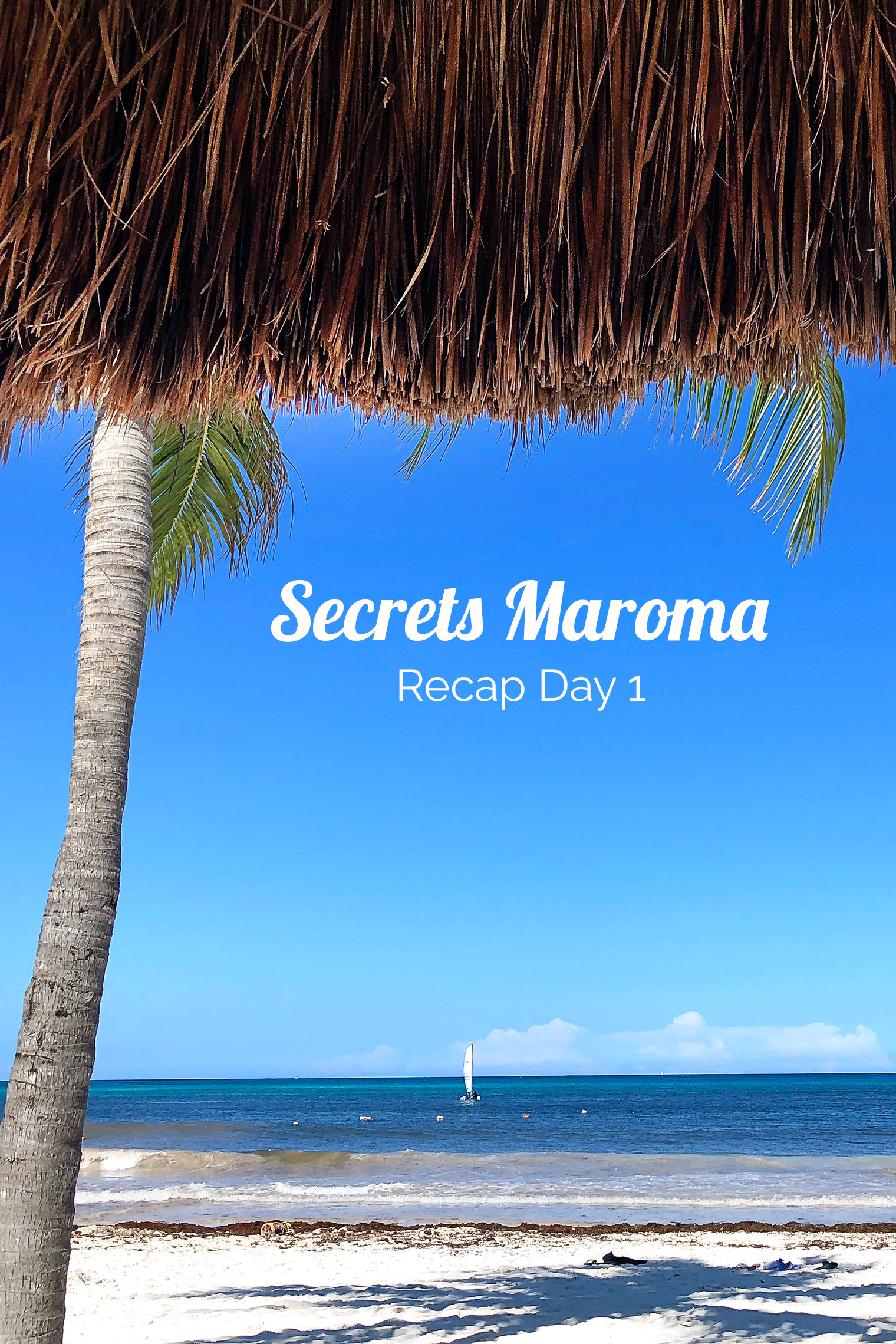 Brian and I wanted to have a little getaway this summer, but we had to book the trip last minute and at the VERY beginning of the summer on Memorial Day weekend. We had hoped to get away for 4 nights, but could only manage 3 nights. Since it was a quick getaway and we didn't have a lot of time to research, we decided to stay at Secrets Maroma again in Cancun, Mexico. We stayed there last July and it is just simply GORGEOUS and so relaxing! It's super romantic and the perfect trip for a little getaway with your love! I can't wait to go back, but we may try a different country next time and still stay with Secrets. Mexico is very easy to get to from STL, though… so, I could see us going back here in the near future! We are REALLY hoping to getaway to the Amalfi Cost in Italy next summer (fingers crossed!).
Since this was a quick trip, I'm going to recap Day 1 in this post and then I'll combine Day 2 and 3 in another post (hopefully next week).
You can see my posts from our Secrets Maroma vacation from last year HERE and HERE.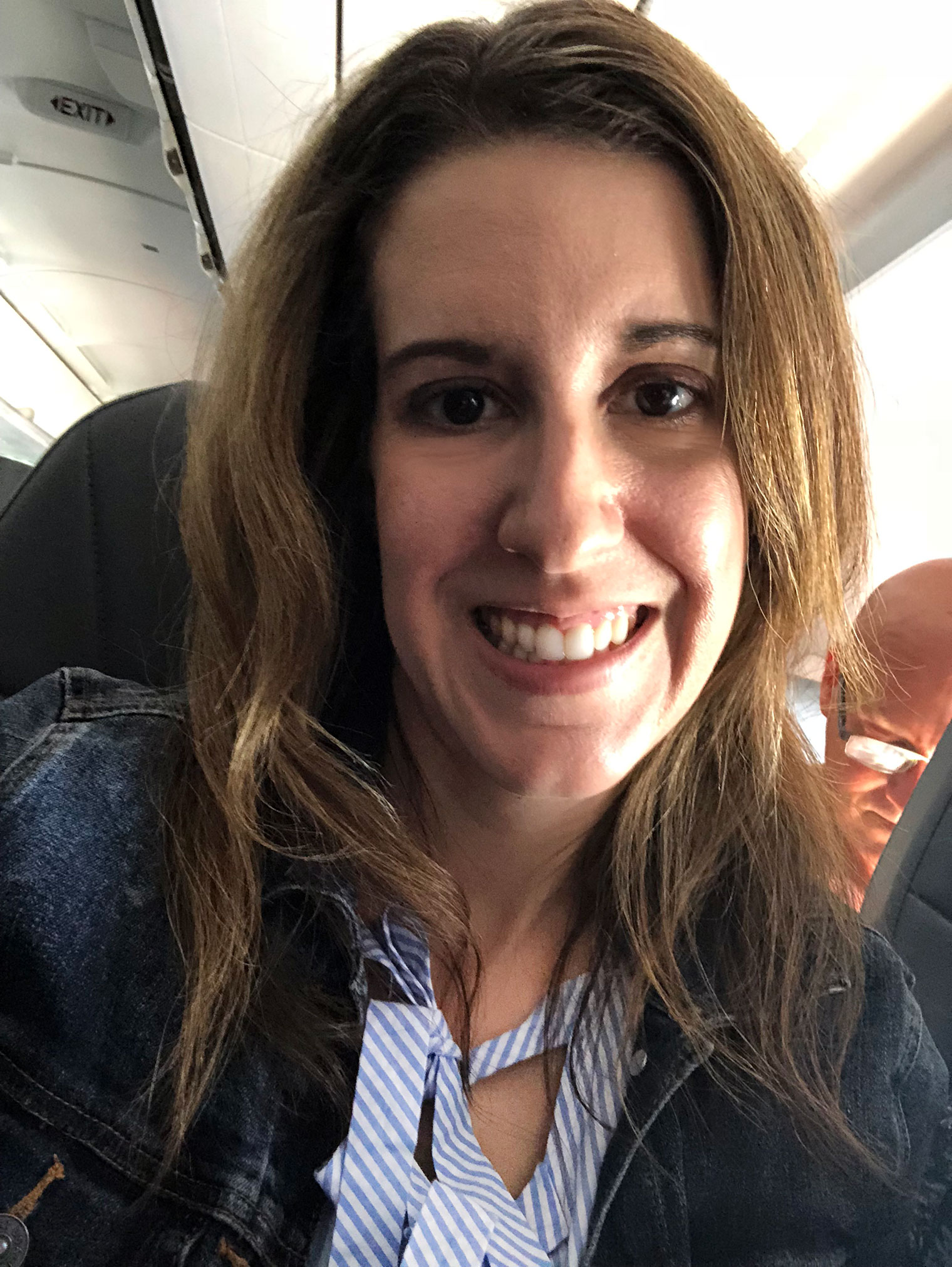 Here I am on the plane!! We arrived at the airport and the check in line was INSANE. It took us 40-45 minutes to get through it. Brian has the TSA Precheck, so thank GOODNESS we were able to get through security quickly. I was so sad that there was a Starbucks RIGHT next to our boarding and I didn't even have time to grab a drink before boarding our 3 hour flight. We left on a Friday morning, so we had to deal with rush hour traffic, etc. We did leave 2 hours before our flight from our house, but I wish we had left 3 hours before given how slow it took to get through everything at the airport. Lesson learned! 😉
This is the view of the coast of Mexico and the beach from the plane. So pretty! Sadly, when we arrived at the airport we found out that on a flight of 200~ people, I was the ONLY one to lose my luggage! This has NEVER happened to me and I literally only had the clothes on my back and thank goodness I had my Invisalign retainer, laptop, phone, etc. in my carry on bag (which was just my Barrington tote!). But, I didn't have a swimsuit, toiletries, clothes, etc. I am SO packing differently when we travel via plane from now on. It doesn't hurt to be prepared for situations like this… I travel by air a few times a year and I just assumed I'd never have this happen. But, yep… apparently they CAN lose your luggage on a DIRECT flight. I'll talk more about what happens in my NEXT post in Day 2. But, it does have a happy ending! Whew!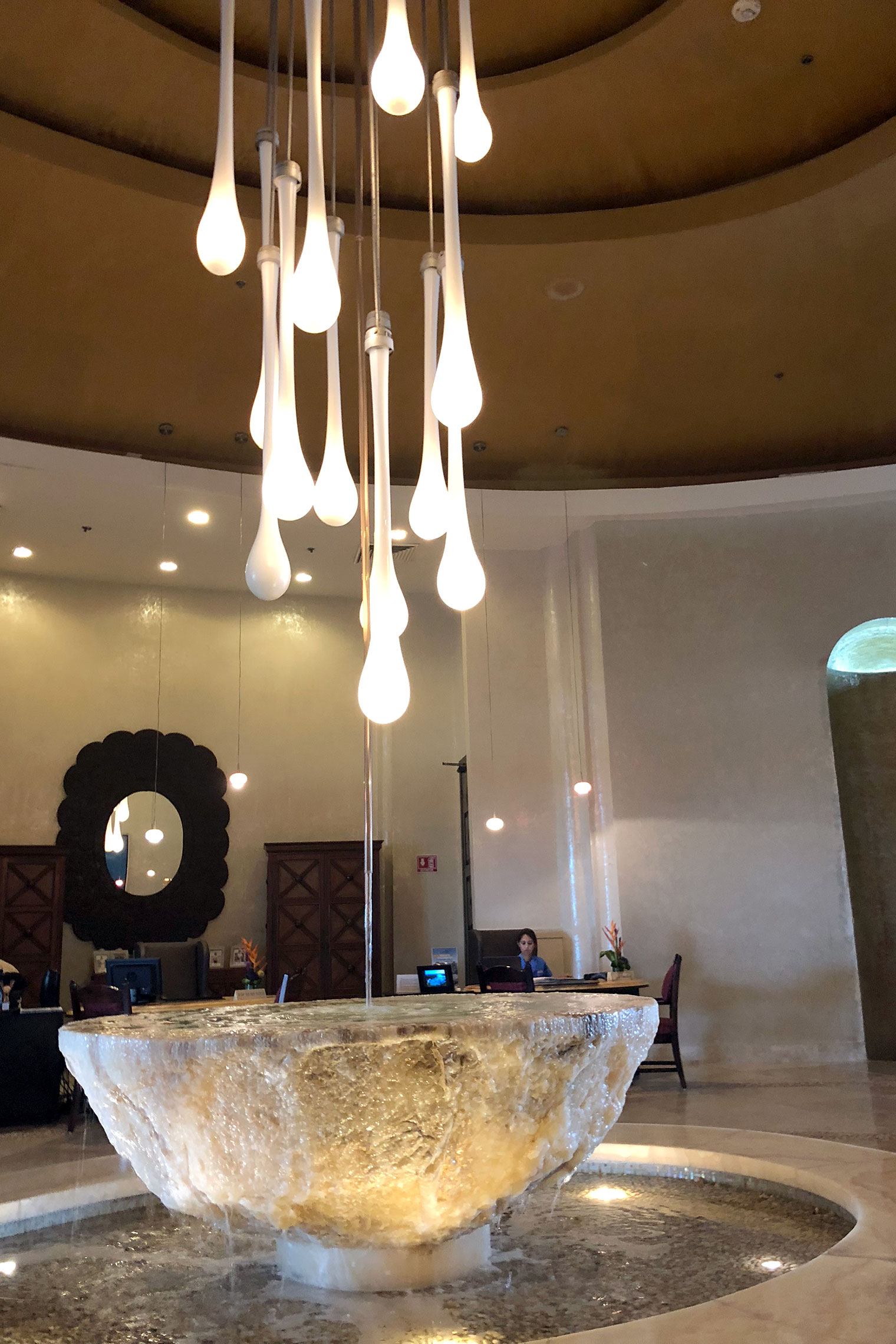 We booked through Apple Vacations and we went via van with a few other couples to the resort from the airport. It is about a 30-40 minute drive and is pretty direct. There is one main 2 lane road that you take all the way from the airport to the resort. Very easy peasy. Once we arrived at the resort, they checked us in and we got a glass of champagne.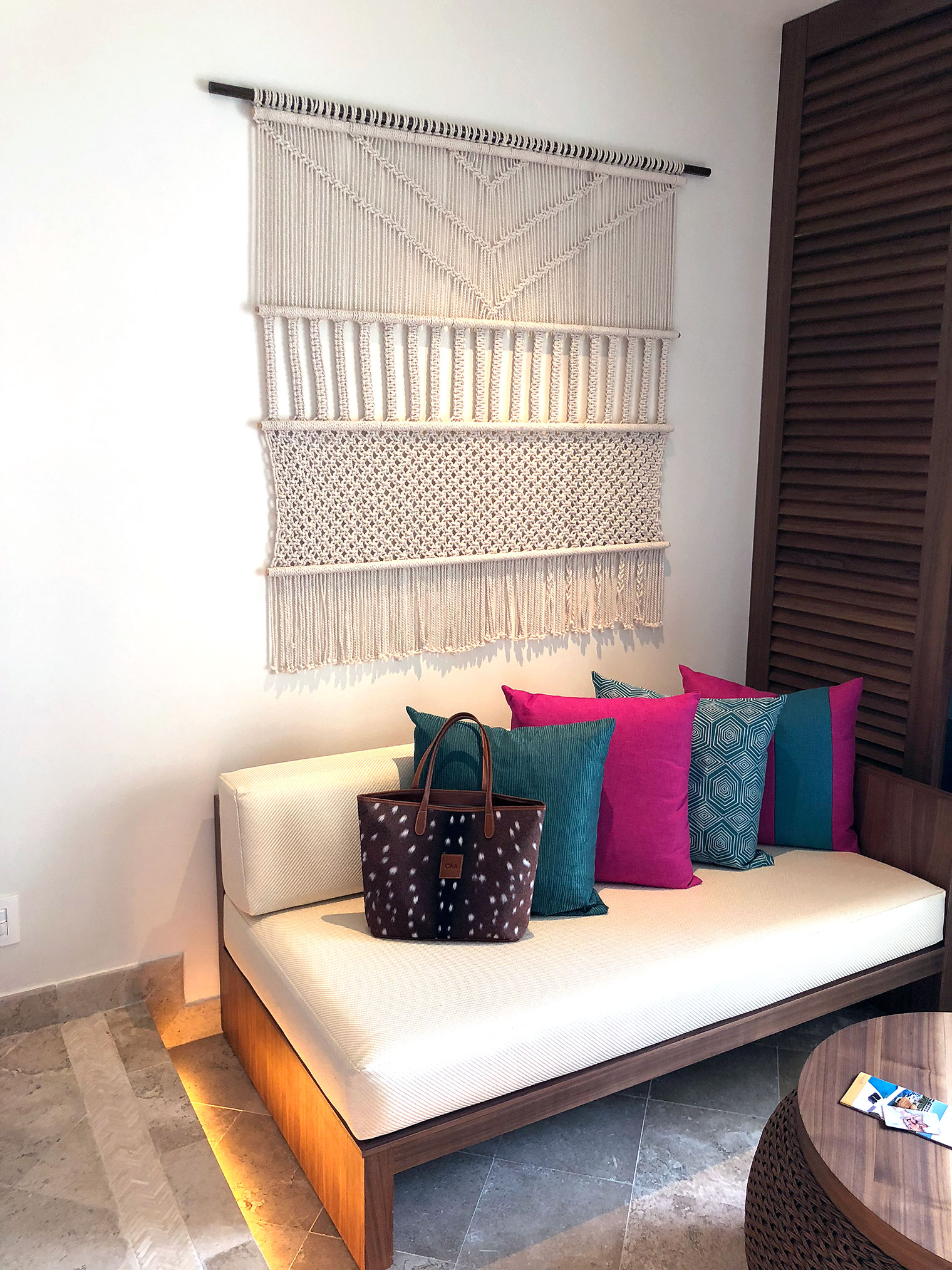 Since we had stayed at this resort just last summer, they upgraded our room to one of the newly renovated rooms. The decor was really nice and modern. I loved this fringe wall art in the room. We also had a huge jacuzzi tub in the room and a separate shower with a waterfall faucet and regular faucet. We really loved our room (that wasn't newly renovated, but still looked pretty dang nice and new) from last year… which you can see in my posts from last year (I have them linked at the top of the post). But, this room was even nicer!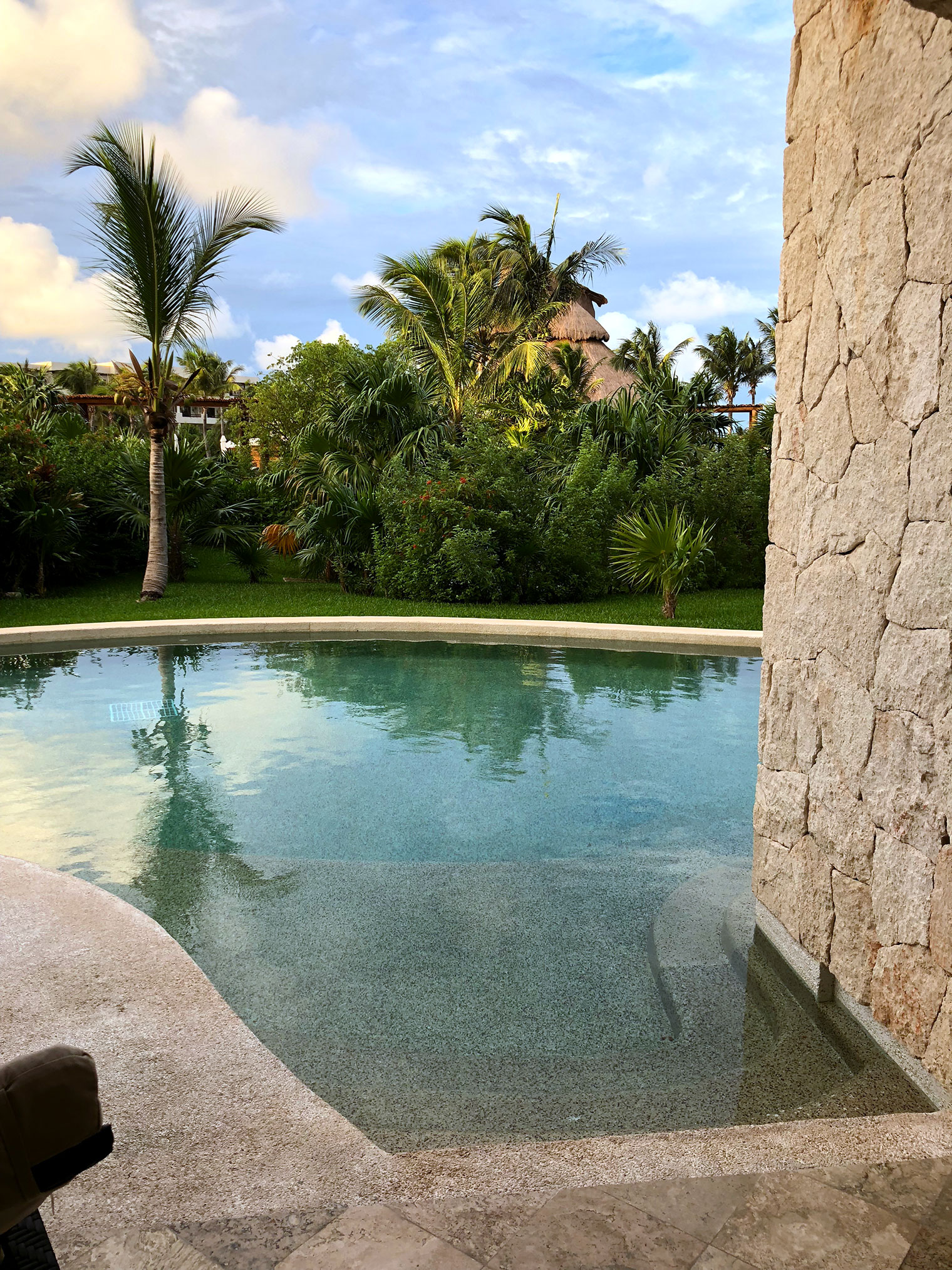 Both this year and last summer we booked a swim out room. DO THIS, it isn't much more and SO worth it. It is kind of like a lazy river, but connected to about 8 different rooms. So, you can either hang out in the little private area in front of your room or swim around a bit. I find that a lot of the younger folks hang out at the main pool and it's louder and just a different, less peaceful atmosphere, so we love having the swim out room! Plus you get unlimited food and drinks to your room 24 hours a day and you can sit out there and enjoy breakfast, a snack or drink while swimming or sitting on the steps! It's very romantic!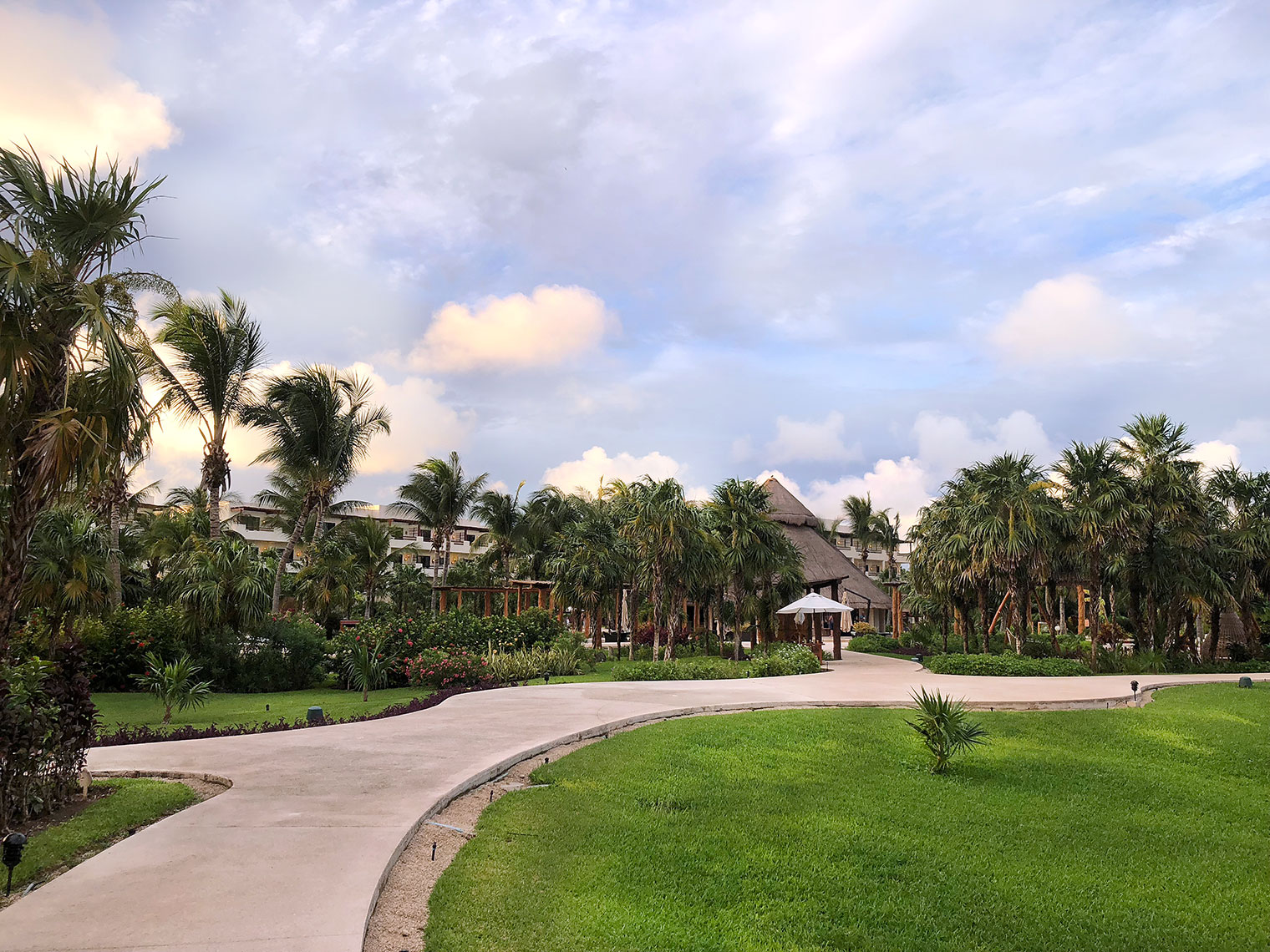 Here is a view of the grounds from the first day. The resort is large, but you can walk everywhere easily.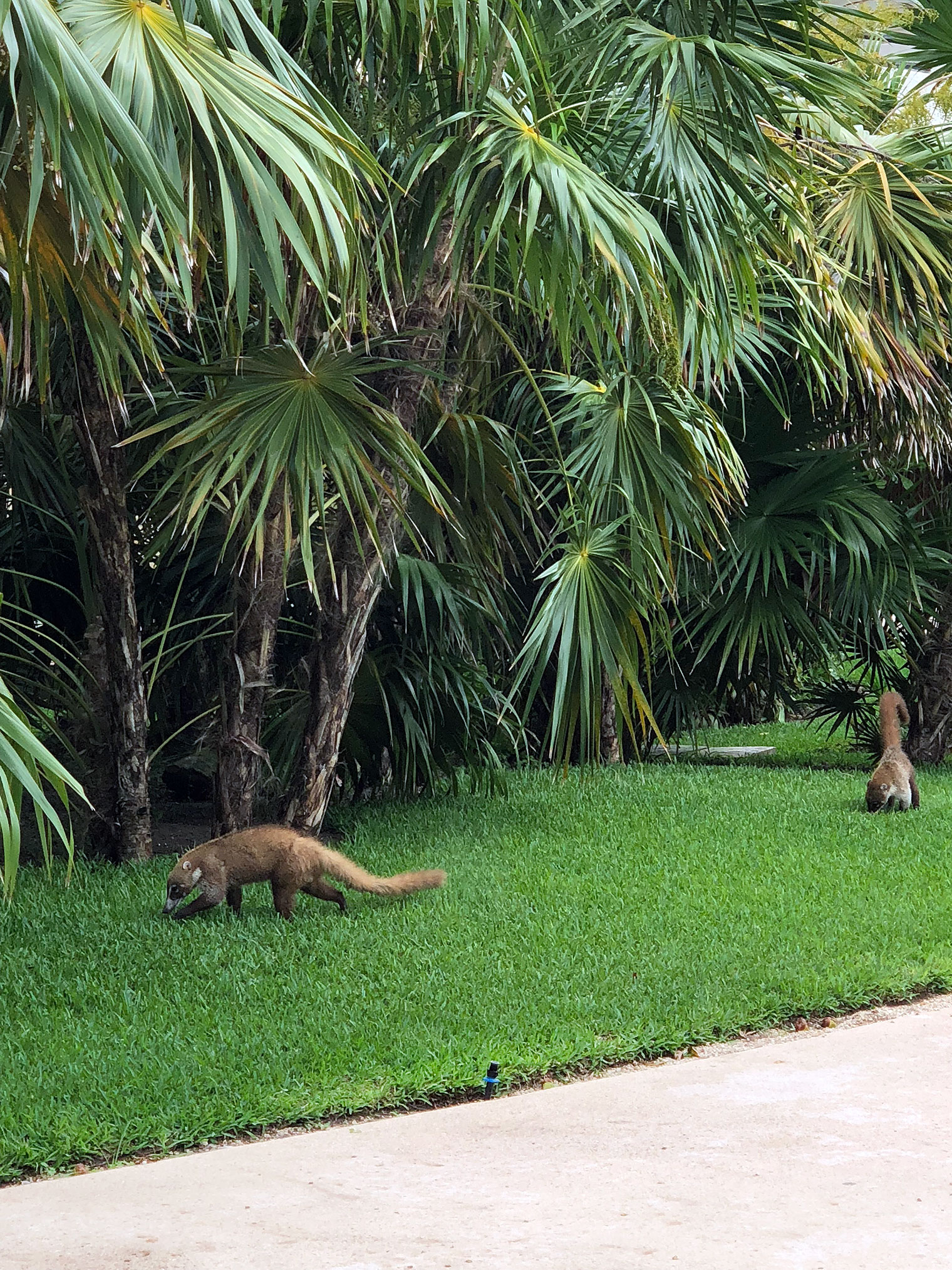 We saw these Mexican raccoons last year and were excited to see them again this year! I love seeing all of the wildlife in this region.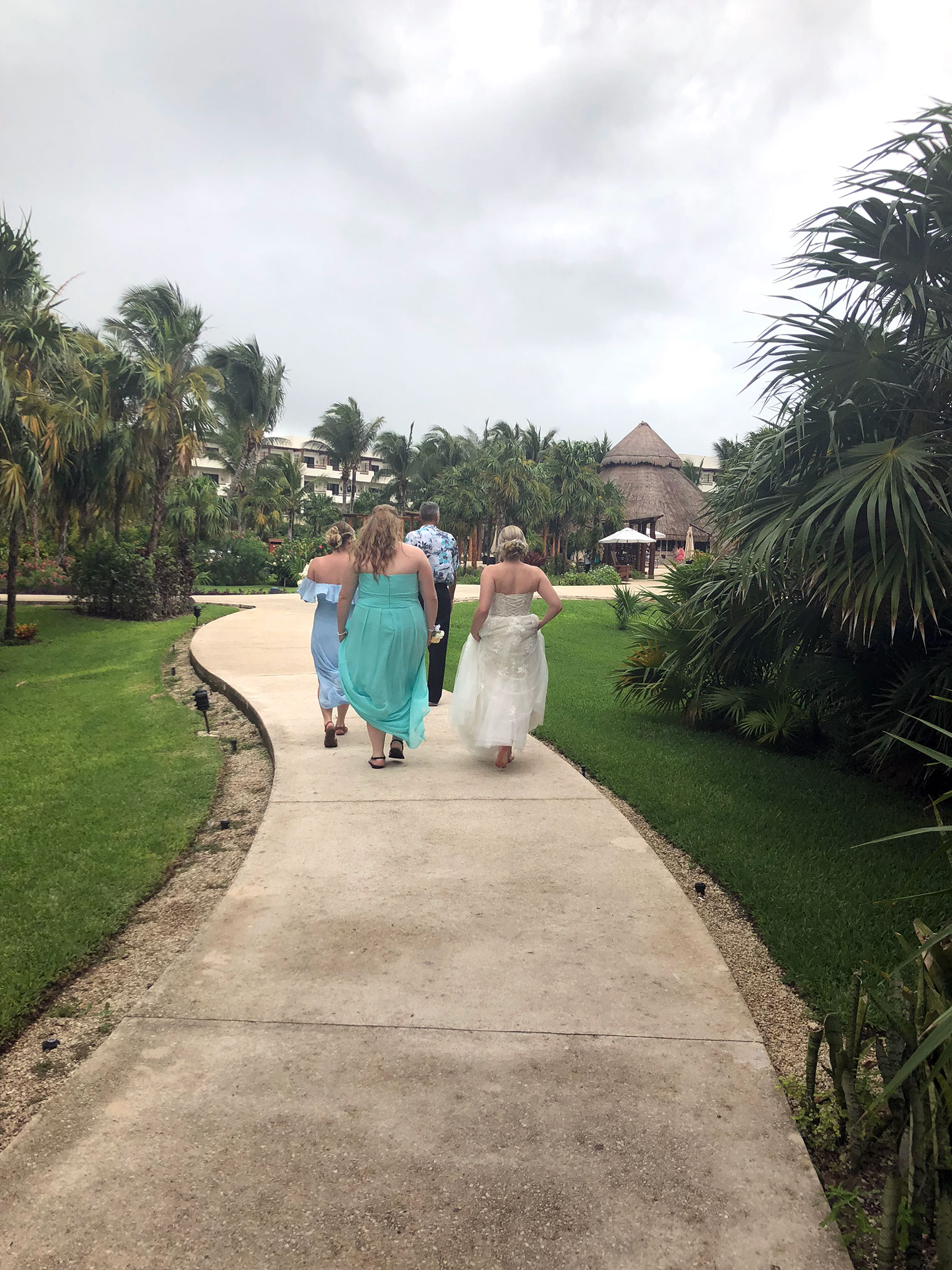 You'll see a bride or two everyday and this was one that I snapped a photo of on our first night.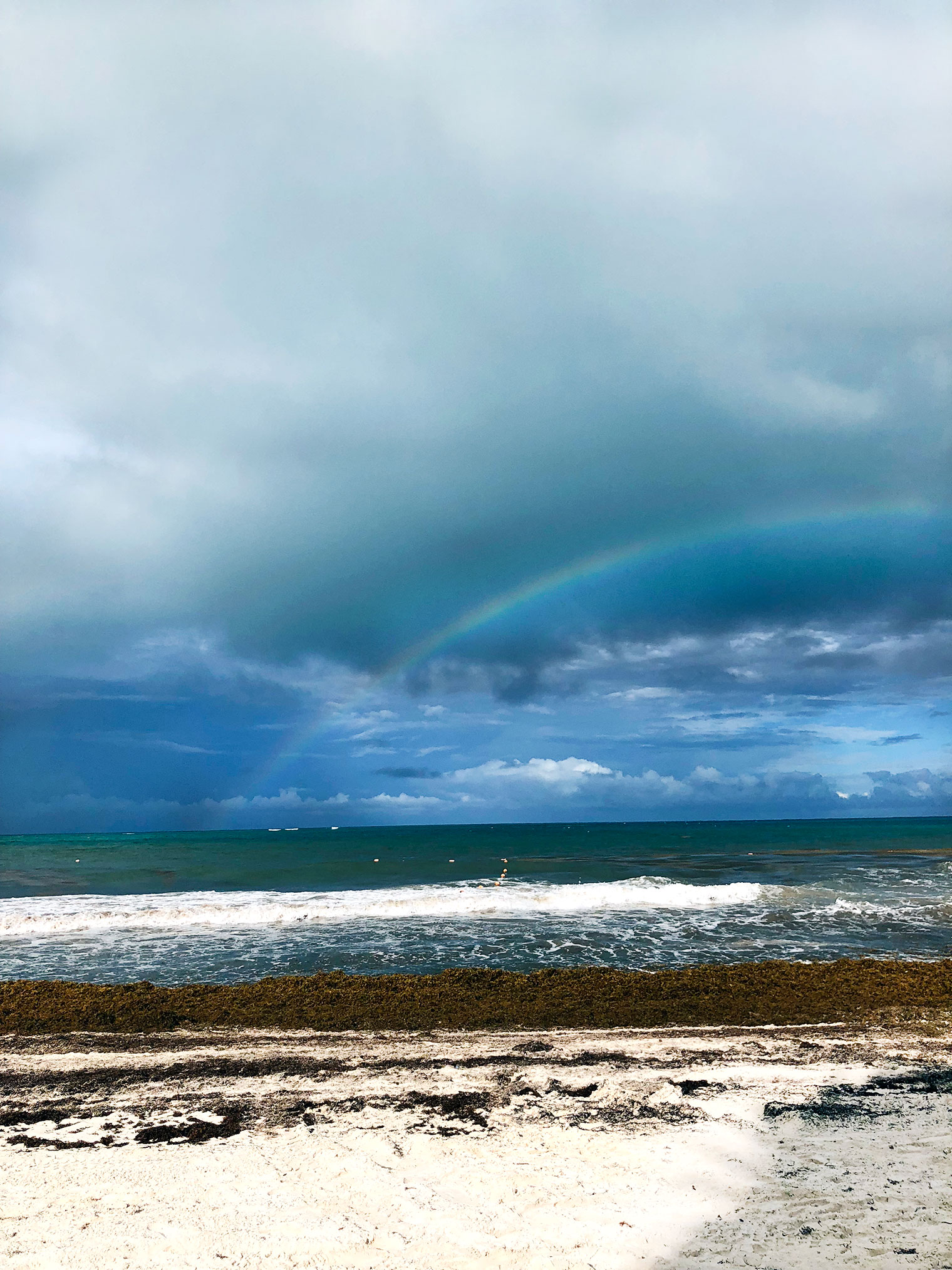 When we arrived in Cancun, Tropical Storm Alberto was just leaving the area. We were told that the 2 days before we arrived, they had solid rain. Luckily the resort has rainy day activities, so there is always plenty to do. But, since we were only stay 3 nights we were so glad the storm had left! Unfortunately, the first day it had left the beach in pretty crummy shape. LOTS of seaweed! So, we sticked to our swim out pool the first day and the hot tub by one of the big pools. Thankfully the resort works really hard on clearing up the seaweed, so it was all cleaned up by the next day for our cabana day at the beach! What I really loved was that when we walked down to the beach we saw a BEAUTIFUL rainbow over the ocean. Brian and I had never, ever seen a rainbow on the beach over the ocean before and it was such a special moment and a great way to kick off our vacation!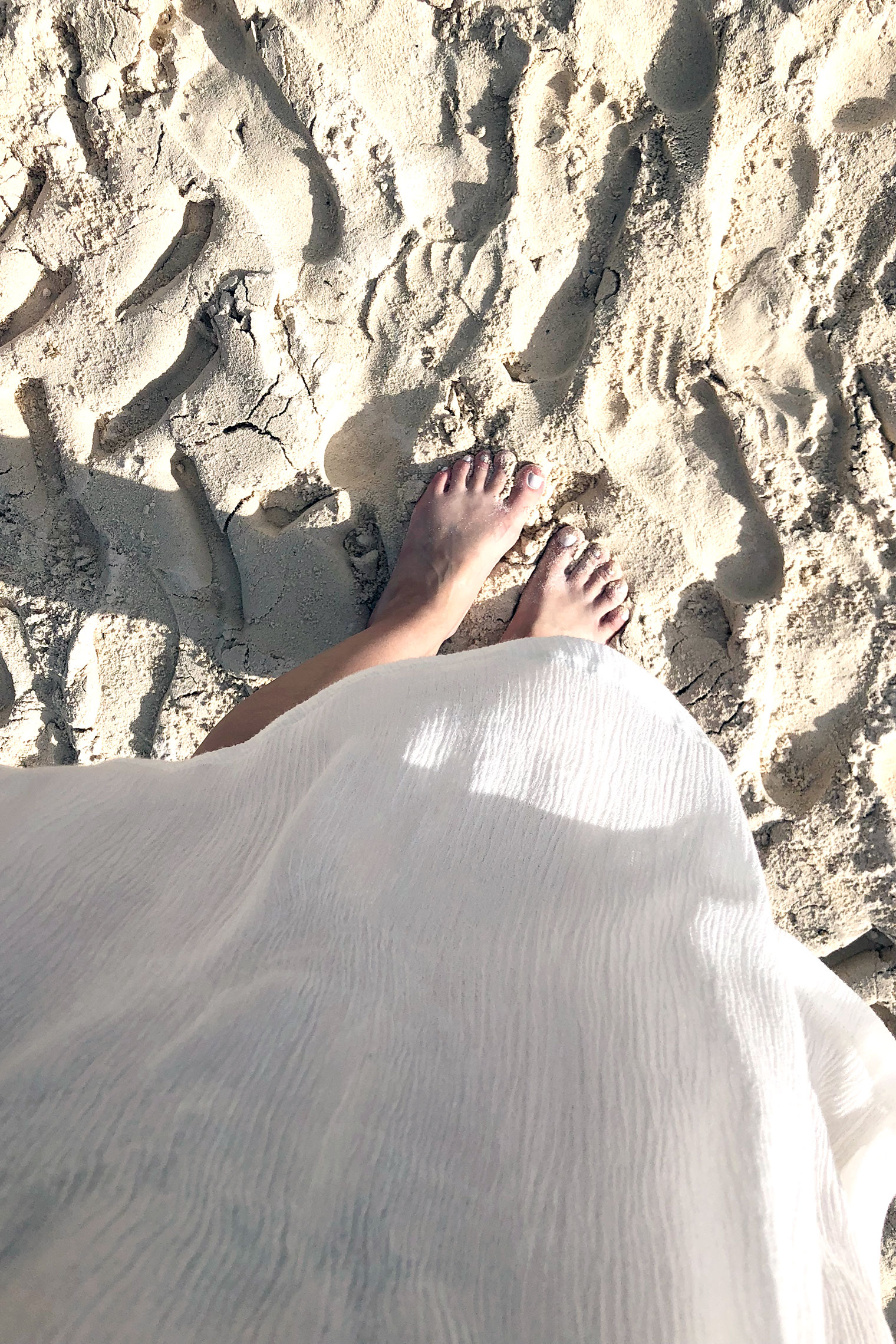 I always have to take a photo of my sandy beach toes! 🙂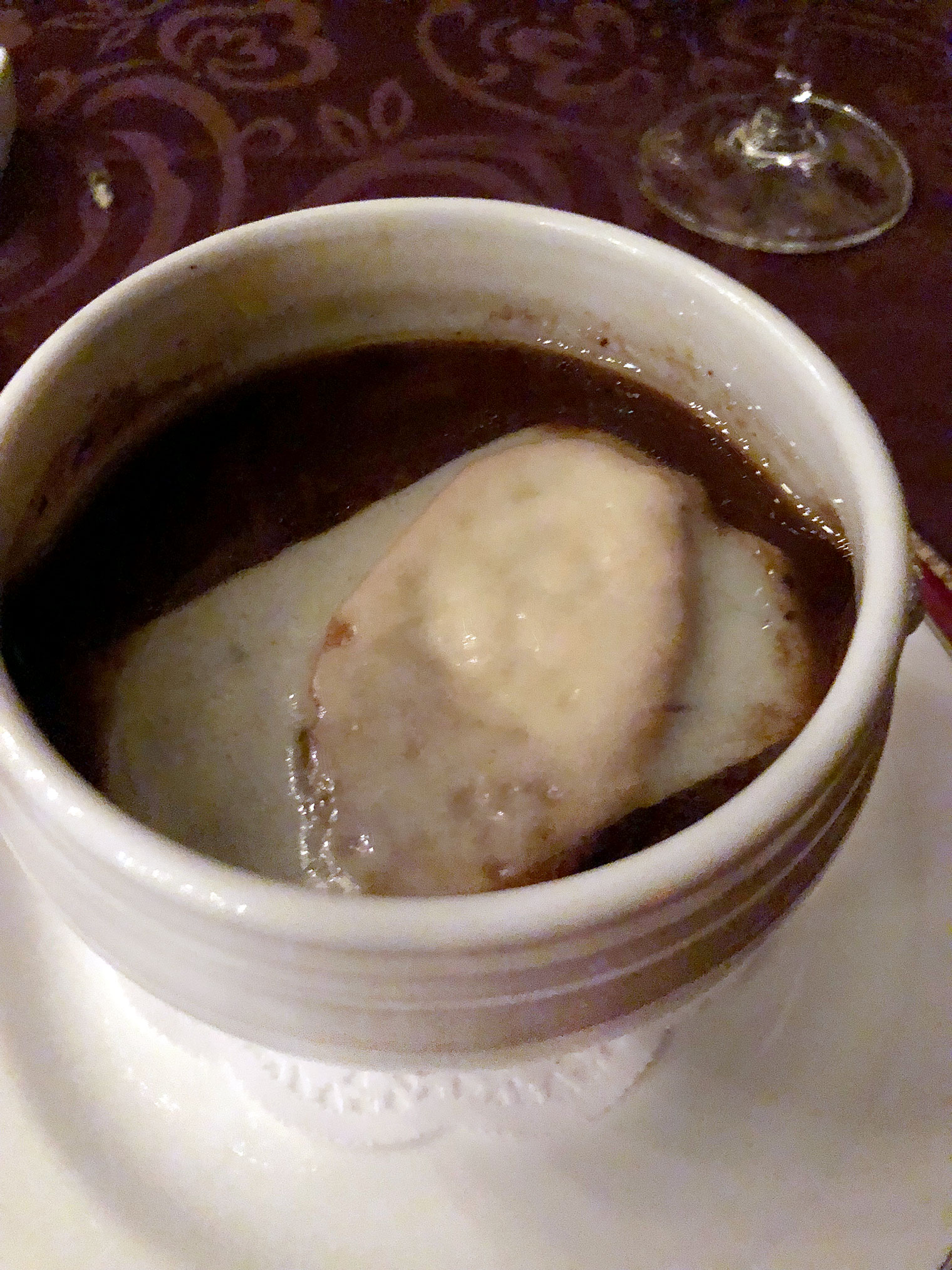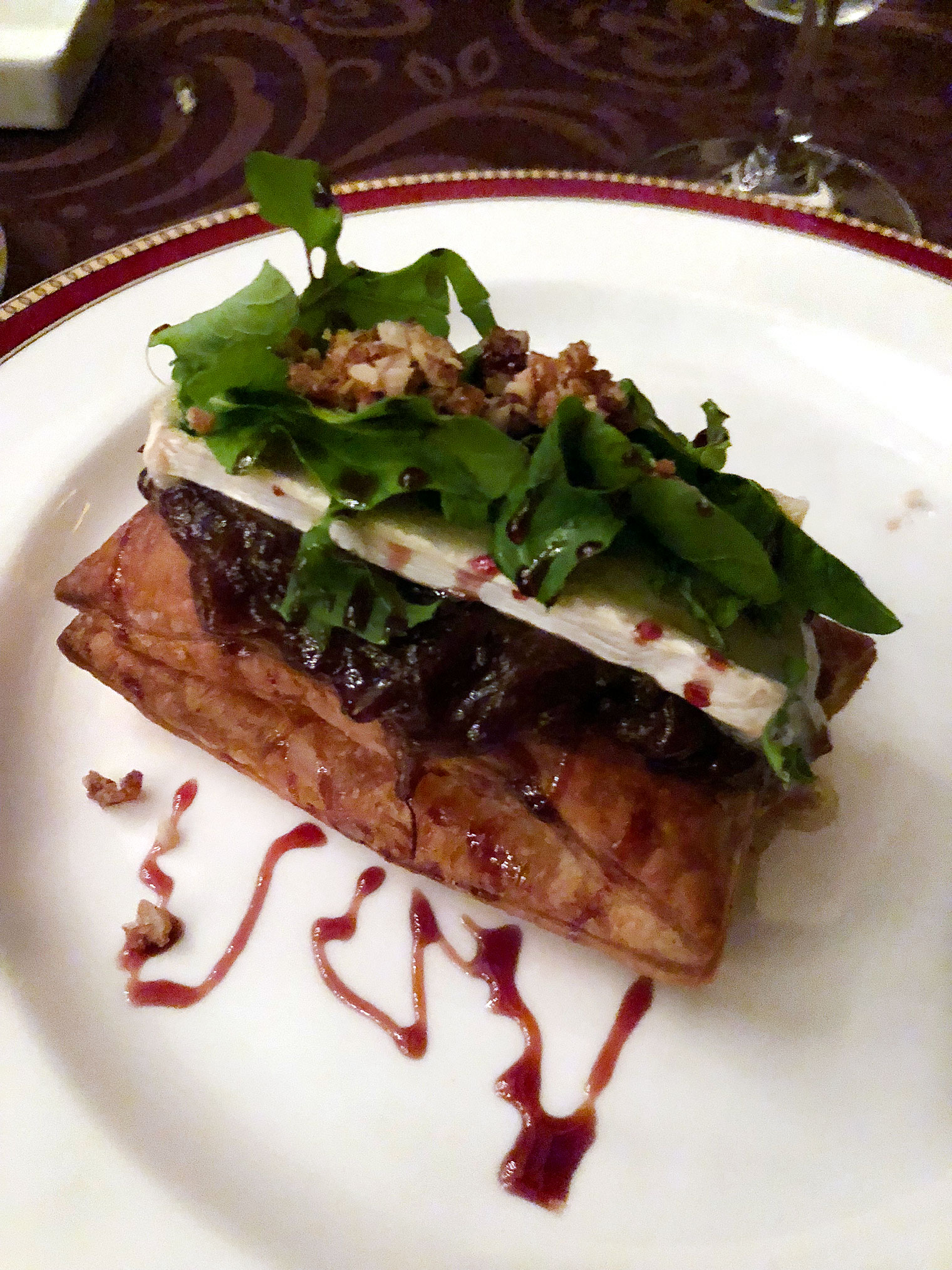 When we stayed last summer, we didn't get to try all of the restaurants (I think there is 11 total) at Secrets Maroma. I had heard great things about the  Bordeaux French restaurant and we didn't get to try it last time, so it was the first restaurant we wanted to try our first day. All of the food and drinks during your stay are included and the restaurants do not have reservations, so you just show up when you're hungry. There is one hibachi restaurant that you do need to make reservations for and we usually make the reservations as soon as we get there, since it books up quickly. There is also a sunset beach dinner that is extra that we did do this time (for the first time) and it costs extra. You can also buy premium drinks for extra, but we avoided all of those extra costs. I'm fine with a house wine, but I'm not terribly picky.
On the left, you'll see I got the onion soup with garlic toast and emmenthal cheese. This was delicious!
On the right, I ordered a brie cheese puff as an appetizer.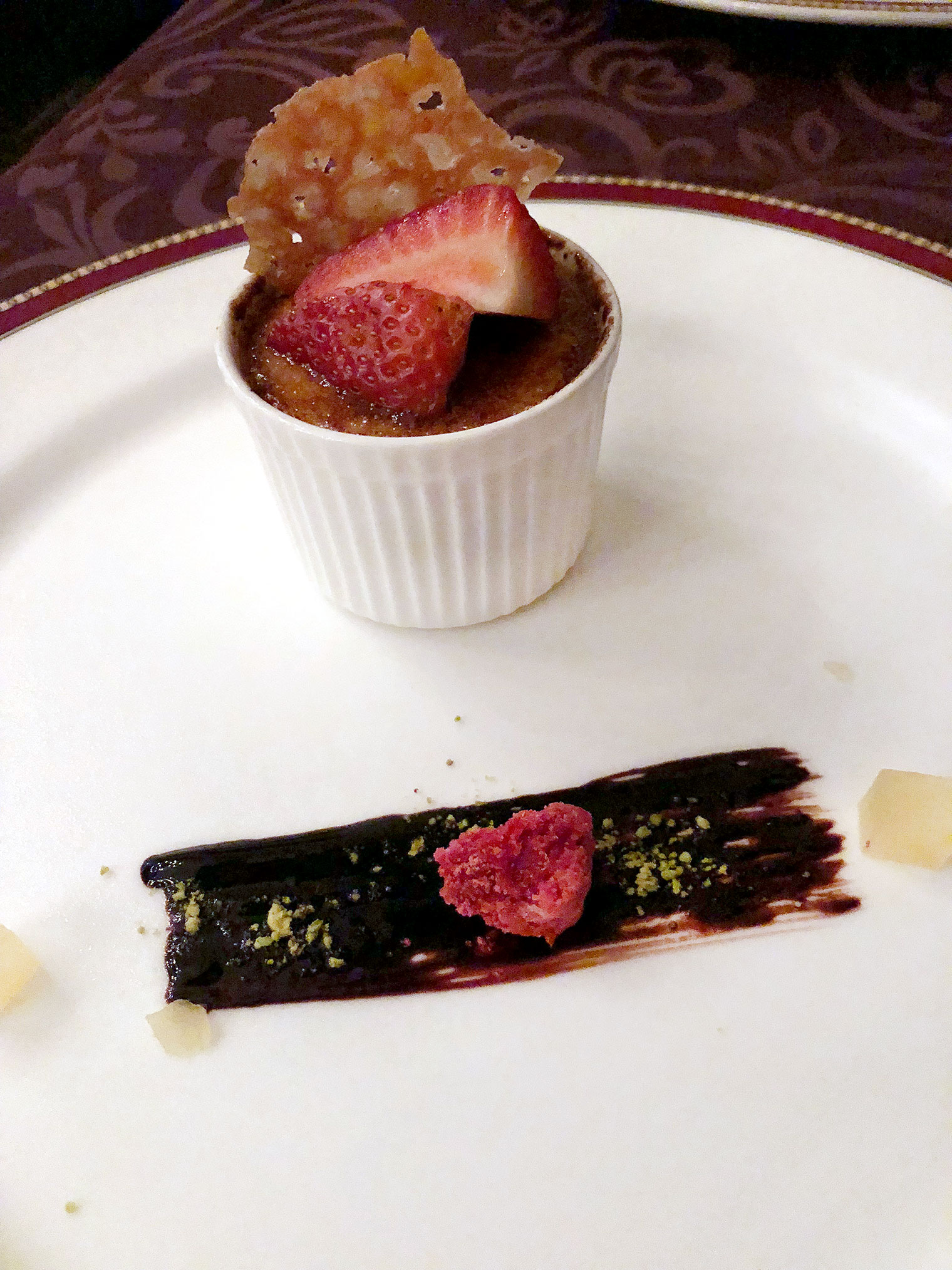 For my main dish, I got a beef cheek bourguignon stew with homemade noodles. So delicious! For dessert I ordered the crème brulée, which you can never go wrong with!
That wraps up our first day at Secrets Maroma. I'll be sharing a post with Days 2 and 3 next week!
Have you ever stayed at any of the Secrets resorts? Which ones? I'd love to hear which ones and your thoughts in the comments!
SaveSave
SaveSave
SaveSave