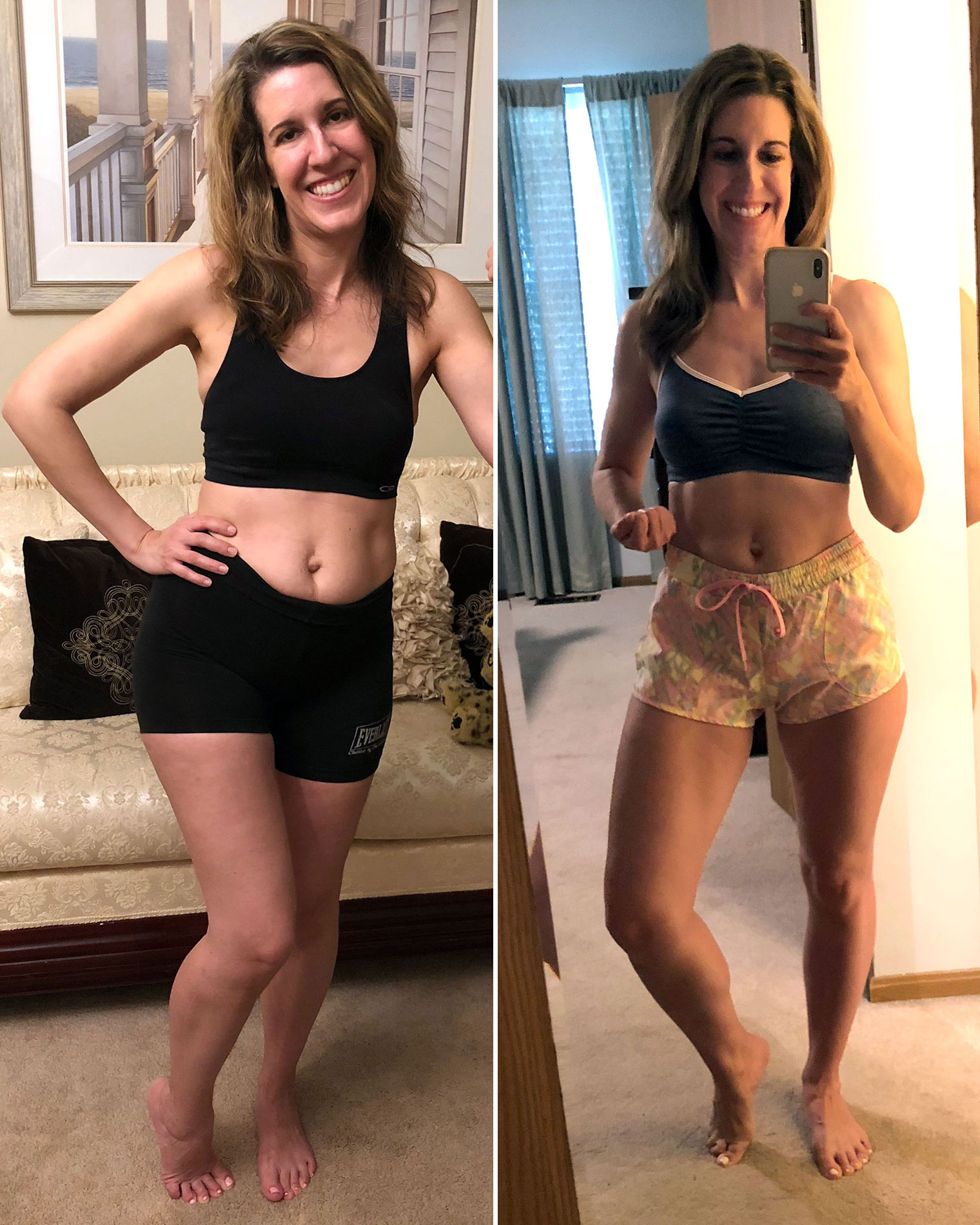 I'm excited to share my journey with a new program to me, called the FASTer Way to Fat Loss. This is a 6 week program, that involves clean eating and workouts that coordinate with each other. I decided to start this program when I had seen before/after photos of others that I had known that had done the program and I couldn't believe the results in just 6 weeks. I have also had a really hard time losing weight in my stomach area since having my daughter over 9 years ago. I've done lots of long distance running, weights, etc., but nothing was really melting the fat off my stomach area. I have been wanting to eat cleaner/healthier and I love that this program promotes healthier eating WITH workouts. It's just the perfect overall package for a healthier and more fit ME. I love the program and the results I've seen so far and I've signed up for ANOTHER 6 weeks, starting TODAY (which, I'll share those results with you in another 6 weeks!).
The above photo on the left was me before the program (I wish I had stood the same way in the first photo, oh well!) and the photo on the right is me after 6 weeks of the program. BIG difference. Amanda, the founder of the program is big on measuring yourself and not looking at the number on the scale. But, I'll say that I did lose 3.5 lbs and 2″ of that was from my waistline! Woohoo! I thought I was in pretty good shape before this program, I worked out for an hour 5 days a week… I tried to stay around 1,500~ calories a day, but I still felt bloated and my clothes didn't fit as well as they do now. I can put on a pair of shorts now and I have a little wiggle room and my t-shirts hang loser around my stomach area. It's so nice to feel comfortable in my clothes and I feel like I may actually be starting to get some abs! Ha! Which… I haven't felt like I've had abs since I was in my twenties before I started having babies! Babies do such a number on your body and it's so hard to get that pre-baby body back… even 12 years later (my oldest is 12!).  I really think the KEY to this whole fitness regime is how Amanda has paired what foods you eat on what days with what workouts your doing. She is targeting all of those areas where you need to melt that fat off on particular days. She's a genius!
I am going to talk more about the program, but first let's look at my progress photos. I'm thinking for the next round I may even take some side angle photos.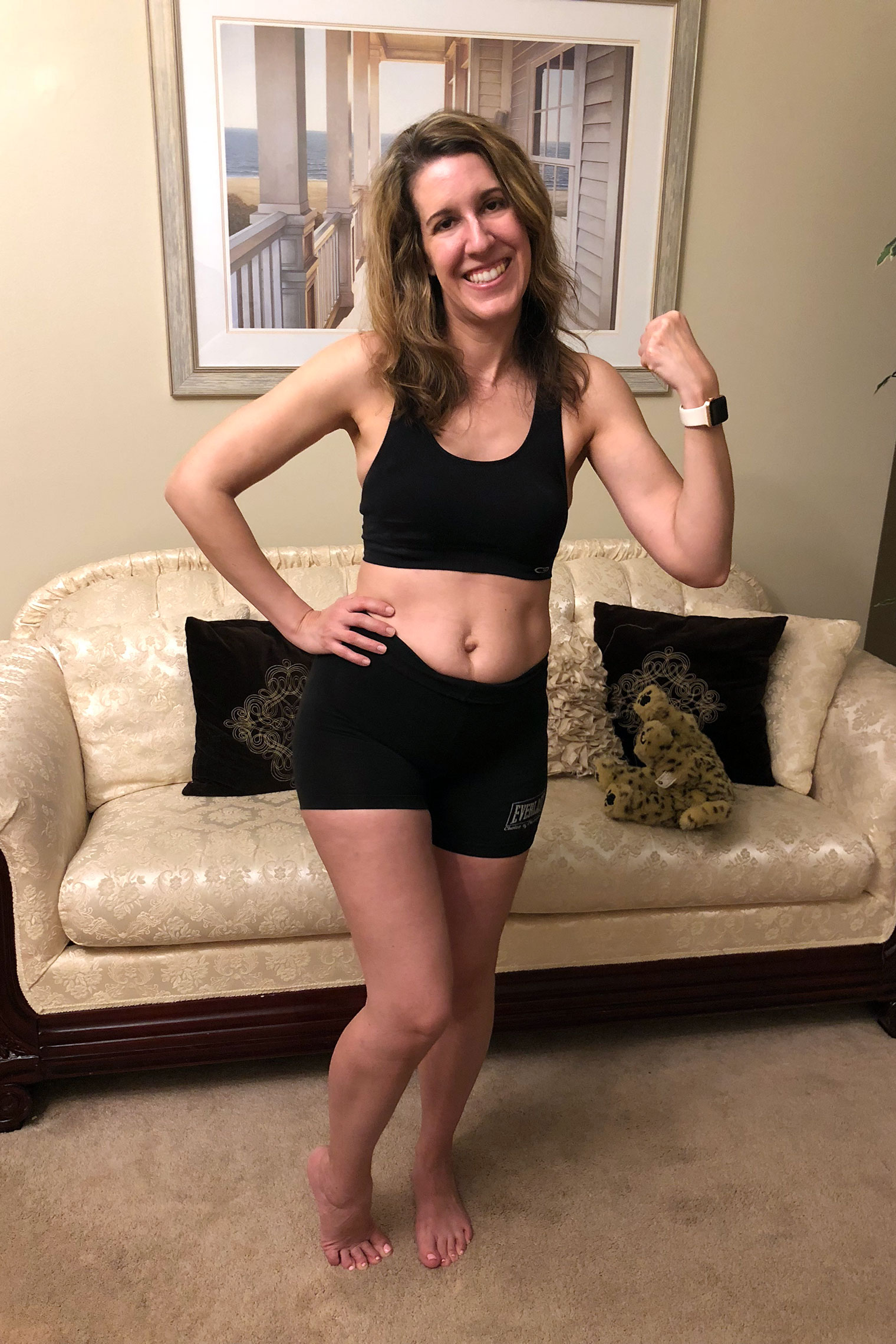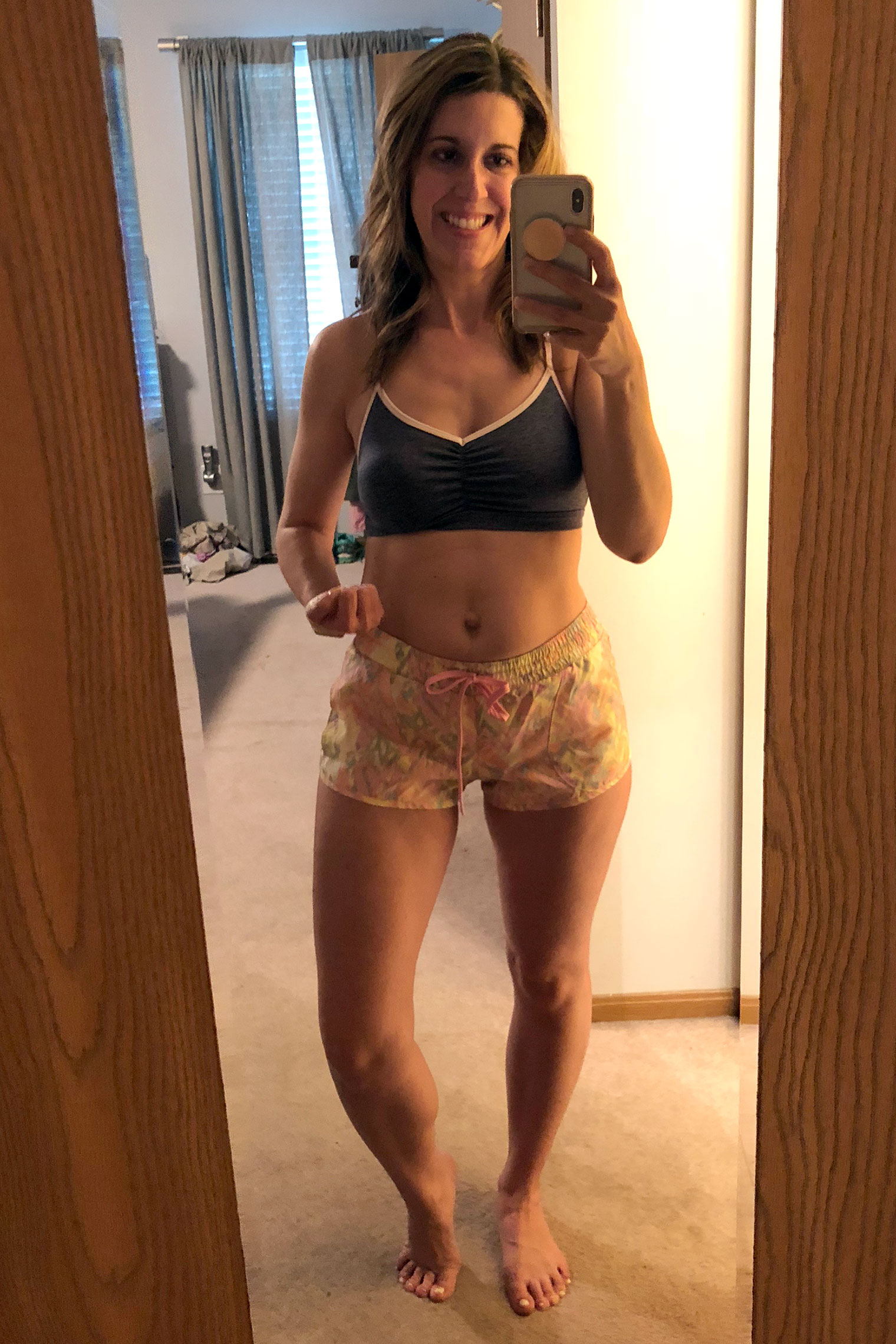 Week 1 (Left), Week 2 (Right)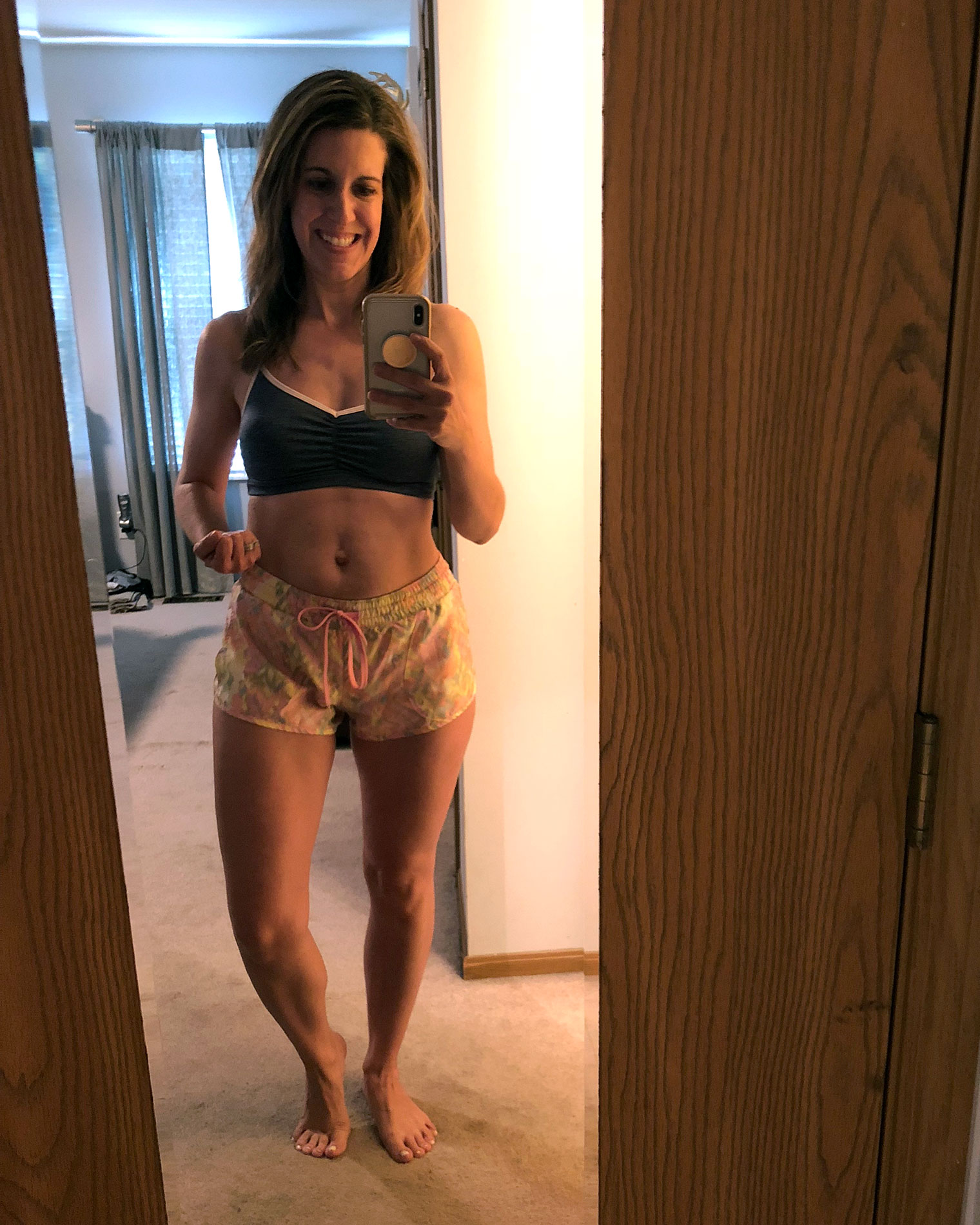 Week 3 (Left), Week 4 (Right)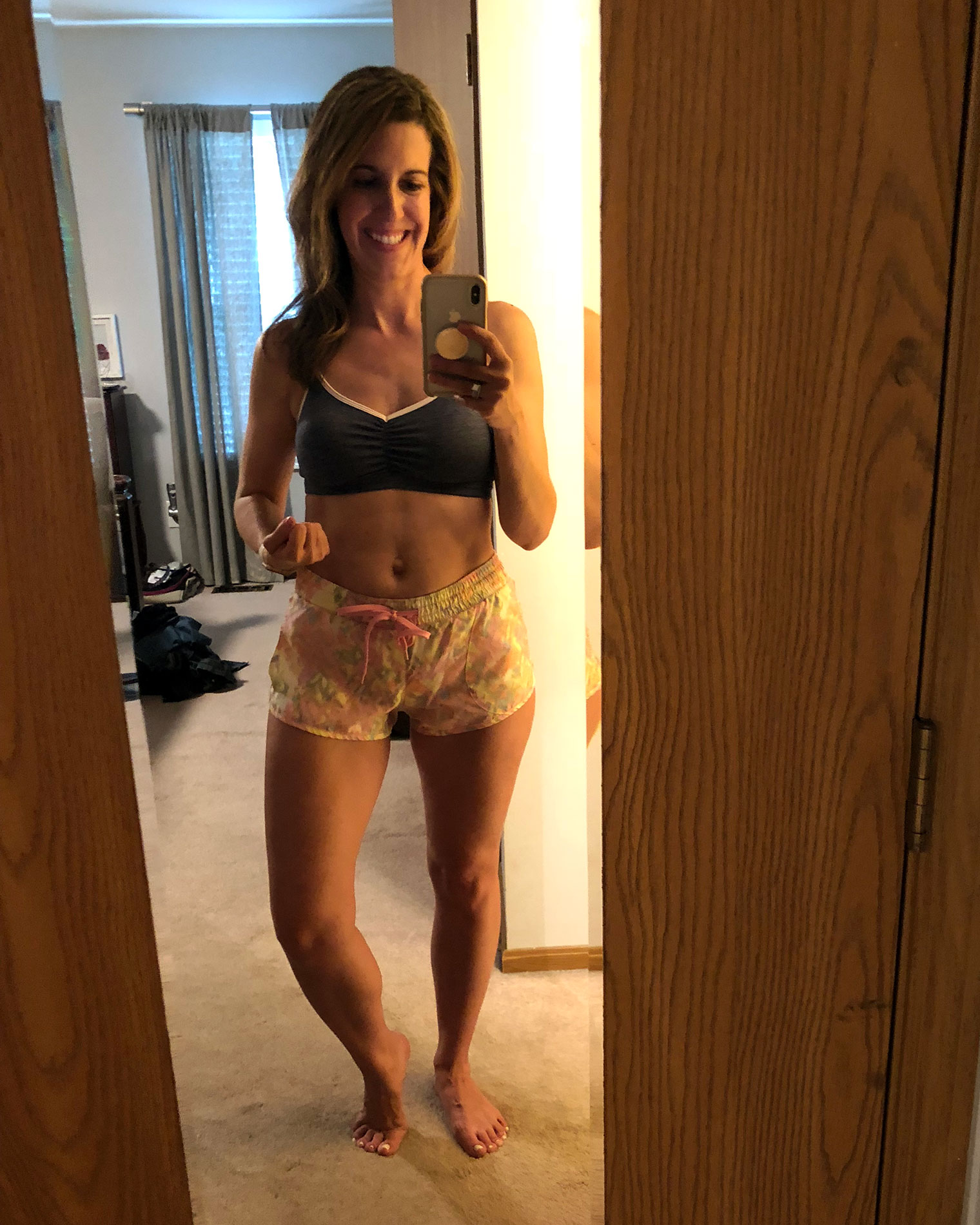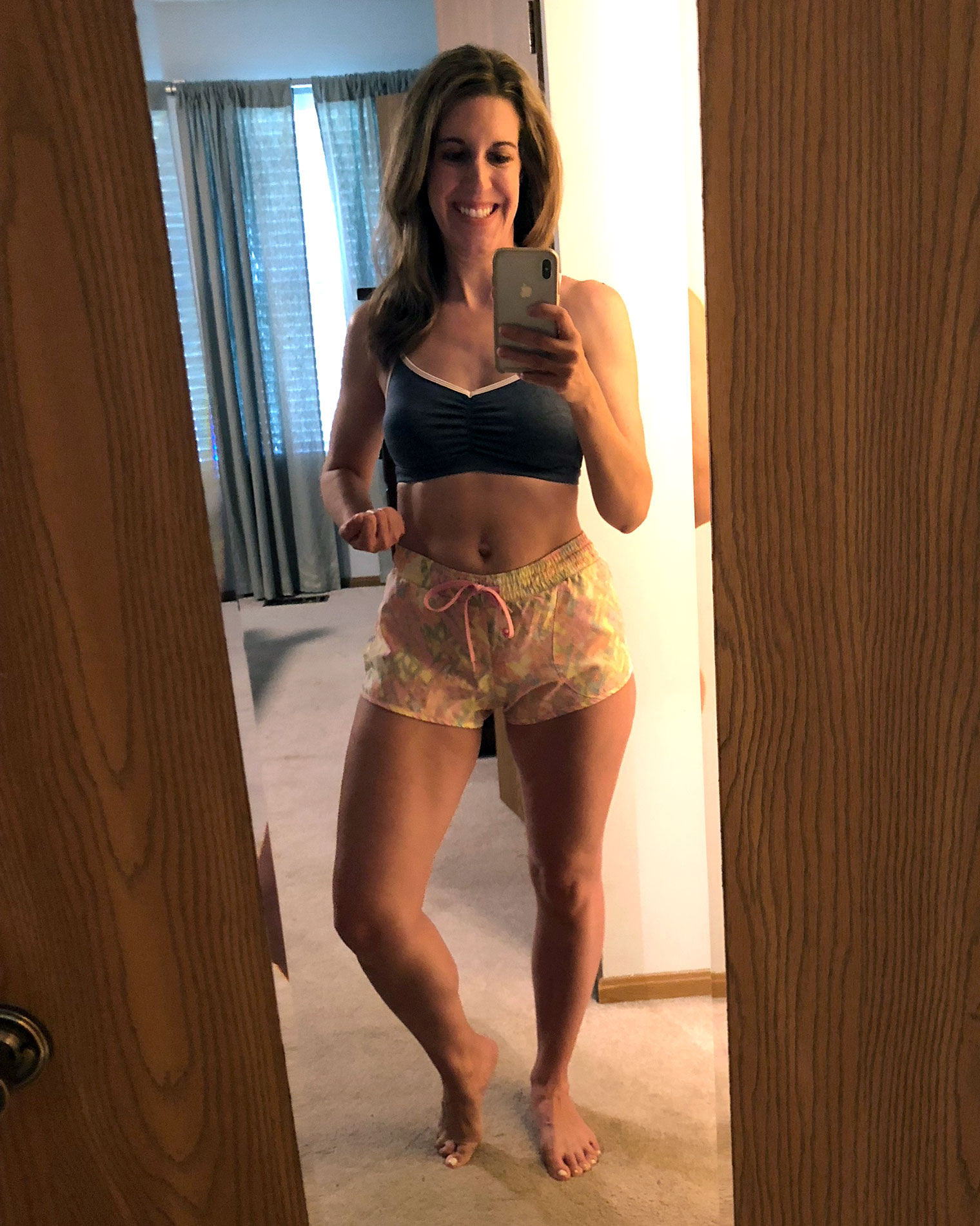 Week 5 (Left), Week 6 (Right)
What is the FASTer Way to Fat Loss?
FASTer Way to Fat Loss is an online 6 week fitness and nutritional program that focus on intermittent fasting, carb cycling, and tracking macros. Amanda Tress is the owner of this magnificent program. This program has really kept me on track this summer!
This program is completely different than any program I've ever done. I've never been one on fad diets, I'm more about workouts and fitness. But, I was interested in trying this program, because it didn't include shakes and just solely eating meats/salads for the rest of your life. Amanda has set it up to where there is a lot of variety and you're actually eating A LOT of food. She's built in some days where you can enjoy a nice carb loaded treat (such as a donut!). I'll admit that on Saturday, I usually give myself a cheat day… but, the other 6 days I am full force on this program! 
Intermittent Fasting
The FASTer Way to Fat Loss incorporates intermittent fasting, which I had never done any sort of fasting before. You will stop eating after dinner (usually 8 p.m.) and then fast for 16 hours until 12:00 p.m. the next day. You do this everyday of the program. Your body is always in one of two states, fed or fasted. When your body is in it's fed state, it is digesting food and your body's insulin levels make it harder for your body to burn fat. However, when your body is in the fasted state (8-12 hours after your body finishes digesting), your insulin levels are lower and it starts tapping into those fat stores. So, it isn't just skipping breakfast, it is allowing your body to burn fat in a better and easier way.
Low Carb Day, Regular Macro Days and Low Macro Days
For the diet during the program, you will use an app called MyFitnessPal to help you keep track of everything you eat. You'll log all of the foods you eat into this app and then you'll track your macros. Macros are fats, carbs and protein. It's important to make sure you eat the right percent of macros everyday, so that  you aren't filling your daily calories with twinkies, sugary treats, etc. So, for example… I have 1,500 calories I try to stick at everyday, but to keep my macros even I need to have an even amount of fats (and good fats are better than bad fats!), protein and carbs. If I were to eat 3 twinkies, I may not be over on calories for the day, but it would really mess up my macros!! When I was counting calories before this program, I would sneak in some treats (too many) and then eat less healthier foods… so, it's nice that Amanda makes us look at our macros, so that we DO stay on track with clean eating! On the Low Macro Days, you'll eat 20% less macros… On Low Carb days, you don't track macros at all. You stay at 50 net carbs (or less) for the entire day, which means you can't really eat many carbs at all on low carb days. Meats, avocados, salads, some vegetables are best for low carb days. 
Amanda also says that the foods you eat should either be from the ground or have a mother. She discourages cheese, dairy, etc. I haven't followed her guidelines on the cheese or milk, but I may try to be more strict with myself on this later. This also means that she wants you to avoid any packaged treats, like low carb bars, etc. 
So, why does she have you do Low Carb and Macro Days?
Carb cycling allows for planned high carb days that increase your thyroid output and help to control hunger. Since you are cycling your carbs, the low carb days will offset your high carb days. Carb cycling helps your body store less fat as well as helps improve your insulin levels. When you pair intermitted fasting, carb cycling and the workout she provides, you can break the typical plateau that so many people hit when they're trying to lose weight.
What can I expect with the Workouts?
Amanda has set up three different styles of workouts: Beginner, Home and Gym. We have a lot of gym equipment in our home, so I typically do a mix of the gym and home workouts. If you're a beginner and just starting, you can do the beginner workout. You really just need a set of 5, 8 and or 10 lbs. dumbbells and a mat if you plan to do the workouts at home. There is a link to a video demonstration for each exercise, which makes it really easy.
The workouts are 5 days a week and it usually takes me 45 minutes to an hour to complete them. I do the workouts on Monday-Friday at 5:00 a.m., then shower and get ready for the day afterwards. This is what works for me, you can do them at anytime of the day that works for you!
Amanda has a different workout for each day for you to do and it varies from cardio, HIIT and weights. Monday and Tuesday are more focused on cardio/sprints, which I love since I used to do a lot of running before this program. Wednesday-Friday are the HITT/weights workouts. Friday is typically a rest day and she has you workout on Saturday, but I always swap Friday/Saturday, since I don't like to workout on the weekends. I love that the program offers flexibility.
If you are interested in this program, I'd love for you to sign up with my affiliate link HERE for the FASTer Way to Fat Loss program (I get a small discount on my next program in exchange, which I am incredibly thankful for) and if you have any questions, I'd love to answer them!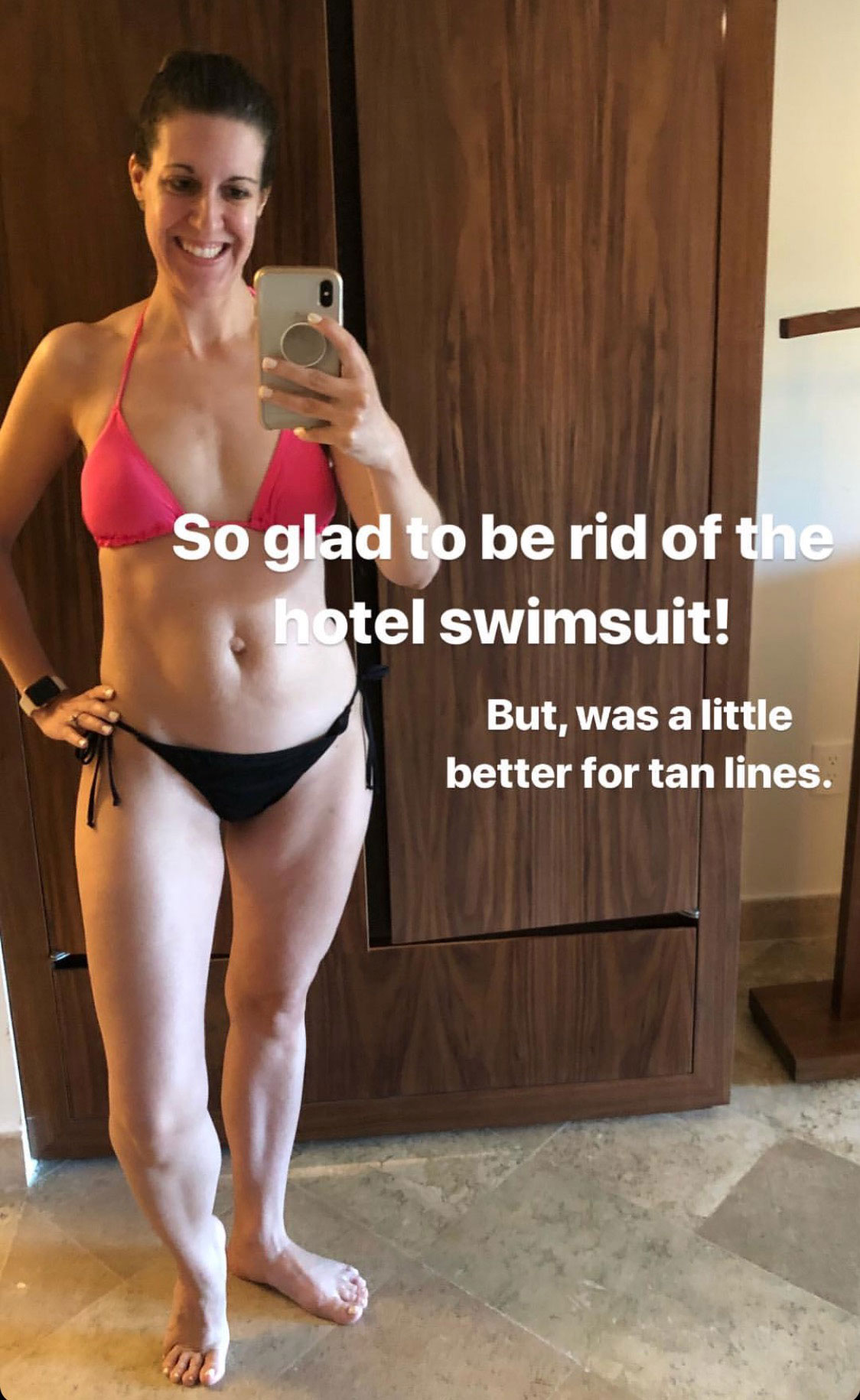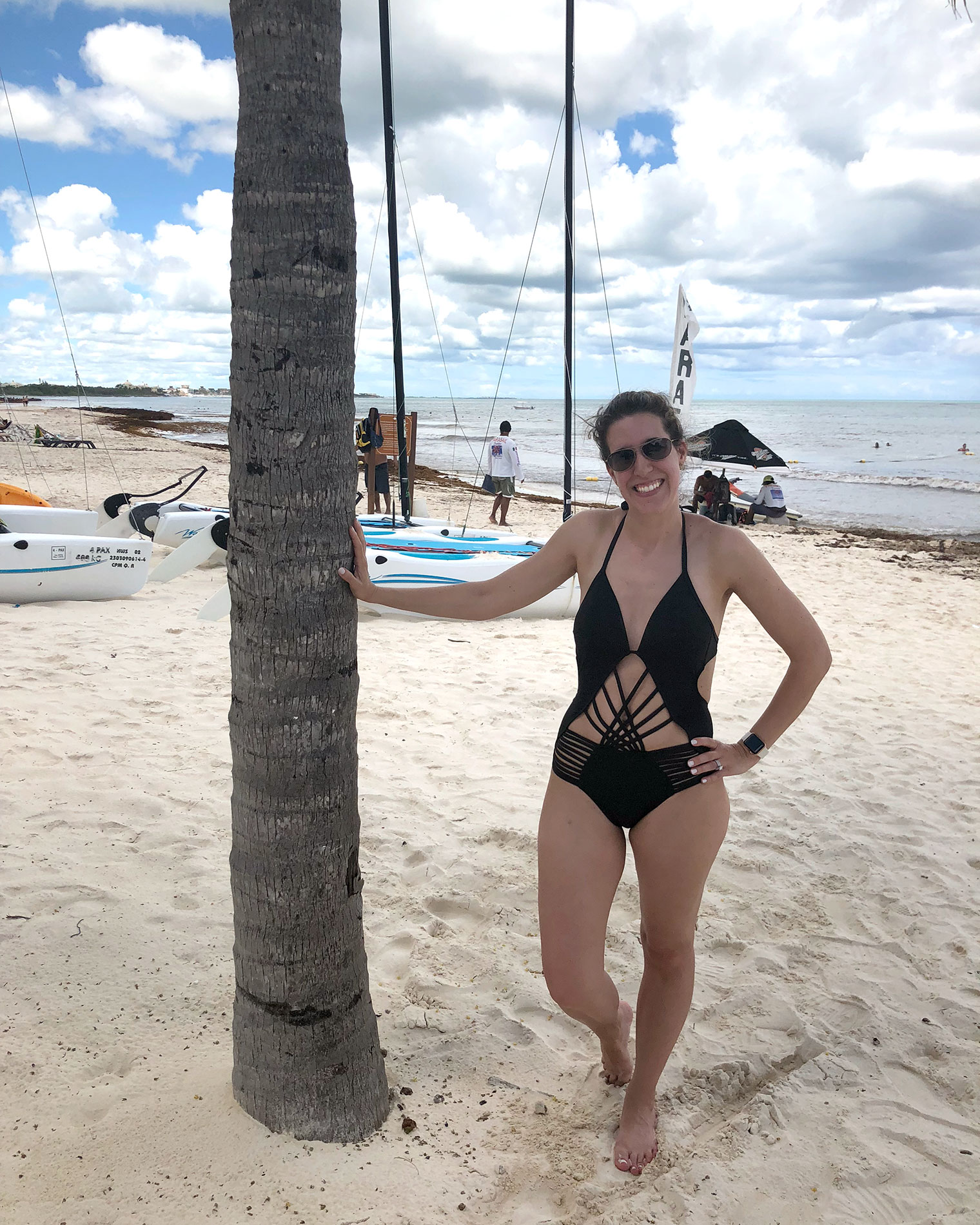 This is not sponsored at all, I found this program out of my own curiosity and it has truly been a life saver on keeping me on track this summer! When my husband and I were in Cancun, the airline lost my luggage and I didn't get it back until the next day. I HATE swimsuit shopping and I always spend days trying to find the perfect swimsuit for my body. When I had to go in the gift shop to  buy a new swimsuit, I cringed when I saw all of the string bikinis, etc. and what little choices I had in what to buy. THANKS to this program, I felt comfortable in the gift shop swimsuit I bought. The gift shop swimsuit is on the left and the swimsuit I brought is on the right… this was how I looked 3 weeks into the program!
The FASTer Way to Fat Loss program has given me a lot of new confidence in my body and I am thankful for that! Plus, I'm excited that I'm finally eating better and giving a good example to my kids on how important it is to eat well and to take care of our bodies.
SaveSave
SaveSave