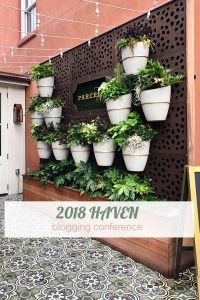 I'm one of those people that has a master bucket/dream list that I try to pick at least one big thing off of each year. It has been items such as running my first marathon, switching over to WordPress after years and years of avoiding it and this year I went to my FIRST ever blogging conference.
The conference I selected was the Haven Design & Blogging conference, which was in Charleston, South Carolina. I've been wanting to go to either Haven or Snap for a long, long time and it just so happened that the conference weekend worked out with my schedule this year. Plus, I loved that they had it in Charleston versus Atlanta. I've always wanted to see Charleston.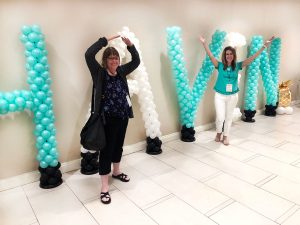 Another HUGE reason I wanted to attend Haven was to meet Lauren. I've been blogging besties with Lauren from Mom Home Guide for YEARS. We've been texting buddies for a long time and actually first connected during the Clever Girls Holiday Gift Swap a few years ago. I was so excited to finally meet her and make her a 'real life' friend, not just a blogging friend that I had never met! Lauren is SO sweet, we hit it off right away. She was exactly what I was expecting!
Today I'll be sharing the first two days of the conference. The conference started on Thursday and St. Louis didn't have a lot of options for direct flights, so I landed up not getting in until the late evening. I missed out on a few things, but I experienced PLENTY on Friday and Saturday. On Thursday I missed the Welcome Party (it's a fun cocktail party by the pool), the newbie meet up and the first mentor meeting. The mentor meetings are where they pair 13-15 people with a well known blogger and you get to have a more intimate/small group type meeting with the blogger you are paired with. It also gives you a chance to get to know the other bloggers that are in the group with you. My mentor was Laura from Duke Manor Farm. I am a little embarrassed to admit that I missed all 3 mentor sessions with Laura. They had one on Thursday, one on Friday and another one on Saturday. Unfortunately, I missed all 3 sessions! I had some other things overlap, etc. and next time I go to Haven I am going to plan better so that I can make the mentor sessions.
Thursday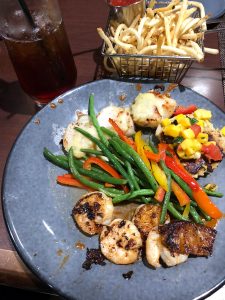 On Thursday we got to the hotel by 9:30 p.m. We had expected to be there an hour earlier, but our flight was delayed. I met up with Lauren for a very late dinner at the Sapphire restaurant in the conference hotel (where we were staying- the Marriott in Downtown Charleston). This restaurant was really good and I ordered the seafood trio, which had scallops, BBQ shrimp, crab cakes, veggies and fries. It was SO good! I had a sweet tea with it! Lauren got the same thing as well as my husband (who traveled with me, but he didn't attend the conference).
Lauren was so sweet to register me, so that I would have to do it early on Saturday morning. This was my name tag. There is nothing like a name tag with your name and blog name on it to make you feel official! Ha!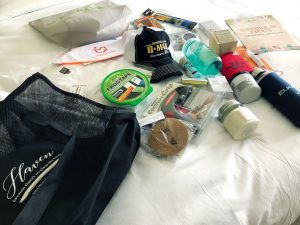 Lauren took this photo of the swag bag while I was at the airport so that I could see what was in it. We got A LOT more free stuff at the individual booths, lunches, giveaways, etc. I brought along a HUGE suitcase and it was EMPTY and the entire suitcase was full when I left! I got that many free products! I can't wait to try them all!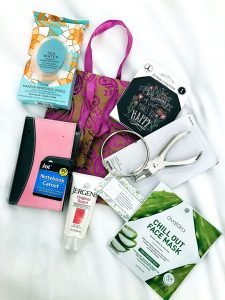 Lauren and I didn't room together (she roomed by herself and I roomed with my husband), but we still got each other roomie gifts. I made her a wood beaded garland with a tassel, white farmhouse strawberry crate, a business card holder and a cute little sign from a store at the orchard. She loved everything and says she's going to decorate her console table with it. I can't wait to see it. She got me more 'practical' gifts with things I would actually need at the conference. I loved everything! I am a face mask junkie, so of course I loved the face mask! She also got me a hole puncher and a ring and I can hole punch all of the business cards I got on the trip and put them on the ring, so I can always remember who I all met at Haven! I can't wait to do that! She also got me makeup remover wipes that smell SO good (I ran out of the ones I brought, so they were much needed!), lotion and a cute booklet that I took notes in from the conference.
Friday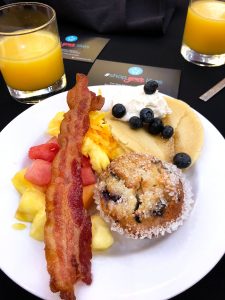 It was a jam packed weekend and I learned SO much, made a lot of connections and new friends, took home a large suitcase full of freebies AND I got to enjoy site-seeing and feeding myself silly in the charming and historic city of Charleston! Haven provided breakfast, lunch and a snack! It was a lot of food and all really yummy! I was excited when I saw that the breakfast included hot items!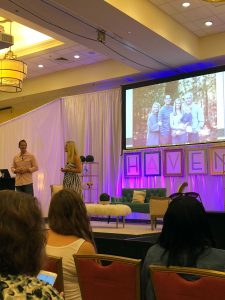 After breakfast, the Lambtons kicked off the morning! Chris and Peyton Lambton and either alone or together they've appeared on HGTV, DIY Network and The Bachelorette and The Bachelor (crazy, I know!).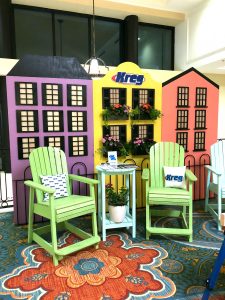 Haven was decorated nicely! I loved walking around and seeing all of the booths, especially this one of Rainbow Row!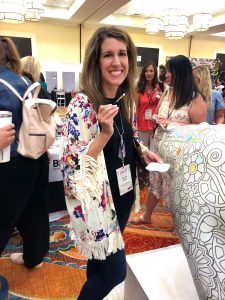 Behr had a really neat booth and you could select different paint colors and paint their mascot!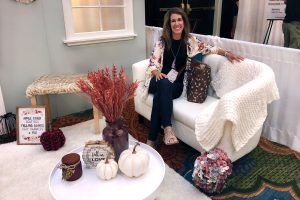 Joann's had this lovely fall family room set up. I just love all of the little details. I'm so excited for fall… BUT, I also don't want summer to end!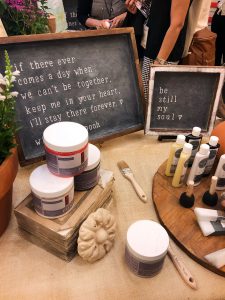 Lauren and I did a different sign making class, but there was a Farmhouse Sign Project you could do in the A Maker's Studio class. Aren't these signs so cute?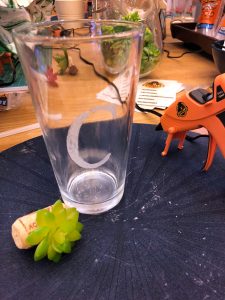 Dremel and Gorilla Glue had a REALLY neat booth where you could use a dremel to etch a glass and gorilla glue to make a succulent wine cork magnet.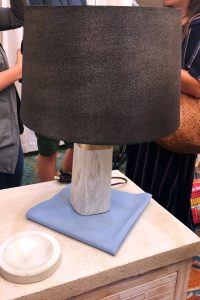 Quikrete offered to send concrete to you before the conference and you could create something with it. This marbled lamp by Love Your Adobe was my absolute favorite!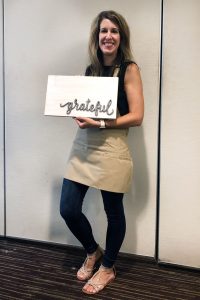 The first session I attended was the Make & Take with RustOleum. This was my favorite hands on class! We got to select a piece of wood (they had 2 different sizes of wood boards) and a word. I selected the word grateful, but they had words such as celebrate, thankful, etc. They had various shades of RustOleum's Varathane Fast Dry Wood Stain on the table. I selected a white stain for my board and then a medium gray for my word. I then wiped a little bit of the white stain on top of the grateful word to add some white streaks to it (this was actually accidental, but it looked really nice!).
This class was taught by Katie from Bower Power and St. Louis blogger (YAY!) Rachel from Shades of Blue. Katie and Rachel were SO nice and stayed 30 minutes after the class to talk with us and to give us all kinds of blogging tips and advice.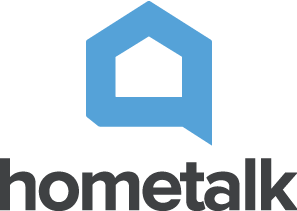 For lunch, we stopped into Hometalk and I got to meet Abigail! Hometalk also gave the bloggers that signed up for the Lounge with HomeTalk a free goodie bag and a feature in their email! This is why I love Hometalk! I am planning on doing their Hometalk Experts Program once the kids go back to school in mid-August. At the Hometalk booth I got a booklet that tells me all of the programs Hometalk offers bloggers, so I plan to review it soon!
For lunch we had salad, cheese/fruit, turkey, roast beef, various sides. We were fed good at Haven! 🙂 We ran really late for lunch, so I forgot to take a photo!
For our afternoon session, we went to Building Your Traffic by Capturing Heats and Minds on Pinterest by Alisa Meredith. I took a lot of notes in this class. One of my goals this fall is to work on building up my Pinterest account. There is so much I need to do and learn still, but this class helped me make a list of some bullet items.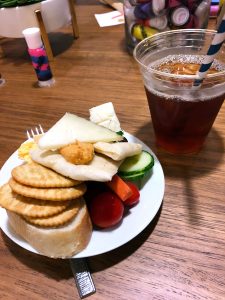 One thing you know that I love to do is take food photos. I may have forgotten to snap a photo of lunch, but I didn't forget to snap a photo of the snacks! I grabbed a really small plate, so it is piled high with goodies!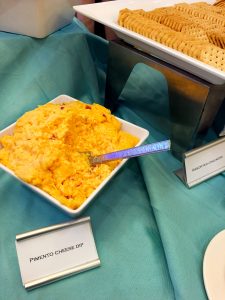 My absolute favorite snack was the pimento cheese dip. Oh my! I've had pimento cheese here in St. Louis and it is just gross. In Haven, it is delicious! I was SO hoping they were going to have the pimento cheese dip again for the snack on Saturday, but they didn't. 🙁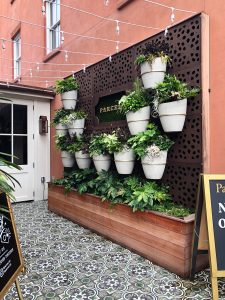 After the conference ended at 5:30 p.m., we ventured out of the hotel. We had a little time to walk around before dinner and we found this gorgeous tile. I saw SO many people take photos of this tile over the weekend and post it on their Instagram or Instagram Stories.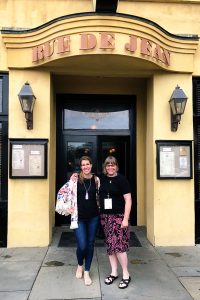 For dinner, we went to Rue de Jean, a French restaurant.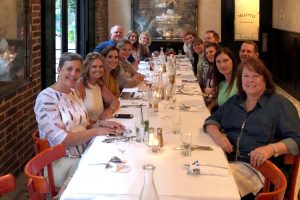 Nicole from Repurpose Life planned the entire dinner and invited anyone that wanted to come. Nicole is so sweet, I was glad I got a chance to meet her and all of the other lovely bloggers that we had dinner with that evening.
Nicole called ahead and since we had a big party, we ordered off a Prix Fixe menu. I selected this delicious salad that had candied pecans, strawberries on baby greens with a red wine vinaigrette.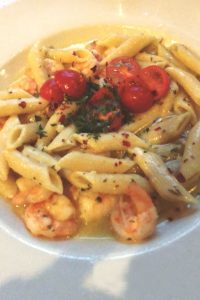 My main dish was SO good! So good! It was shrimp provencal with sautéed shrimp, penne pasta, garlic, tomatoes, chili flakes and pernod. The sauce was so good (how many times can I say so good?)! I ate every  bite! I finished dinner with a huge crème brûlée. It was delicious!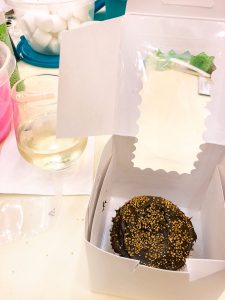 After our 3 hour dinner we went back to the hotel and Haven was having snacks, drinks, cupcake decorating and a dremel wooden spoon creation station. We were so tired and didn't spend a long time down there. I quickly made a cupcake, grabbed a glass of wine and then we were going to do the wooden spoons, but they had ran out.
I'll be sharing my last day at Haven (Saturday) on Tuesday!
I DEFINITELY recommend attending a blogging conference, it was so, so fun! I'm hoping to share a lot of what I learned in some blog posts in the near future. I love sharing knowledge!