This shop has been compensated by Collective Bias, Inc. and Mazola® Corn Oil​. All opinions are mine alone. #MakeItMazola #simpleswap #CollectiveBias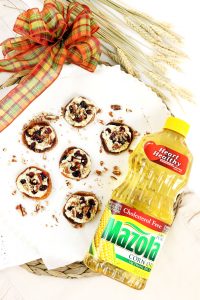 I always get excited about the Fall season and Fall recipes. Today I'm sharing a Delicious Fall Appetizer for Sweet Potato Goat Cheese Rounds sautéed in the Mazola® Corn Oil and topped with goat cheese, toasted pecans, sweet cranberries and a drizzle of honey. It's been my goal to prepare lighter foods this year. A clinical study showed Mazola Corn Oil reduces cholesterol 2x more than extra virgin olive oil. To learn more about the study, see Mazola.com. I think it's always important to review a recipe and to make swaps, if needed to make it better-for-you!
How to Prepare Sweet Potato Goat Cheese Rounds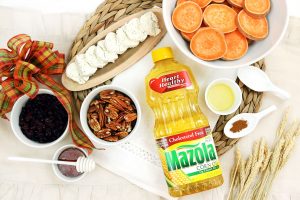 For this recipe you'll need these ingredients:

1-2 Tablespoons of
Mazola Corn Oil
2 Sweet potatoes Sliced into Rounds
Ground Cinnamon
Sea Salt
Low Fat Herbed Goat Cheese
1 Cup Pecans
3/4 Cup Dried Cranberries
Honey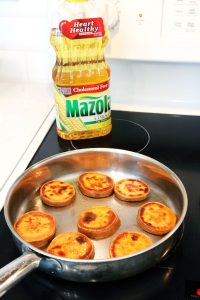 To sautee the sweet potatoes rounds, heat 1-2 tablespoons of
Corn Oil
in a pan on medium-high heat. Add the sliced sweet potatoes, stirring every 2 minutes. Sprinkle with a little cinnamon and sea salt for the last 30 seconds. The sweet potatoes are done when they are nicely browned, fully cooked and tender.
It's amazing how you can make a recipe better-for-you by swapping out specific ingredients. For example, when I sautéed the sweet potato rounds in this recipe, I swapped out Mazola Corn Oil instead of using other cooking oils. Mazola Corn Oil is an all-purpose cooking oil that is a smart heart-healthy choice for your family. Variety of uses include baking, grilling, sautéing, stir frying, or mixing up a marinade or dressing.
Mazola Corn Oil has a neutral taste that won't negatively impact the taste of ingredients, so it lets the natural flavor of your food stand out.
I'll also share more below about the other ingredients I swapped out to make this recipe more wholesome.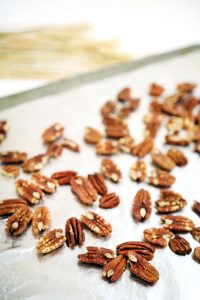 Now, we will toast the almonds:
Preheat oven to 350°F.
Lightly spray baking sheet with cooking spray.
Place almonds on a baking sheet and toast them for around 5 minutes. (Watch them carefully as they are easily scorched.)
Allow almonds to cool, then chop on a cutting board or with a food processor.
Ingredient Swap Two: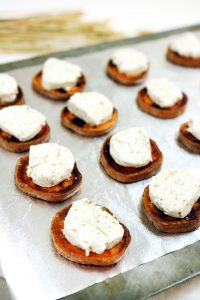 I also swapped out regular goat cheese with a low fat variety. How easy is that? Place your oven on the high broil setting. Spread the herbed goat cheese on each sweet potato round and place in the oven for 2 minutes. Once the cheese has melted and is warm, remove from oven.
Ingredient Swap Three: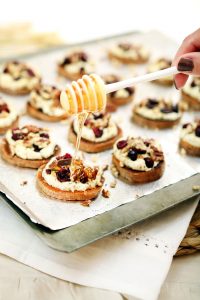 The final ingredient swap that I did to make this recipe better-for-you is using honey in place of the regular sugar or maple syrup that I usually use. Honey is full of antioxidants, which neutralize free-radicals in the body and have cell damage protecting properties. Honey is also high in memory and energy enhancing Vitamin B-6 and immune system boosting Vitamin C. Sprinkle each sweet potato round with the chopped almonds and cranberries. Drizzle with honey and serve immediately.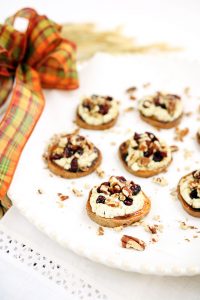 Mazola Corn Oil has a smoke point higher than most cooking oils at 450°F and performs well in a variety of cooking applications, including stir-frying, sautéing, grilling and even baking. Many home cooks may not realize that all cooking oils have a smoke point that, once exceeded, it negatively affects the food's flavor and nutritional value.
Next time you're preparing a recipe, be sure to consider possible better-for-you swap outs, such as using Mazola Corn Oil.