Welcome to Thursday Fashion Files!
Welcome to Thursday Fashion Files with Carrie at 

Curly Crafty Mom

! I'm excited to have you here and would love to have you link up one of your latest outfits at the bottom of this post.
I will be taking occasional Co-Hosts for Thursday Fashion Files, if you are interested you can email me at carrie (at) curlycraftymom (dot) com to set up a date.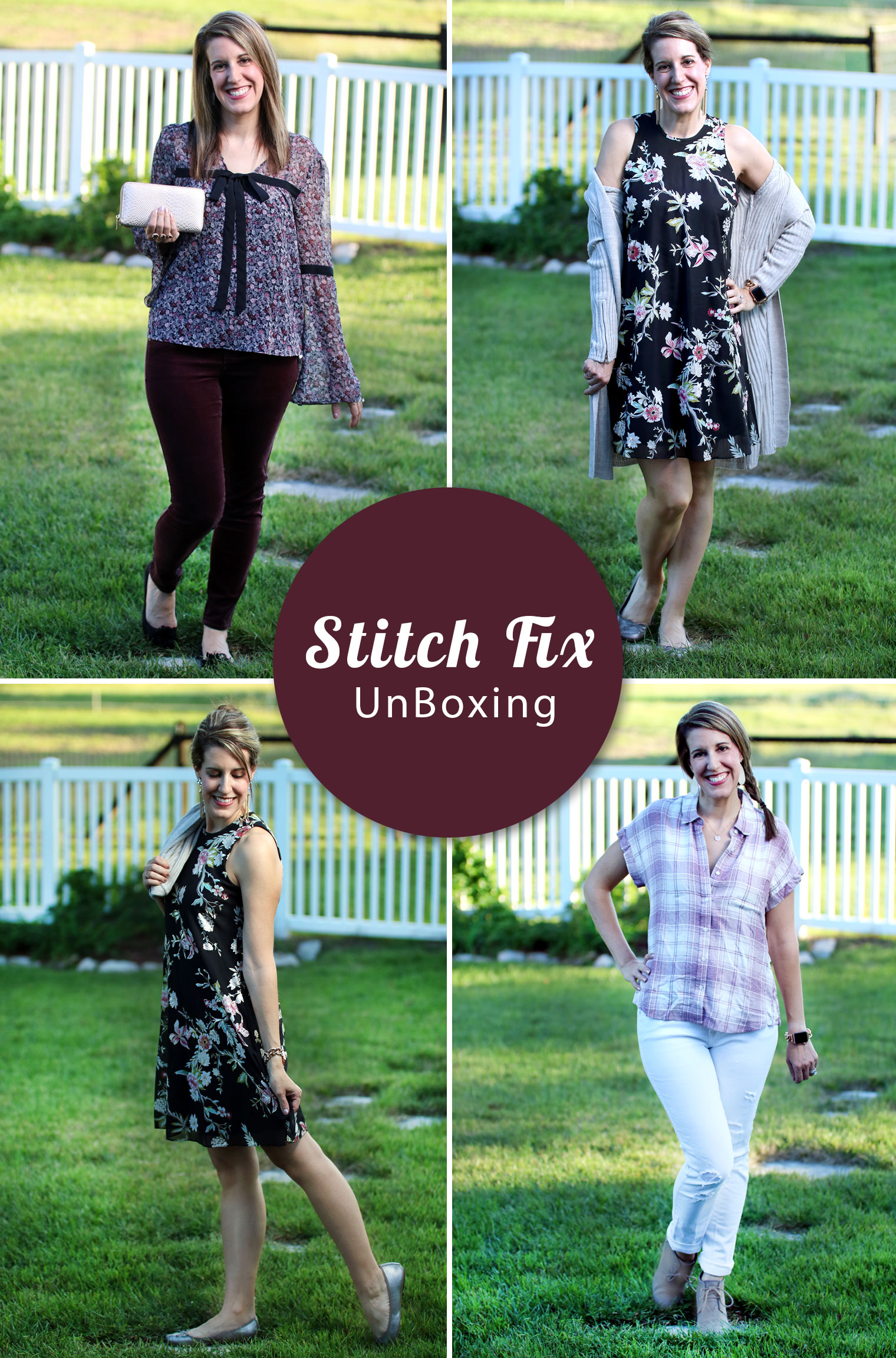 I always enjoy ordering a Stitch Fix box every Fall, because who doesn't love Fall clothes? I believe this is box #12 for me! I was pretty happy with this box, I landed up keeping 3 of the 5 items. I usually only keep 1 or 2, because they do tend to be a little more on the pricey side… but, the quality is always top notch! So, let me share my box with you and which items I kept (and why).
BCBGeneration – Amalee Tie Front Detail Blouse &74.00 – Kept
Edyson – Hampton Skinny Corduroy $68.00 – Kept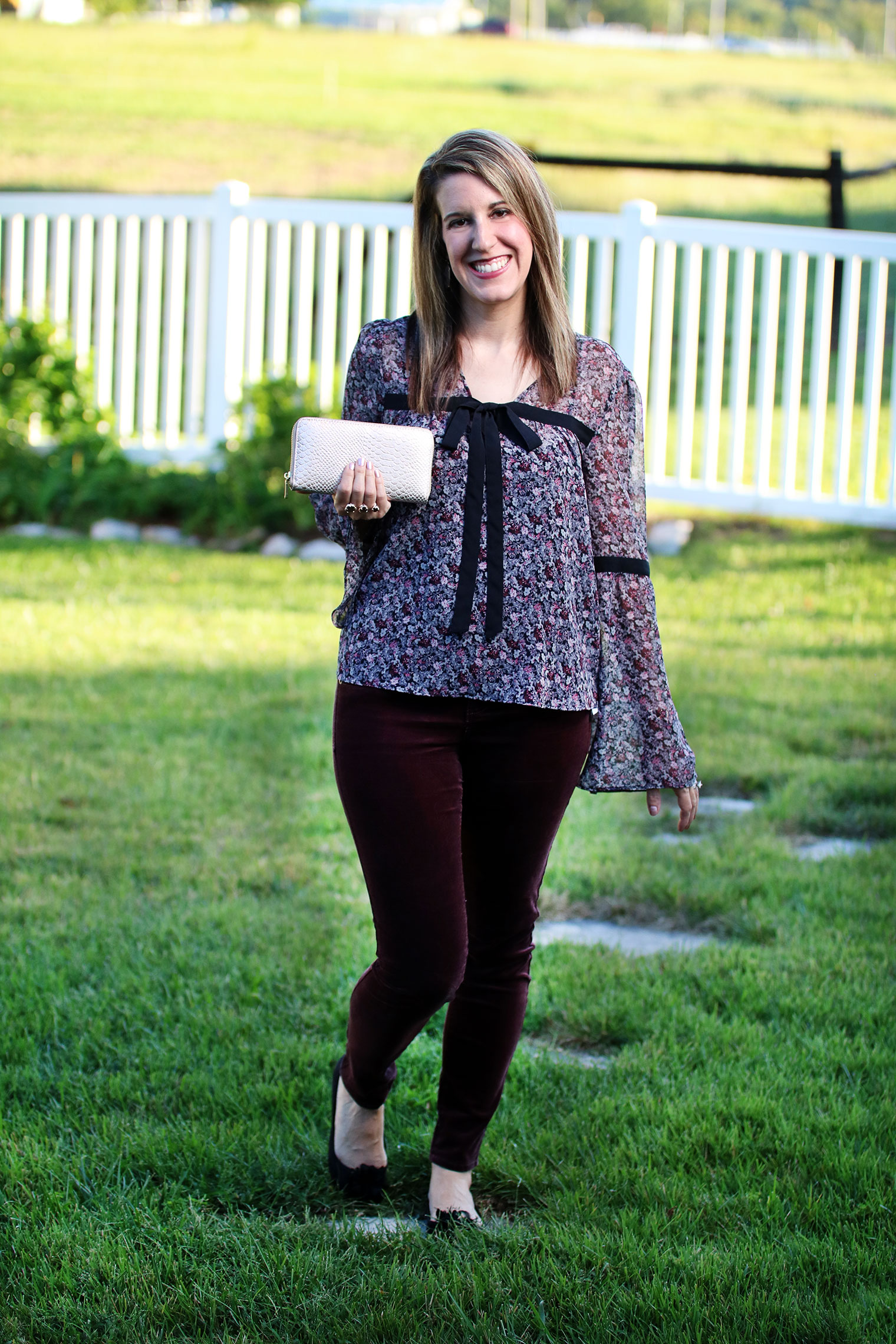 This Fall floral sheer top with the adorable black bow tie was a MUST have for me. It fits nicely, and I love the boho sleeves and the black bow and ribbon is just a super cute touch. I also landed up keeping the burgundy corduroys. I already have a burgundy pair, but oh my… this pair feels like butter! Ok, it really doesn't feel like butter, but the corduroy is almost like velvet. I paired this pair up next to my old burgundy pair of pants and I knew I had to upgrade, because this is a piece I'll wear all Fall long, y'all.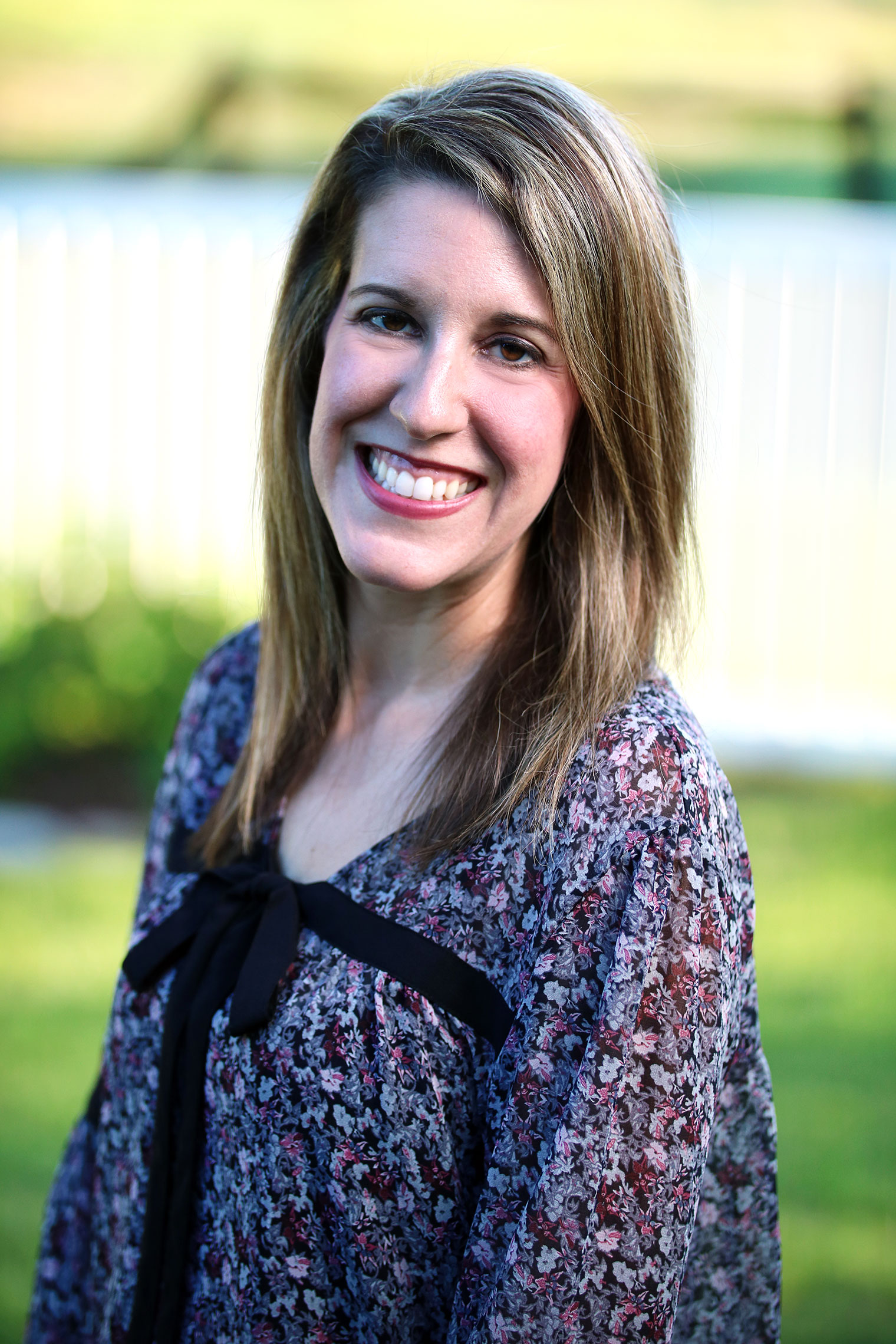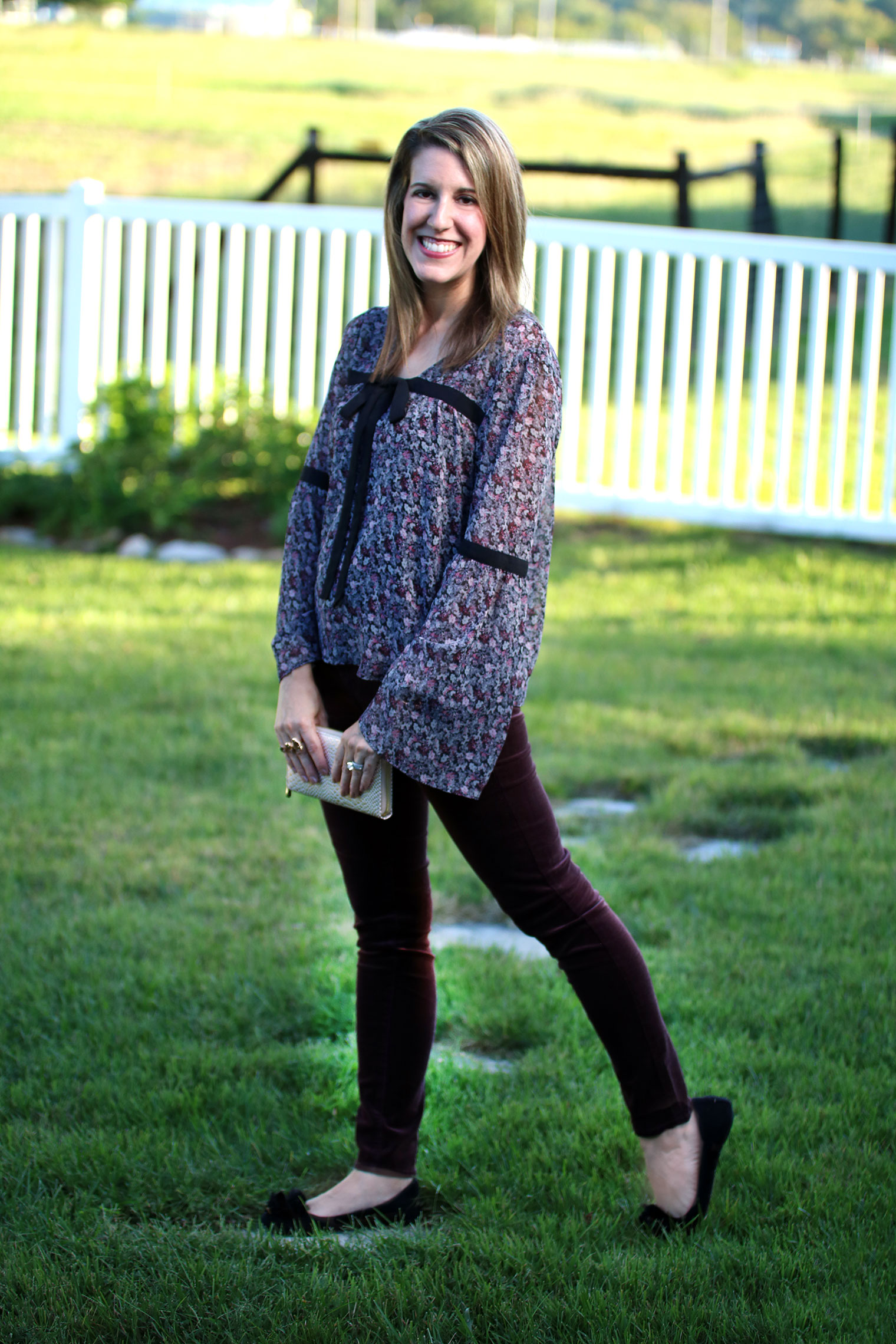 Cosmic Blue Love – Ava Button Down Top in Burgundy $64.00 –
Didn't Keep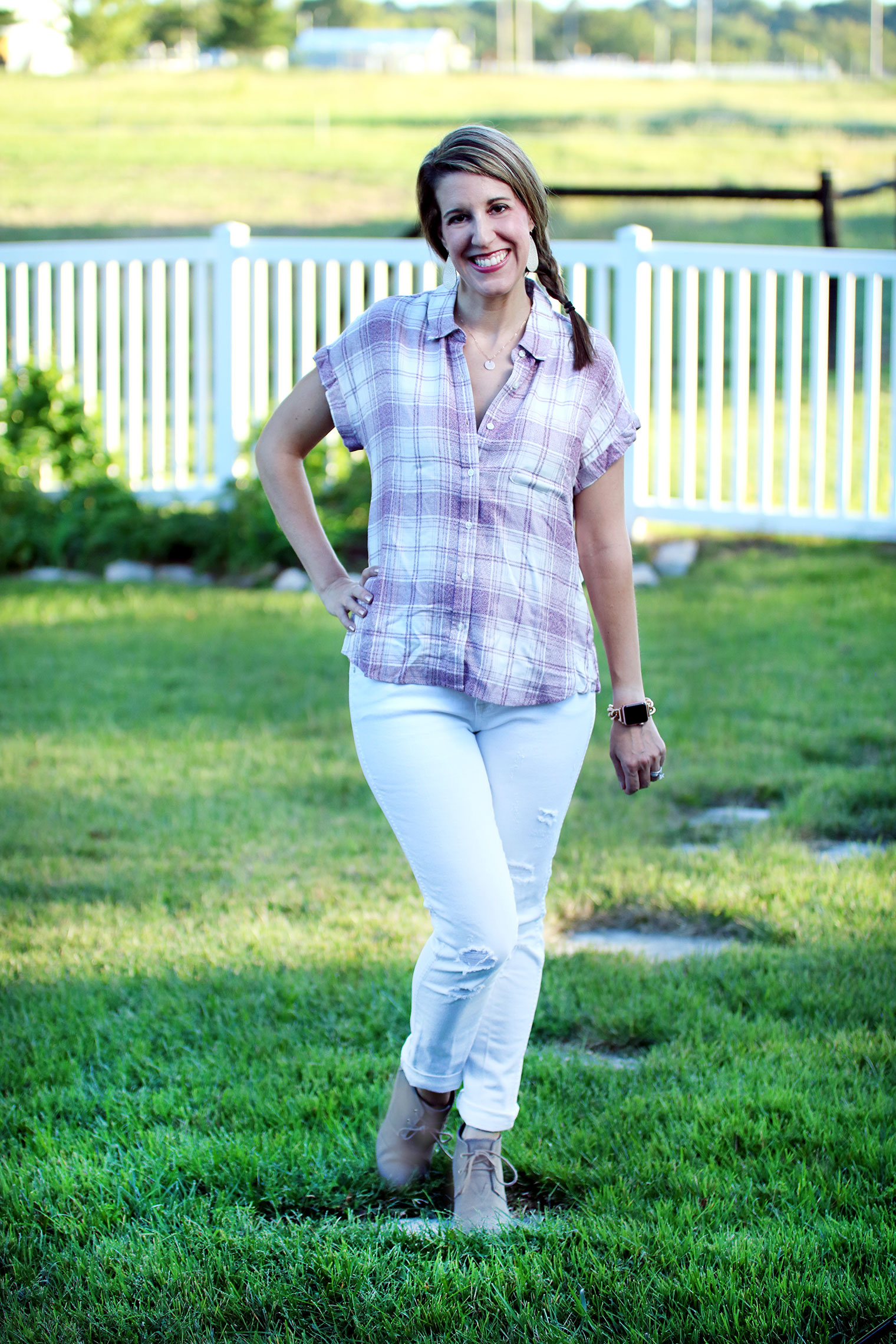 This top is really soft and I did love it. But, I'm looking for more long sleeves tops right now. However, it would be nice for a HOT Fall day, which we've had several days with temps in the 90's this September! It looks more pink to me than burgundy. I thought it was super cute with my white denim and booties. I also gave my hair a little side braid, because plaid makes me think of braids! 🙂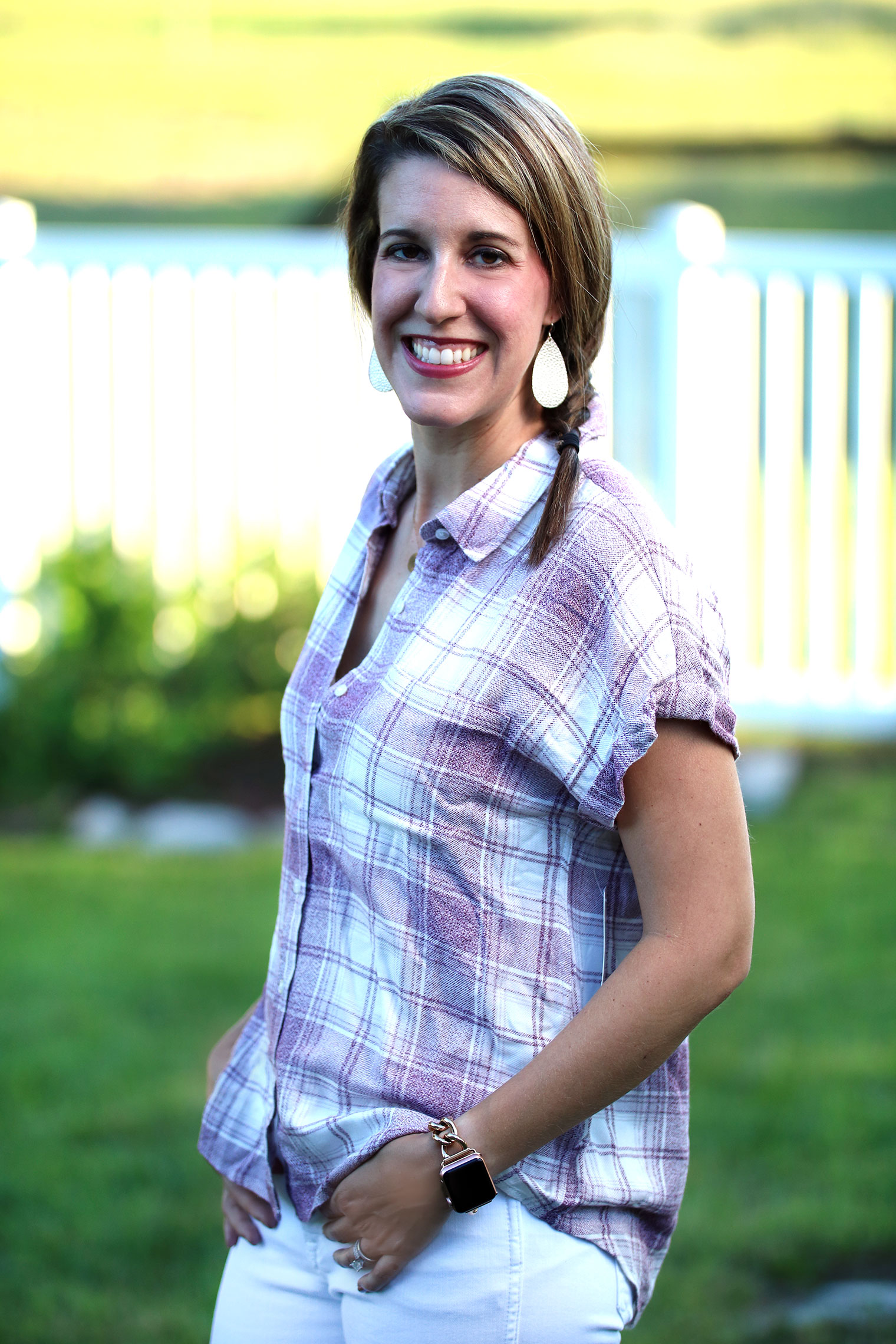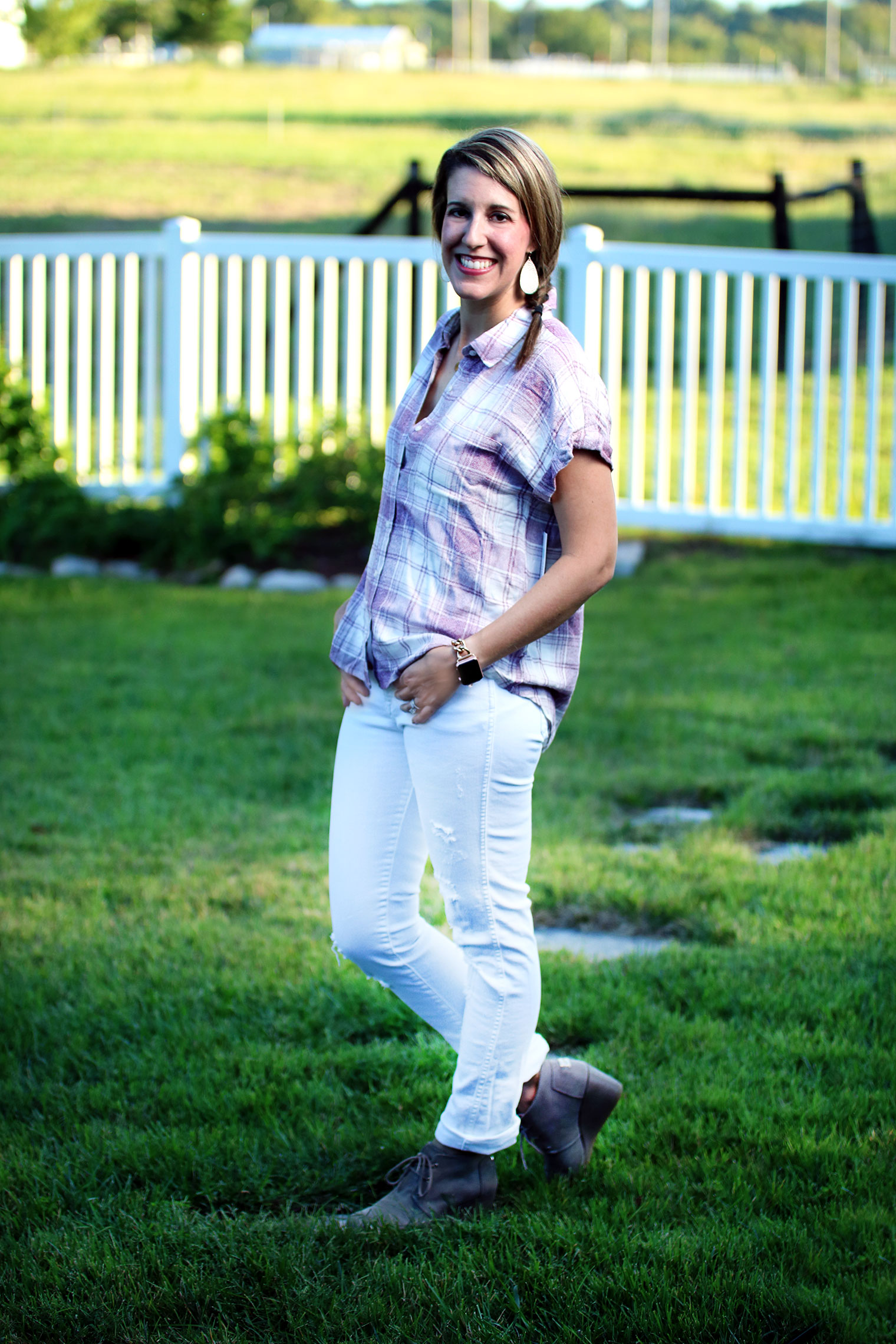 RD Style – Candise Zipper Detail Cardigan $74.00 –
 Keep
Calvin Klein Dresses – Suzette Shine Detail Dress in Black $94.00 –
Didn't Keep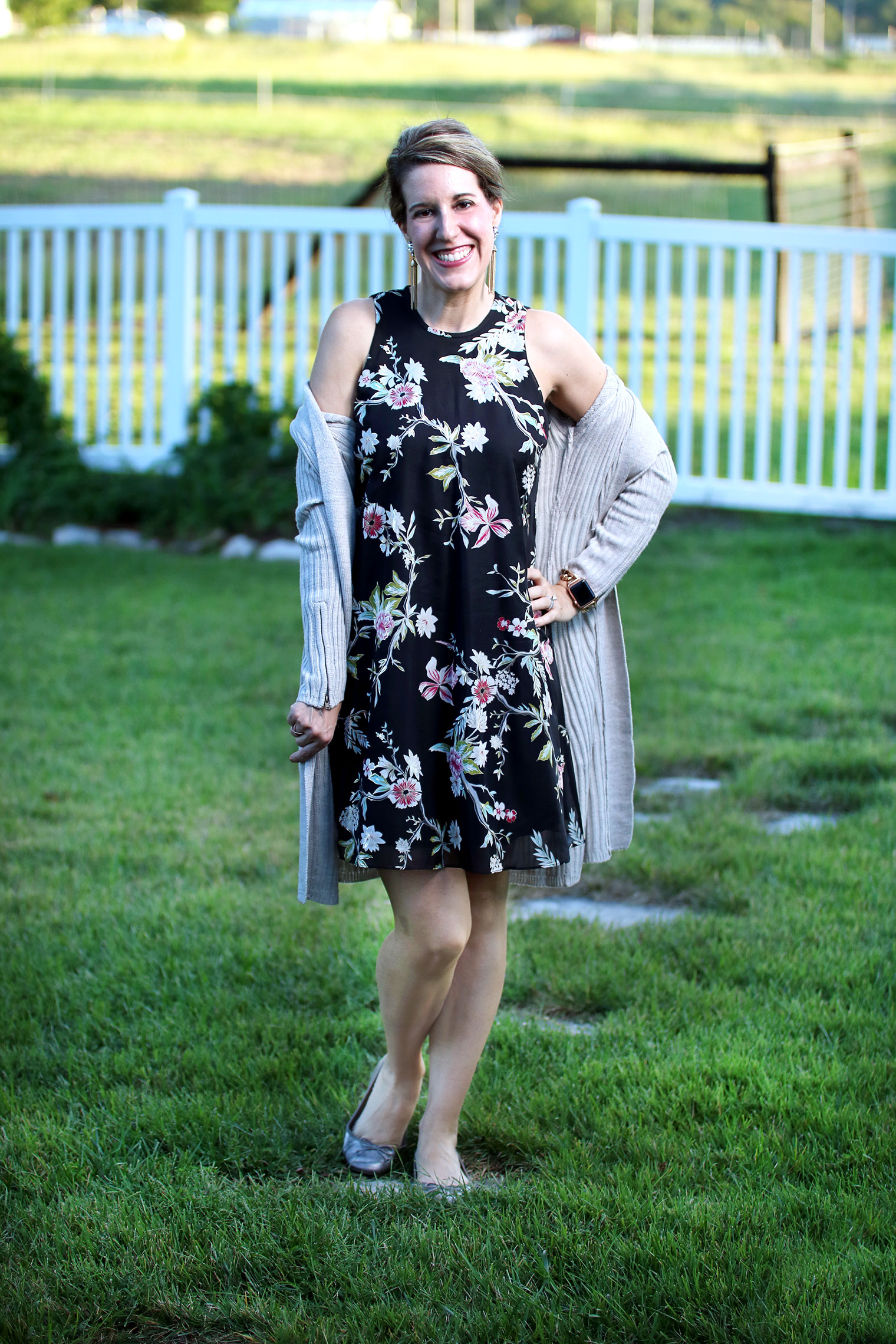 I've been wanting a new cardi, somehow my closet seems to be void of many cardigans. When I used to work out of the house, I had a ton of cardis! I love this grey one, because the color will be versatile. It is a little longer than the usual cardi, which will be great if I'm layering a tee over leggings and I still need to cover by bum. 😉 Or, if I just want a snuggly piece to wear and it pairs really well with this dress (that I didn't keep). You can't really see in these photos, but the sleeves have a cute zipper detail. I'm planning on pairing this grey cardi with a lacey black tank that I just received on the blog soon!
The dress was really pretty, it has metallic colors in the floral print. And, who doesn't love a dark floral print this time of year? It has more of a boho shape and I felt it was almost TOO big around my waist, even for a boho design. I kind of prefer dresses to be a little more form fitting, maybe because I usually wear dresses out for girls nights or date nights and I want to show my curves! Is that so bad? 🙂 I rarely wear a dress to church anymore, since we go to the Saturday service. It was really cute, though with the cardi!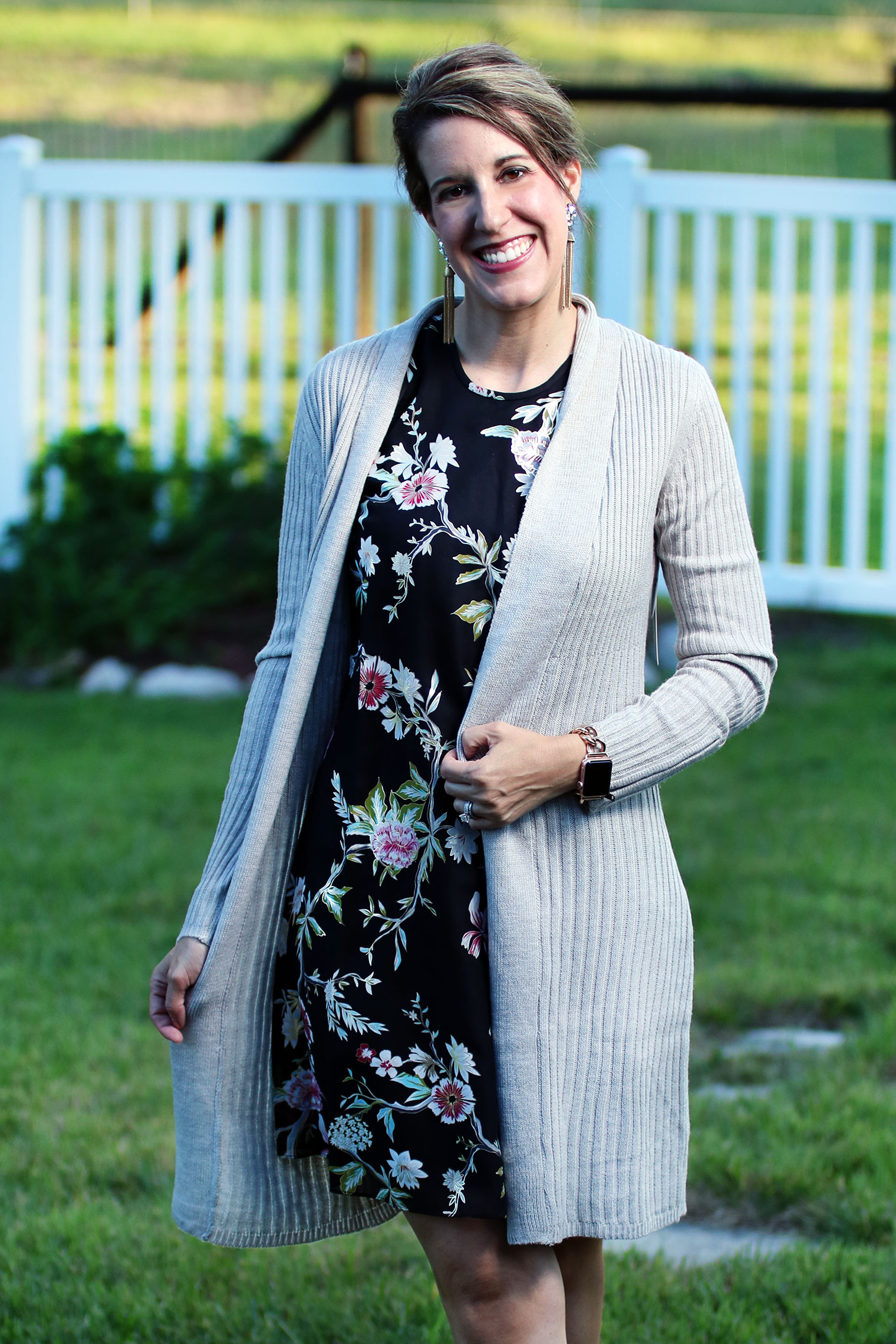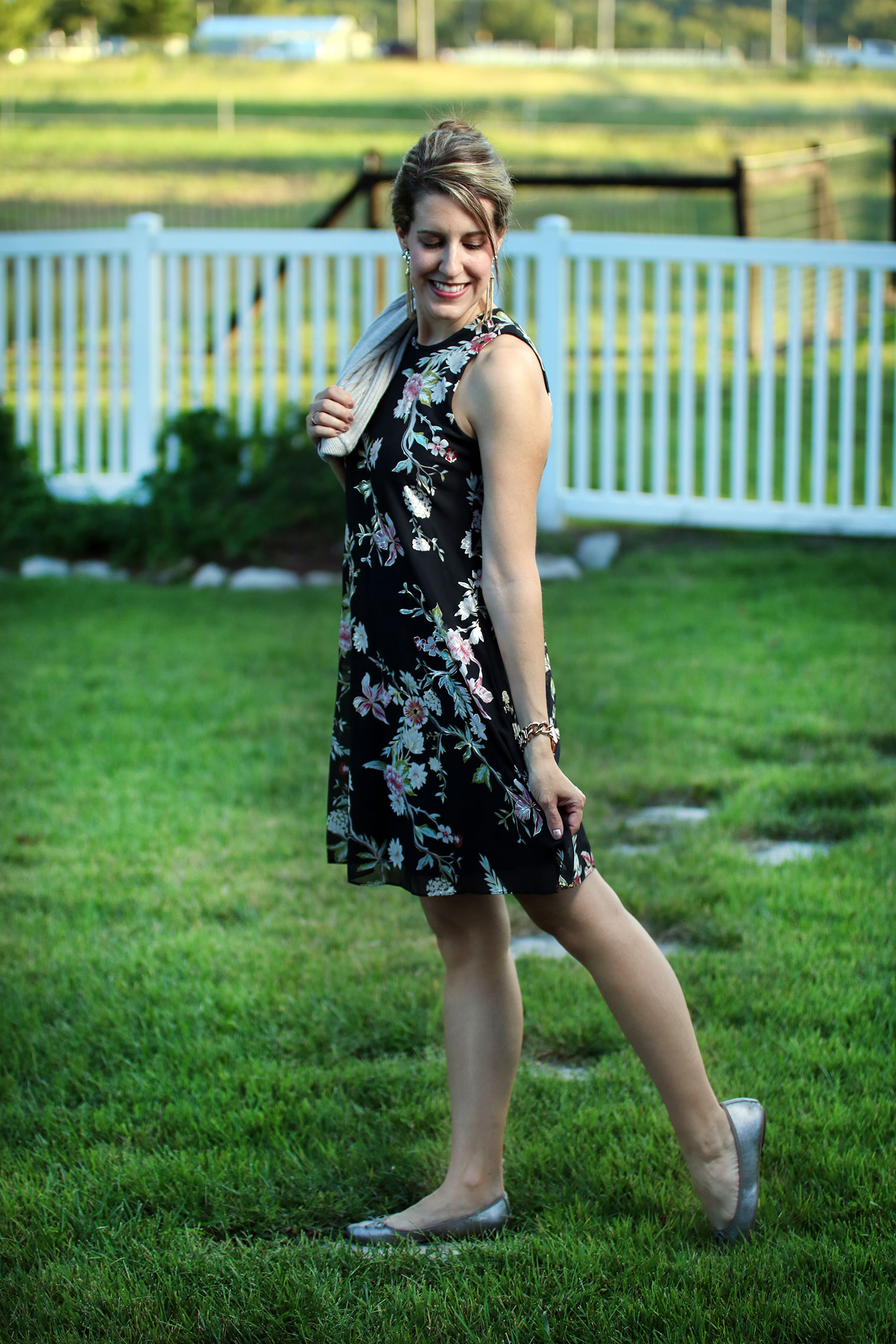 Since I kept 3 items, I almost decided to keep the ENTIRE box, which I have never, ever done. However, I  am one of those people that doesn't want to have items hanging in my closet that I'm not 100% in love with… and, it did still mean more money spent (especially after taxes). So, I sent back the 2 I wasn't 100% in love with and kept the 3 items that I did love! It worked out perfectly! I think I am going to try to order a Stitch Fix box every season, it is always a fun surprise in the mail and I love being able to select an item or two that I normally wouldn't have found on my own.
Stitch Fix
 is sort of like having your own personal shopper! You fill out a survey online (it includes photos of different outfits) and it helps them decide which outfits and which price range you fit into. They send you 5 pieces (tops, bottoms, accessories, jewelry, etc., etc.) and you decide which items you want to keep. After you've decided what you want to keep, you ship the rest back within 3 business days. If you buy all of the items you get a discount. There is a monthly fee of $20 that you will lose if you do not buy any of the 5 items. But, if you buy just one item they will subtract that $20 from your order.
And, if you sign up using my code, you'll help me earn $25.00 off my next 
Stitch Fix
 box! To sign up under me, click 
HERE
.
* This Post Contains Affiliate Links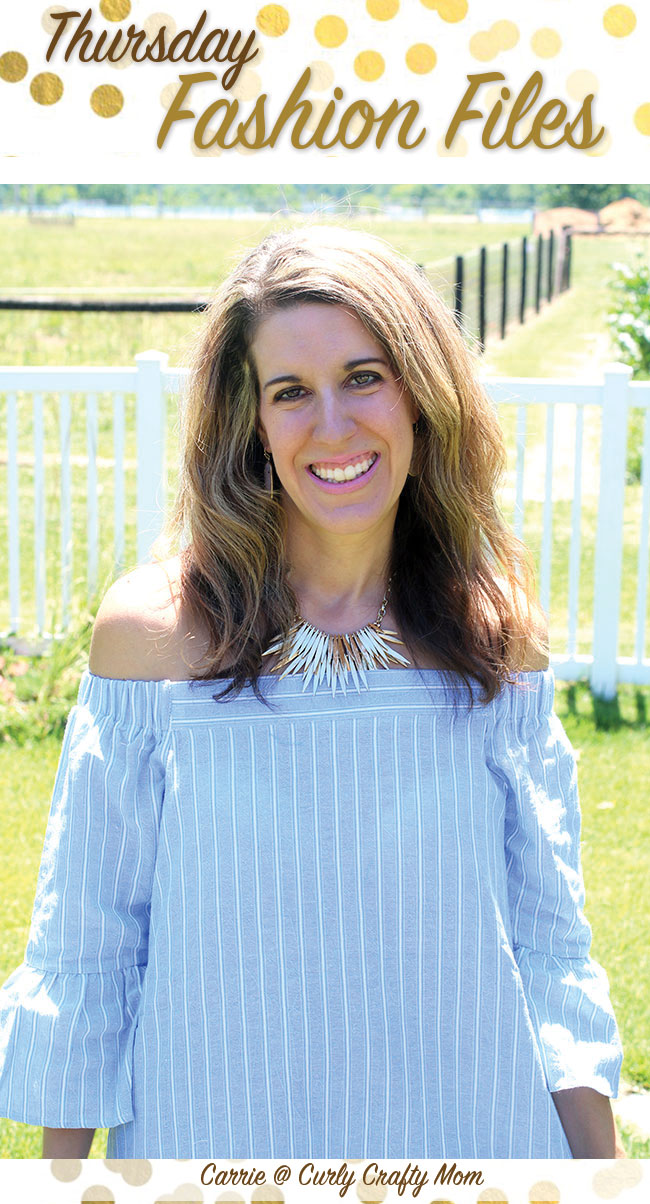 Link Up Guidelines:
1. Feel free to grab our button to display on your blog sidebar. Help spread the word and share about our link up community.
2. **By adding your links, you are stating that you have the proper licensing/rights to the images in your blog posts.** 
3.