Happy Friday Everyone!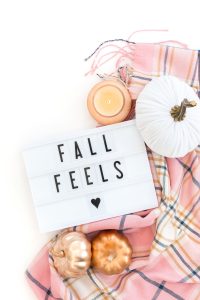 Can you believe it is Friday already? Gotta love short weeks! My kids have a short week again next week and then they have an early dismissal the week after that. Hopefully we'll get some nice Fall weather on the upcoming days they have off of school.
One – $50.00 Gift Card Giveaway to You + Pio Clothing
The sweet folks at You + Pio Clothing are letting me giveaway a $50.00 Gift Card to my readers (giveaway is at very bottom of this post). Be sure to enter, they really have a lot of cute styles on their site!
Their name 'You + Pio' is about uniting you (their customer) and Pio, their brand. They provide stylish basics, everyday wear and the perfect finds for any occasion. I love clothes that are comfortable AND stylish! I'll be sharing a piece of theirs that I'll be styling in the near future! 🙂
Here are a few pieces that I saw on their site and wanted to share with you: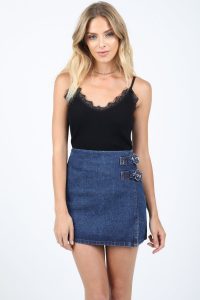 SARA JANE Lace Top (Pictured Left) and JACKSON COPPER Shorts Romper (Pictured Right)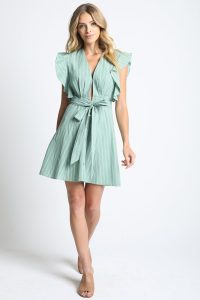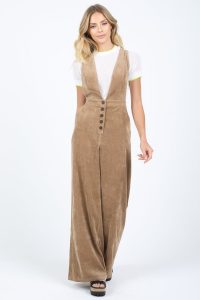 SAGE THREADS Short Sleeves Dress (Pictured Left) and DISCO FUNK Corduroy Overalls (Pictured Right)
Two – Ulta Mascara Birthday Gift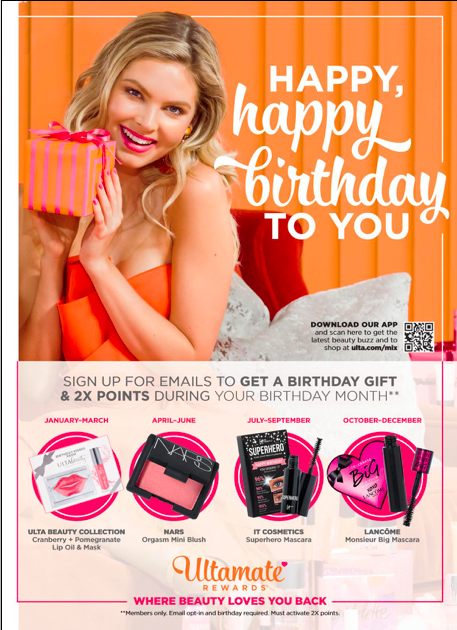 My birthday was last month and I spent an entire morning going into stores and getting my birthday gifts! I was a little bummed when I had to go into two separate Sephora and Ulta stores, though, because they were out of the birthday gift item at the first stores I stopped into. I've never run into that before, but I think it may be a good idea to call the store first and see if they have it in stock. OR, go to a store that doesn't have as high of traffic. So, I got some lip colors and glosses at Sephora, which I loved… but, I REALLY loved what I received at Ulta. I found this image (pictured above) that tells you what your free birthday gift is at Ulta for certain months. So, if your birthday is in September, you can get this mascara for FREE!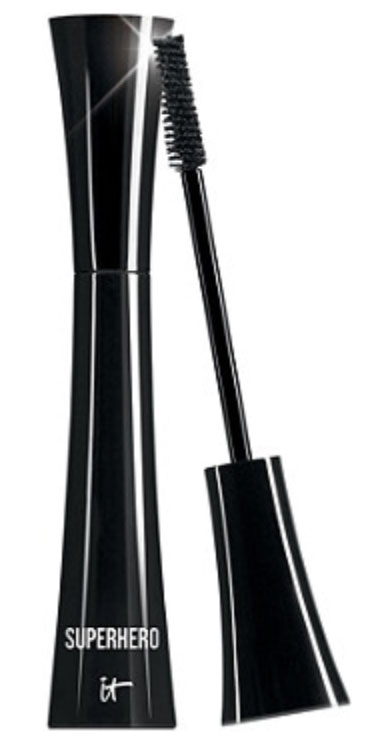 Shop This Post:

The mascara that I received for free for my birthday from Ulta was the IT Cosmetics Superhero Elastic Stretch Volumizing Mascara. WOW. I am pretty picky when it comes to mascara, but I was really impressed with this one. IMHO, it is WAY better than the overhyped Too Faced Better Than Sex mascara. I will be buying another tube of the Superhero after I run out, I love it THAT much! Isn't it awesome when your free birthday freebies are something you want to buy again?!
Three – Act of Kindness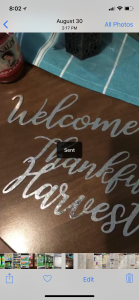 This blogging community is SO awesome, friends! I recently shared an Instagram story about how I was looking for these thin metal Fall phrases that Dollar Tree carried in 3 packs and I couldn't find them after looking at 2 separate stores. A kind lady in St. Peters, MO (about an hour from me) wrote me and told me she had found them and even purchased one for me and wanted to mail it to me for free! She told me to just pay it forward somehow. How kind is that?! This is someone that follows me, I wasn't following her… she has maybe 128 IG Followers and doesn't even blog. I have no idea why she started following me, or if it was something I tagged in my story… but, what a kind lady! I also stalked her profile and she doesn't look like she's crazy or anything. Ha!! You never know about the Internets. Anyway, I just wanted to share… 🙂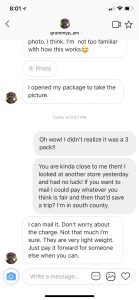 And, this photo is the lady that is sending me the metal phrases for free. What a kind soul she is!
Four – Kitchen Decorating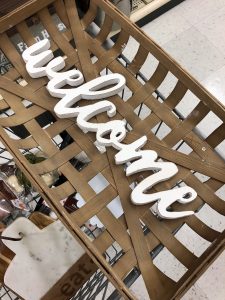 Y'all… OUR KITCHEN IS DONE! As in, I signed the completed contract with the contractor yesterday! It is SO nice to have the lock box off our door and to not have people in and out of our house on any given day or time. Last Friday I hit up a BUNCH of fun stores to shop for new kitchen decor for our farmhouse style kitchen. I had so much fun! I went to HomeGoods, TJMaxx, Hobby Lobby, Dollar Tree and World Market! I know, that is a lot of stores in one day. I love to shop at a variety of stores, though… It was fun, because they had all of their fall merchandise out!
I'm really excited about this tobacco basket (that's what they're called) that I found at Hobby Lobby and it says 'Welcome' on the inside of it. I saw this same exact (or very similar) basket at TJMaxx and was going to go back for it, when low and behold I saw it at Hobby Lobby (and I used a 40% off coupon on it!). I am planning on hanging this on a narrow wall that faces the garage door, it'll be the perfect spot for it! These tobacco baskets are so in right now and I just LOVE them!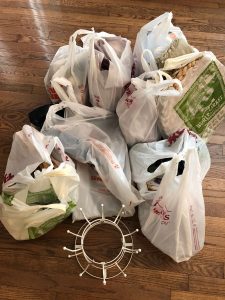 Ok, don't laugh…. but, this was my entire kitchen haul from last Friday. LOTS of stuff. The majority of it went on the glass shelves on the upper cabinets of our serving area and I am so glad the shelves are full now and not empty! I am planning to share a few kitchen decor posts in September and October and the serving area reveal will be my FIRST post! I am hoping to share it either next week or the week after. I just have a few final touches for it and then it'll be DONE!
Five – Already Sick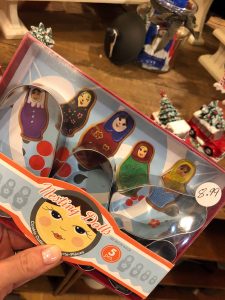 And, guess what? I came down with a cold already! I went to Main Street, St. Charles to go shopping with a couple of friends on Wednesday. We do this every Fall, it is our tradition. Well, the temps were crazy hot… upper 90's and SO humid. Well, my throat started to get a little scratchy while we were out and about and I just assumed allergies. But, when I got home I felt really worn down and took my temperature and I had a fever! Ugh! Thankfully the kids aren't sick (knock on wood), but who gets sick in 90 degree temps?! And, usually I catch something from the kids. So, BOO!!! I hope I knock it before the weekend!
The photo above shows some cute Nesting Doll cookie cutters. I have never seen anything like these, so cute… and, I bet they'd even be cute for holiday cookies. I collect cookie cutters. I decided to put these back, though (the store only took cash and I only had $2 on me!). They were cute, though!
Happy Friday and Weekend!
Enter the $50.00 Gift Card Giveaway to You + Pio Clothing below:
SaveSave