This post is sponsored by Dietz & Watson. All opinions are my own. #ItsAFamilyThing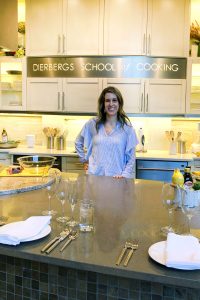 I'm excited to tell you all about my Dietz & Watson 'A Little Bit Southern' cooking class that I took at Dierbergs School of Cooking. The food and recipes in this class were extraordinary and I can't wait to prepare some of these delicious Southern recipes at home with the flavorful Dietz & Watson products that were used to prepare the Southern dishes.
Dietz & Watson definitely has an edge over other products, in that they provide quality deli meats with no antibiotics ever, rBGH free cheeses and organic offerings. Their products are premium in taste and will not disappoint your tastebuds. I'm proud to provide my family with a healthier alternative and I'll be sharing the Fall Harvest Picnic Spread I made for my family with Dietz & Watson products.
Dietz & Watson is offering the 'A Little Bit of Southern' and an 'International Style' cooking classes at their cooking school in September and October. Don't wait to sign up, the classes are filling up quickly:
Be sure to let me know if you sign up for one of these classes, I would love to hear your thoughts after the class!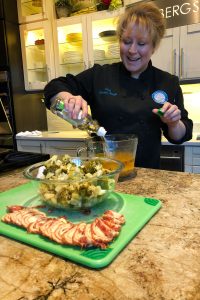 We had Chef Christie Maggi prepare all of the delicious food that we tried and it made me think back to my trip to Charleston. You just can't beat Southern cooking!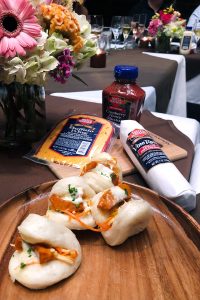 All of these recipes are inspired by Kevin Nashan, chef and owner of Sidney Street Cafe, using local St. Louis ingredients. We had a dinner at the Sidney Street Cafe before we had the Dierbergs Cooking School class. Chef Kevin Nashan really knows what he is doing! The photo above shows a Steamed Buns appetizer that we enjoyed with Cheddarwurst and red chili beurre blanc.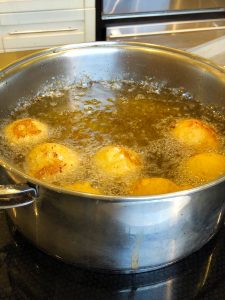 One of my favorite dishes (it was hard to pick just one!) was the hush puppies. Chef Christie Maggi folded in Dietz & Watson Baby Swiss Cheese into each one of these delicious hush puppies.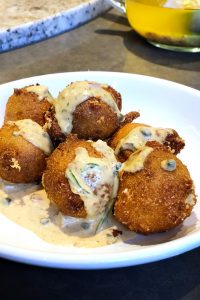 These hush puppies were served while they were still nice and toasty. They were topped with a Green Goddess dressing, which included Dietz & Watson Smoky Chipotle Mayonnaise.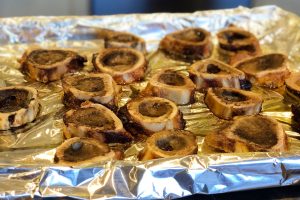 When I walked into the kitchen, Chef Christie Maggi had some bone marrow in the oven and it smelled so good, she used it for the Aïoli, which is a mayonnaise.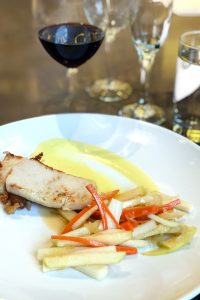 The Southern Fried Chicken with Homemade Tater Tots, Bone Marrow Aïoli & Kohlrabi Slaw was wonderful in taste and aroma. Dietz & Watson Southern Fried Chicken was sliced 1 inch thick in the deli, which makes this such an easy recipe to recreate at home for dinner!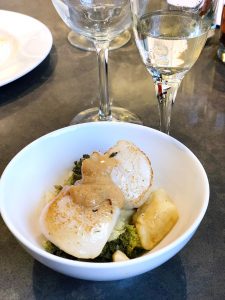 Next we had Roasted Scallops & Dietz & Watson Hot Salame Panino on Gnudi & Charred & Pickled Broccoli Ragout with Brown Butter Vinaigrette. Scallops are my favorite meal ever, so I was delighted to try out this dish that included some lovely Dietz & Watson products.
The Dietz & Watson Hot Salame Panino was thinly sliced and torn into pieces and placed at the bottom of the bowl. It was such a delicious surprise to find!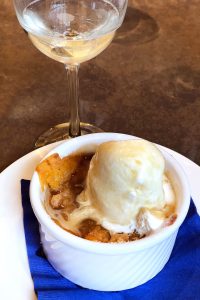 The dessert was a Peach & Apple Cobbler with Dietz & Watson Cheddar Cheese & Butterscotch Ice Cream. I had never had cheddar cheese used in a crumb topping before, but I am definitely making this at home after we go apple picking! You'll want to take this class, just to get this delicious recipe to make again and again this Fall! (And, Chef Christie Maggi used REAL Scotch in the sauce… yum!)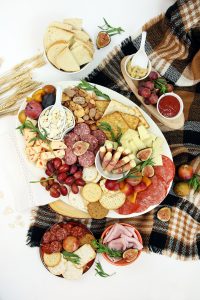 After taking the cooking class, I knew I wanted to prepare something for my family over the Labor Day holiday. I surprised them with a Fall Harvest Picnic Spread using Dietz & Watson products. My family loves picnic spreads, especially if it is a nice day and we can sit out under the pergola in our back yard while the adults eat and the kids play and eat (ha!).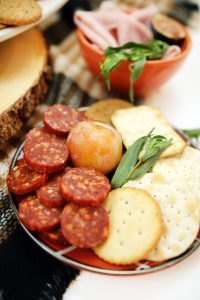 I added several Fall items to this picnic spread, such as:
Dietz & Watson cheeses, sliced ham, pepperoni, salame and salame sticks.
Dietz & Watson spreads (such as cranberry honey mustard and whole grain dijon mustard)
Fall Trail Mix
Pumpkin Seeds
Figs
Plums
Grapes
Herbs
Crackers/Bread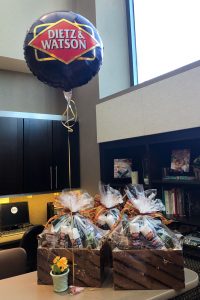 I was inspired by the Dietz & Watson 'A Little Bit Southern' cooking class that I took at Dierbergs School of Cooking. I plan to continue to pick up Dietz & Watson products when I'm at my local Dierbergs store. These products are fresh and flavorful and a better choice for my family. Definitely check out a Dietz & Watson cooking class, you'll be glad you did once you're introduced to Dietz & Watson products!