This post is sponsored by Red Dress Boutique. All opinions are my own.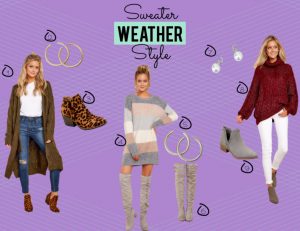 1 – 2 – 3 – 4 – 5 – 6 – 7 – 8 – 9  
Of all the seasons, Fall is definitely the best one for romance. Nothing beats cuddling under a soft fleece blanket around the fire pit while sipping hot chocolate with your special someone on a perfect brisk fall night. Check out our picks for some perfect date night worthy sweaters that are cuddle worthy.
Movie Night
It may sound a little cliché, but if you want to get close to your special man this Fall try planning a scary movie night. Not only will he definitely take you up on it (What guy would ever admit he doesn't like scary movies?), but we're sure he'll appreciate the chance to brag about how good he'd be in a Zombie Apocalypse. Play it cool at the theater this Fall and layer a long knit cardigan over a crisp white tee tucked into some tight hip hugging jeans. Don't forget to wear your new favorite kicks – these trendy leopard print ankle booties . Top it all off with some shimmery gloss and gold hoop earrings and get ready for some sparks to start popping. And no, we're not talking about the popcorn. 😉 
Happy Hour
Start the week off strong in a trendy and fab multi-striped sweater dress with knee-high boots. Not only is this a great look for impressing the bosses with your mad professional skills but it also looks great at happy hour or on the karaoke stage as you blow everyone away with your winning rendition of Shake It Off. Talk about a great first impression.
Picnic in the Park
A picnic in the park can be the perfect Fall date. Let the gorgeous autumn backdrop be your inspiration and treat your special someone to a low key (but super cute) park picnic for two. Keep things comfortable by wearing one of your new favorite cowl neck knit sweaters perfect for Fall. Not only will you look good pairing this gorgeous sweater with some skinny jeans and ankle booties, but you'll be cozy enough to  focus on those Instaworthy couple-selfies instead.
Keep things fun and flirty this fall and stock up on some stylish sweaters to get you through every date night scenario.