This post is sponsored by Amara. All opinions are my own.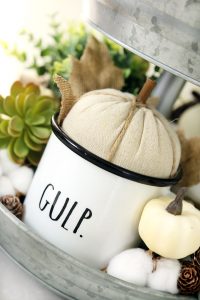 I am excited to finally start revealing some of my kitchen in a series of posts. Today I'm sharing the new serving area of the kitchen, where I used to have a buffet rack. The serving area gives us a lot more storage and also a place to set out dishes when we host a party. Unfortunately, we don't have room for an island in the kitchen, so this was the perfect alternative! It's a pretty big space, so it took me awhile to figure out how I wanted to decorate and shop for it. But, I'm finally done and I just love how it turned out. I want to thank Amara for sending me several pieces of their Luis White Tableware Collection to display on the glass shelves in the upper cabinets. This stoneware set is perfect for everyday use and is microwave/dishwasher safe.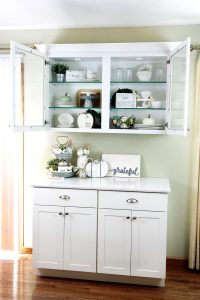 Shop This Post:

I have the glass doors on the upper cabinets open, so you can see how I decorated the shelves. I've included a photo at the bottom of this post with the doors closed on the upper cabinets.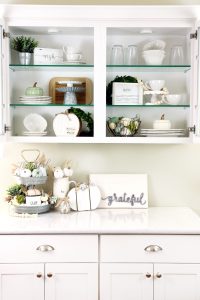 I had so much fun decorating this space, especially since it is the Fall and I got to add in some pumpkins, etc. Since our kitchen is a farmhouse style, I wanted to keep with the theme and decorate in neutrals with some pops of gold or natural greens. If I ever wanted to add a little color in the future, it would work great against the white color palette in the kitchen.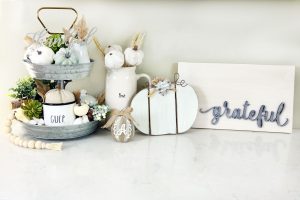 Shop This Post:

Palette Pumpkin  Monogram Pumpkin  Wooden Bead Garland with Tassel
I really wanted a two tier stand and I found THIS one off of Amazon at a great price. It even spins! I found a neutral pumpkin filler for it with some greens and added some kitchen items, such as a Rae Dunn mug (I am starting to collect her items!), a creamer and sugar holder and a metal 'Thankful' phrase. You'll also see a Rae Dunn milk vase, some more pumpkins and the 'grateful' sign I made at Haven in a Rustoleum staining workshop.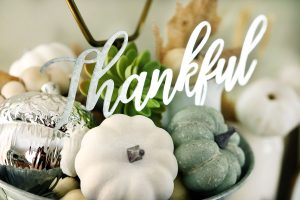 I really love this metal 'Thankful' phrase. I mentioned in my Friday Five post that I had seen someone mention that they had found a pack of 3 metal word phrases at their local Dollar Tree and I was hoping to pick some up for my kitchen decor. Well, after visiting two separate stores, I couldn't find them. A kind lady that follows me on my Instagram Stories offered to send me a pack for free that she had recently found. She also shipped it out to me for free! I decided to pay it forward and I had a $10 Starbucks Giveaway that I announced on my Instagram Stories and one of my lucky followers won it. It is so great to pay it forward and to cheer up someones day. 🙂 
Shop This Post:

Decorating this 2 tier stand will be so fun from season to season! I'm already thinking of ideas on how I'll decorate it for Christmas.
This is what I decorated the two tier stand with:
Neutral pumpkin mix (Found the mix at Hobby Lobby. I loved the mix so much that I bought 3 boxes of it, but they were 50% off!)
Cotton
Mini birch logs
Mini wicker potted plant
Sugar and creamer vase
Burlap leaves
Mini pine combs
Drop cloth pumpkin
Mercury acorn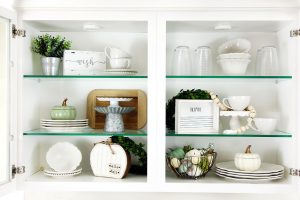 Here is a close up of the upper shelves. When planning out the kitchen, our kitchen designer suggested glass shelves instead wooden shelves inside the upper cabinets. I love how they look! I don't have the lights on in these photos, but when we turn the inner cabinets lights on, the light looks so pretty reflecting on the glass shelves!
Decorating Tip: When decorating the shelves, I took measurements before leaving the house and I brought a tape measure along with me when shopping. I looked on Pinterest for some ideas and wrote a list of items that I'd want to shop for in the store. This included mini potted plants, pumpkins, mini signs, etc. I shopped at several different stores to find a variety of items for these shelves and the rest of the kitchen. I had to make a few different trips to get items that I didn't get the first time, or to find items to fill spots that were still empty. It took a lot more time than I thought it would, but I love the end result! Since I have a lot of everyday pieces, it won't be as difficult to remove the Fall items and replace them with Christmas items or more everyday items.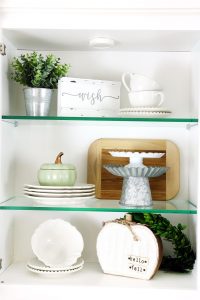 The Luis Stoneware items from Amara fit in perfectly with the farmhouse style theme for the kitchen. The simple textures from the raised dotted edges, and simple edging on the plates and bowls worked easily with the other pieces on the shelves. I started with placing the Amara pieces on the shelves first and then I decorated around them. Cake stands, wooden cutting boards, etc. all make nice functional kitchen pieces that you can add to these shelves, yet they still look decorative and visually attractive!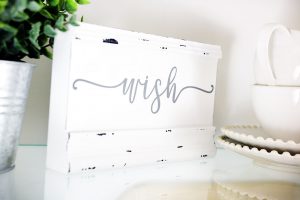 Decorating Tip: Have fun mixing textures and colors, such as metals, wood, fabric and greenery on the shelves. It gives the space a lot of visual interest.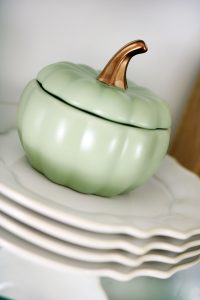 These pumpkin ceramic bakers worked nicely with the Luis Stoneware plates. They act as a decorative piece here, but they're also functional and can be used as a bowl for a hot soup, chili, etc.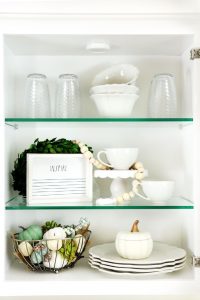 I tried to mix and match items from one side to the other, such as a pumpkin on the right side and another on the left side (same with the green wreaths, cake stands, etc.).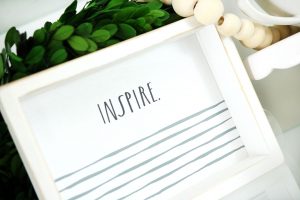 Simple signs with inspirational quotes or words always make great fillers, such as THIS Rae Dunn sign.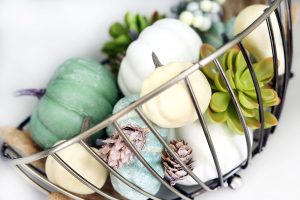 You'll see that this basket is filled with the same pumpkin filler that I used on the two tier shelf. It helps to repeat elements and not to use something completely different. It is easier on the eye.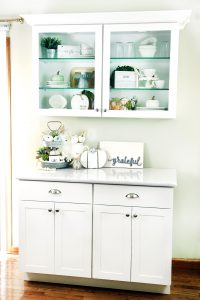 Shop This Post:

Here you'll see the serving area with the upper cabinet doors closed. I am really enjoying this new space in our kitchen and the bottom cabinets store a lot of items, such as my Kitchenaid mixer, crockpots, etc. We also have an outlet by the countertop on this wall, but it's behind the 'grateful' sign.
I hope you enjoyed my first kitchen reveal post! I am currently working on a Fall Kitchen Tablescape post that I hope to have up NEXT week! 🙂 Then, I'll be sharing an entire Fall Kitchen Reveal post in October. I am just waiting on a rug for under the table and some new curtains for the space. Otherwise, I 'think' it is done! 🙂
Be sure to check out Amara for a huge selection of kitchen items, including the gorgeous Luis Stoneware items I shared today. They also sell a lot of home decor items. I've worked with them a couple of other times in the past HERE (Outdoor Living Space & New Serveware Collection) and HERE (Sprucing Up a Bathroom with Gorgeous Accessories & Towels), so be sure to check them out.