Happy Friday Everyone!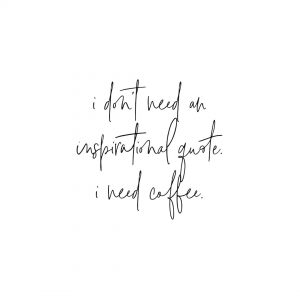 Hey everyone! I try to do a Friday Five every other week, but I missed the last one… I honestly couldn't think of anything to write about. Does that ever happen to you? Sometimes life is just the same ole same ole. Well, I DO have a lot to write about today! 🙂
One – Anniversary Celebration with Brian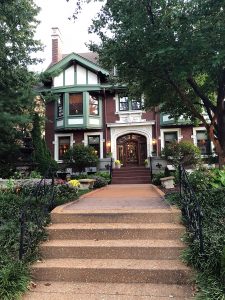 Our wedding anniversary fell on a Saturday this year and I knew I wanted to do something special! We decided to stay in town and stayed two nights at a charming bed and breakfast close to St. Louis City in Tower Grove. We would definitely stay here again, we loved it! The name of it is Fleur-De-Lys Mansion and we stayed in the Tower Grove room, which included a jacuzzi. We definitely indulged in the jacuzzi the second day, it was so nice! I took SO many photos of our weekend away and shared most of them on my IG Stories, which you can find the Fleur-De-Lys Mansion Highlight HERE under my Instagram profile. I'm just going to share a few photos here in my post to keep it short and sweet. We would definitely stay at this bed and breakfast again!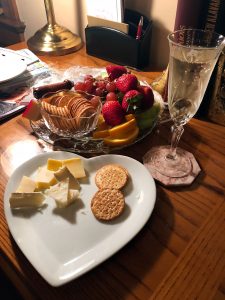 Upon arrival, we had fresh fruit, cheese and champagne waiting for us. The fruit was really fresh and sweet! We paid extra for this service.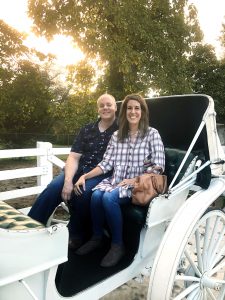 Through the bed and breakfast you can book a historic carriage ride in the Tower Grove park and this is just what we did on Saturday. We booked an hour long carriage ride and it was so relaxing and we even got a lot of time to pet the clydesdale before and after the ride.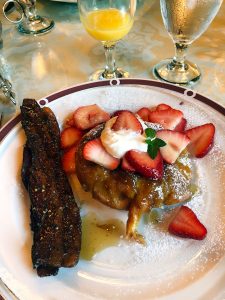 We had breakfast each morning at a table of two in the dining room. You can watch my IG Story Highlight to see the other courses and the breakfast from the first morning. This was the breakfast on the second day and it was stuffed caramel french toast topped with strawberries, sour cream and bacon. WOW. The bacon was DELICIOUS! Really sweet and crispy! It was THE best bacon I've ever, ever had. So good.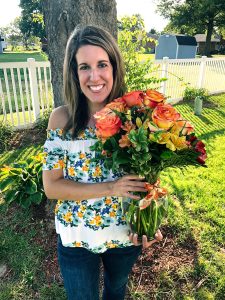 Brian got me this beautiful bouquet of orange roses mixed with some other flowers. So pretty! I am a lucky girl to have him as my husband, he gives me so much love and spoils me! 🙂 I was really sad when our little getaway was over… it is always so fun to have him to myself for an entire weekend without any interruptions! 🙂
Shop this post:

Oh, and if you want to know what Brian wanted for our anniversary… a doorbell. Yes, a doorbell! Lol! But, it is actually REALLY cool. It's the Apple Ring doorbell! It has a video on it and a speaker! Brian is always talking to me on it when I go outside to water the flowers on the porch when he's at work! He thinks he is pretty funny. Ha! 😉 So, if you're looking for a cool gadget for your husband or significant other for the holidays, get him a smart doorbell!
Two – Amara's Thanksgiving Table Setting Ideas
Shop the post:

Amara was kind enough to ask me if I'd let them share two of my photos from my Fall Decorated Serving Area and Fall Decorated Tablescape on their Thanksgiving Table Settings Ideas. Be sure to check it out, there are so many photos to inspire if you're planning to host this Thanksgiving.
Three – Almost Done Decorating the Kitchen!!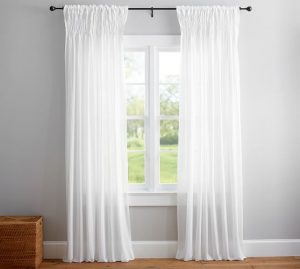 Shop this Post:

After this weekend, I should be D-O-N-E decorating our new kitchen for the Fall… which, it's almost time to start thinking about swapping out the Fall stuff for Christmas stuff soon, but at least it'll be quick and easy next year! Ha! I'll be sharing a FINAL REVEAL post of the kitchen before the end of this month! I can't wait! I just needed some odds and ends to finish it off. I ordered new curtains for the kitchen and family room (it's an open floor plan) and they match. I went with these White Smocked Sheer Drapes from Pottery Barn. I just LOVE the smocked detail on the top!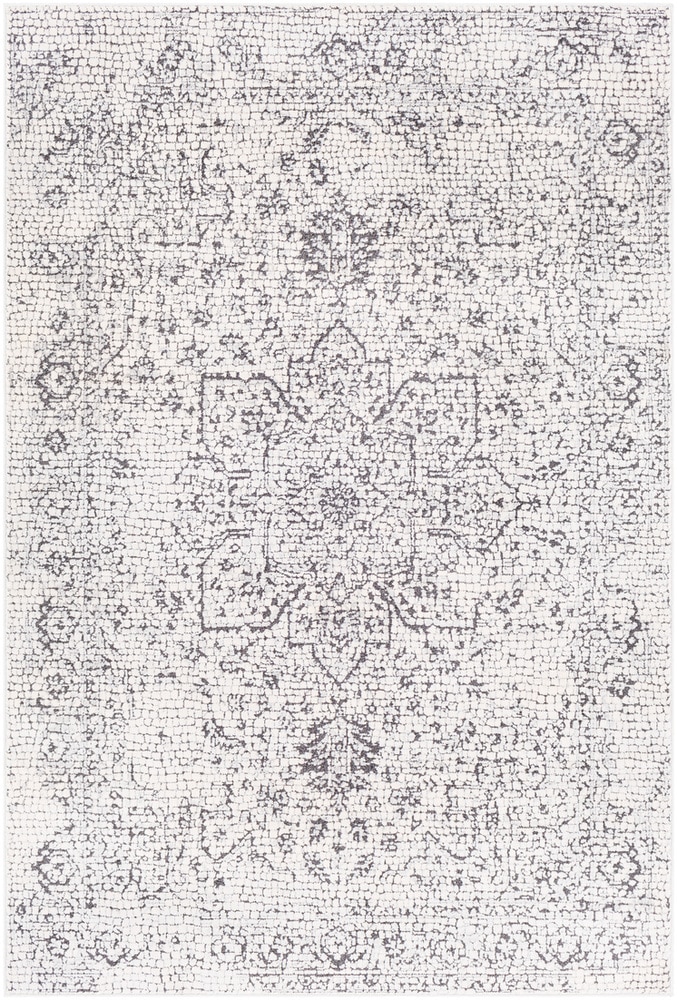 I also got our first rug ever for under our kitchen table. I think the kids are (finally) pretty clean eaters. Ha! I went with the Venezia VNZ-2309 Area Rug from Boutique Rugs. They have the NICEST rugs, y'all! And, they are always running a 40% off sale on them. What I love about this rug is that it is neutral and it looks like it has a knobby texture, but it is smooth! Their customer service gets an A+, because this rug was sold out and they ordered one for me and I still got the discount!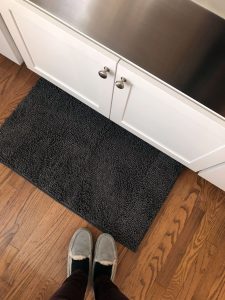 Shop this post:

I ordered 3 of the Super Sponge® 21-Inch x 34-Inch Entryway Mats in Charcoal (it comes in other colors) from Bed Bath and Beyond and I LOVE them!!! Love!! They are super soft, have a rubber bottom and stay put. Plus, they can absorb water, collect dirt, etc. I got one for the floor by the kitchen sink, for the inner entryway to the garage and patio door. The charcoal color works well with the colors in the kitchen and family room.
Four – My FIRST Jury Duty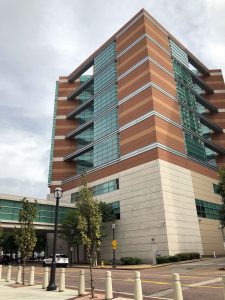 I had to do Jury Duty for the first time ever on Monday and it was quite the experience. I had to be checked in by 8:15 a.m. and you're in this huge room with rather comfortable chairs with all of the other jurors. Periodically, a plaintiff would come in and call random names. This happened 3 times and the first plaintiff called 50 names, the second one called 42 names and the third one called 50 names. Luckily, my name was not called… If you're called to be on a jury, it could be a few days, a week… or more. I just don't have time for that right now in my life! But, if you get picked… you have to do it!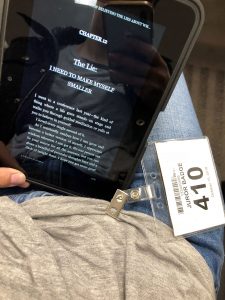 I spent all morning reading my book, editing photos for my Thursday Fashion Files blog post… and then we got a 2 hour lunch! Yes, a TWO hour lunch.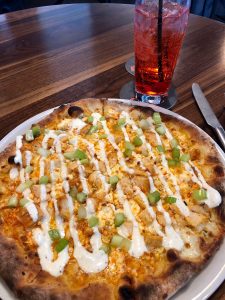 I landed up walking to a new to me pizza place called Peel Pizza and I ordered a buffalo chicken pizza (it was really good!) and a Shirley Temple. Ha! I love cherry soda drinks, it reminds me of a cherry lLimeade. After I ate the pizza, I walked over to Starbucks and had an iced pumpkin spice latte! I had so much time to kill and the last thing I wanted to do was sit in the room any longer than I needed to! When I got back to the room, I sat there for another 20 minutes and then they dismissed ALL of us. They said there wasn't anymore trials that day or the next. If there was, we could have landed up coming back on Tuesday to sit and wait to possibly be selected again. On Wednesday, they bring in a whole new set of jurors. I REALLY lucked out! I was back home by 2:30 p.m.!
Five – Fall Clothes Shopping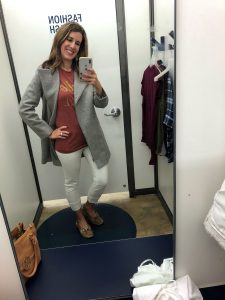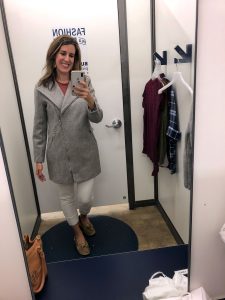 Shop this post:

Every Fall and Spring, I like to physically shop at Old Navy and the outlets. At the outlets I usually hit up Gap, Banana Republic and J. Crew. At Old Navy, I found this grey coat that I purchased. I'm pretty sure I'm going to keep it, I need a new winter coat! It's heavy, but not too heavy. I don't like super bulky coats!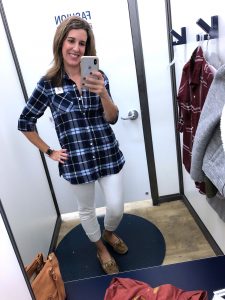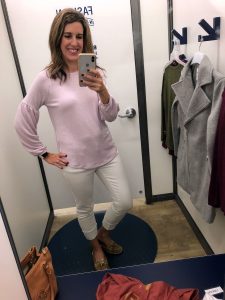 Shop this post:

Old Navy had some nice tops! I purchased this tunic length (that's what the tag said) plaid shirt in blue and it has a thin pink pinstripe. It'll be cute with a pink cardi layered over it! I also got this soft pink balloon sleeve top, which looks pretty awesome with my grey denim (I have white denim on with it here, though).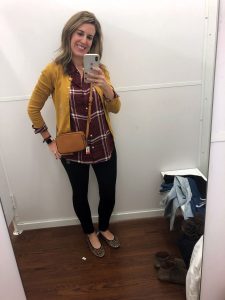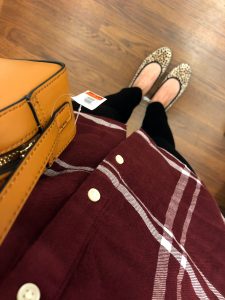 I also got this burgundy plaid top at Old Navy and I LOVE it. Isn't is cute with this mustard colored cardi I found at Gap Outlet? I purchased the cross body bag and the leopard flats. I have a pair of leopard flats from Target and they are SO uncomfortable! They are 3 years old. These leopard flats from Gap Outlet are SO comfy and they're even a little furry to the touch (like real leopard hair! ha!).
I found some black leggings at Gap Outlet and I bought TWO PAIRS, because I love them so much. They're stretchy and form fitting like leggings, but they have thin pockets on the back and a button and zipper like a pair of jeans! I plan to wear a lot of tunic tops with them, so no one will see the back pockets. I'm wearing them in the two photos above. Gap Outlet always has THE BEST denim/pants, etc.!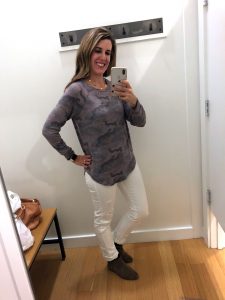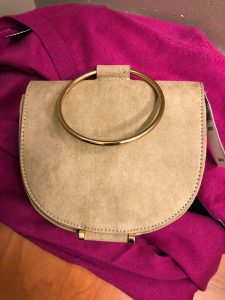 Shop this post:

I went into American Eagle Outlet and I HAD to have this super soft (feels like butter) camo top and it even has a touch of pink in it! It's so cute with a pink lippy and my pink Kendra Scott earrings! At Banana Republic I got a couple of tops and this bag with a ring handle! Which of all of these pieces are your faves? I'd love to know!
SaveSave
SaveSave