Today I'm sharing a collaborative article, Small Bathroom Lighting Ideas, these tips will help create the illusion that your bathroom is larger than it really is!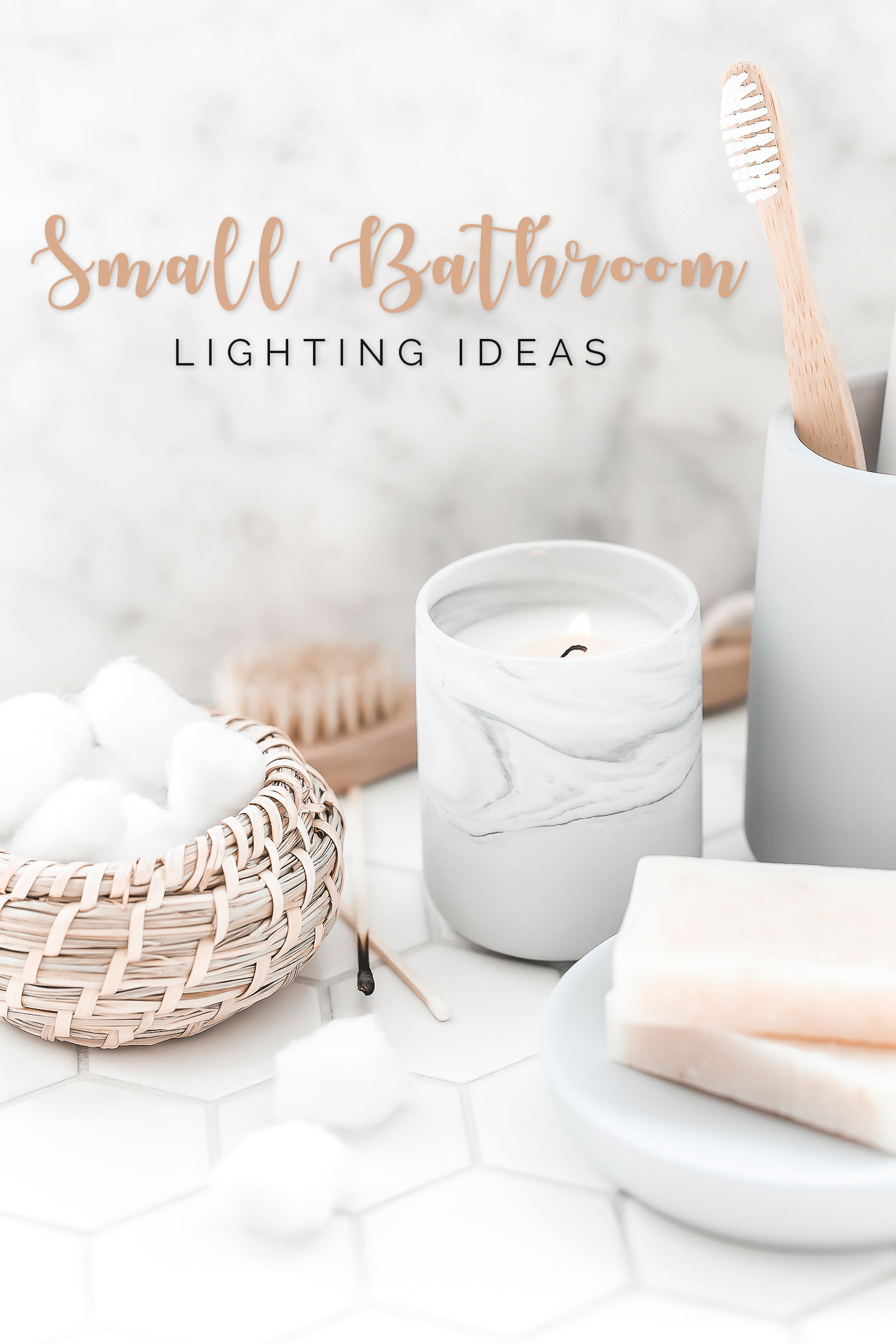 If you were to think of a comfortable space in your house, the bathroom is probably not the first room to come to mind. Especially if your bathroom is small. However, with the proper lighting technique you can take a tiny bathroom and turn it into a spacious retreat. The colors you choose and the fixtures you install play huge roles in expanding the space. Know your bathroom layout. Add storage space and clearing the area of anything that protrudes will also help. So, your bathroom doesn't have to actually be big, but following these tips will help you create the illusion that it is.
Using Lighting to Increase Bathroom Size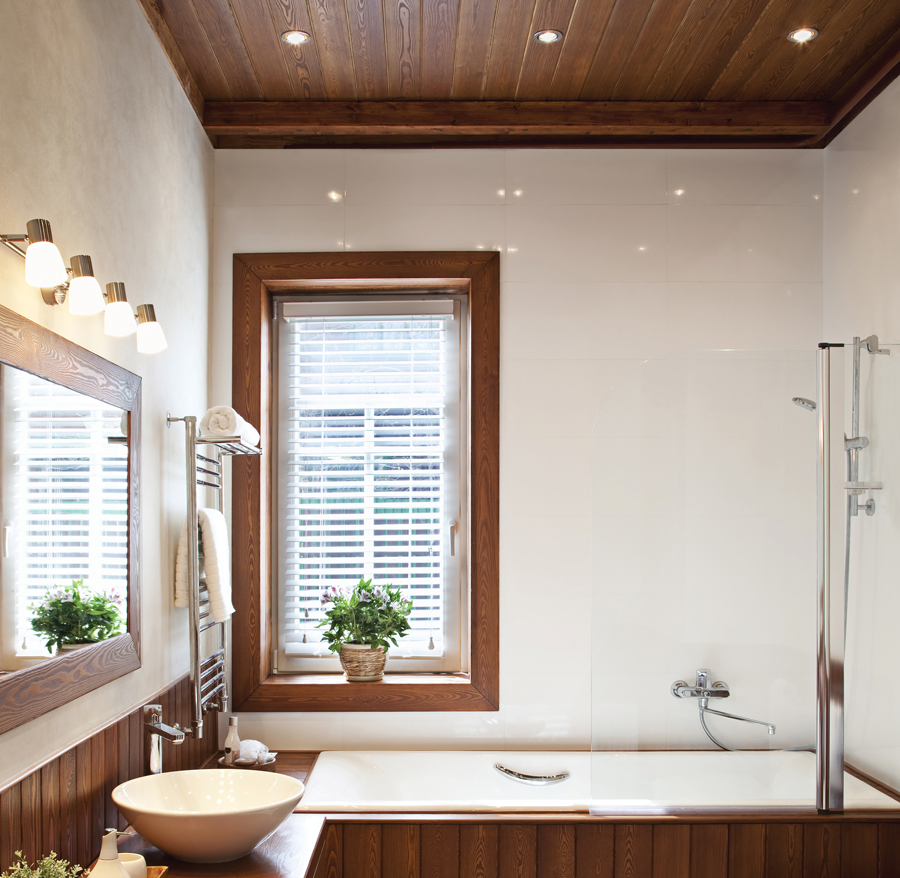 Photo Credit: LED World
If you have any dark areas in your bathroom, illuminate them! Darkness will crowd the space. Open it up with proper lighting, especially in the corners of the room. Create a functional space and personalize it with ambiance. 
Lighting Mirrors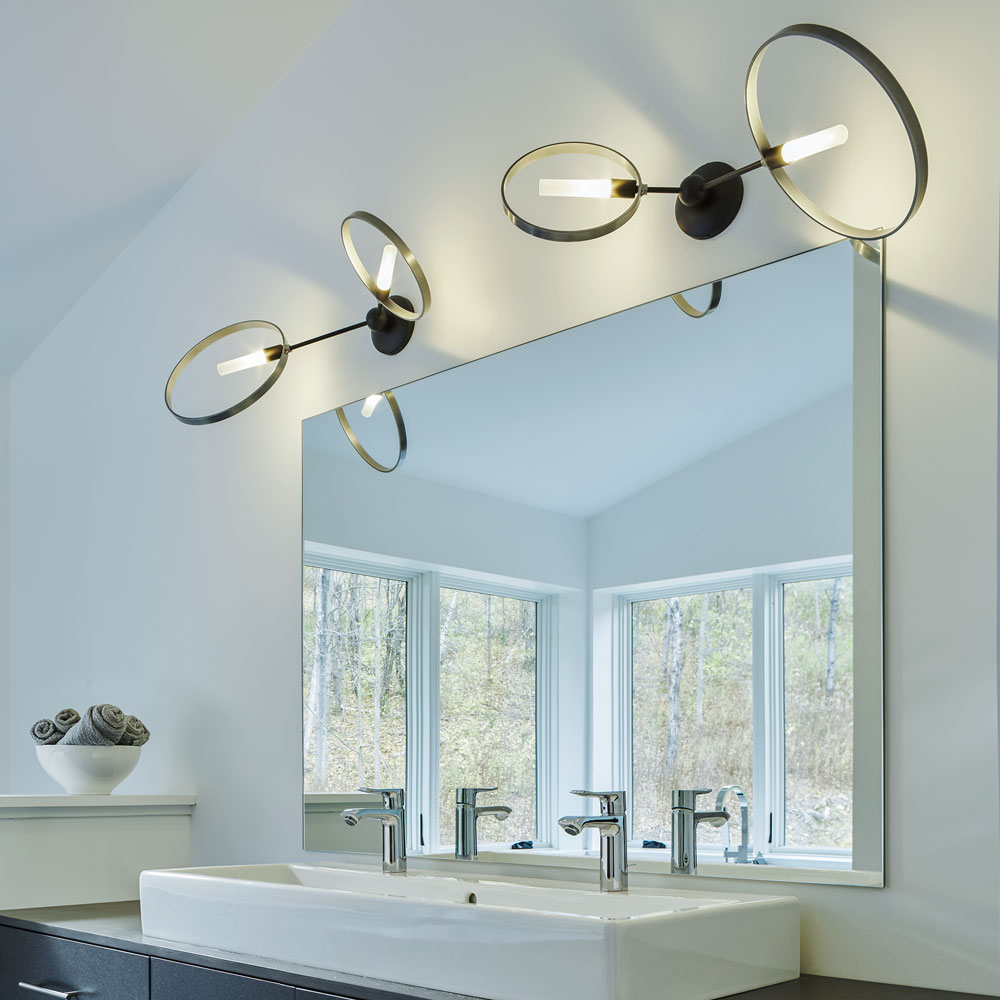 When performing tasks in front of a mirror, such as shaving or applying makeup, people tend to use ceiling light as a source of lighting. However, ceiling lighting produces ugly shadows on your face, making it difficult to utilize the mirror. A better alternative is to install lighting on top of your mirror or in front of it to create task lighting. Another option is to use two lights, or sconces, on either side of the mirror. This creates cross illumination which removes the shadows and allows for easier personal grooming. If you want to make the ceiling appear taller, then up-light the ceiling by directing light up with sconces. You can also use makeup mirrors with light stripes that turn on when you need additional light. Keep in mind that the lighting technique that you use will depend on the size and shape of your mirror.
Under-Cabinet Lighting
Another way to increase space is to illuminate areas in the bathroom that are the difficult to light, such as under cabinets, shelves, and counters. An area that is dark could serve as a functional space given the proper lighting and increase your bathroom size at the same time. Placing tape lights under cabinets is a great solution for brightening up those spots. The great thing about under-cabinet light is that they are also hidden so they don't clutter the area.
Ceiling Lights
When you want to light up the entire room, you typically use ceiling lights because the place will feel spacious. Stay away from large bathroom fixtures because they will only contribute to clutter. Instead, go with a flush mount ceiling light with a white frosted diffuser to evenly spread the light in the room. Choose a simple lighting fixture that will easily blend in with the room. However, if you do opt for decorative lighting then are a good option pendants. Add a single pendant which has one light and hangs from a chain. Or perhaps a modern-looking bowl pendant that hangs from a series of chains would suit the room better. If you prefer an ornate style then go for multi-light pendants, an alternative to small chandeliers.
Since a ceiling light is usually the primary light in the bathroom, people tend to use it as task lighting which cause unflattering shadows. Placing the light between you and the mirror, rather than behind you to eliminate that problem. Now, you will have ample light that will open the space and provide enough illumination for personal grooming. 
Recessed Lights
If you want to prevent glare and create a certain mood in your bathroom, then recessed lights are ideal. These fixtures allow you to direct the light to where you want to illuminate. The great thing about recessed lights is that they are hidden so they don't crowd the room. If you add a dimmer above the bathroom you can easily maneuver around during late night visits or create the ambiance you want. To brightly illuminate the space, recessed lights with halogen bulbs does the job. Another option is to go with low-voltage bulbs which produce subtle, soft mood lighting that won't distract you from accent lighting or cause glare. But you can also use recessed lights for creating that accent lighting on architectural features! Make a focal point in your the shower or bath for any features you would like to draw attention to. Install them in the ceiling and produce the same effect without taking up extra space.
Natural Lighting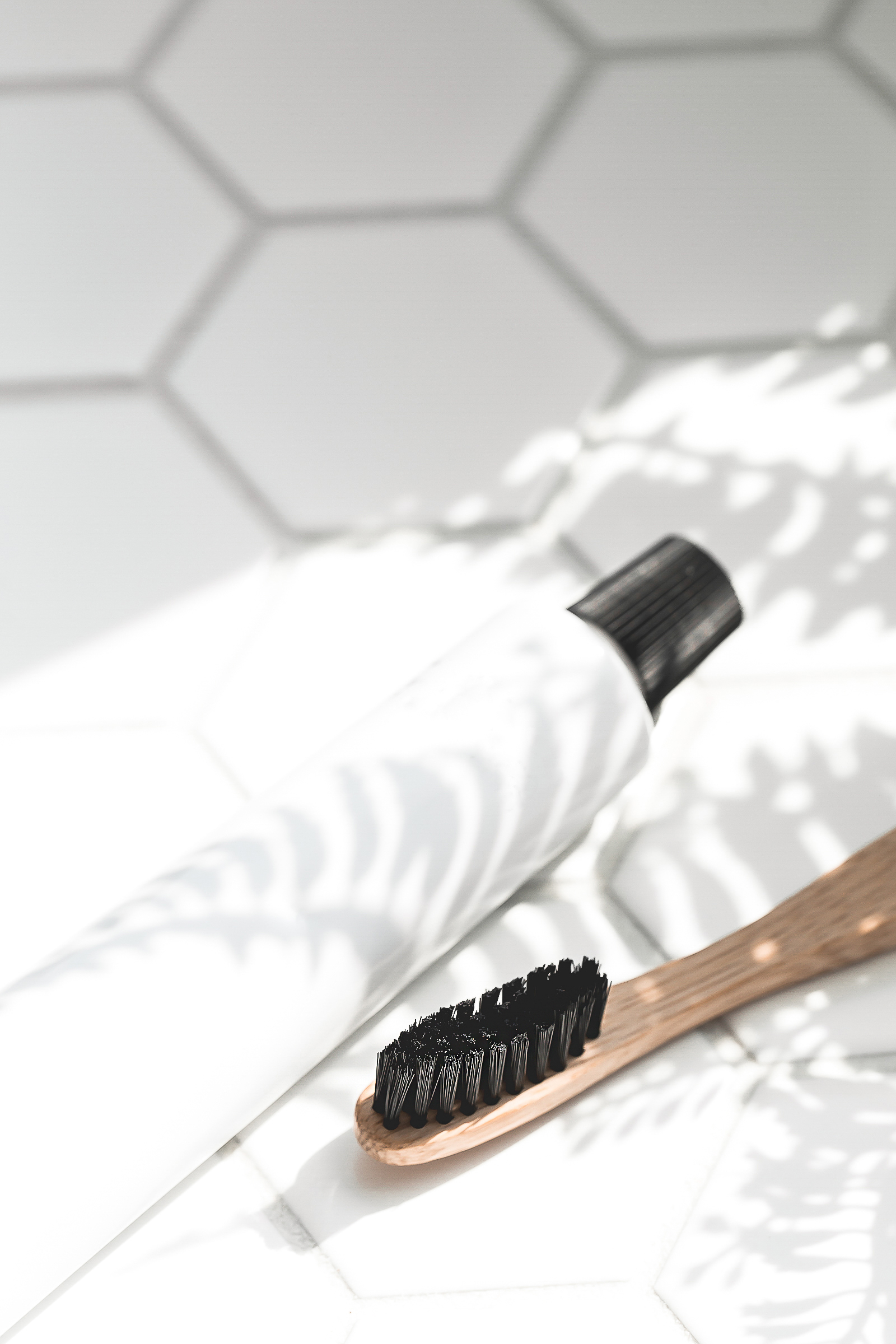 Rather than opting for lighting fixtures, you can utilize the natural light that shines into the bathroom. Natural light adequately illuminates the room and expands the space. A window basically becomes a wall when you don't use it for light, making the area seem smaller. If you have a wall across from the window, try hanging a mirror from it. Place curtains sheer panels to cover the windows, or frosted glass for privacy.
Choosing the Right Color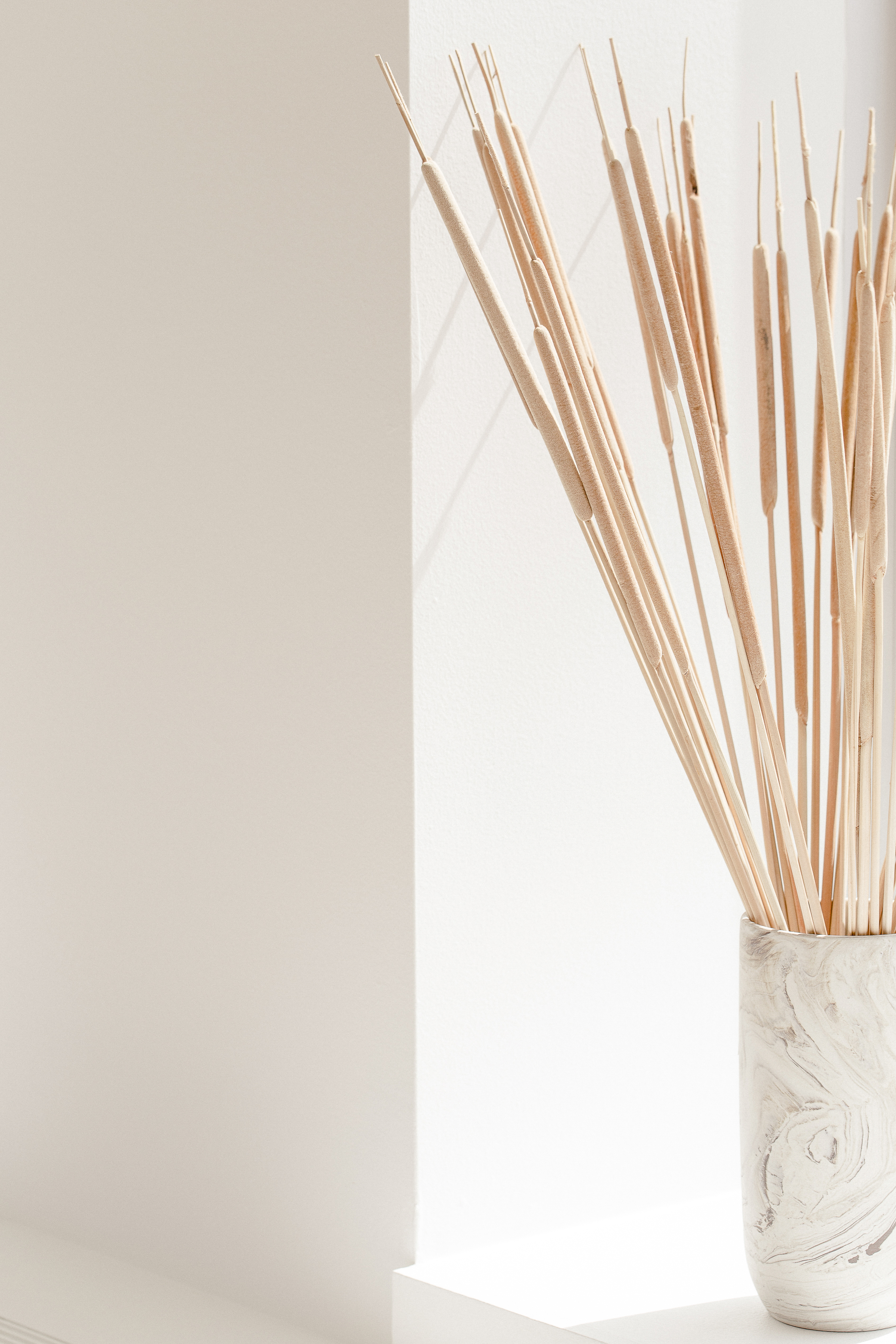 Color has a significant impact on the size of the room. Going too dark or using too many colors will make the space feel crowded. Light colored tiles or bathroom walls will help prevent that. Don't use more than two paint colors and avoid patterned fabrics. Adding more colors will make some features stand out and cause the bathroom to seem smaller. 
If your ceiling is oddly shaped or has angles, paint the ceiling the same color as the walls. Be sure to go one shade lighter for a flat ceiling because it tends to look darker than the walls. Keep in mind that if you do use tile walls, they should go all the way up to the ceiling. That way, your eye will be drawn there, making the ceiling look higher.
Another tip is to use wall art. Pictures of landscapes on the walls will give it dimension. To create dimension to the ceiling use a painting technique called trompe l'oeil for that optical illusion. A perfect example of this technique is painting a sky on the ceiling. It will open up the space and provide a unique look. Make sure that dark paint colors have a glossy sheen so that it will reflect the light. This trick will make the bathroom more spacious.
Bathroom Layout
Creating Storage Space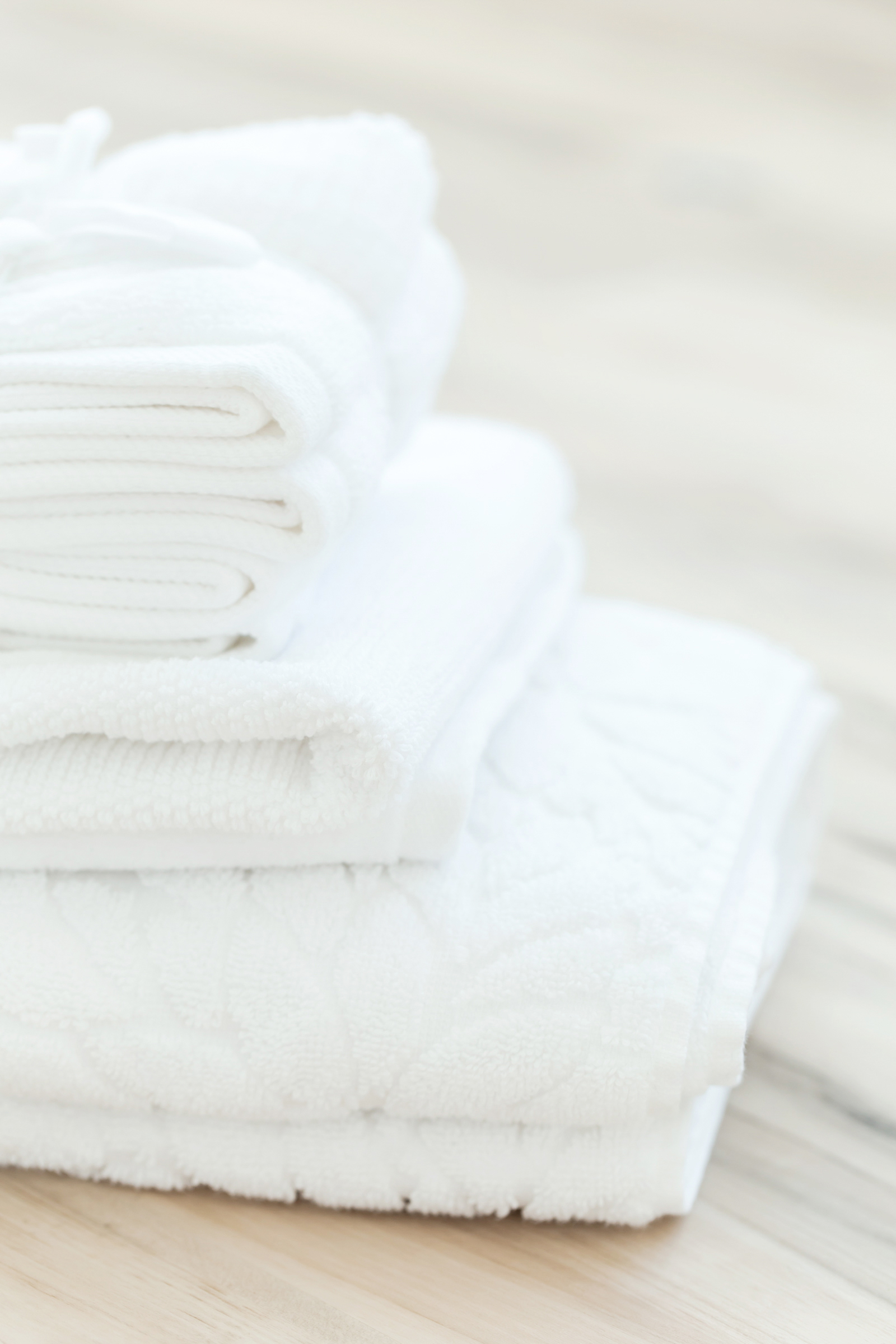 Make storage space from any nook, recessed medicine cabinet, or shelves. Note, that a recessed medicine cabinet should be about 4 inches deep for storage. Put a long medicine cabinet behind the door. Any protruding closets made from sheetrock walls with a door of the same height should be removed. Perhaps build a linen closet that is smaller in size and resembles furniture instead.
Although it's best to not have protruding walls, a mirrored bathroom cabinet with a light that comes out of the wall is an exception. The mirror will serve both as tasking lighting and storage. Installing a vessel sink on a floating countertop to make room below it. If you want to take a unique approach, hang your toilet and cabinetry from a wall.
Eliminate Visual Barriers
Anything that sticks out from the wall is going to impact the size of the space. Remove towel bars fixed to the walls and put them on the back of the door. Install built-in toilet paper holders and magazine racks. Rather than having shower curtains, install clear glass. If have a shower stall try replacing a wall with glass so you can create a transparent enclosure. A swinging door or pocket door that slides into the adjacent wall and disappears will remove any barriers that will shrink the space. If you don't want glass doors, then replace them with clear shower curtains which will still let light in. Also make sure that your bathroom doors open towards the wall and not the toilet. If the area is rectangular, place the tub or shower on the far wall to open up the space. Keep in mind that counters, window sills, and shelves should all be clutter-free to avoid a cramped area.
Making your bathroom bigger requires different techniques. Think about your lighting and whether it is providing optimal illumination for the room. Go for colors that will keep the room bright even if there is no sunlight shining in. Look for areas in the room that can be converted into storage space or make it functional. Nothing should be jutting out from the wall that would get in your way and tighten.
Even if your bathroom is small, once you try these tips you'll be amazed at the results and have a sanctuary that you'll love!