This post was sponsored by No Yolks as part of an Influencer Activation for Influence Central and all opinions expressed in my post are my own.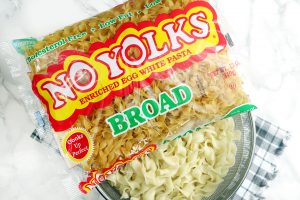 My family has been on a big noodle kick lately for dinner this fall. Today I'm sharing 5 Reasons Why We Love No Yolks Noodles for Dinner. I'll also be back in a couple of weeks to share an easy yet delicious No Yolks noodle dinner dish that is a hit at our house!
Enter the No Yolks® Sweepstakes
Prize: Five (5) $100 gift cards
Dates: October 3 – November 15, 2017
I-C will randomly select 5 winners from all program entries and will facilitate fulfillment of the winning prizes.
5 Reasons Why We Love No Yolks Noodles for Dinner
1. No Yolks Noodles are a Healthy Egg Noodle Alternative.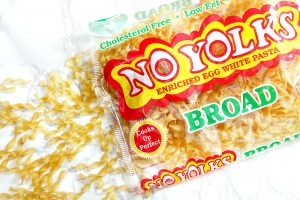 No Yolks are made from egg whites and have no cholesterol. I have been trying to feed my family healthier foods during the week and I am glad that No Yolks are low in fat and sodium. Plus, I've found that the flavor and texture of these noodles is a higher quality and just can't be beat.
2. No Yolks Noodles are Versatile.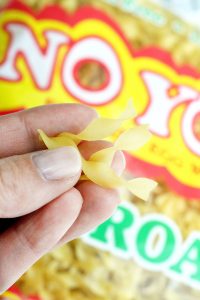 No Yolks noodles work with a variety of dishes, such as casseroles, soups (French Onion and Miso), stroganoff and more! You can even create new and unexpected dishes, such as Sriracha Cheesy Noodles and Noodles with Kale and Walnut Pesto. I have been using them in a lot of fall dishes lately, but they are also delicious just plain with butter or cooked with a few simple ingredients.
No Yolks come in a variety of cuts for all types of recipes including Broad, Extra Broad, Fine, Kluski, Dumplings, and now Stir-Fry.
3. No Yolks Noodles are Easy to Find.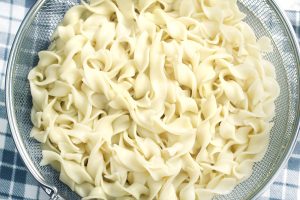 You don't need to go to a special store to find No Yolks. You can find them at your local grocery store. While you're there, don't forget to use this coupon to get .50 cents off!
4. No Yolks Noodles are Easy to Prepare.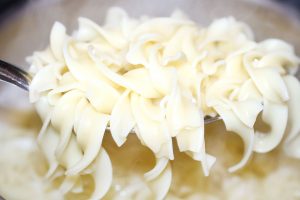 No Yolks are a total game changer, because they are high quality noodles that always cook up smooth, firm and fluffy and stay that way in your favorite recipes. If you leave them boiling in the pot for too long, they'll still be perfect. Trust me, this busy mom knows and trusts the convenience and reliability of this brand!
5. No Yolks Noodles are Family Friendly and Taste Good!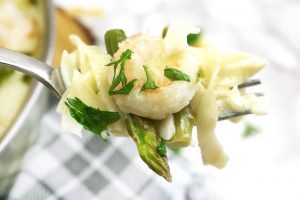 My kids are super picky, but they never turn down noodle dishes. My daughter loves noodles plain with just butter and some peas thrown in. It doesn't take a lot to please kids if the source of the food, such as the noodles are high quality. These noodles always put a smile on my kids faces and they make me happy, because they are quick to prepare!  
What are some of your favorite noodle dishes?
SaveSave
SaveSave
SaveSave
SaveSave
SaveSave
SaveSave
SaveSave
SaveSave
SaveSave