I decided to take the kids to see the Easter bunny at the mall last night, because I didn't want to take them the last Saturday before Easter! We got there 10 minutes early and there was no line, but a mob of people came in line behind us in no time. The Easter bunny was 10 minutes late but when he came down the escalator, Nathan was excited!
I did a Pottery Barn Kids First Year frame for Nathan with a wallet sized photo for each month of his first year and I purchased the same frame for Autumn and so I need a wallet photo of her for each month. So, we did a photo of just her with the Easter bunny and then a photo of the two of them with the Easter bunny.
My…it is hard to get the both of them to focus at the camera at once! Nathan looks scared and Autumn is looking away. lol. But I still love it! Heck, what do you expect for an Easter bunny picture? Autumn's picture by herself is adorable and she even looked at the camera! Yay!
Anyway..just wanted to share!!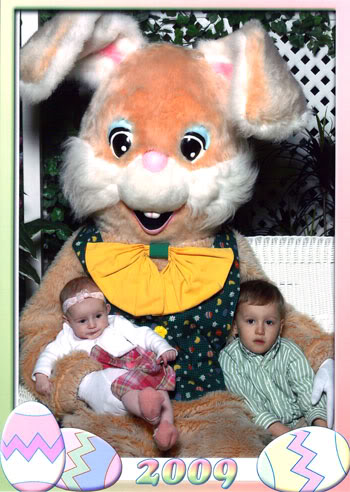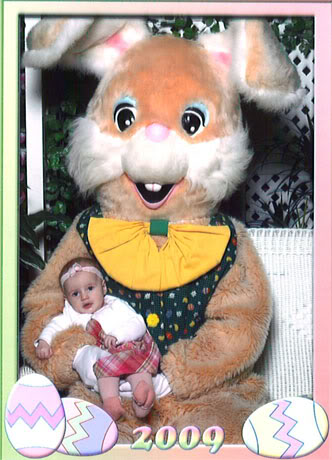 And, here is a blast from the past…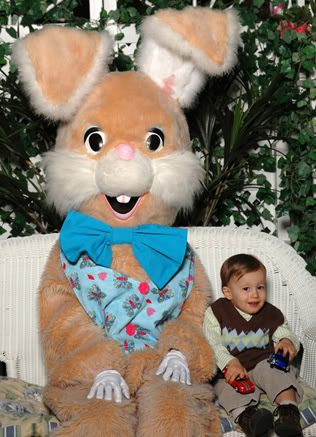 Last year (2008), Nathan is holding 2 cars that Uncle Jeff had bought for him! He couldn't part with them, not even for the picture!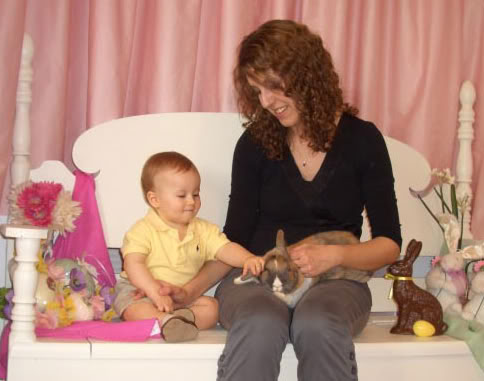 This was done at the White Rabbit, a store off of Manchester and Nathan got to pick a bunny from several cages and get his photo taken with it. We had adopted 2 bunnies from this place and cared for them until I had Autumn. Its the House Rabbit Society. They do so much for these poor homeless bunnies. I also had his picture taken with the Easter bunny at the mall but will need to scan it.