Today we had Nathan's birthday party with family and close friends at the Whittle Train store in Valley Park, MO. Our Parents as Teachers lady told me about this train store and how they have many large train tables set up for the kids to play on and that they also host birthday parties. Since Nathan is on a major Thomas the Train kick, I thought this would be PERFECT for his 3rd birthday party. Plus, it is so nice that I did not have to clean house for 23 people with a tornado (Nathan) and Miss Clingy (Autumn) living in my house.
Before we even left for the party, my friend Gail stopped by the house unexpected and brought Nathan two of the double decker Thomas trains (one is the zoo train and the other has a 3 for 3 years old on it), and one of the tag along Thomas airplane's. And, get this! The airplane's name is Jeremy like my husband's name… Gail said she couldn't resist buying it! Gail did not RSVP for the party so it was so sweet of her to bring by a gift for Nathan. I was not expecting her and opened the door with a naked Autumn in my hands because I was about to put her in the tub! lol! I am so lucky to have such sweet friends that I have known since high school- they are always there for me! I met Gail through my high school friend Becky, then Becky and also my friend Terri came to the party. NONE of them have kids (some may soon, though!) and they always come to all of Nathan's parties if they can. So, it means a lot to me that they carve out time for the special moments in my life and whenever they have kids I will be going to their parties and spoiling them back! lol!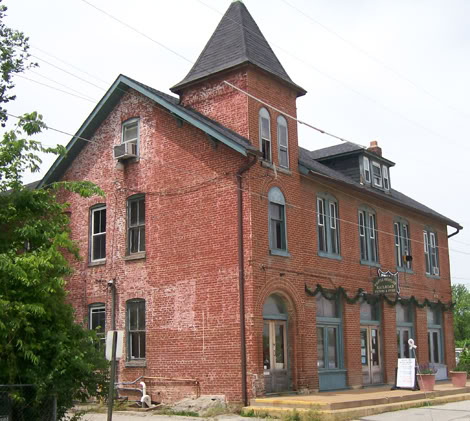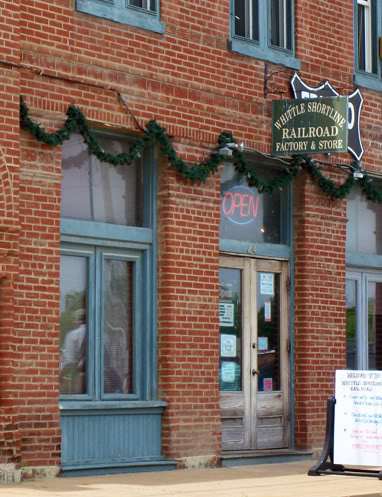 Here is the outside of the Whittle Train Store which also used to be the factory for the Whittle trains that they sell inside the store. My brother also told me that this building used to be a hotel for people that rode the train many years ago. I work in downtown St. Louis and I have really become fond of old and rustic buildings that have been restored into condos and restaurants. I never realized this old train building excisted in the heart of Valley Park, MO! There is just something special about walking through a building that is a piece of history and seeing the old architecture and artifacts of what it used to be…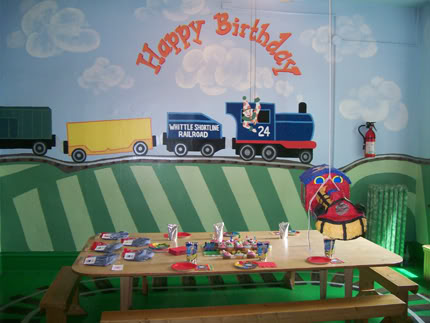 The party rooms were upstairs and downstairs is the general store. We had two rooms for our party, a party room for the cake and presents and then a train track room. Here is a picture of the party room with Nathan's cake on the table and bright colored murals painted on the walls. So pretty!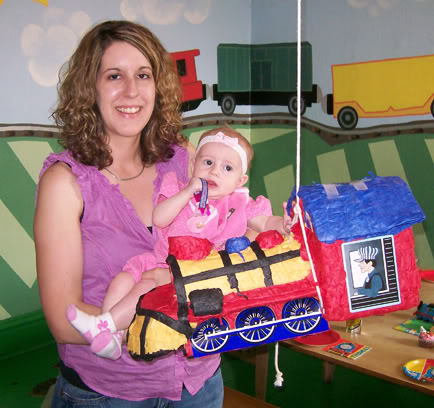 The first activity that the kids did at the party was a pinata! Here is a picture of me standing next to the pinata with Autumn before the kids tore it apart.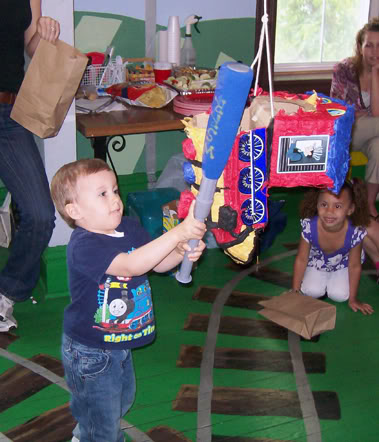 Nathan was not afraid to swing at the pinata. What happened to my sweet and innocent boy? heheh!!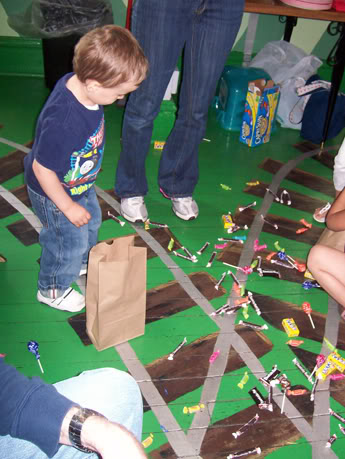 Picking up the candy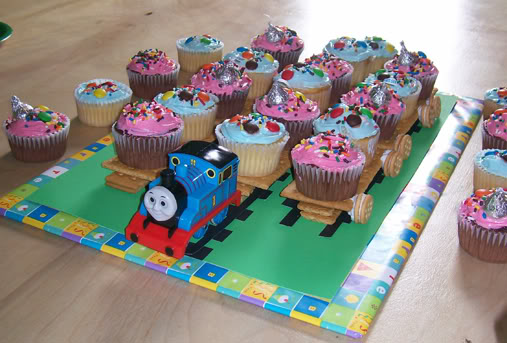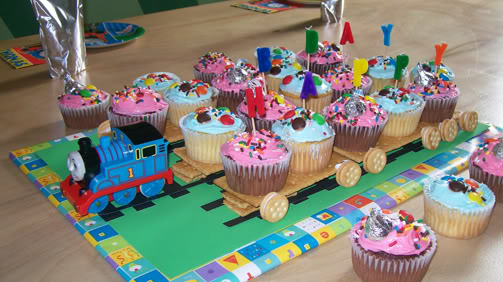 Every year I have fun and make Nathan's cake for him! This year I wanted to do a cupcake train cake as I have never done a cupcake train before. My mom was so sweet and baked the cupcakes Friday while I was at work and then Friday night I decorated them and made the train table on the cake board. My husband helped me with the track on it as I had SO many things to do Friday night for the party after the kids were in bed! Oh, and my husband helped make a fruit salad and even frosted some cupcakes! lol! I better give him credit! Anyway, back to the cupcake cake, it was a HUGE hit- NATHAN loved it and everyone at the party could not believe I had made it. I also found cool candles for it that said HAPPY BDAY.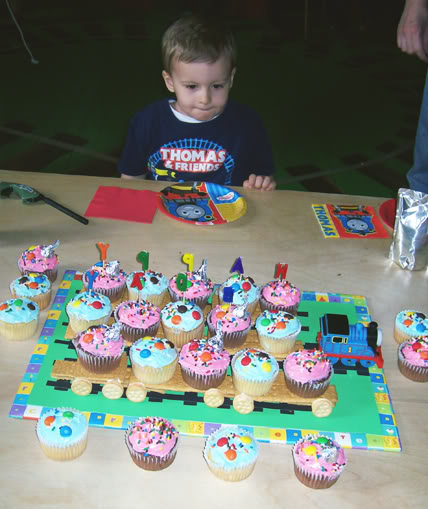 Nathan just loves his cake! He is still talking about it… and we took the decorated cake board home and he is rolling his new trains on it!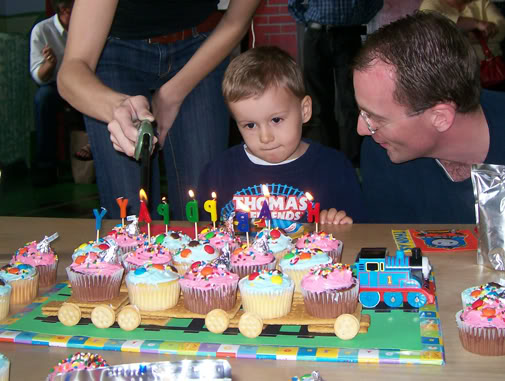 Lighting the candles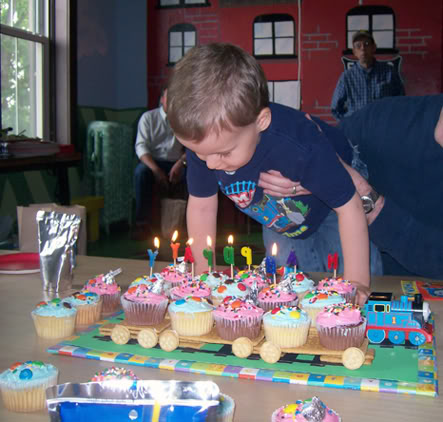 Nathan blew out ALL of the candles… one… by… one… but, HE DID IT! Good job, Nathan!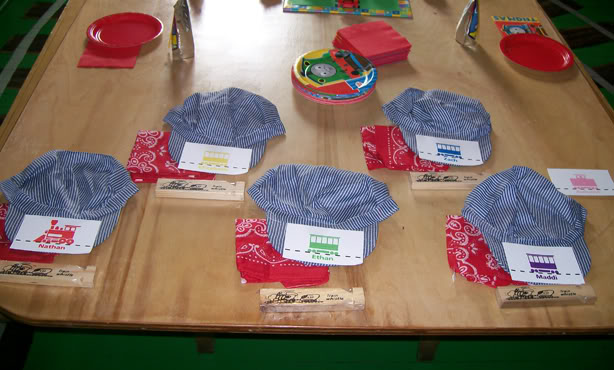 I purchased favors for all of the kids at Oriental Trading. I thought it would be so fun to have them all wear a train hat and bandana around their neck. They all also got a wooden whistle.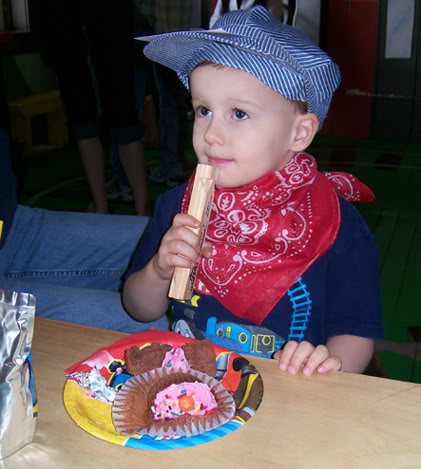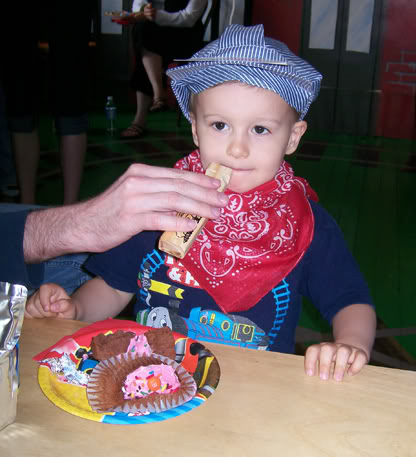 Nathan is all dressed up and ready to ride his train!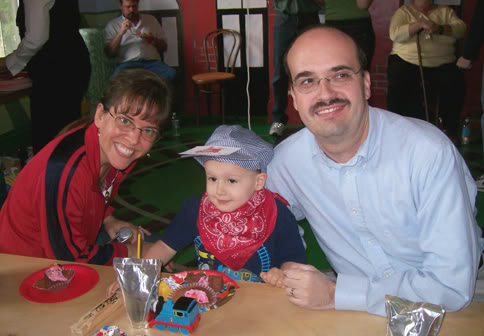 Nathan with Uncle Jeff and Aunt Tracy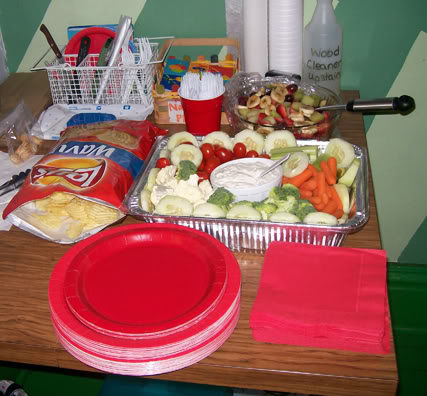 I even made appetizers for the adults- veggie tray (ok, thanks again mom!), fruit salad, chips and my special homemade dip (Hellman's mayo, sour cream, small curd cottage cheese and lemon juice- SO GOOD!)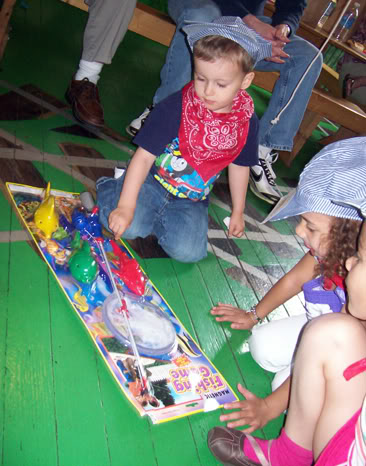 Then, Nathan opened his presents. This is the first present he opened and it was a magnetic fishing pole, net and fish from his Grandpa Craig. Nathan is really good at opening gifts on his own this year!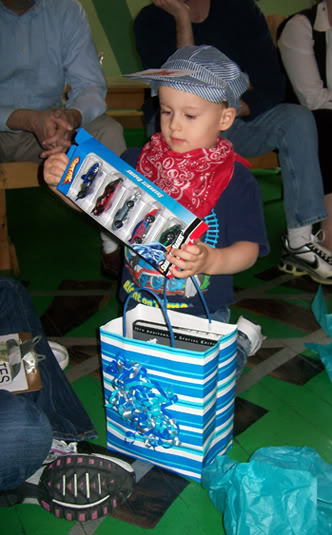 Hot Wheels and the Where Does the Sidewalk End book from Becky and her mom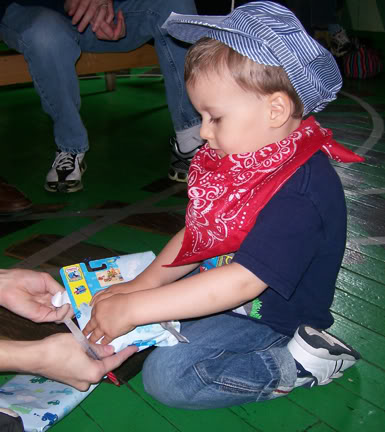 My friend Terri and her husband Steve got Nathan 3 of the tag along Thomas trains.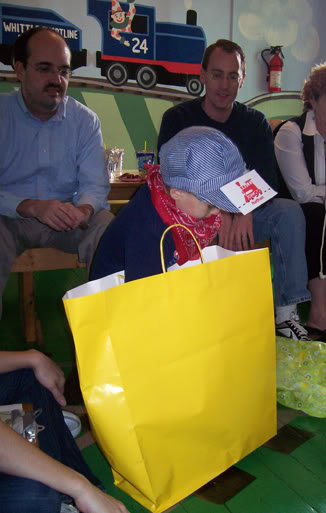 Uncle Jeff and Aunt Tracy's gift was in a TALL and yellow bag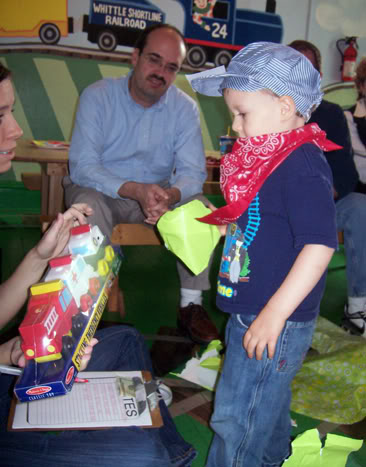 The gifts inside the yellow bag were wrapped, too! Wow, extra work! Nathan got 3 wooden vehicles that I know he will be wheeling up and down the hall at our house.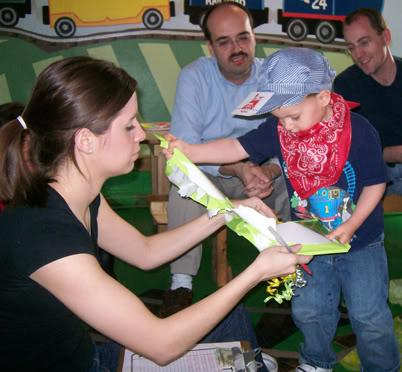 Nathan got the Little Engine that Could book from Uncle Jeff/Aunt Tracy. They also sell the trains from the book for $29 at the Whittle store but were sold out! Boo!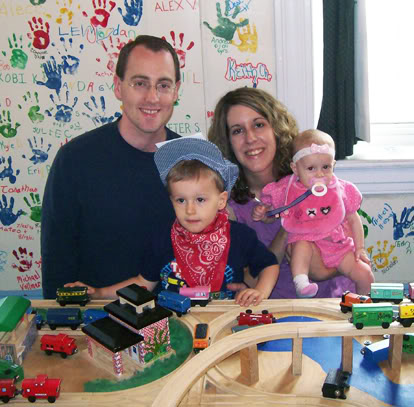 After opening gifts, we went into the TRAIN ROOM! WOOOOHOOOO! Here is a picture of all of us before Nathan went off into train land.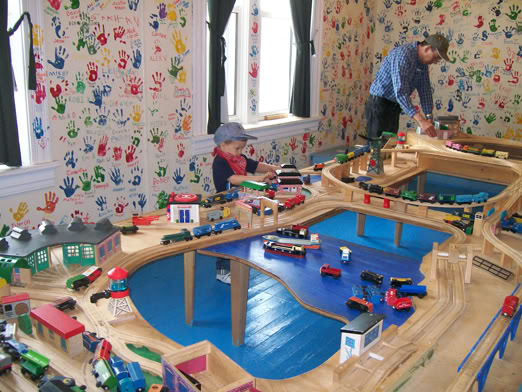 LOOK at how big this train table is in this room! And some of the trains went underneath the table. There is even cutouts in the tables so the kids could play inside the table to reach trains easier.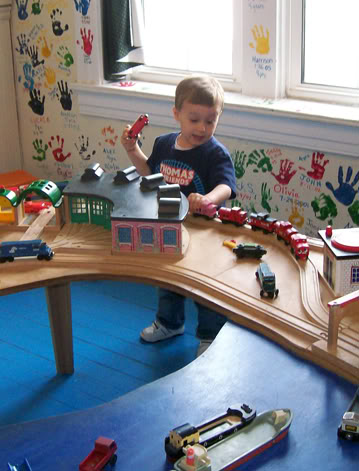 Nathan was in heaven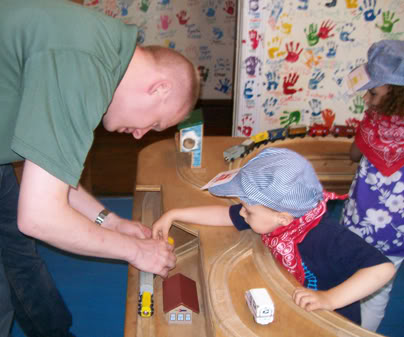 Even the grownups played with the trains- you… just… couldn't… resist… being a kid in this room!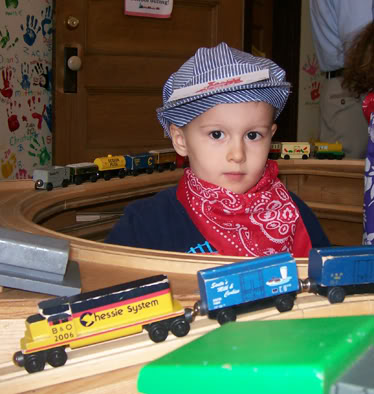 Nathan INSIDE the table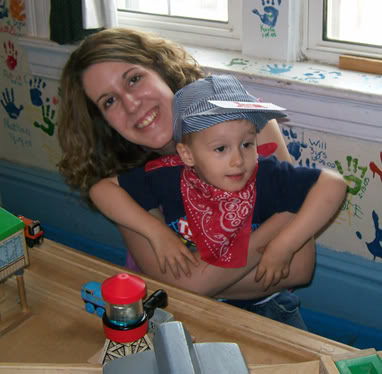 Me with my almost 3 year old baby boy. He didn't want to pose for a picture, he wanted to play!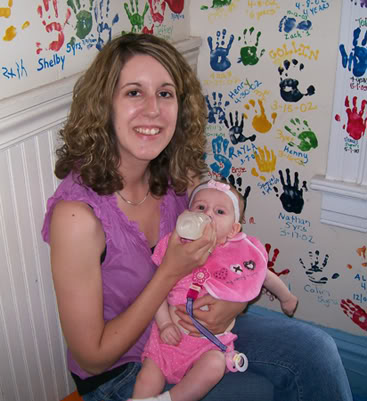 I brought a bottle of pumped milk so I wouldn't have to feed Autumn there. It is so weird to give her a bottle, but she gulped it down!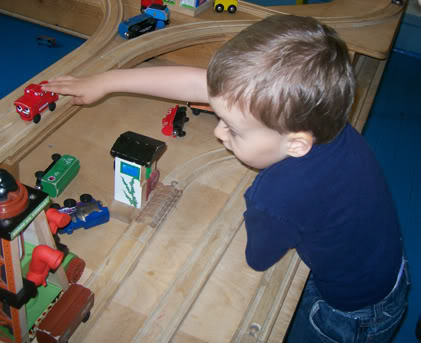 Its so funny because Nathan kept telling us after he got home that he wanted to go to the OTHER train store that had the red train with the eyes. I think he thought the store downstairs that he played in before we left and the train room upstairs for his party were two different train stores. lol. Anyway, he kept talking about this red train with eyes and I had no idea what he was talking about. Then, I pulled this picture up off my camera card and I realized, Oh, there was a red train with eyes!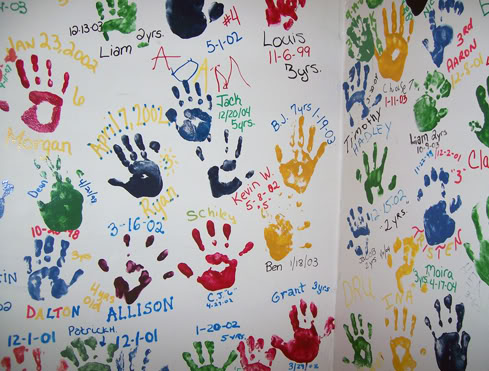 Every boy (or girl, but there wasn't many girl handprints on the walls) gets to put his handprint on the wall with his name at the end of the party. I saw handprints going back to 1998 and there was a lot of Nathan's on the walls.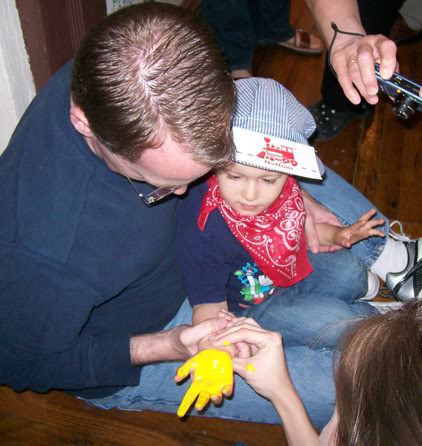 Nathan does not like to get dirty, but he did so that he could leave a little piece of him behind at the train store that he loves!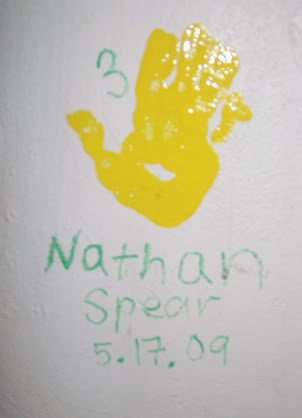 His hand print looks like he had a glove on! lol! We did the hand print in yellow because it is his favorite color. The paint pen they gave me to write his name and date in was sort of dry so it did not come out as well as I would have liked… o-well!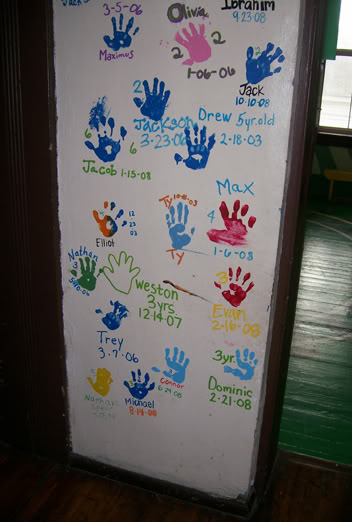 Where's Nathan?
What a FUN PARTY! Tomorrow is Nathan's 3rd birthday and are going to open our gifts to him, Grandma Jo's gifts to him and Grandma and Pa Heaton's gifts and enjoy some CiCi's pizza. Spoiled boy! We didn't want to bring all the gifts to the train store because it'd be too much trouble to cart them there and back. Also, this way Nathan gets to enjoy some gifts on his birthday. We got him a train table and Jeremi is gluing down the tracks to the train table as I speak… do you even need to ask why we are gluing it down? lol. I am also getting his 3 year pictures done at JCPenney's tomorrow. BUSY DAY! I am also off work this entire next week…woooohooo