Today my parents came over so that we could go to the store to purchase flowers/plants and then come home and plant them. Jeremi was at the doctor's and hates gardening so this was the perfect opportunity. My parents were a big help because if you have kids, you know that its impossible to take time out to do projects that take a lot of time. I was so lucky because Autumn took a 2 1/2 hour nap in the swing and Nathan played outside while my Mom and I planted.
We went to Wal-Mart first and left as their flowers all looked DEAD! Ugh! So, we went to Home Depot and the flowers were in great shape. I would have loved to have gone to a real nursery but with two kids in tow we needed the shopping carts. At Home Depot it was great because I had Autumn in my stroller and then Nathan was in my parent's stroller.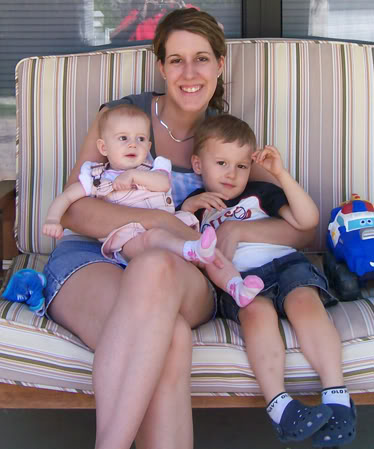 Here I am with the kids before we started planting… and, before Autumn took her long nap. I nursed Autumn then fed her peas for the first time (she has had sweet potatoes, squash, carrots and now peas and has loved them all!) before her nap.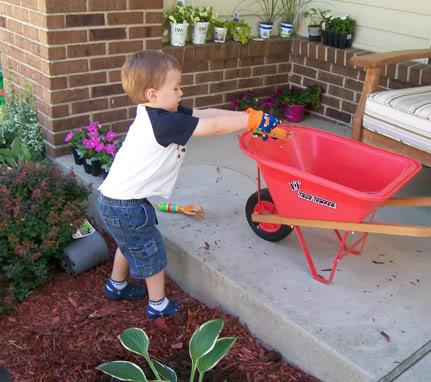 Nathan brought his kiddie wheel barrow outside and played around with the mulch and dirt.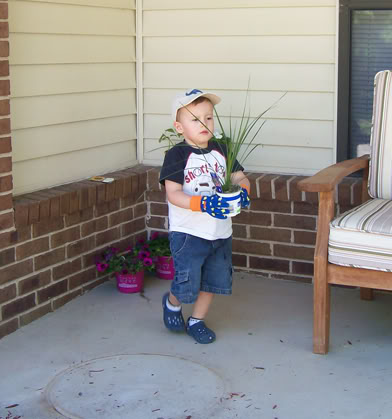 Nathan is such a big boy, he brought me my plants.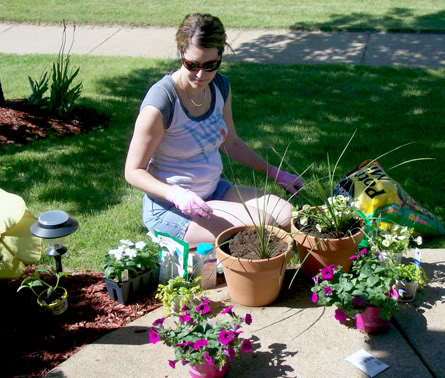 I love gardening so much and I miss it so much! Since having kids, I just can't go outside and focus on my garden like I used to! We really need a fence in our back yard and once Autumn is Nathan's age I am sure I'll have more time to garden. It is so soothing to play in the dirt!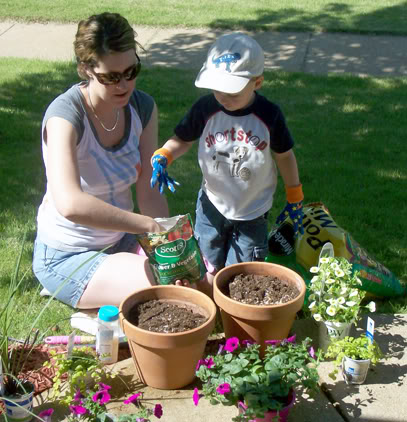 Nathan is helping me at fertilizer to my pots.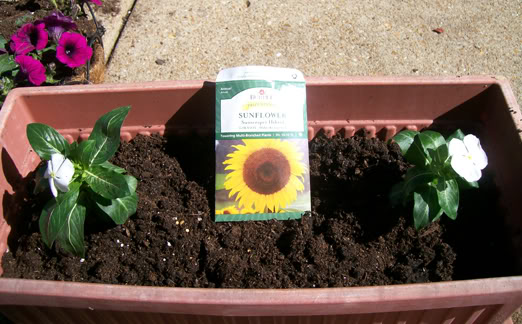 I decided to do a garden activity with Nathan that my Mom did with us kids when we were little. We are going to grow sunflowers- and not just sunflowers- sunscrapers!!! 10-12′ ones!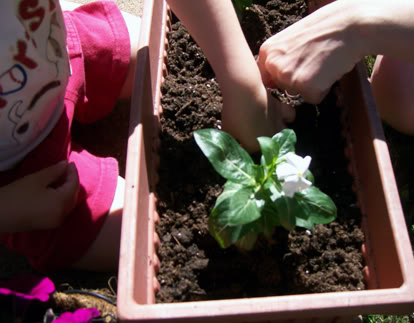 First, we poked holes in the dirt for the seeds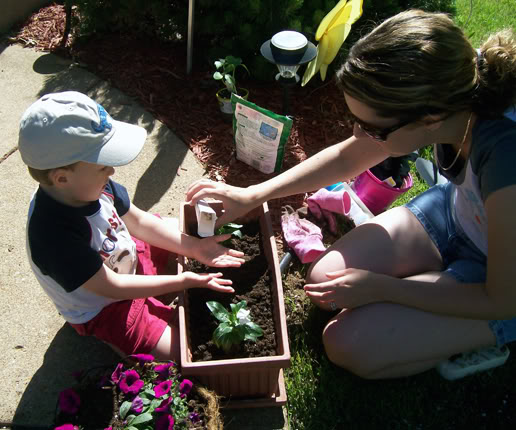 Then, I poured some seeds into Nathan's hands. These seeds did not look like the sunflower seeds you eat, they were white!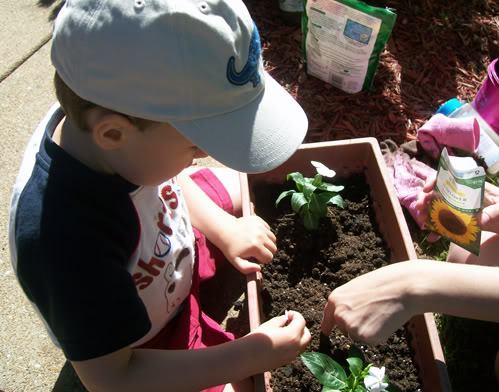 Nathan holding a seed and trying to decide which hole to put it in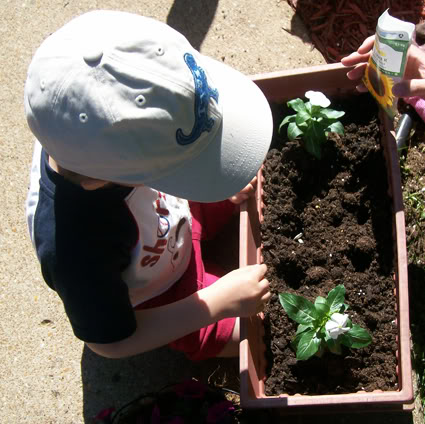 Nathan's seeds in the dirt (we had to take one out of the hole, he had two seeds in one hole)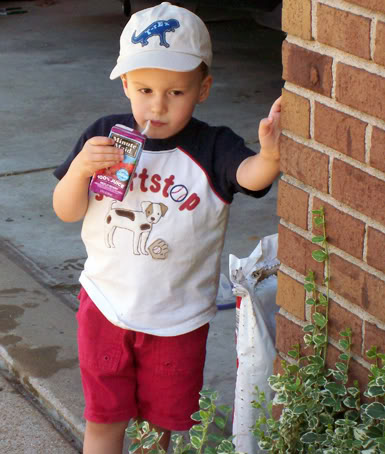 Nathan taking a break after all of the hard work of helping Mom garden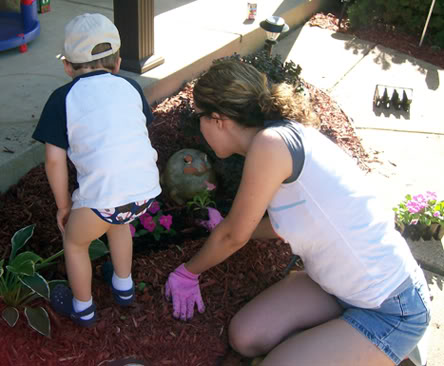 Nathan looking at a worm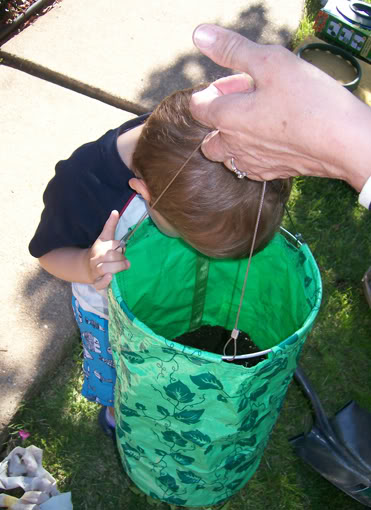 My mom bought me a topsy turvy cherry tomato planter at Walgreens. The cherry tomato plants dangle from the bottom of it and their roots are inside the green pot. You fill it with dirt. The thing must have weighed over 5 lbs after we got all the dirt in it! I told Jeremi to hold it while I tried to figure out where to hang it and GUESS WHAT HE DID! He dropped it!!! And my two cherry tomato plant stalks snapped in half!! So, I am going to redo it later this week as my mom said she has some extra cherry tomato plants at her house. Grrr… MEN!!!!! (And, this was after I told him to be extra careful because the tomato plants could break if he set it down.) lol.
Also- notice how Nathan went from jeans shorts to red shorts to undies (I wanted to finish planting something before I got him shorts) to swim trunks? Sigh… the joy of potty training. We took his diapers away. So, first he is in his jeans shorts and he wants to play with a bucket of water with his fishies he got for his birthday. I guess playing in the water made him have to pee so he pee'ed his shorts! Ugh! So we changed him… then, he got water all over himself so he took his red shorts off and had just his big boy undies on. Then, I said the heck with it and put his swimming trunks on. We'll get there…