Today is my husband's last day off of work for this week, but I am off all week still, plus Memorial Day. Yay! We went to Eckert's for strawberry picking and had a blast!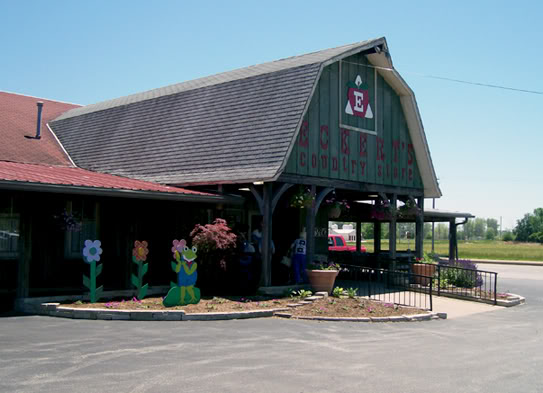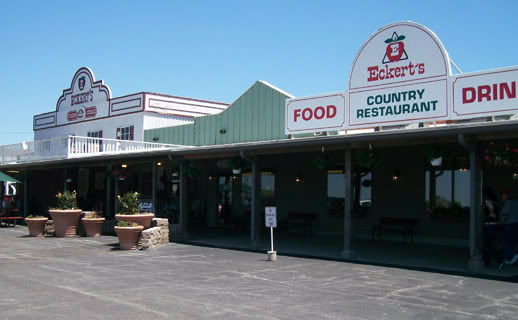 Eckert's has several locations outside St. Louis and each one specializes in certain harvets. We went to the Eckert's closest to our home in Belleville, Illinois and this is the Eckert's that has the strawberry fields. From these photos you can see that there is a store, restaurant and custard stand. YUM-O!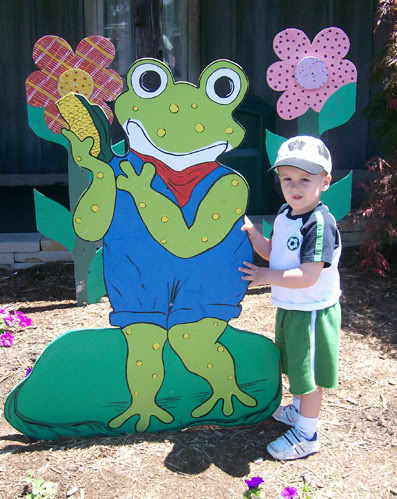 Nathan by the frog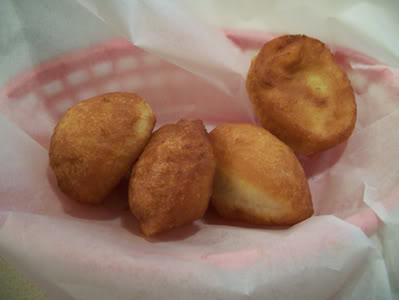 We got to Eckert's around noon and were starving, so we visited their homestyle restaurant first. My boss told me they have fried bisquits that are to die for… here is a photo of them and WOW they were delicious and piping hot! They reminded me of funnel cakes but were much better. I forgot to take a picture of my meal as I was giving Autumn a bottle as I ate it but I got a chicken sandwich with strawberries and guacamole on it, Jeremi got a hamburger with pineapple and provel cheese on it and a cup of fresh fruit and Nathan got cheese poppers with fruit.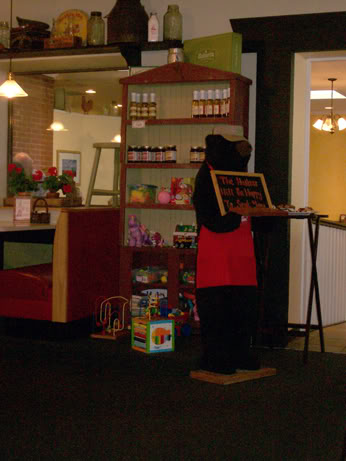 This picture is a bit dark but inside the restaurant they even had toys for the kids! Nathan played with several cars at our table and made friends with a couple of boys sitting next to us and they traded cars and took turns playing with them.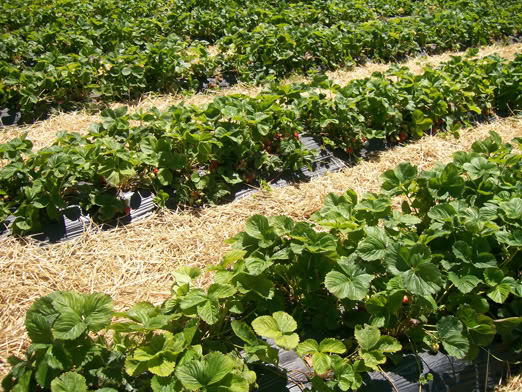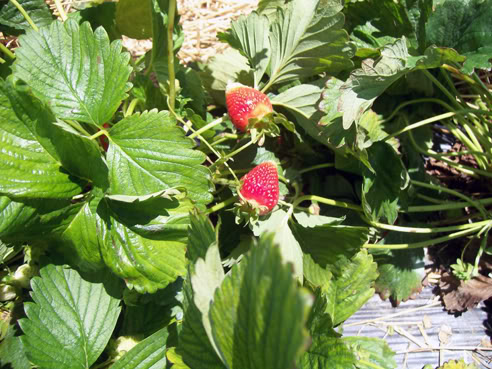 NEXT, we went strawberry picking. We took a bus ride across the street to the strawberry field. The bus driver told us to feel free to sample any of the strawberries out in the field. There were so many strawberries to pick, and so many bright red juicy ones!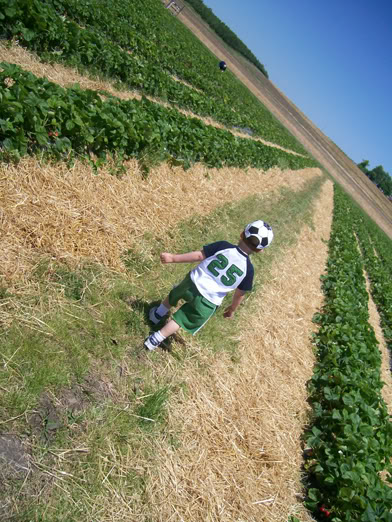 Nathan searching for the perfect strawberry.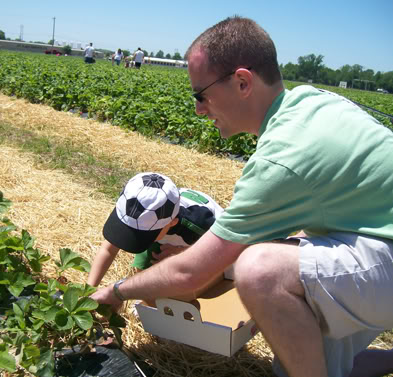 Daddy helping Nathan pick the strawberries. The strawberries were so juicy that Nathan had strawberry juice all over his shorts from wiping his hands off from picking the juicy fruits.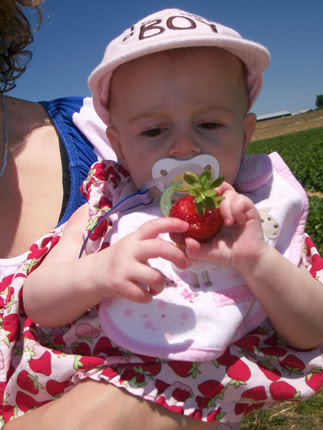 Even Autumn could not resist a strawberry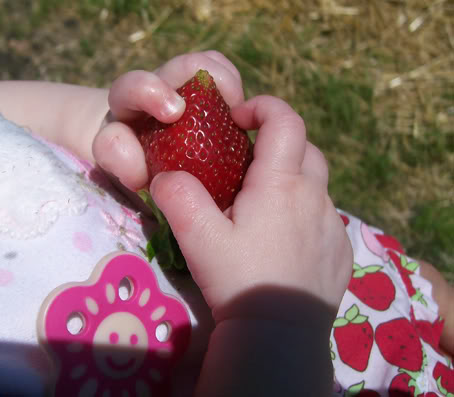 She held this strawberry the entire time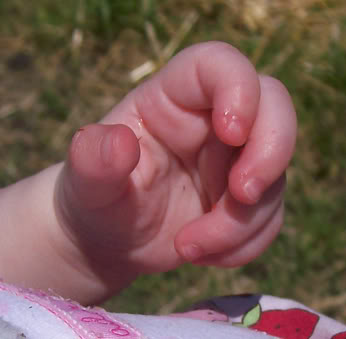 That strawberry got squeezed and she had strawberry juice all over her little fingers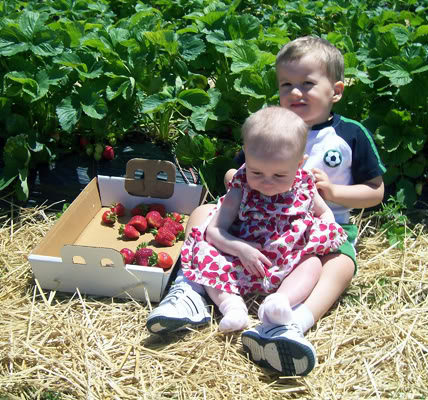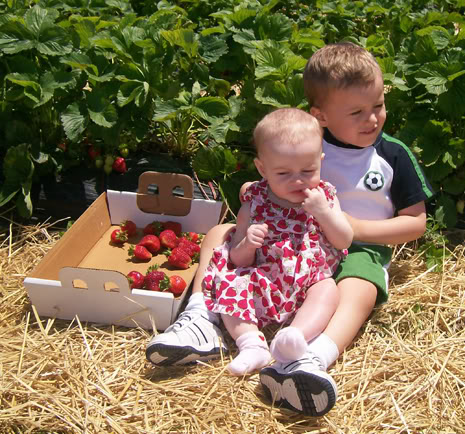 Which are sweeter? The kids or the strawberries? 😉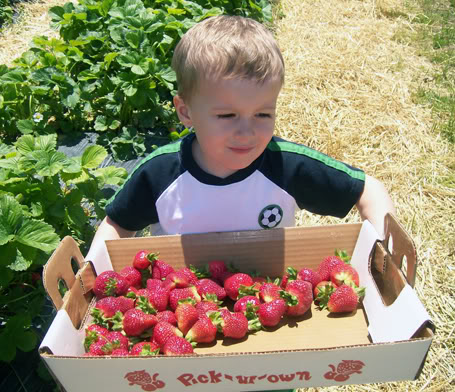 What a big helper!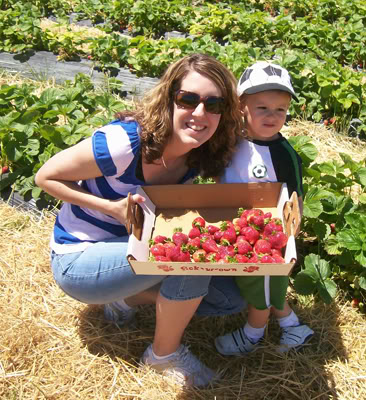 Yum!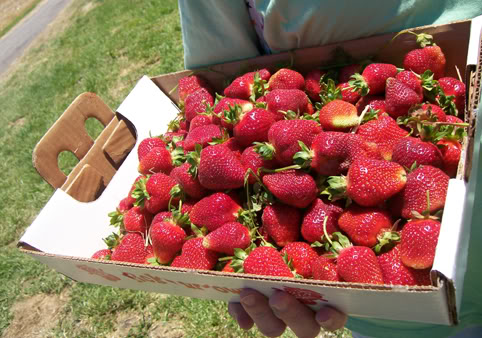 Here is what we took home… I sort of wish we had gotten two crates, but one crate was plenty to juggle back onto the bus with us with a preschooler, baby and diaper bag!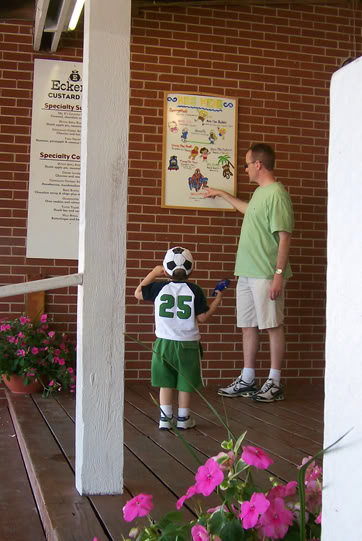 We went in the grocery store and enjoyed samples of nectarine, peach, watermelon, pineapple, dips and a chocolate chip cookie! We bought some cherries. Then, we went to get custard. Jeremi and I both got apple pie with vanilla custard on top. Nathan shared with us. We had a lot of fun and both Nathan and Autumn fell asleep on the drive home.
Then, Jeremi took both of ours cars and got them detailed (inside and out!) AND… the highlight of the night!!! Nathan asked to sit on the potty, sat, and PEE'ED!!!! A lot, too! Yay! This is the most progress we have made in the last 3 days of potty training with him. We have taken his diapers away unless we go out or for bed time. He has never asked to use the potty before, we always just sit him on it every hour so this is great. I hope he keeps up the good work and he was so proud of himself and was running around the house saying how he went potty on the toilet.